Schuckman: Ryan's legacy is turning Little People's into family outing, not just golf tourney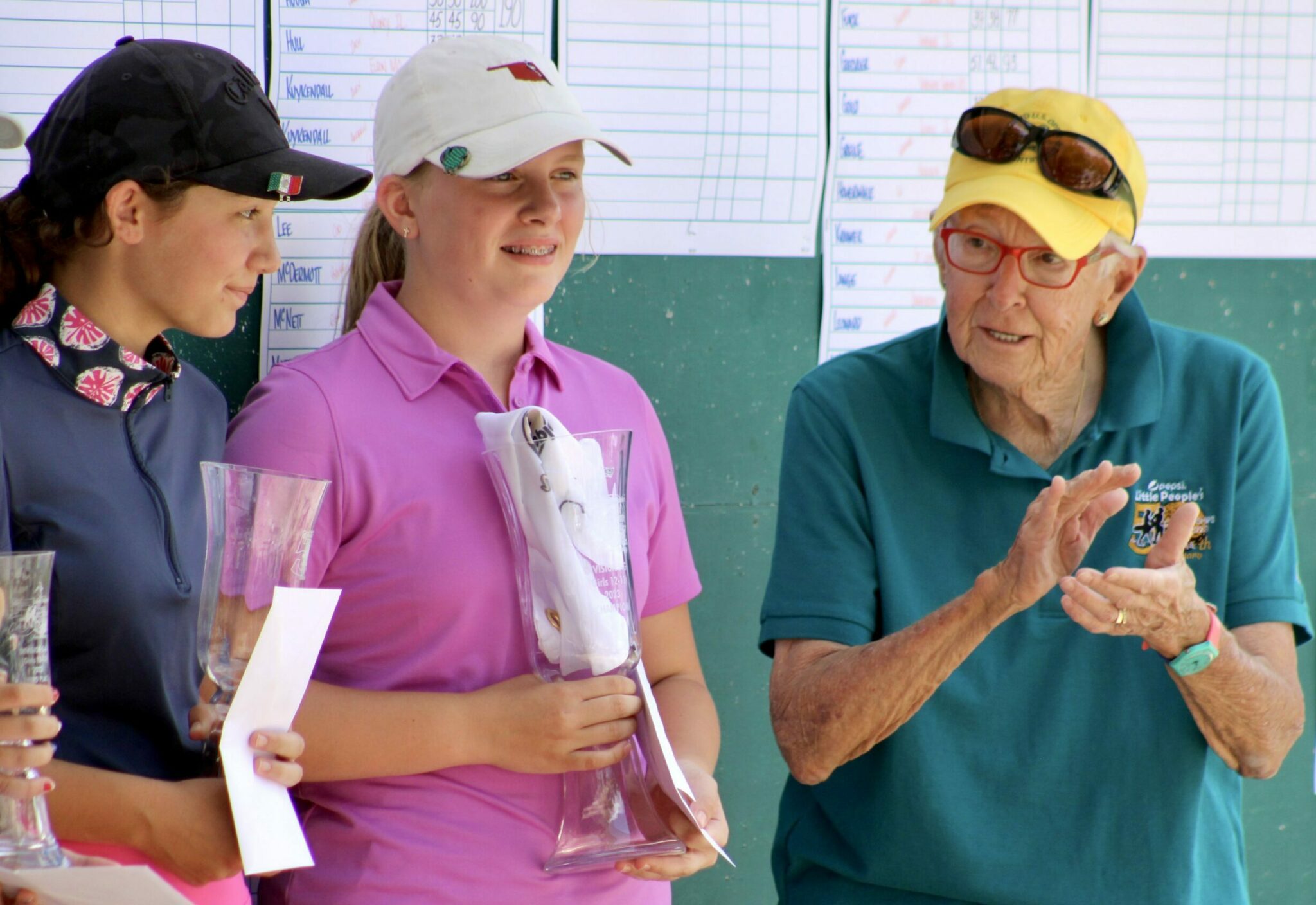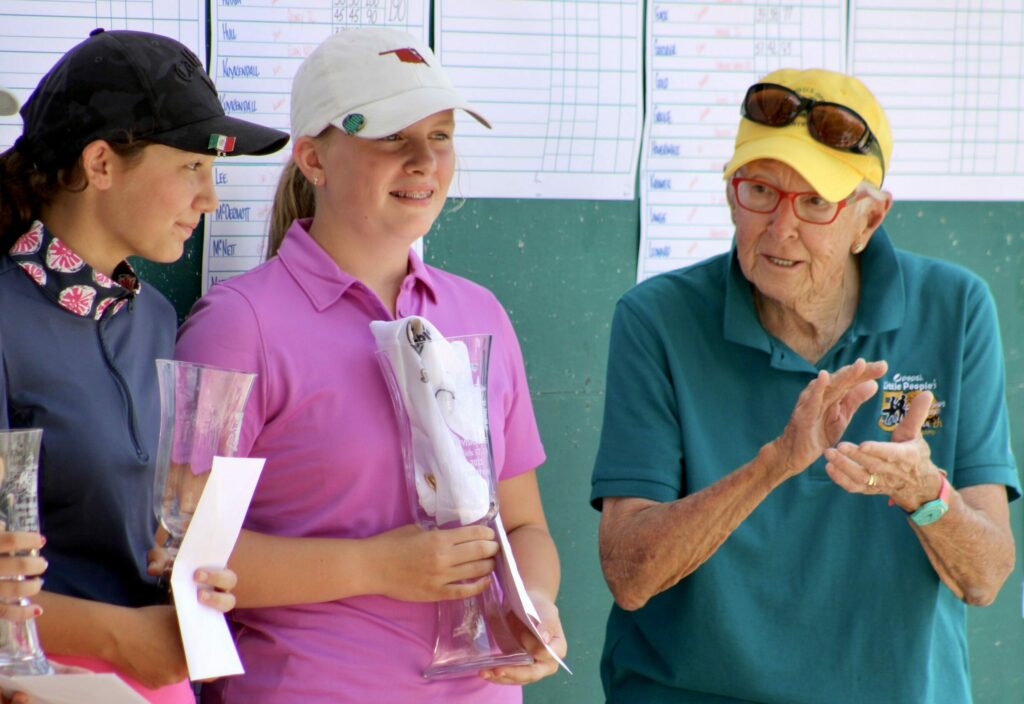 QUINCY — Each hug said goodbye. For now, not forever.
Each "thank you" was earned. Not just now, but over the course of forever.
Each story came with a smile. Nan Ryan tried to relish them now, but she'll hold onto them forever.
The 50th annual Pepsi Little People's Golf Championships wasn't just a tournament. It wasn't a sendoff either. This week's event was a celebration of the game of golf, a community that embraces it, a passion for it, a legacy built around it and a future with it.
Ryan saw to that. She didn't allow her final year as the executive director of the LPGC to be any different than the first 49. Moments were different. The appreciation for all she has done was a little different. The wrap-up is quite a bit different.
The tournament didn't seem different at all. It unfolded like always, on the fairways and greens with success defined by bogeys and birdies.
It will continue to do so.
That will be Ryan's legacy.
The 89-year-old Ryan, who lives in Estes Park, Colo., year round now but grew up in Quincy and for the longest time made it her home, made the LPGC her mission and her passion. She founded it in 1974, grew it to monumental numbers by the early 2000s and decided after a half-century to hand the responsibility of making this tournament a summer focal point to someone else.
That will be the challenge of the Quincy Exchange Club, which will oversee the event beginning in 2024 and will unveil details of its involvement and future plans in due time. It may be a passing of the baton, but the story this week wasn't who is taking over.
It's about who is walking away.
"I am ready to pass the baton," Ryan said Wednesday afternoon. "After 50 years, we need some new blood. We need some younger people and their ideas. The volunteers are great and always have been great, but we just need some new blood.
"And I'm getting old."
She laughs at the notion she's just now reached old age.
"I've played golf for 79 years," Ryan said.
With no plans of stopping anytime soon.
"I just got a notification that I have a tee time next Thursday," she said.
That'll be the perfect time to break in the new set of clubs she purchased for her 89th birthday.
"I don't plan on slowing down," Ryan said.
That's never been her style.
Had it been, the LPGC never would have become one of the top junior tournaments in the country with more than 900 kids between the ages of 3 and 17 migrating to the Gem City. That came at a time when the number of junior tournaments scheduled at the same time each June could be counted on one hand.
Now, there are more than 80 junior tournaments worldwide that overlap with the LPGC.
Still, the LPGC drew more than 200 participants this year.
Ryan smiles at that number. She marvels at the fact more than 10,000 different golfers have played in LPGC, a milestone number the tournament breached this year. Some of those golfers played multiple times. Many have returned as parents, too.
Mike Suhre played in the first 15 LPGC events. He was back this year, along with his wife, three kids, his parents and his in-laws. The trio of Edwardsville golfers represented themselves well with Ryan Suhre shooting a 2-under 69 Wednesday to win the boys 16-17 division by two strokes.
His brother, Drew, finished tied for sixth in the same division, four strokes back of the lead. Their sister, Ally, finished third in the girls 14-15 division.
"I'm proud of the tournament and I'm proud of the people who made it possible," Ryan said.
Those people — the volunteers, the course workers, the golfers, the parents — are what drove Ryan to keep bringing the LPGC back year after year.
"It's just been a great homecoming for me," Ryan said. "Before I get here, I feel like I know so many of the parents, even the new parents and the new kids, because I've corresponded with them. It just feels like a homecoming week. I think that's what sets this tournament apart from any other junior tournament.
"I've had so many people tell me that. The others are just a tournament. They go and they play and they leave. This one has the personal feel."
Credit her for that. She invested time into the tournament, learning about the backgrounds of the players and their families so she could connect with them, not simply welcome them to Quincy and move on. This hardly felt like a cut-throat tournament.
It seemed more like a reunion where competitive golf was played.
The hope is the sense of family never fades.
"I'd like to come back next year," Ryan said. "Just to see the people. Not in any official capacity … but I'd like to come back."
She's always welcome. She started this family.
Miss Clipping Out Stories to Save for Later?
Click the Purchase Story button below to order a print of this story. We will print it for you on matte photo paper to keep forever.