Schuckman: QHS girls basketball players share opinions on gym space, upgrades and ceremonies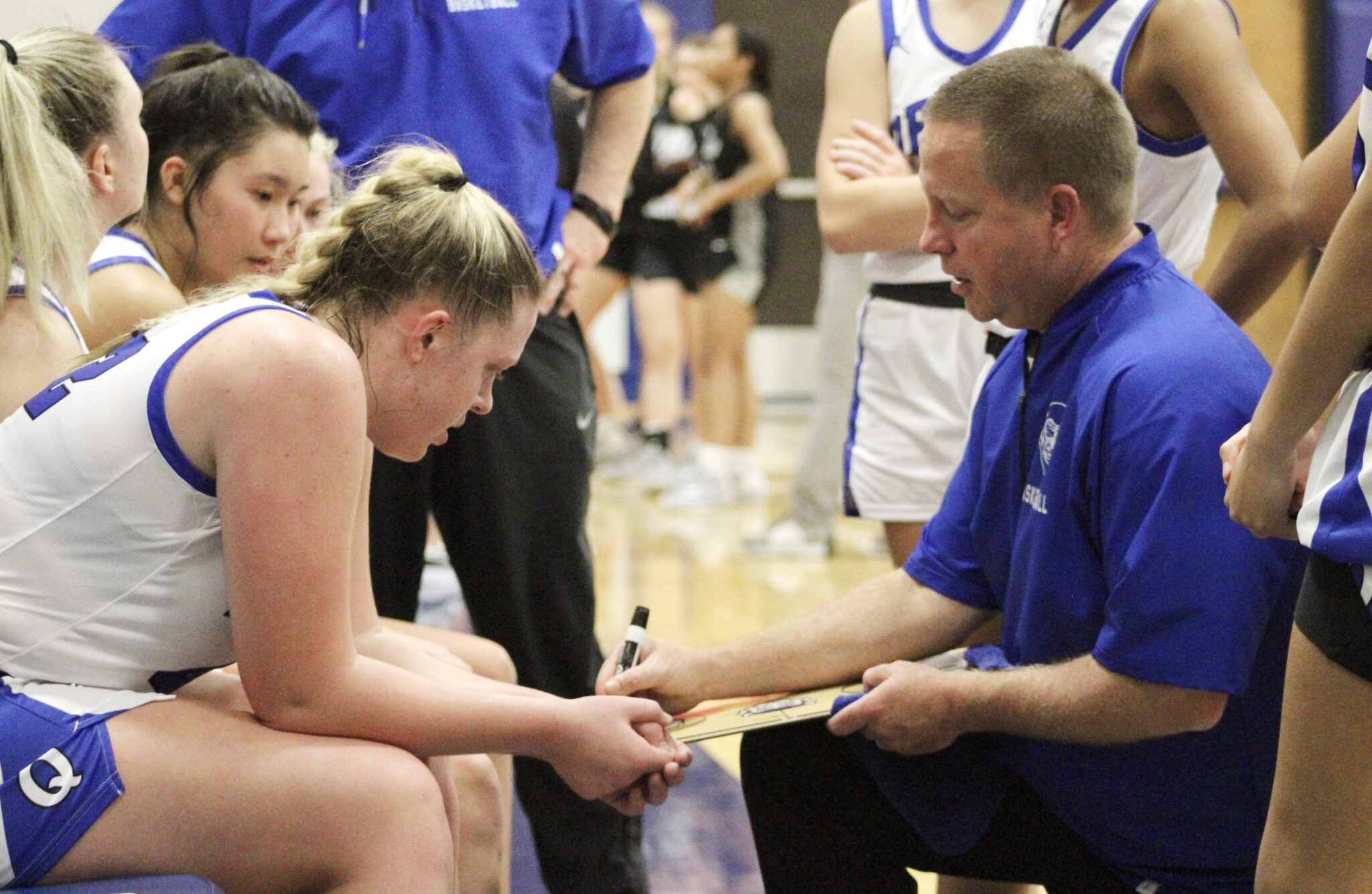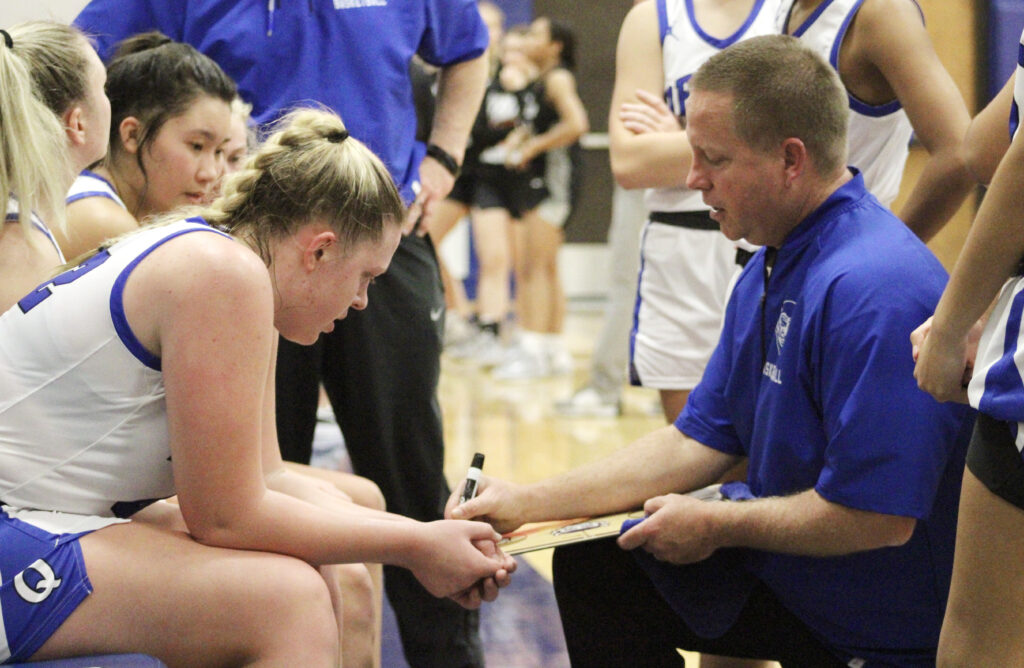 QUINCY — Mike Dade's passionate plea to the Quincy School board last week asking for equal treatment for the boys and girls basketball programs succeeded in one important regard.
It created conversation, opinion and debate.
His speech also missed the mark in one very important aspect.
He wasn't a true voice for the players themselves.
Dade, whose daughter, Leila, is a junior point guard for the Quincy High School girls basketball team, asked the school board for stronger support for the girls program and said "a reasonable effort to address this problem would begin with fair use of the historic Baldwin gym."
It's not where the majority of players want to play, nor do they care to battle for court time and locker room space with the boys program inside Blue Devil Gym.
"I don't feel like going to practice at 5 o'clock after the boys," junior forward Taylor Fohey said after a practice in the smaller QHS gym. "I'd rather just be here."
The girls players aren't overly concerned with having the pregame Devil ceremony either, although Mike Dade told the school board "my daughter will never get to high five the beloved mascot with the burning pitchfork when her name is being called in the starting lineup."
That's not as important to her as it seems to be to him.
"Not really," Leila Dade said. "I like seeing it, but not before I play. I like seeing the whole thing unravel in front of that crowd rather than in here."
That's not necessarily an across-the-board opinion. The younger players seem to embrace the theatrics of the pregame ceremony and the bigger stage Blue Devil Gym presents.
"If you asked some of the younger girls, they feel a little bit differently," junior guard Bri Lannerd said. "I've talked to some of them. For those on the JV and freshman teams, they have a different sentiment about it. For us, this is our home. This is the girls gym. This is where we want to be."
Still, Leila Dade understands her father's passion for making things equal and why he felt compelled to speak out.
"He always wants the best for me," said Leila Dade, whose older brother Michael was the starting point guard for the QHS boys team during the 2015-16 season. "It's all out of love. He's had this passion for a long time. I'm not really a part of it. It's more of him. That's just my dad. I'm just here to play basketball. I don't really get into it. People have come up and asked me about it and I say, 'Speak to my dad about that.'"
Even so, Dade and her teammates opened up about what they like, dislike and want out of a facility and gameday experience. Here's what they had to say: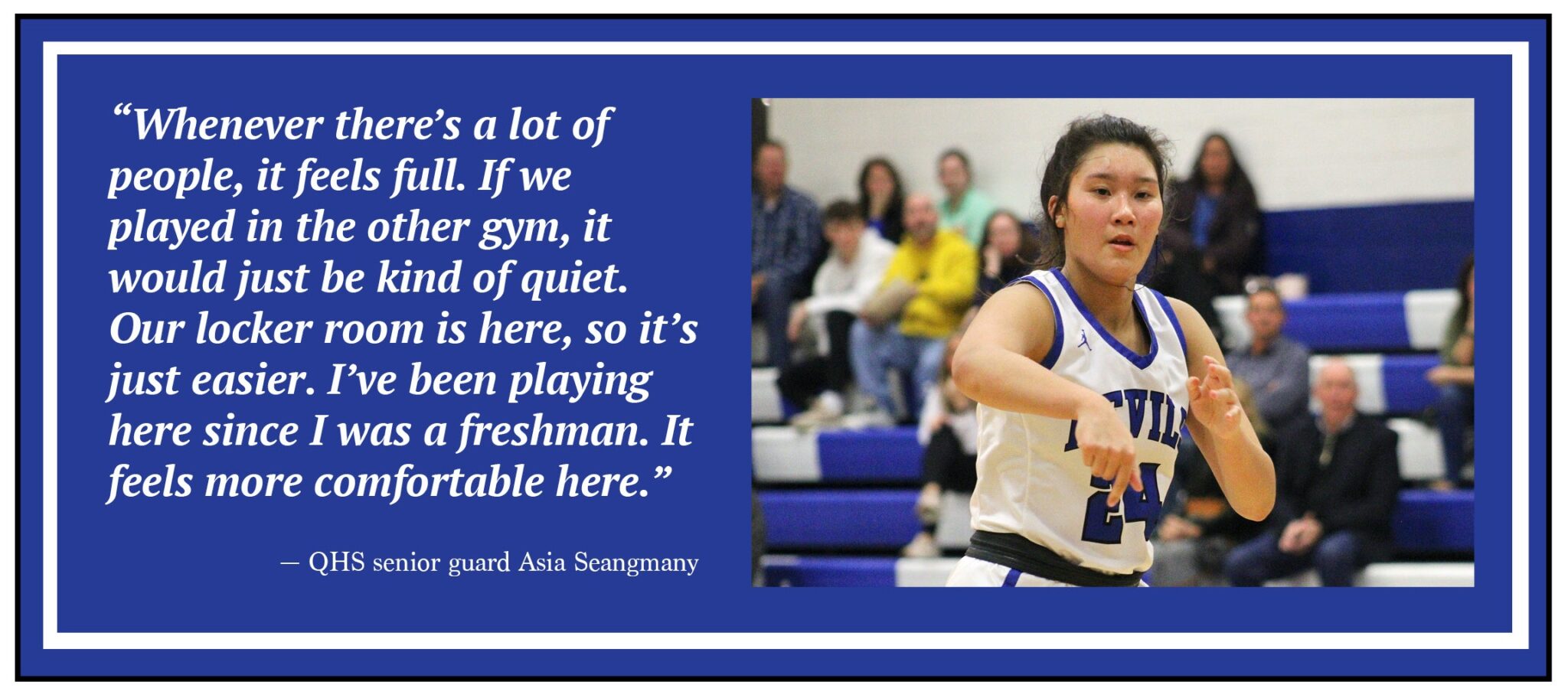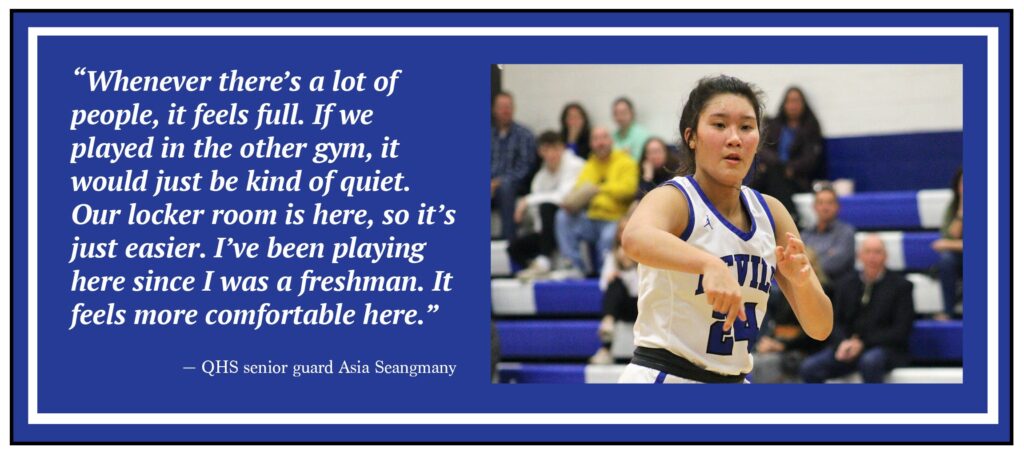 What do you like about the QHS gym?
Junior guard Lelia Dade: "I'm comfortable in here. I've played here most of my life. When I was in little leagues, this was the gym we played in. I've kind of grew up playing in here. So I'm comfortable in here. I like that we have an assigned locker room here, and we have a set schedule here."
Junior guard Leah Chevalier: "I really like this is where we practice, so I'm really comfortable in it. This is where we've always played."
Sophomore guard Kate Mettemeyer: "I really like this gym. We just are used to the gym. I like playing here. I like the environment and all of the history back here with the girls basketball program."
Senior guard Asia Seangmany: "Whenever there's a lot of people, it feels full. If we played in the other gym, it would just be kind of quiet. Our locker room is here, so it's just easier. I've been playing here since I was a freshman. It feels more comfortable here."
Junior forward Taylor Fohey: "I do like it. I've played here since my freshman year. It's home really."
Junior guard Bri Lannerd: "I've only been playing here one year, but t's been everything we need for basketball. … This is where we practice every day. This is where we're used to playing."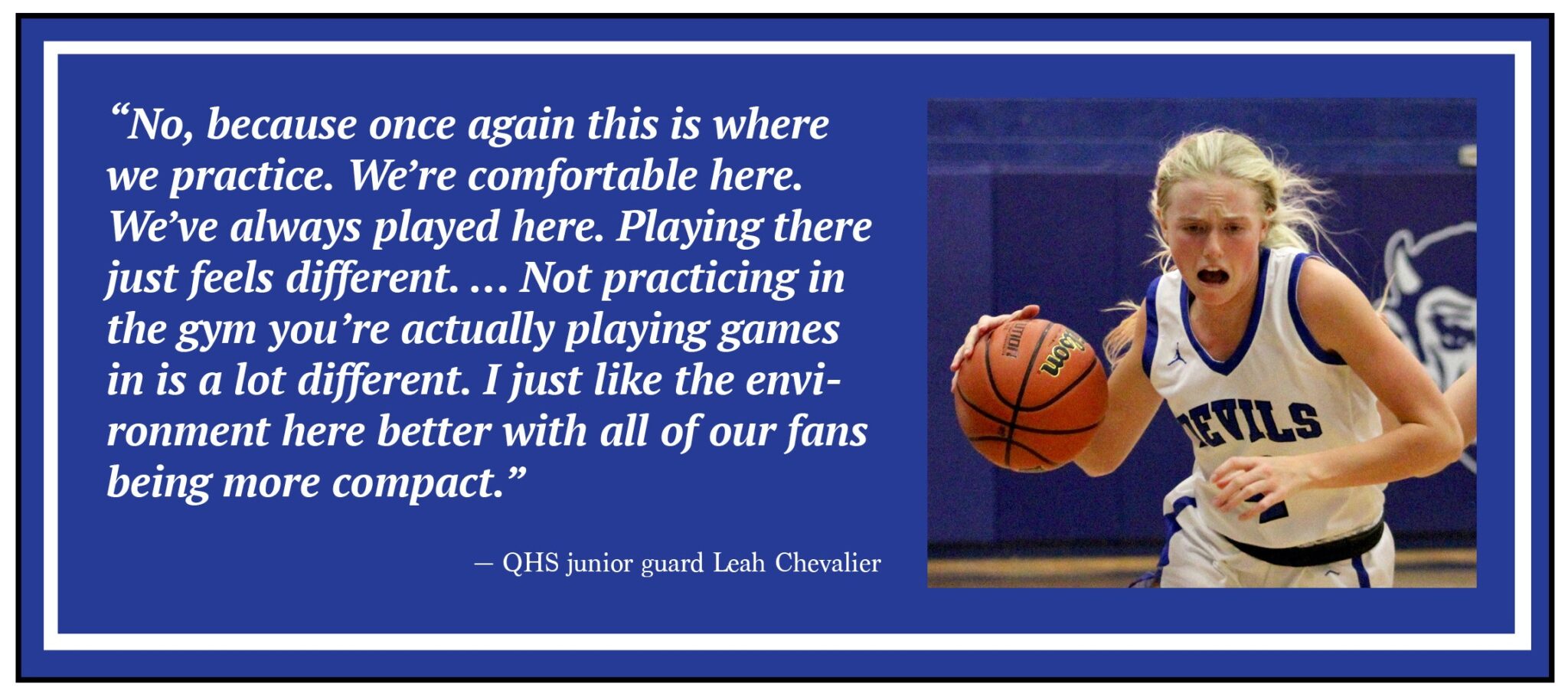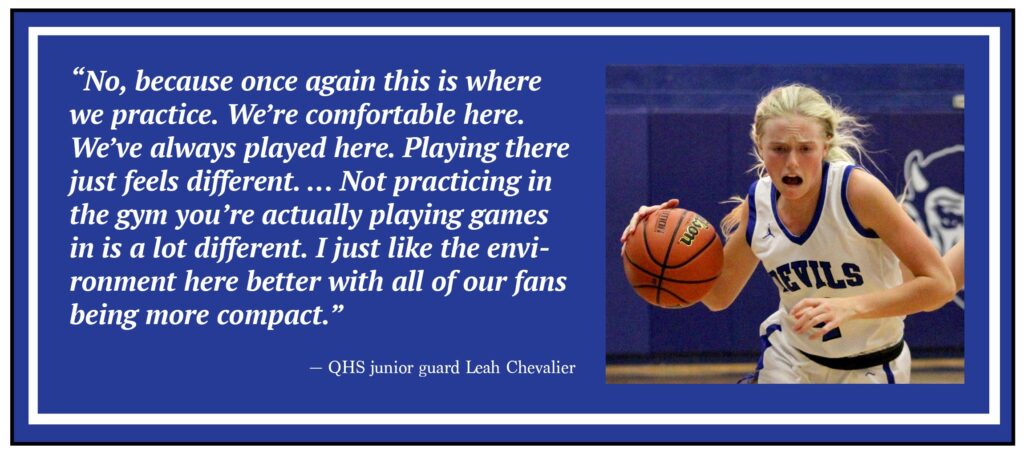 Do you want to play in Blue Devil Gym?
Leila Dade: "Personally, no. I think that's due to the fact I've played here so long I'm comfortable here. Playing there would just feel like an away game. So not really."
Leah Chevalier: "No, because once again this is where we practice. We're comfortable here. We've always played here. Playing there just feels different. … Not practicing in the gym you're actually playing games in is a lot different. I just like the environment here better with all of our fans being more compact."
Kate Mettemeyer: No, I don't think we should play down there. That's home for the boys basketball team. This is the girls basketball team's home. Everyone knows this. And I feel we practice in this gym, we're used to this gym, and everyone knows the hoops and the floor in this gym."
Asia Seangmany: "It would be cool. But if we were to, I would want a locker room down there already. I would want to practice more there, too. The full experience."
Taylor Fohey: "I don't really care where I'm playing as long as I'm playing. … We've been practicing at the boys gym. It's a lot different. Just the two practices we've had there in the last week showed us that."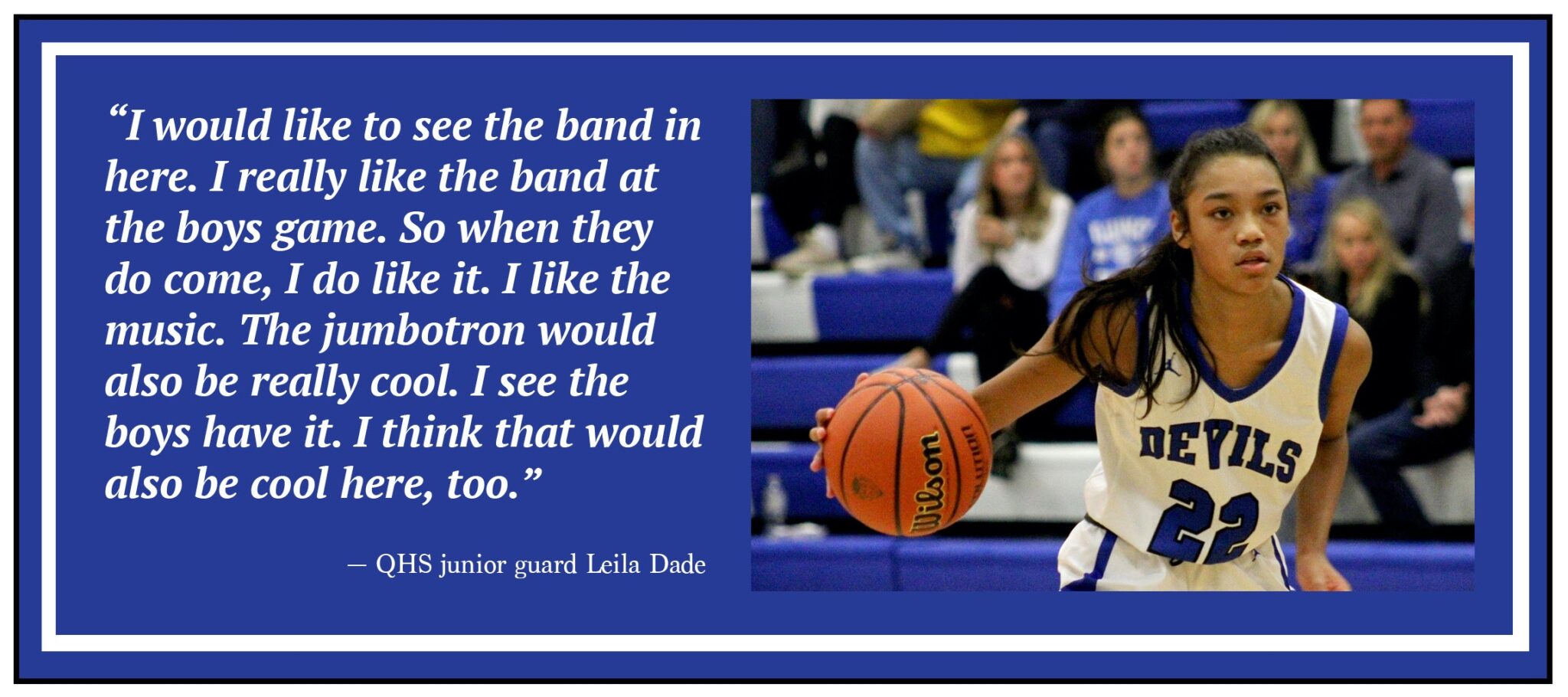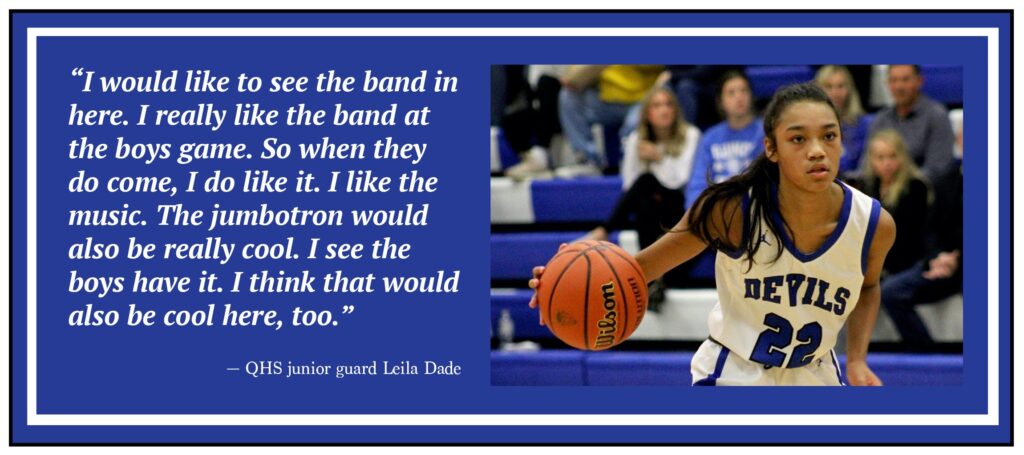 What would you like to see them change in the QHS gym?
Leila Dade: "I would like to see the band in here. I really like the band at the boys game. So when they do come, I do like it. I like the music. The jumbotron would also be really cool. I see the boys have it. I think that would also be cool here, too."
Leah Chevalier: "I think it would be more fun if the band could come more. When they come, it's really loud and it's more fun."
Kate Mettemeyer: "I feel like we could have the band coming to games. I really like the band. It makes it loud. If we could have a few more fans come, that would help a lot. It gets us hyped up. Having a student section back there would be really cool, too."
Asia Seangmany: "I wish the band would come in more. Last season, they'd come in for every conference game. If we had a video screen like the boys, that would be cool. Cheerleaders would help bring people in. I don't really care for them, but it would help bring people in."
Taylor Fohey: "I'd like a band at all of our games, especially the conference games. I like the band."
Bri Lannerd: "I think it would be cool to have another good scoreboard. We have one on this wall (west end of the gym), but the other wall is not as cool. … I'd love to have the band here. I think it just brings a different atmosphere. It gets the crowd into it, too. It's just nice to have it."
Would you want a videoboard?
Leah Chevalier: "Yeah, that would be nice. It's not a priority. The band is the big thing."
Kate Mettemeyer: "That would be cool. If we don't get it, that'd be OK. But I do think that would be pretty cool."
Taylor Fohey: "Yeah, a videoboard would be cool."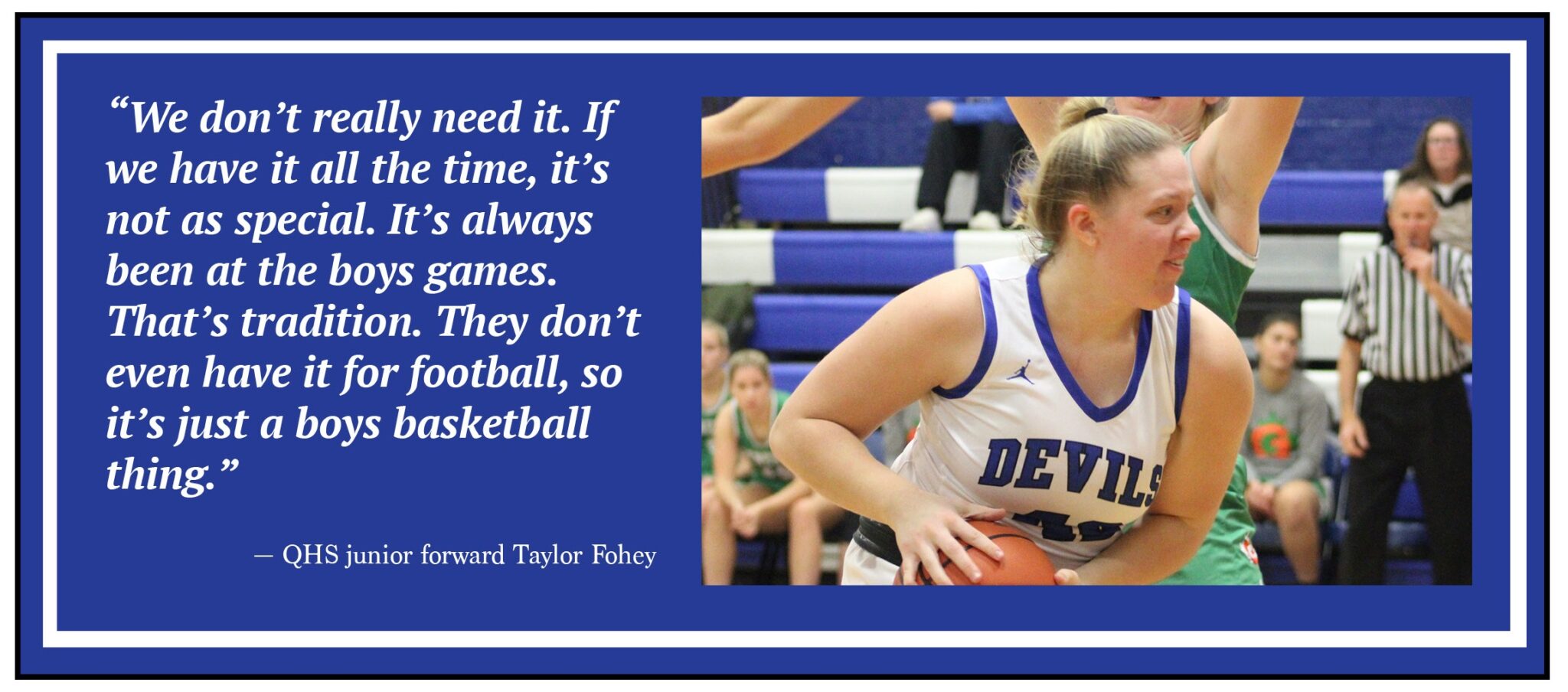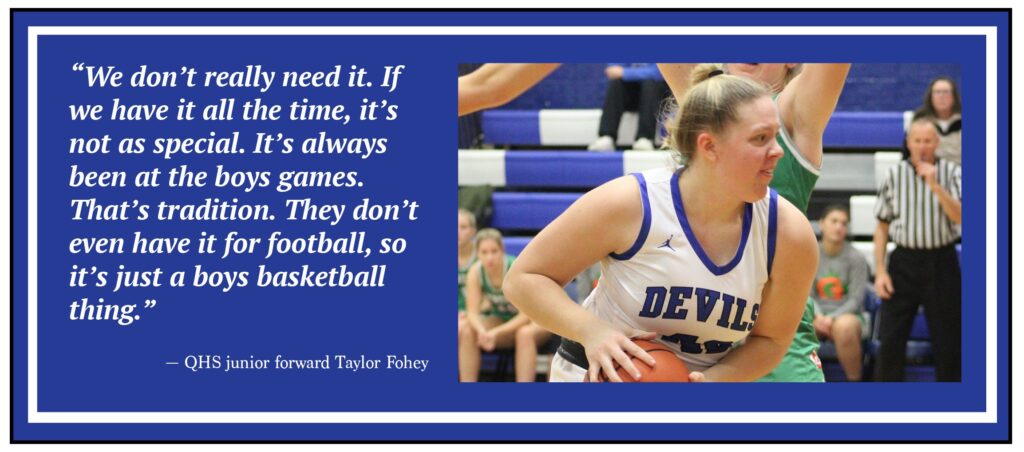 Would you want the Devil mascot and pregame ceremony?
Asia Seangmany: "I actually like it. I know a lot of people don't or wouldn't like it for their game. I think it's pretty cool. I would like something like that."
Kate Mettemeyer: "No, I do not want the Devil mascot. That's more of the boys' thing. With us and the crowd we bring in, I don't think it's necessary."
Taylor Fohey: "We don't really need it. If we have it all the time, it's not as special. It's always been at the boys games. That's tradition. They don't even have it for football, so it's just a boys basketball thing."
Bri Lannerd: "If you ask me 80 years ago, it should have started when it started with the boys, but it's the boys tradition. We're not used it to. We don't need it. We're happy with how our gym is."
Miss Clipping Out Stories to Save for Later?
Click the Purchase Story button below to order a print of this story. We will print it for you on matte photo paper to keep forever.