Schuckman: Hawks forge unbreakable bonds by elevating volleyball program to unforgettable heights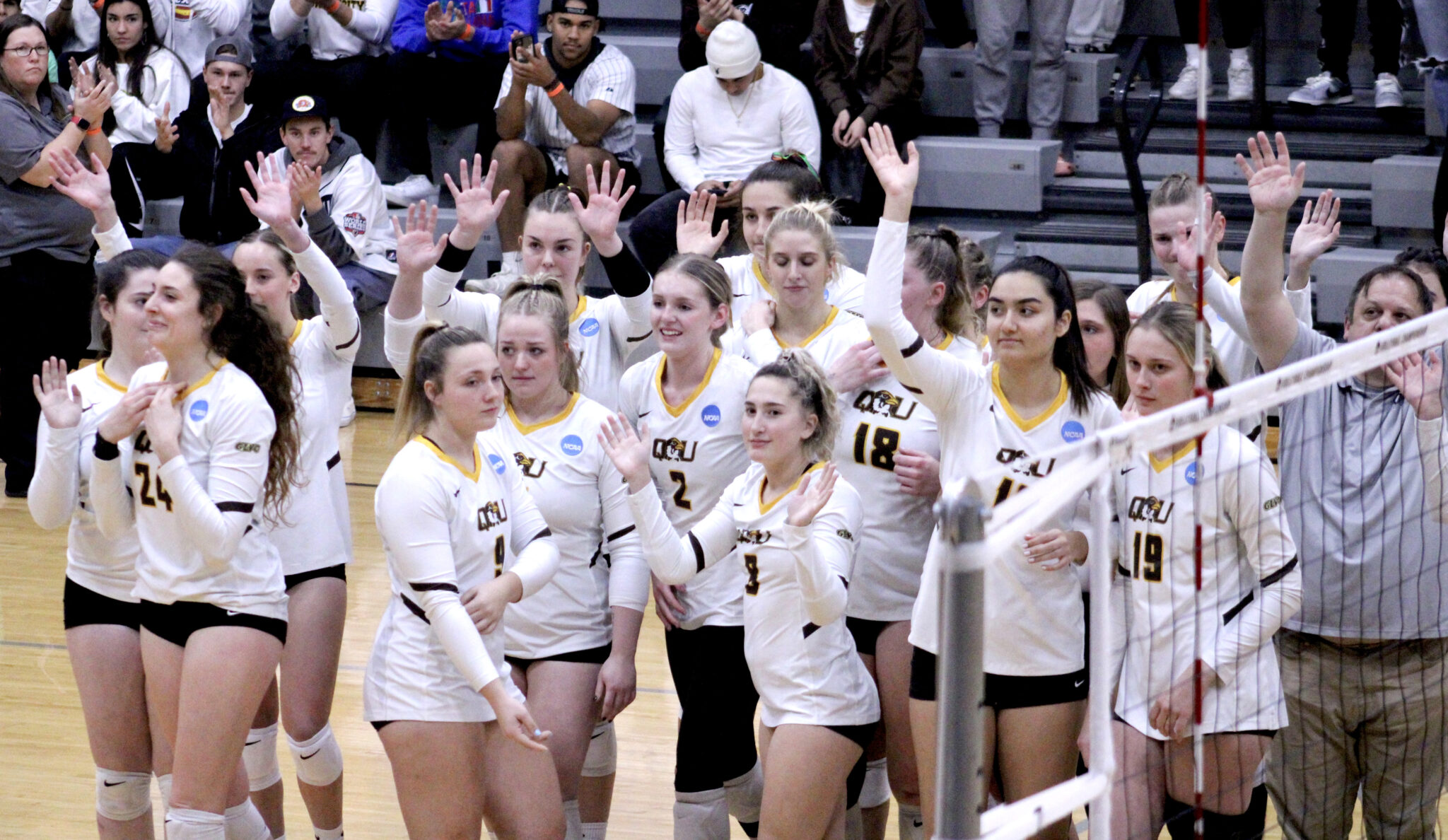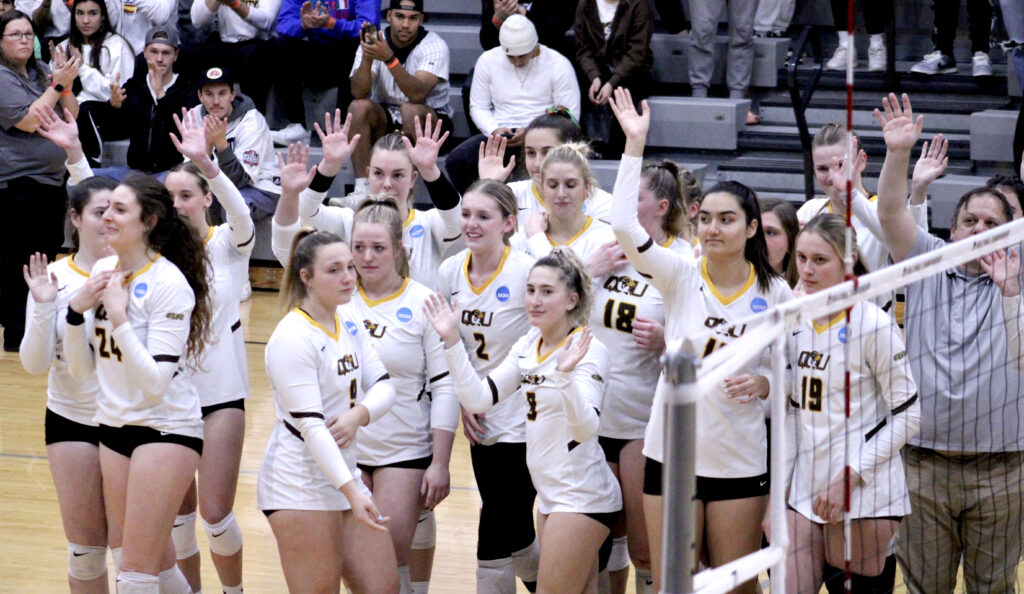 QUINCY — One final wave to say thank you to an adoring, enthusiastic crowd was the Quincy University women's volleyball team's way to say goodbye as well.
The season that changed the Hawks' program forever was over.
Yet, the bond created amongst a group of student-athletes — "incredible young women" in the words of Quincy coach Mark Jones — won't ever end.
So as they sat in front of video cameras and digital voice recorders in the post-match press conference, trying to sum up the highs and lows of Friday night's 25-15, 18-25, 27-25, 25-14 loss to Missouri-St. Louis in the semifinals of the NCAA Division II Midwest Regional, the Hawks focused on the journey rather than the exit.
"To sit here with all of these people who love volleyball, who love this program, who love each other, I can truly say I've never been in a program where all of us love each other," said middle blocker Alyssa Grimm, one of six seniors. "There's no bad blood. Everybody is there for each other. We're a team. We're a family."
And they did what families do.
They support each other in the toughest of times.
There hadn't been many of those this season, not with a group that fashioned a 28-3 record, won the Great Lakes Valley Conference regular-season championship and made the first NCAA Tournament appearance in program history.
Yet, this night proved to be the toughest of tough.
"Clearly, tonight was hard," said senior defensive specialist Kailey Reckers, a Quincy native and Quincy High School graduate. "But I think this program has so much to be proud of. Not just our performance and our grind, but the people that don't get the time on court that still come in every day and grind their hearts out because they want us to be better.
"I'm just so excited to see where they go because they have the brightest future. We have the hardest working group that I've played with in my life. I'm just excited to see where it goes."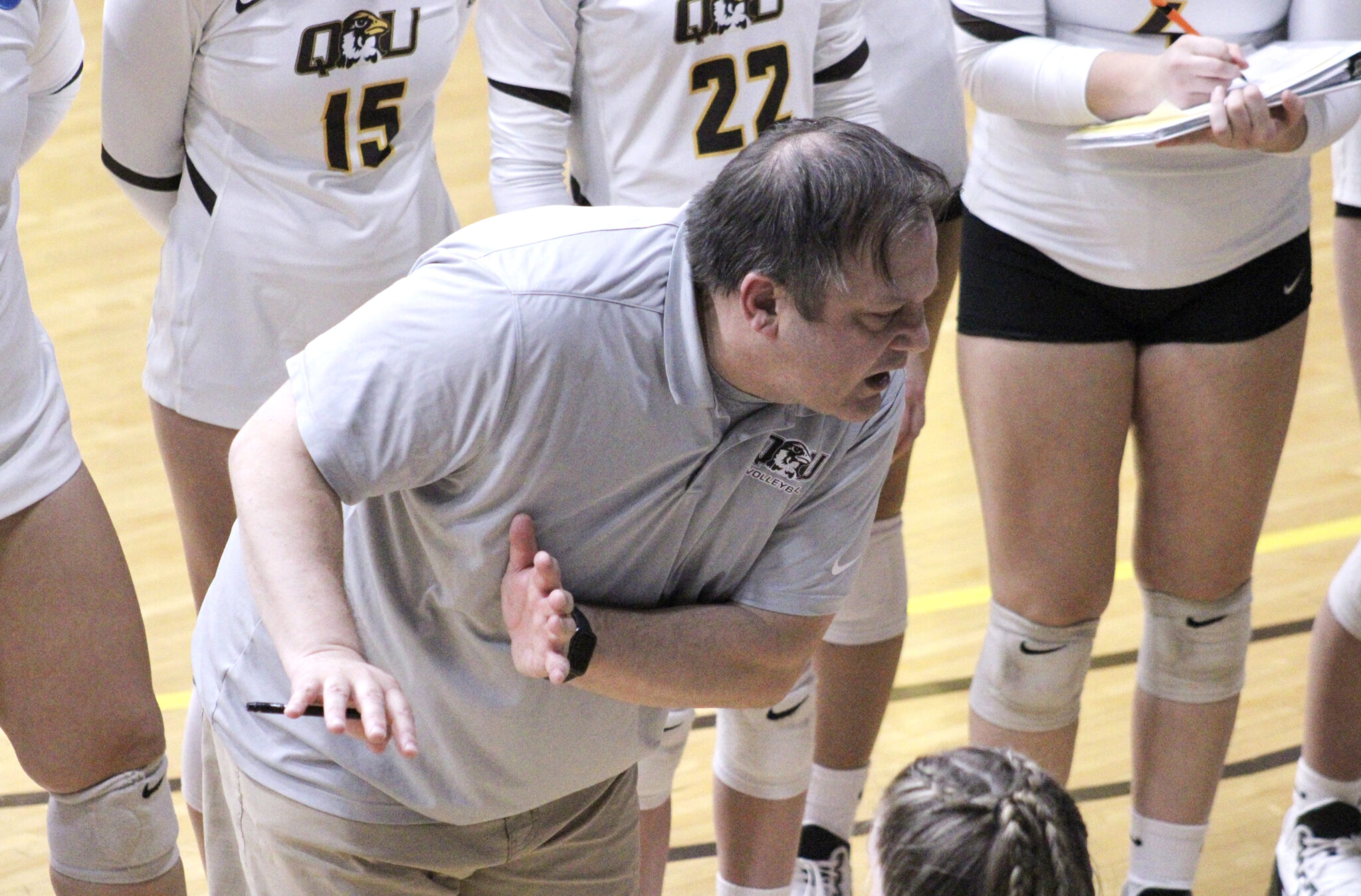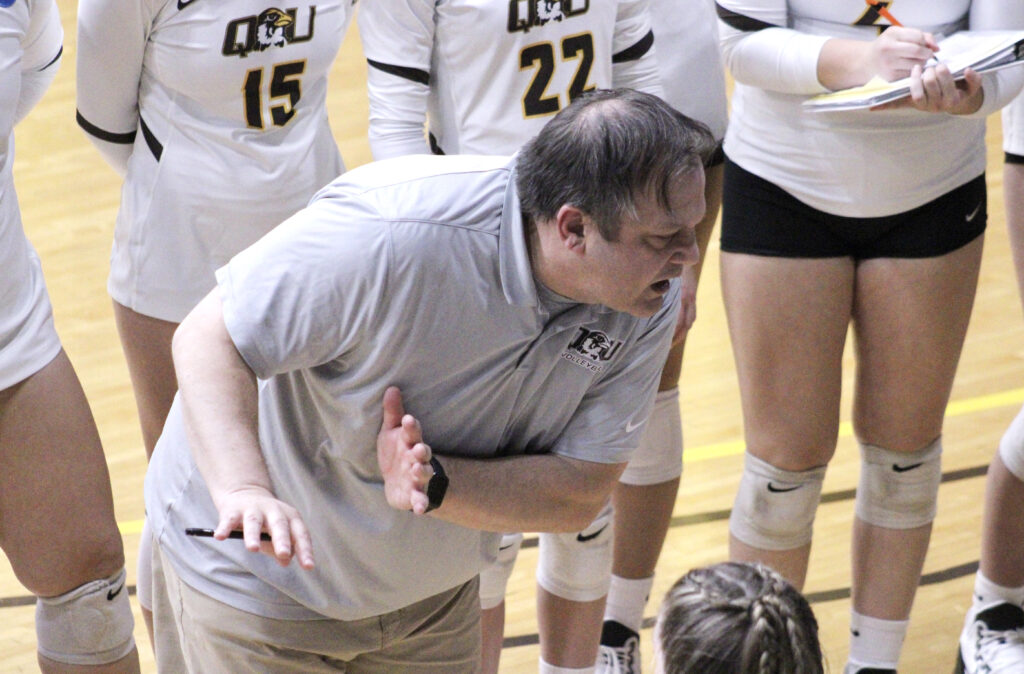 To fully appreciate that, you have to know where it's been.
Since joining the Great Lakes Valley Conference in 1995, Quincy had not won more than 19 matches in a season. The Hawks put together winning streaks of 13 and 14 matches this season — they didn't win as many as 13 games in 11 of the previous 27 seasons as a D-II program.
They were 20-40 in the two seasons combined before Jones arrived in 2019 and revamped the program and its culture.
The Hawks won 15 matches in each of his first two seasons before going 18-13 last year with an 11-7 record in the GLVC. An 11-1 record within the league followed this season, and Jones is now 76-40 overall.
That's more victories than any of his four predecessors and a better winning percentage than any coach in program history.
That's a credit to the players he has recruited and the belief and trust they've put in him, especially from those who followed him to Quincy that first season without knowing if the rebuilding job would actually work.
"I dropped out of college and I wasn't going to play volleyball again," senior setter Makayla Knoblauch said. "Mark gave me the opportunity again. All I really knew about him was he was a good person and he knew volleyball. I didn't know anything about QU, so it was a little scary.
"When I came here, I was like, 'Oh, wow, there's a lot of work to do.' Knowing Mark had my back and Mark knew I had his back, we just worked everyday."
A remarkable player-coach relationship was forged to go along with the bond between teammates that was building. It's how this season came to be, with everyone showing up everyday for each other.
It's why saying goodbye hurts so much.
"I know they're going to be around because they are constantly going to be with our program, but with this group, it's hard to imagine they're not going to be here," Jones said with his voice wavering. "It's going to be difficult for me to fathom that they are going on to better things and be incredible young women, like they are right now. I guess it really hasn't hit me yet that they're not going to be here.
"I'm going to miss them so much."
Still, they never will be too far away, brought together by volleyball but bonded by love.
That's a legacy to treasure until the very end.
Miss Clipping Out Stories to Save for Later?
Click the Purchase Story button below to order a print of this story. We will print it for you on matte photo paper to keep forever.