Quarter century of memories: High-level play matches anticipation for renewal of QHS-QND series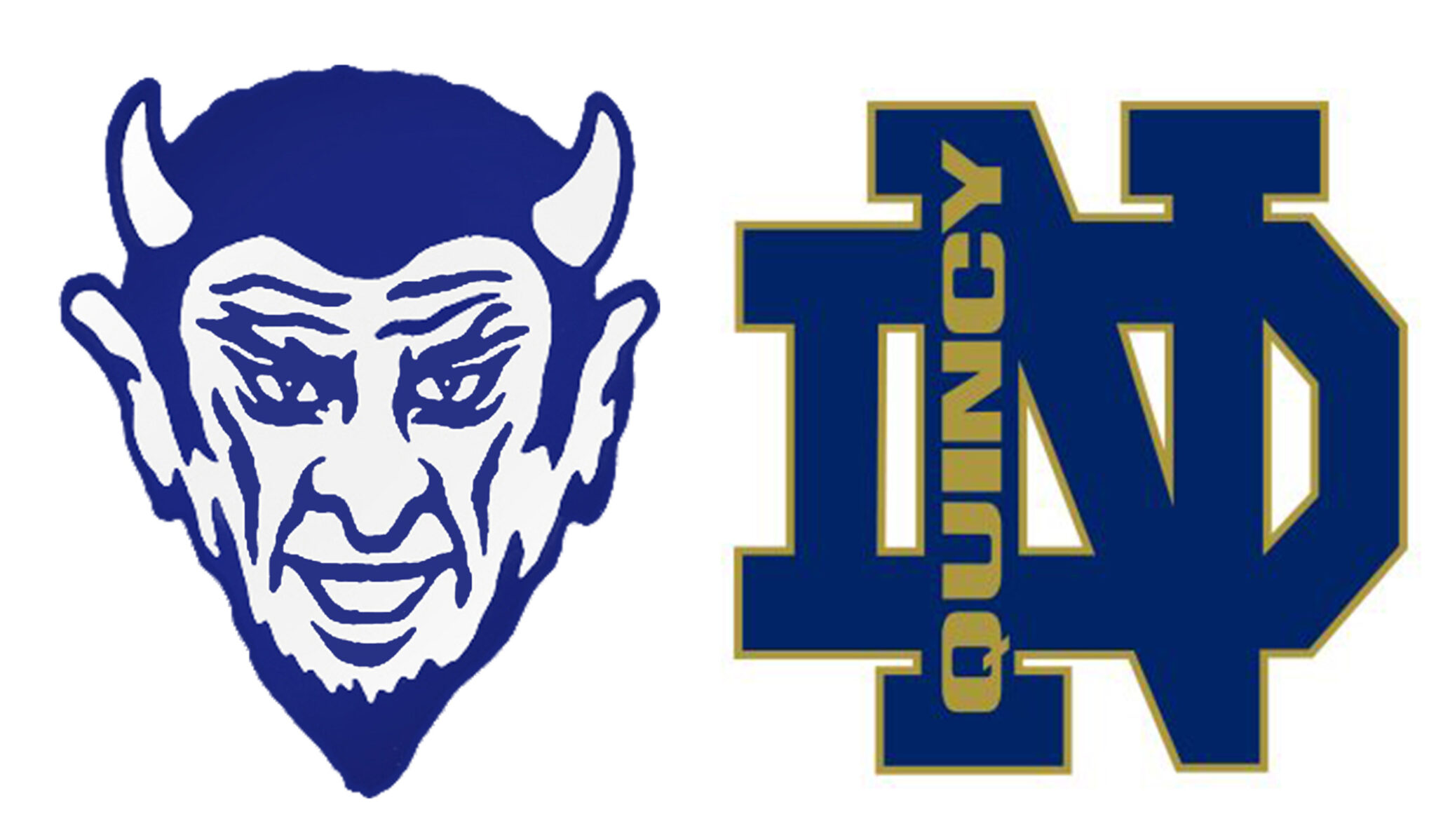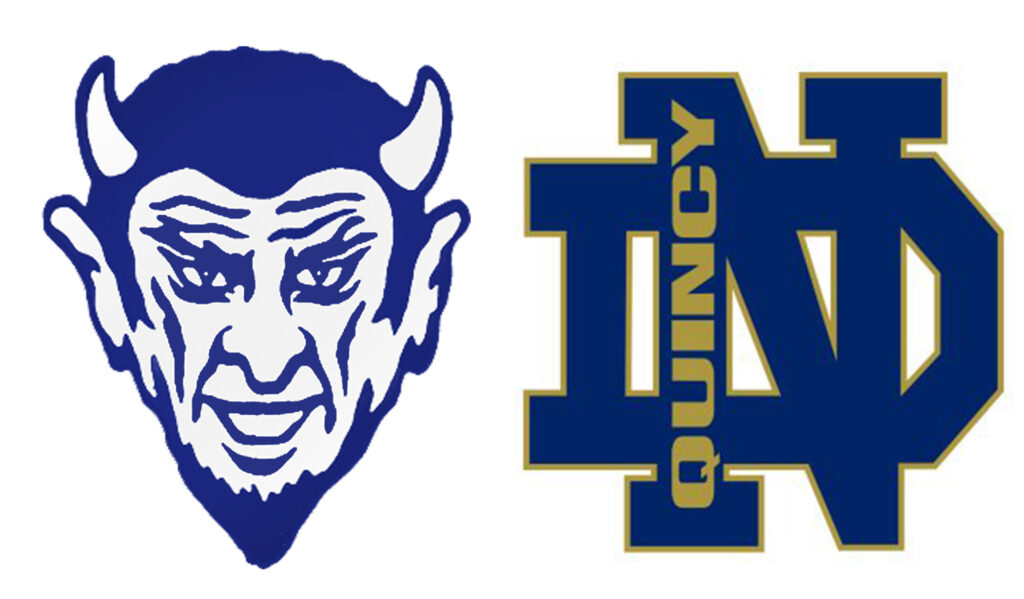 Muddy River Sports Editor Matt Schuckman began covering the Quincy High School boys basketball program during the 1998-99 season, and since he recently wrapped up his 25th season following the Blue Devils, he put together a list of his 25 most memorable games. Here is today's installment:
January 6, 2007 — Quincy 60, Notre Dame 59
QUINCY — How often does the hoopin' match the hype?
When the Quincy High School and Quincy Notre Dame boys basketball teams renewed acquaintances on January 7, 2007, at Blue Devil Gym — the first intracity matchup in 36 years — there were those concerned about both the outcome and the community.
Memories of division within the community the regional matchups created in 1970 and '71 lingered after three decades. When the Illinois High School Association adopted a two-class system for the 1971-72 season, the chance of the Quincy schools meeting in the postseason was eliminated.
Neither had an interest at the time of scheduling a regular-season matchup.
That ultimately changed. In the spring of 2006, the schools announced they had agreed to a two-year, home-and-home series and would re-evaluate the series future after that. Instantaneously, it became the most anticipated and most ballyhooed game on either team's schedule.
"It's a very big deal … to us and to everyone else," QHS point guard Scooter Wallace said in the leadup to the game. "They've put a lot of pressure on us. Teachers, students, everywhere we go, it's all about QND. Everyone mentions it, saying, 'You better win. You better win.'"
That was pressure.
"I don't think there is any real way to get away from it," QND guard Devon Frericks said at the time. "It's everywhere. In every class, somebody brings it up."
They showed up to see it, too.
Blue Devil Gym was packed beyond capacity, leading to a standing-room-only crowd and an electric atmosphere that had QHS guard Jordan Witte saying, "I'm in awe," after the game. Everyone got their money's worth for their ticket as the the game wasn't decided until 3.4 seconds remained.
That's when the Blue Devils' Mitchel Rein hauled in a rebound of a Ryan Stuckman missed 3-pointer, helping preserve QHS's 60-59 victory. To win, the Blue Devils had survive a furious comeback by the Raiders in the game's final two minutes
QHS led 55-44 with 1:48 to play following Quentin Watson's three-point play. However, Tyler Durst and Matt Welding both buried second-chance 3-pointers. Welding hit his fourth 3-pointer of the game with 25.2 seconds remaining, pulled the Raiders within 58-56.
Rein answered Welding's 3-pointer with a pair of free throws, helping the Blue Devils salvage what had been a miserable fourth quarter at the line. QHS went 3 of 10 from the free-throw line over the final eight minutes and 14 of 26 overall.
Those three fourth-quarter free throws were enough to hold off the Raiders on a night when all of Quincy won.
"I don't know how many detractors there were out there, but if they came to the game tonight, I don't know how they can walk out of this gym and say this is a game that shouldn't be played," former QND coach Scott Douglas told the Quincy Herald-Whig that night.
Fortunately for Quincy, the game has been played every season since 2015 and will continue to be played thanks to the widespread support from the community.
To check out previous stories in this series, click on the links below:
Forbes outduels Randle to boost Blue Devils' WB6 title pursuit
Wallace's return from suspension starts run to regional title
Blue Devils dismantle Redbirds to end regional title drought
Return of QHS-QND series comes with sophomore guard Shoot-ing down rival
Summers buries Maroons' title hopes with last-second shot
Kvitle's career-best scoring effort carries QHS to regional title
Dade's half-court heave banks in for Thanksgiving tourney title
Summers puts hip pain aside to leave Alleman hurting
Riled up Blue Devils run former assistant coach's team out of gym
Medsker's willingness to play despite days battling flu leads to epic performance
Jobe's 3-point barrage puts in him record books
After assistant coach suffers heart attack, Blue Devils 'had to do it for Coach Q'
Wires' buzzer-beater sinks Kahoks in sectional semifinal
Rupert's 3-point barrage brings QHS sideline to life
Shoot, Blue Devils rekindle Blue Devil Gym magic in comeback against Webster Groves
Douglas' debut as QHS head coach is 'special, truly special'
Watson's triple-double, Bush's all-around effort carry Blue Devils to regional championship
Forbes ties 3-point record, sets career scoring high in Blue Devil Gym
Victory No. 2,000 happening at Blue Devil Gym makes perfect sense
Fairley's buzzer-beater results in wild ride out of Blue Devil Gym
Technicals, ejections lead to Douglas getting one-night audition as head coach
Blue Devils' Anders teaches Panthers to show respect by going on two-minute scoring binge
Miss Clipping Out Stories to Save for Later?
Click the Purchase Story button below to order a print of this story. We will print it for you on matte photo paper to keep forever.