One Hull of an idea: Morphing radio broadcasts into YouTube channel allows Central Illinois Sports to highlight student-athletes with broader reach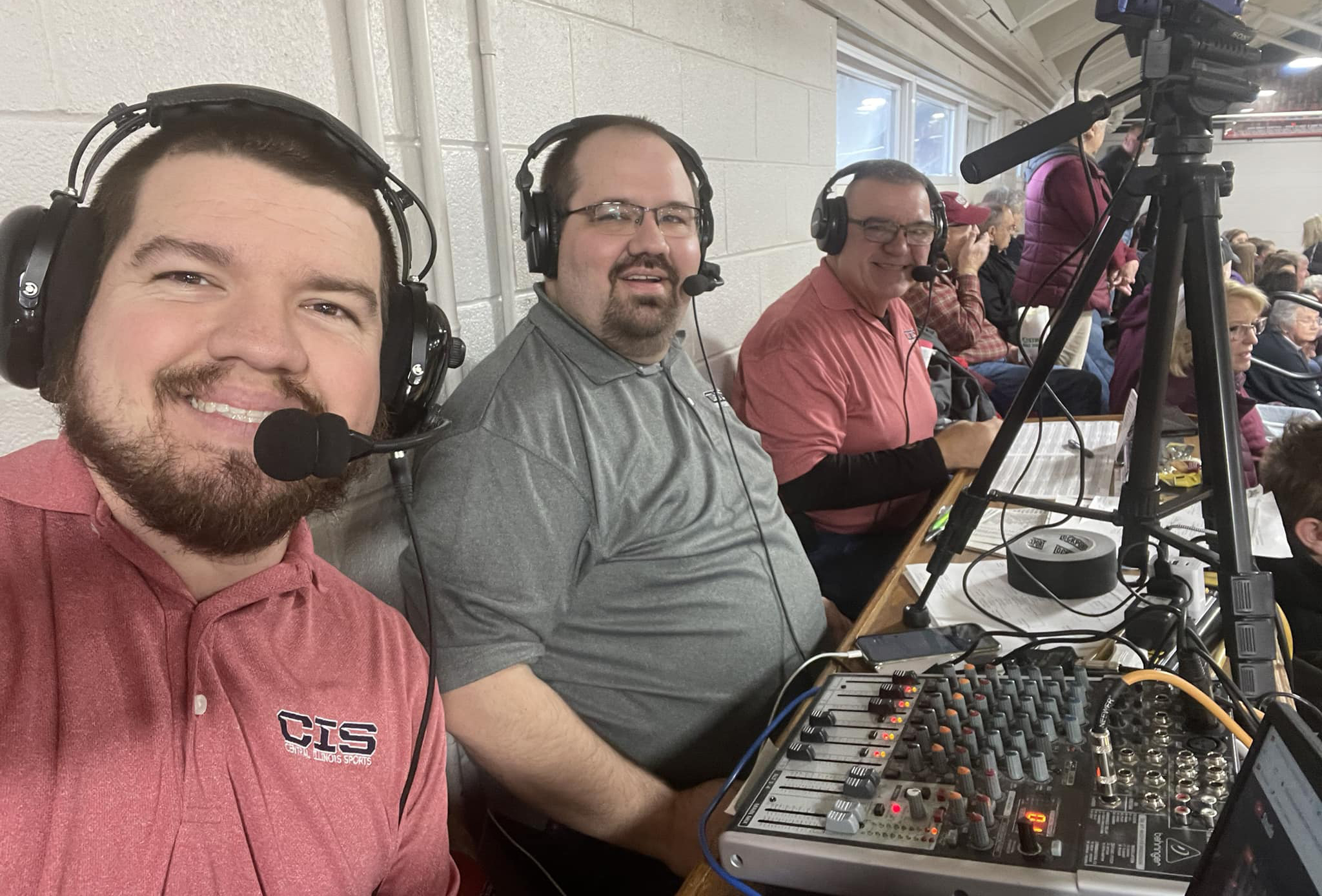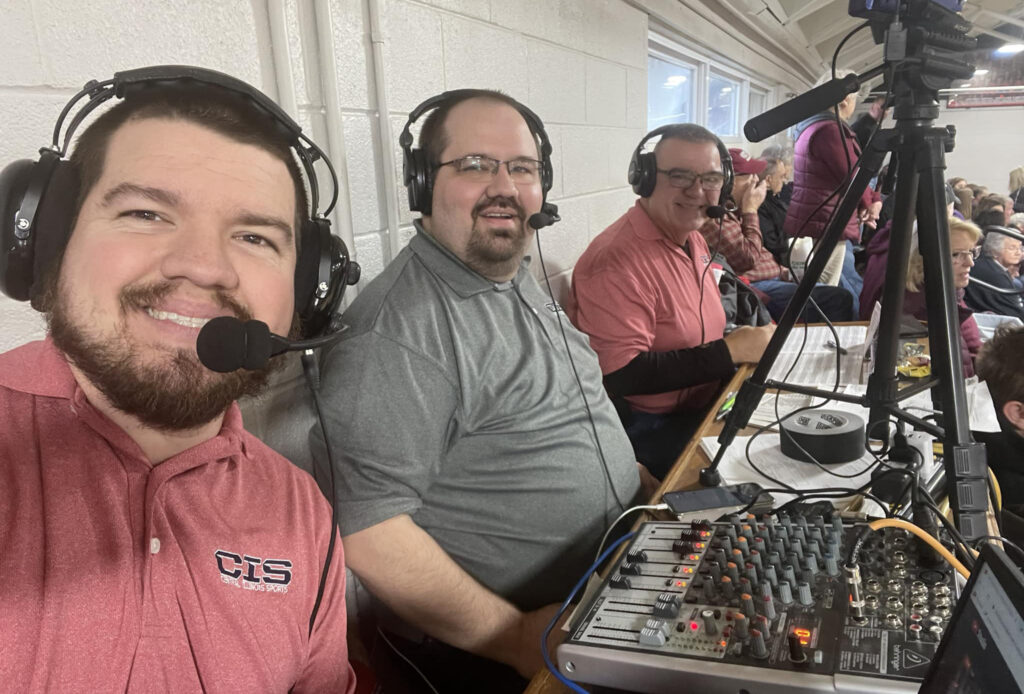 PITTSFIELD, Ill. — Charlie and John Hull were slipping on headsets and helping broadcast sporting events when most kids their age were collecting Pokémon cards.
Just 10 and 13 years old, respectively, they would tag along with their dad, Jack Hull, who was working alongside the late Harry Wagy for WBBA-FM in Pittsfield. Jack soon became part of an ownership group that operated that radio station and another in Jerseyville.
"Back in those days Charlie wanted to talk and John didn't," Jack laughed. "We kept them up extremely late a lot of nights."
More than two decades later, father and sons continue to be fixtures on the airwaves, although technology has enabled them to extend their reach. When Jack retired from the radio business in 2018, Charlie and John started Central Illinois Sports, which streams audio and video content from local games via YouTube.
With Charlie and Jack handling most of the play-by-play and color commentary duties and John, who still doesn't like to talk, manning the camera and handling statistics, the trio and other members of their broadcast team work about 150 dates annually, streaming mostly high school events.
One date often equates to more than one game. For instance, they broadcast all eight games from the opening round of the Winchester Tournament on January 7, and multiple games for the tourney's remaining six days — 26 games in all.
And this Friday and Saturday, Central Illinois Sports will stream all 17 games of the Quincy Shootout.
"It was one of those things where we had broadcast on radio for so long that when Dad retired out of the radio business, we decided we might as well keep broadcasting," said Charlie, now 33. "We had started doing video in 2012 and 2013, so we knew what we were doing.
"Still, starting a YouTube channel from scratch with no subscribers is a challenge. We're a little bit surprised how some things have grown. There are so many ways people consume entertainment now, even at the high school level.
"We try to get out and cover as many things as we can. We try to highlight the kids in the area. There are not a lot of radio stations left that go out and broadcast games. We help somebody's mom and grandmother who maybe can't get there watch the games."
Central Illinois Sports now has nearly 4,000 subscribers, although subscribers are not charged a fee to view broadcasts. While there is a $10 charge for access to all Quincy Shootout games, local advertisers make other broadcasts possible.
"I don't care if it's newspapers, the internet or broadcasting, you can't do it if you don't have sponsors," Jack said. "They're the fuel for everything. You have to pay for equipment, pay the bills, pay for the gas and miles you put on your cars.
"I've been in marketing for 45 years. People have been great about it. Sometimes we run out of inventory to sell. We have been blessed by some people who every once in a while make donations because they like what we do and want to help."
WBBA began streaming audio of its game broadcast in the early 2000s, about the time of the outbreak of the Iraqi war.
"The warden of the prison (in Pittsfield) was in Baghdad serving as an MP," Jack recalled. "He sent us a note saying he would get up at 3 a.m. his time to listen to his daughter's games.
"We were reaching truck drivers and salesmen who were on the road and could not see their kids play. We had grandparents who were living in another state or were snowbirds tuning in. All of that is rewarding."
It was another decade before WBBA added video to its broadcasts, although the Hulls admit the quality wasn't always the best. The sound and pictures have been enhanced by technological advances in equipment, the advent of Smart TVs, high-speed internet and Central Illinois Sports' association with YouTube.
Central Illinois Sports broadcasts offer pre-game, post-game and halftime shows. In addition, a scoreboard is visible on the screen for viewers to be able to track the score and time remaining on the clock. It recently has added instant replay.
"We never claimed to be CBS, but we still look good when you throw it out on your 60-inch TV," Charlie said.
Timing is everything, and Central Illinois Sports saw its number of subscribers soar with the outbreak of COVID-19, when in-person attendance was limited for most sporting events. For many, the only way to watch games was to go online, and CIS and other outlets provided that service.
"There was one 54-day stretch when we did about 120 games," Charlie said. "That's the only way a lot of people could watch. It definitely changed a lot of things."
The National Federation of State High School Associations contracts with many schools nationally, including in Illinois and Missouri, for cameras to be used to broadcast games. Most, however, are video only, and there is a subscriber fee.
"Watching a silent game is an interesting concept," Charlie said.
Some schools broadcast via Facebook, sometimes with audio, often without. Others have their own YouTube channels, sometimes manned with student announcers.
"We went to a playoff game last year just to watch because the school didn't want to let us in because they were affiliated with NFHS," Jack said. "The camera wouldn't move inside the 20-yard lines, so it missed all seven touchdowns."
Central Illinois Sports' principal coverage area includes Pike County, some Adams County and schools in the Western Illinois Valley Conference. Brian Shoemaker provides coverage in Mendon and Payson, as well as some Hancock County events.
It offers high school football and volleyball broadcasts in the fall, and basketball and some wrestling in the winter. Unpredictable spring weather makes airing baseball and softball problematic. It also showcases junior high teams that reach state tournaments.
While not directly affiliated with CIS, Steve Surratt of BC Hornet Sports in Mount Sterling usually coordinates coverage in Brown County so the outlets supplement each other, rather than overlap.
For example, BC Hornet Sports covered the girls Christmas basketball tournament in Beardstown while CIS handled coverage of the boys tournament in Macomb.
"We try to stay in our core area because we know what people in this area want," Charlie said. "We always have a chance to cover somebody of interest, boys or girls. We had 35,000 to 40,000 views during the Winchester Tournament. There are other times we look up to see 65 people are watching the game we're doing."
Charlie said he had contacted Eric Stratman with the Quincy Shootout last year to let him know CIS would be interested in broadcasting the event. The Shootout had previously contracted with another vendor, but Charlie said he saw late last year that it was looking for a streaming partner, and an agreement was reached.
CIS will broadcast four games from Quincy High School and four games from Quincy Notre Dame on Friday night, as well as nine games from Blue Devil Gym on Saturday. It has been posting podcasts about the Shootout and featuring teams involved leading up to the event.
"We're trying to build some excitement," Charlie said. "One of our goals is to drive people to go watch the games. The only way an event like this happens is if people show up to buy tickets.
"We're there for those who can't sit through nine games in one day, for the families of kids who are coming in from other states and can't attend."
Charlie said he envisions Central Illinois Sports will continue to grow and improve its coverage and reach in West-Central Illinois, particularly in Hancock County.
Its business model and mission will not change, however.
"It's about highlighting the kids," Charlie said. "It's not really about what we do. There's nothing fancy with what we do. Get a camera and a microphone, keep it simple and call the game."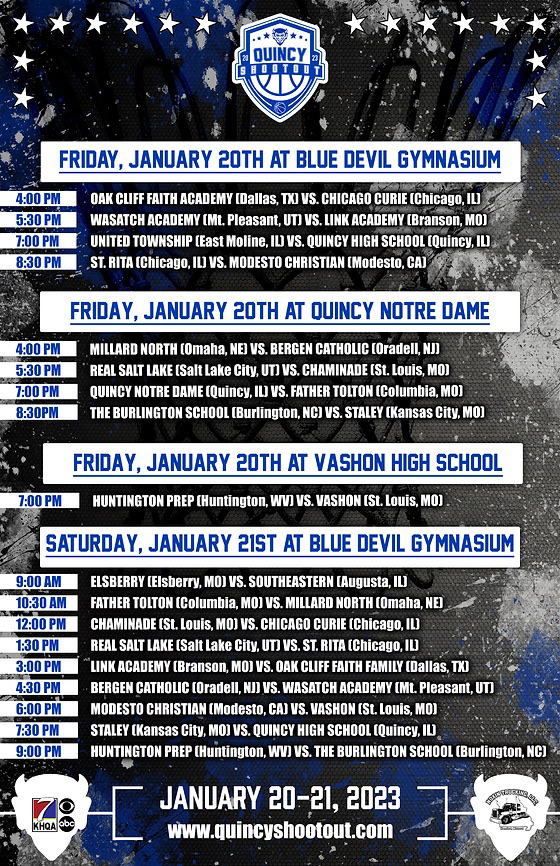 Miss Clipping Out Stories to Save for Later?
Click the Purchase Story button below to order a print of this story. We will print it for you on matte photo paper to keep forever.