Crim: Youthful Palmyra squad makes strides to build foundation for future success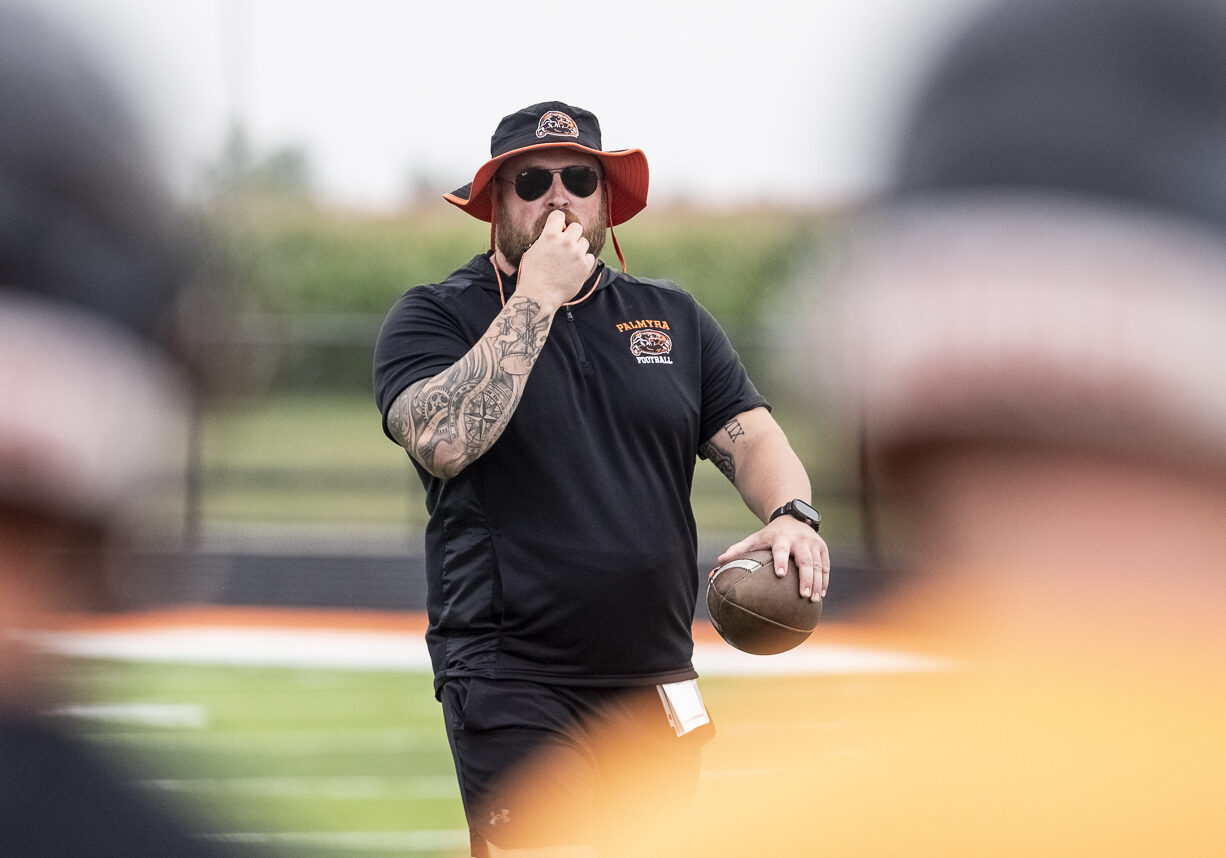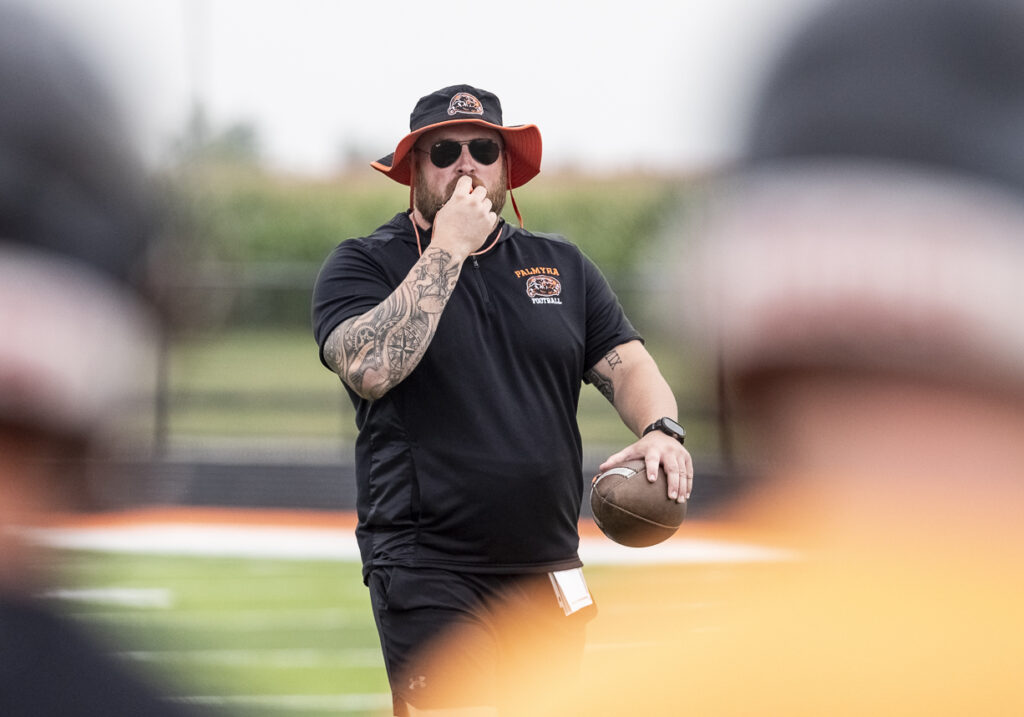 PALMRYA, Mo. — Even as his team was closing out the high school football regular season with a loss to undefeated and state-ranked South Shelby, first-year Palmyra coach Dalton Hill saw things that made him hopeful.
"I was proud of our guys in the first quarter, the first quarter and a half, when we held them to a 3-0 score," he said. "That's what we're looking for, small gains each week. We're playing a lot of young guys, inexperienced guys, and South Shelby is a senior-laden team. We're setting standards and it's all finally settling in."
The Cardinals, averaging more than 50 points per game after running roughshod over the rest of the Clarence Cannon Conference, eventually pulled away for a 55-0 victory to earn the league title and the top seed in the district playoffs that begin this week.
It has been a remarkable turnabout for South Shelby. This year's senior class was winless as freshmen before steadily improving, capturing four games the following season and eight last fall to set the stage for the current run.
"That's a template we want to follow," he said. "We want our guys to buy in and be accountable and be disciplined with training in the offseason. Doing all the little things right is what makes teams great. Whether they want to or not, they are going to get better."
Palmyra won only once on the field in 10 tries last season and later was forced to forfeit that contest — along with five others — for violating rules mandating how many quarters players could participate in each week.
The Panthers were rarely competitive. They scored only 104 points and were shut out four times. Seven losses came by 34 or more points.
In addition, the players then had to watch a months-long public drama play out involving several members of the previous coaching staff, ultimately resulting in their resignations and the hiring of the youthful Hill.
"Regardless of what happened in the past, the page is blank and it is up to the kids to write their own story," Hill said on the eve of the regular season.
Palmyra will take a 2-7 record into Friday night's district playoff road game against Clark County but wins and losses alone don't tell the entire story.
The Panthers went toe-to-toe with Centralia, an 8-1 team and eventual second-place finisher in the CCC, in Week 3 before falling 35-24. The year before against the same opponent, they were on the wrong end of a 35-0 rout.
Three weeks later, Palmyra took a 28-20 lead into the fourth quarter against rival Monroe City and was up 34-28 until Monroe City scored with a little more than four minutes left and tacked on a two-point conversion to regain the lead at 36-34. Palmyra drove the length of the field before stalling on downs in the red zone.
"The kids came out to play (against Centralia)," Hill said. "If a couple of different things happened in that game, it could have been another outcome, but I was proud of the kids. It was the time in the season when they began to believe they could win.
"Monroe City was one of those that stung. We were so close to winning that game. We drove the field and got in their red zone with a minute left. A couple of things went wrong and on fourth down we were a half-yard shy and that was the game."
But the coach was impressed with how his players competed.
"When I first took over, and even early in the season, the kids would struggle when things were not going their way. They would fold," he said. "We've had some injuries this season and we're playing a lot of young guys in crucial spots, but the kids have learned to fight for 48 minutes. They dig in and face adversity now."
Palmyra is averaging more than 21 points per game this season, even though sophomore quarterback Rylan Compton had never played the position before being inserted into the lineup in Week 2. In the six games before the South Shelby loss, the Panthers averaged 30 points and were competitive in each, winning twice.
Palmyra has relied heavily on the running of senior tailback Aaron Ritchey and the versatility of freshman H-back/receiver/kick returner Wyatt Augsburg. Another freshman, Pierce White, has emerged as a pass-catching threat. The offensive and defensive lines have shown improvement.
Moreover, 32 players on the original roster were underclassmen.
"We are getting young guys more game experience and getting them to compete at a higher level," Hill said.
Clark County won the first meeting between the teams, 44-22 in Week 7. Palmyra was guilty of multiple turnovers at crucial times in that contest to help enable the winners to pull away. After opening the season with four straight victories, the Indians have lost four of five.
The winner of Friday night's contest will earn a rematch with South Shelby in the district semifinals. Hill relishes the challenge this week — and, perhaps, beyond — might bring.
"We talk a lot about washing games," he said. "Win or lose, we have a new game, a new opponent in front of us. What are we going to do between Monday and Friday night to compete and win a football game?
"Like I told them, we're no longer a 2-7 team. The regular season is over. We're now zero and zero. What kind of story do they want to write, what kind of legacy do they want to leave?"
Regardless of the outcome, we're already seeing a young coach and young team grow together, which bodes well for the future.
Miss Clipping Out Stories to Save for Later?
Click the Purchase Story button below to order a print of this story. We will print it for you on matte photo paper to keep forever.