Crim: Sports writing pulses through your veins, even after decades have passed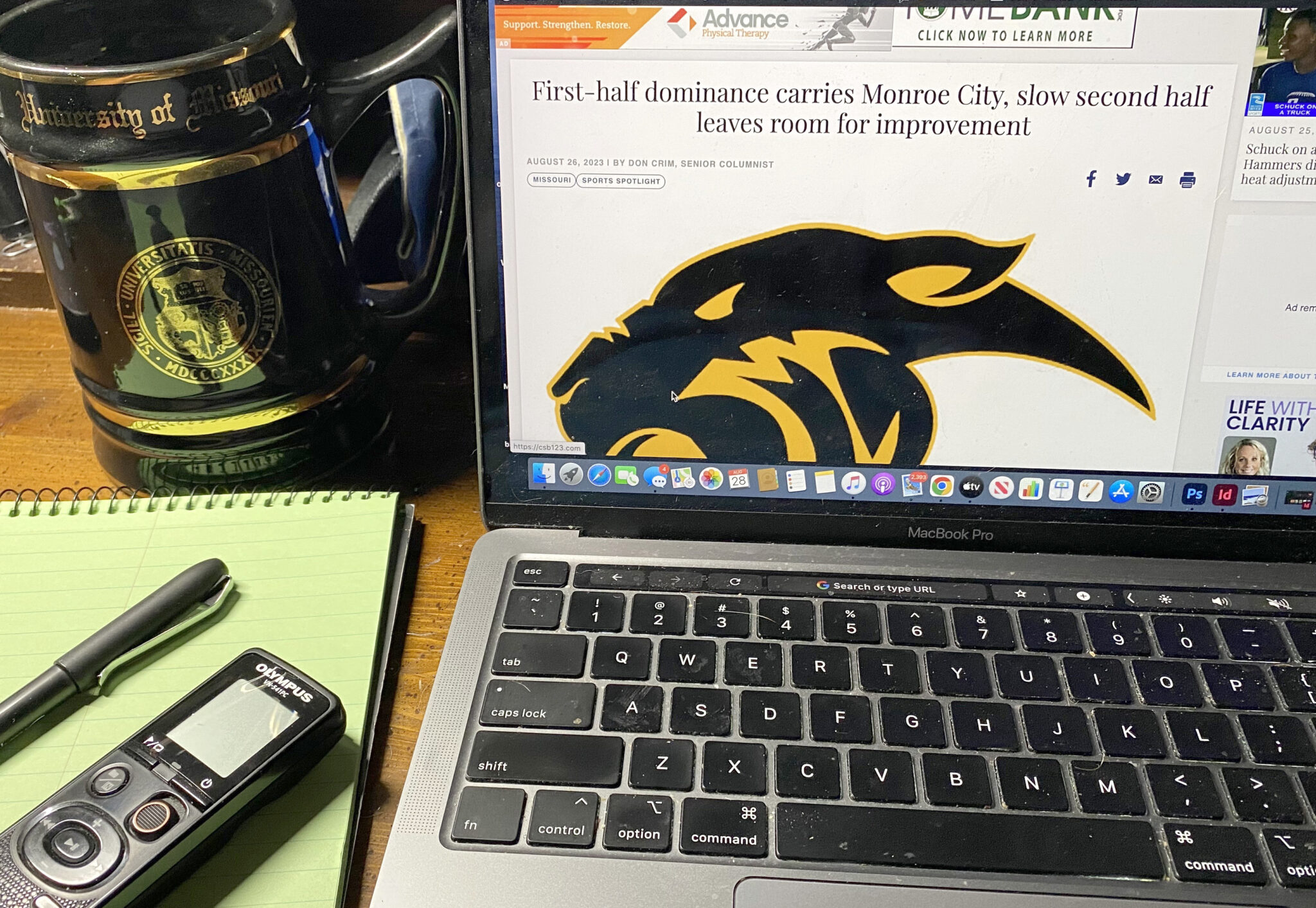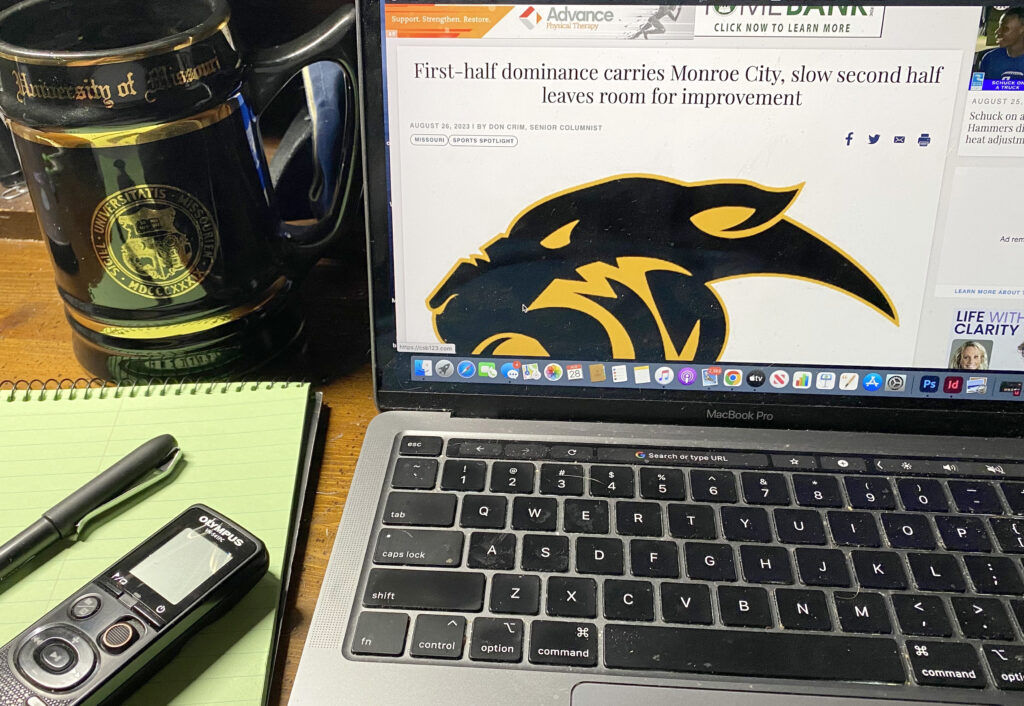 QUINCY — Before Friday night, the last time I went to a high school football game for the purpose of writing about it was Nov. 11, 1995.
Quincy Notre Dame was playing at Lewistown that Saturday afternoon in the quarterfinals of the Class 2A playoffs. Abundant sunshine was unable to mask 20 mph winds slicing across the snow-swept field. The wind chill factor was minus-3 degrees at kickoff, the warmest it got.
Steve Looten, another old-timer getting back into the sports reporting game, and I were having dinner last week at Cedar Crest Country Club. I'm not sure how the subject came up, but we agreed that was the coldest event we ever covered. I remember singeing the back leg of my coveralls — one of many layers of clothing — standing too close to a sideline heater trying to thaw out at halftime.
The Raiders lost 28-6 that day. The late Mike Pasley wrote the game story for the Herald-Whig, and I penned a column about the senior class being instrumental in helping lay the foundation for the program Bill Connell, then in the fourth of his 27 seasons as coach, was trying to build.
I left the sports department on the eve of the 1996 fall sports season to take a managerial role in the Herald-Whig's news department, and remained on that side of the newsroom until I retired in 2018.
I took in some high school and college games over the years, always thinking from the stands what I may have written because that's what writers do. The difference being instead of racing to meet a deadline, I went home afterward like the other spectators.
That began to change in late 2021 when Muddy River Sports coaxed me out of retirement to write a weekly column and occasional feature stories. I covered some Quincy University basketball games last winter when Sports Editor Matt Schuckman faced an overloaded schedule, but otherwise stuck to my routine.
(Men's coach Steve Hawkins threatened to ban me from Pepsi Arena when the Hawks lost the first two games I staffed. I think he was joking, but coaches can be superstitious. Fortunately, QU won the third game, and my press credentials were left intact.)
They say returning to do something you have done hundreds or thousands of times before is like riding a bike — you never forget how to do it. While it is likely true, I haven't ridden a bicycle in a long time, either. There's some rust to knock off.
Which brings us to Friday night.
I offered to expand my role with Muddy River Sports this fall to include covering games. Steve Eighinger, another sports editor in his younger days, jokes we must be the oldest part-time writing duo in Illinois since we will be a combined 137 years old by years' end. He has dubbed us Muddy River Sports' Walter Matthau and Jack Lemmon, a couple of grumpy old men.
It should be noted Steve is a grumpy old man with an appetite for concession stand food.
My first assignment was the Monroe City-Mark Twain football game in Center, Mo. Unlike that bitter afternoon in 1995, the heat index hovered around 100 degrees when the teams kicked off an hour later than normal to allow the sun to set.
There is a small press box at Mark Twain High School, but it is not air-conditioned, and I suspected the heat index inside it was even higher. So I opted to walk the sidelines, remembering how to keep a running play-by-play while jotting down pertinent notes and avoiding players crashing out of bounds.
Aside from being close to the action, walking along a football sideline allows you to hear the constant chatter between coaches, players and officials. I also had a bird's-eye view of a player throwing up as he took his stance near midfield just before the ball was snapped. The chain gang was on my side of the field and a member noticed the Muddy River Sports shirt I was wearing.
"Do you like Bob?" he asked, referring to Muddy River Publisher and General Manager Bob Gough, a Mark Twain alum. "My parents are having dinner with his parents, Jim and Sharon, tonight. He's OK."
Ours is a small world.
The game moved along briskly until it became a slog in the second half with players continually going down because of cramping brought on by the heat. It was nearly 11 p.m. when the final horn sounded, past my normal bedtime.
There were interviews to conduct and then a 50-minute drive home before sitting down to finish compiling statistics, transcribing notes, writing a story and sending it. My wife stayed up to make sure I arrived home safely, just as she did those many years ago when cellphones and text messaging didn't exist and, as she explained, she never knew whether I was alive or lying dead on the side of a road somewhere.
Despite only a little more than four hours of sleep, the alarm on my body clock went off early. There was coffee to brew, the dog needed to be let out and fed, and I needed to help prepare breakfast for three granddaughters who had spent the night.
I also checked the Muddy River Sports website to see if my story had been posted, read my colleagues' gamers and compare our reports with competitors.
Then, after the girls left, it was time for a nap. Or two.
There are more games on the docket this week. Now I need to brush up on soccer.
Miss Clipping Out Stories to Save for Later?
Click the Purchase Story button below to order a print of this story. We will print it for you on matte photo paper to keep forever.