Crim: Four decades later, QND football team's remarkable turnaround remains impressive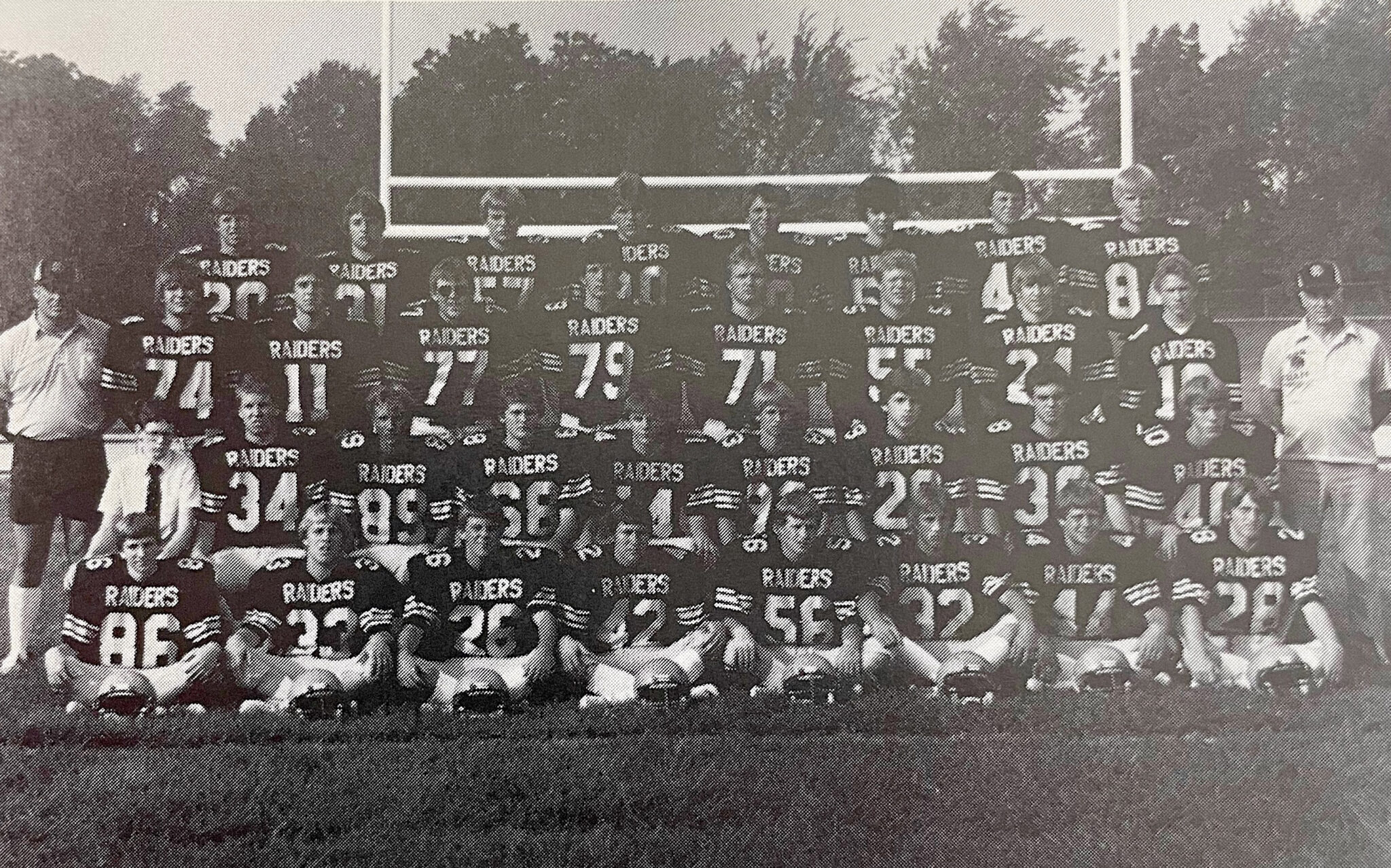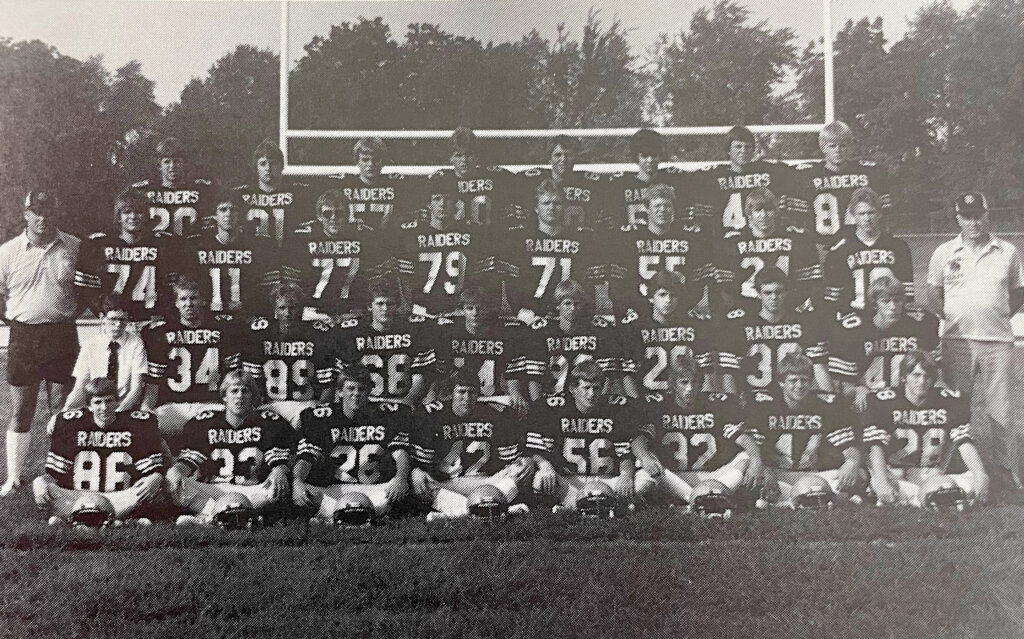 QUINCY — It has been 40 years since the Quincy Notre Dame football team engineered one of the biggest one-season turnarounds in school history.
The Raiders were coming off back-to-back 2-8 seasons in 1983 and had lost 19 of their previous 23 games, dating to the tail end of the 1980 campaign. It had been nine years since their lone playoff appearance.
The 1982 season couldn't have gone much worse. The team didn't reach the end zone until its 134th offensive play and scored only 70 points, with 45 of those coming in the fourth quarter of games usually decided. QND was shut out three times, never led at halftime and was guilty of 35 turnovers.
Against that backdrop, the venerable Bob Winstead replaced Ron Davis as head coach. A future Illinois High School Football Coaches Association Hall of Famer, Winstead had spent 27 years coaching at Jacksonville Routt, Rushville, Champaign Centennial, Camp Point Central and Virginia.
Winstead, whose appearance and mannerisms resembled Harry Morgan's Sherman Potter character on the TV series M*A*S*H, vowed to return the Raiders to their winning ways when he was introduced in late May.
No one, however, anticipated what transpired that fall.
"He was definitely an old-fashioned coach," remembers Jim Wosman, a holdover from Davis's staff who served as defensive coordinator. "He had a country background and a little twang when he talked. He had experience and the kids had a lot of respect for him, and he respected the kids. They worked hard for him.
"We knew we had a talented group, especially with people like Eric Kuhlman and Brent Fischer. We had a good nucleus around them, too, kids who loved to play football. They all had a good work ethic and discipline. We hoped that would turn into victories."
It did.
After a season-opening road loss to Mount Pleasant (Iowa), when it turned the ball over six times, had more penalty yards (115) than total offense (95) and never advanced beyond its own 47-yard-line, QND rattled off eight consecutive victories behind the running of Kuhlman, the passing of quarterback Tom Lowe and a stout, punishing defense to capture the inaugural Greater Midwestern Conference title and earn a playoff berth.
It was a whirlwind for nine weeks.
"We went up to Mount Pleasant and lost 17-0," Fischer said. "We were on the bus after the game chattering away, and maybe there was some music playing. All of a sudden, we see a silhouette stand up at the front of the bus. It was Coach Winstead and he said, 'Where I come from, losing is not something you celebrate or talk about.'
"He was disappointed in us that we accepted losing. You could hear a pin drop the entire ride home. The next week we shut out Fort Madison (Iowa), and from that point it was game on."
Stonewalling opponents
The defense allowed just 10 points in Weeks 2 through 7, posting five shutouts in those six games. The Raiders allowed only 66 points the entire season.
How dominating were the Raiders during that six-game stretch?
• They limited Fort Madison to 87 yards of total offense in winning 21-0.
• They held Hannibal (Mo.) to one first down and 32 yards of offense in the second half of a 19-12 road victory. (Two of the Pirates' points came on a safety.)
• They registered seven sacks of Jacksonville quarterback Barry Werries, the last late in the game that produced a fumble that linebacker Jeff Cosgrove recovered at the Crimson's 1. Kuhlman scored on the next play for a 7-0 win.
• They held Macomb to 97 yards of offense in winning 22-0 on 1-yard touchdown runs by Kuhlman, Lowe and Cosgrove.
• Chatham Glenwood recorded only 86 yards of offense, with 44 of those coming on a pass play on its first possession that gave the Redskins first-and-goal from the 2. They never crossed the goal line as the defense held on four straight plays, and QND won 22-0 with Kuhlman rushing for 166 yards and two TDs.
• Kuhlman raced 57 yards for a touchdown on the game's second play, the first of three he would score, and the defense produced another goal-line stand in a 21-0 victory over Alton Marquette, a state semifinalist the year prior.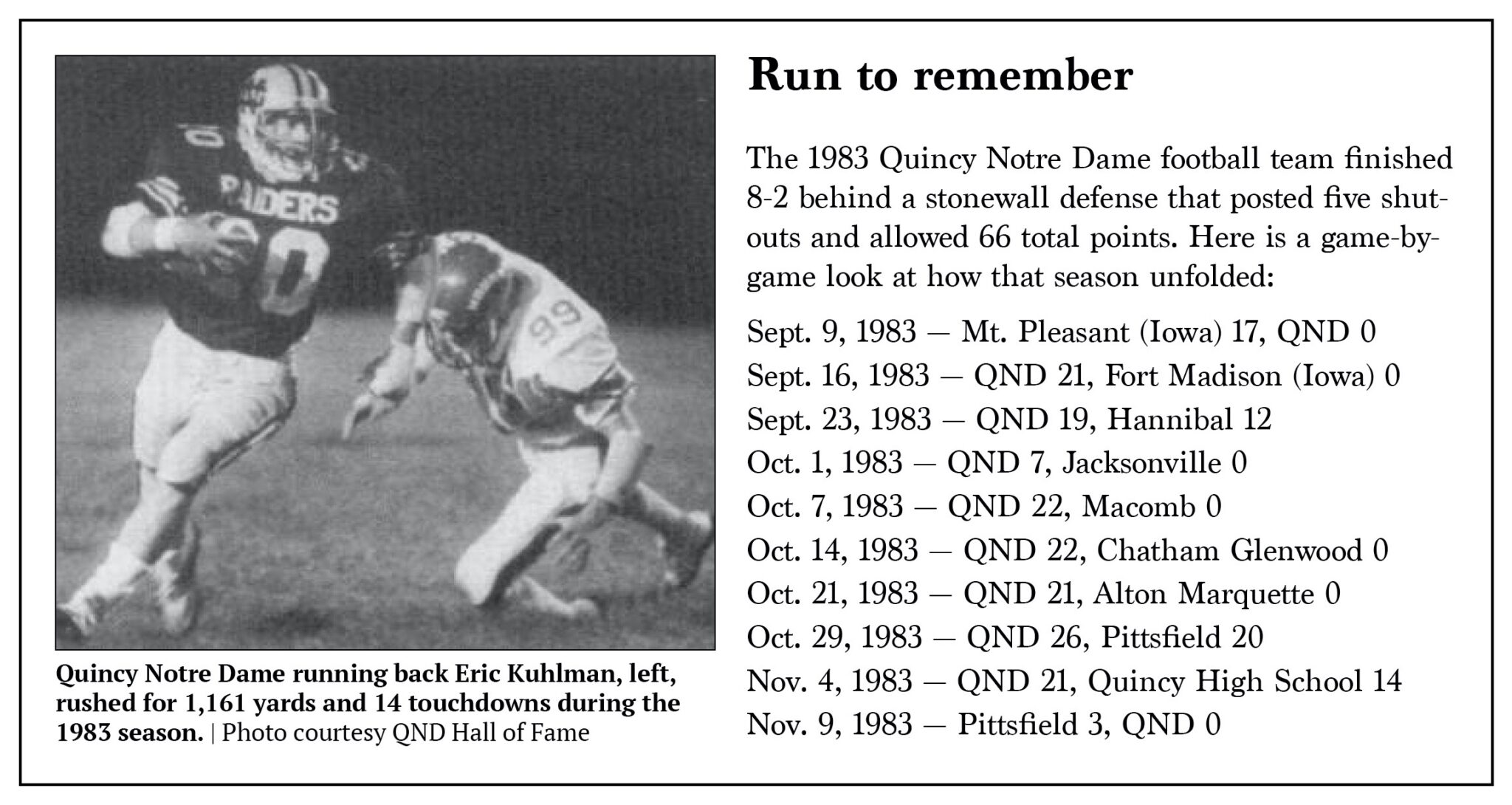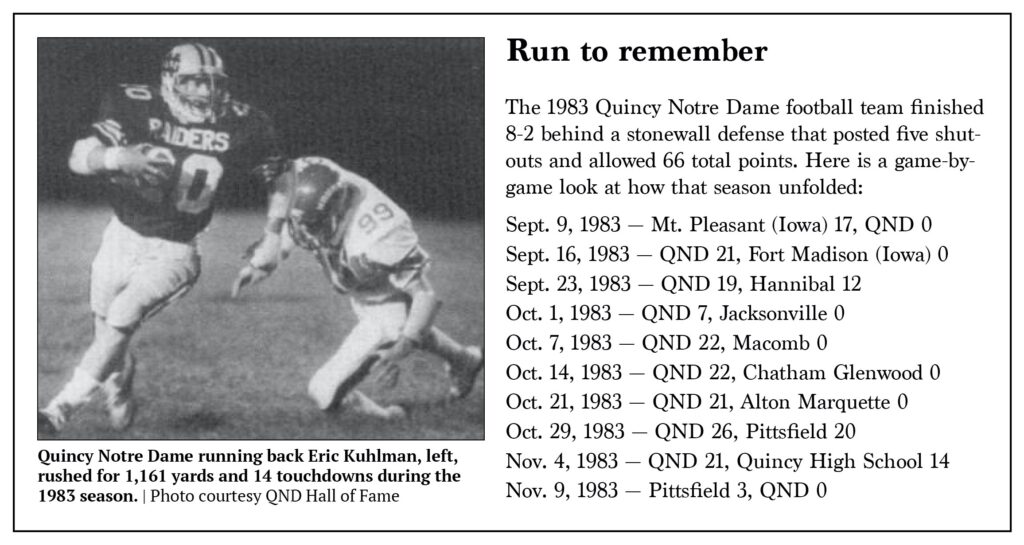 "We had a good group and the coaches put us all in the right spot," said Fischer, then a 6-foot-5, 215-pound junior who played defensive tackle alongside Aaron Schulte (6-foot-2, 210 pounds). "Schulte and I were the only two who had our hands in the dirt. Everybody else stood up.
"We had Steve Schutte and John Laaker at ends, with Cos (Jeff Cosgrove) and Joe Hoebing in the middle at linebacker and Mark Kuhlman and Steve Venvertloh on the outside. Hoebing brought an attitude with him and was just tough. Cos was crazy. All he wanted to do was hit people, which he did.
"The whole defense just flew around hitting people. It was a matter of being physical. Coach Winstead would focus on whoever the other team's stud was, and by Friday night he had you wanting to hit him so hard that he didn't want to come out to play in the fourth quarter."
Offensively, the Raiders kept it simple with Kuhlman largely running off-tackle behind Cosgrove at fullback and a big offensive line out of the Power-I formation. Lowe sprinkled in timely passing plays to Venvertloh or Schutte on the outside when defenses tried to cheat to stop the run.
Kuhlman, also a four-year starter at cornerback, was a workhorse. He had 1,161 yards rushing and 14 touchdowns on 215 carries and another 248 receiving yards to earn the Herald-Whig Player of the Year honors.
"You have to run like somebody mean is chasing you," Kuhlman said. "What made it easy was the offensive line was doing their job and creating holes. I can remember taking a toss and holding onto Laaker's or Fischer's jersey, kinda hiding behind them, and hanging back until something opened up."
"I don't know if I have ever seen another football player like Eric," said Fischer, who went on to play at Eastern Illinois University and has spent many seasons as a QND assistant coach. "Holy shit, did he hit a hole hard. He would square up his shoulders and all he needed was a crease. If he got to green grass, he was gone. When you have a guy like that behind you, why not give him a crease?"
QND vs. Pittsfield Round 1
The most anticipated game of the regular season came in Week 8 when QND hosted undefeated Pittsfield, which was ranked second in Class 3A. The potent Saukees entered the game averaging a staggering 448 yards of offense and 52.3 points per game.
"Irresistible Pittsfield collides with Immovable QND" was the Herald-Whig headline to the story previewing the contest.
Everything about the game lived up to its billing. Flinn Stadium was packed for the Saturday night affair, with fans three and four deep ringing the field.
"I can remember going back for a kickoff or punt return and looking around thinking, 'Wow, there's a lot of people here,' " Kuhlman said.
The game went back and forth. Lowe threw 80- and 75-yard touchdown passes to Venvertloh, the second giving the Raiders a 20-14 lead. Their two-point try failed, and the Saukees tied it with 10 minutes left. However, Mark Kuhlman broke through to block Layne Bennett's extra point attempt and the game went to overtime.
Pittsfield got the ball first at the 10 and lost 13 yards on three plays. Cosgrove put a season-ending hit on Adam Petty, who had thrown for 174 yards, as the quarterback released the ball scrambling to his right on the fourth-down passing attempt.
The hurried pass was knocked down by Kevin Frericks in the end zone and it was QND's turn to have the ball.
"We ran student body right on the first play, a blast on the right side where me and Laaker were," Fischer said of the play that netted Kuhlman 6 yards. "We came back with an off-tackle power play. We knew from that close there was no denying Eric."
Kuhlman plowed into the end zone from 4 yards out to secure a dramatic 26-20 victory.
"That Pittsfield game is something no one on the team will ever forget," Kuhlman said. "All of us felt grateful for getting to play in that environment and experience it. Nothing in my high school career is even close."
The Raiders still needed to beat Quincy High School in the regular-season finale to assure themselves a playoff berth. Even though they were the GMC champs, the league had only five teams, one shy of enabling the champion to earn an automatic bid.
QND was still considered an independent, and in those days with fewer classes and playoff spots, 7-2 wasn't always good enough. The 1979 Raiders were left out of the playoffs with that record.
"Losing the first game was tough," Fischer said. "We really thought we would have to win out for any chance at the playoffs. We kept the pressure on ourselves. We didn't want to end up at the negotiating table on the outside looking in."
Kuhlman rushed for 176 yards and the defense once again rose to the occasion. Fischer recovered a Calvin Parrish fumble in the end zone for one score, and up 15-14 with 2 ½ minutes left, an interception led to a 6-yard scoring run by Cosgrove to seal the 21-14 victory.
QND vs. Pittsfield Round 2
That set the stage for a playoff rematch the following Wednesday night with Pittsfield, which had dropped its finale against Hamilton with Adam Petty out of the lineup.
However, it began to rain the night before and the torrent continued through the game, turning the Flinn Stadium turf into a muddy quagmire. The game was essentially played between the 30s as neither offense could gain traction.
"Very thick mud," Eric Kuhlman said. "We all would have wished the conditions would have been better. What could you do? It's like life, you never know what you're going to be up against."
Pittsfield fumbled the ball nine times, losing three, and sophomore quarterback Paul Petty also threw an interception. Lowe exited the game with an injury in the third quarter, and QND lost three fumbles and threw an interception in the fourth period.
QND's Pat Madden missed a 33-yard field goal try early in the second quarter. Bennett failed on a 32-yard attempt with just eight minutes left, but following a fumble, he was good from 33 yards out with 5:35 remaining for the game's only points.
"The difference was an all-state kicker," Fischer said. "Credit him for hitting the money shot when he had to."
Just like that, the magical season was over.
With Eric Kuhlman and the rest of the senior class gone and plagued by injuries, QND slumped to 3-6 the following season and Winstead, tiring of his commute between Quincy and his home north of Jacksonville, retired. He passed away in 2019 at the age of 91.
The Raiders had only two winning records in the 10 seasons following 1983.
"I didn't have the perspective at the time for what we did," said Eric Kuhlman, who went on to play baseball for four seasons at Bradley University and two more after being drafted by the Atlanta Braves organization and is now a consultant for a steel framing manufacturer in suburban Chicago.
"To have a winning record and get to the playoffs, I never thought that would have happened. It all seemed to synchronize. We were lucky that we didn't lose anyone for a significant time because of an injury. Not that we didn't get injured. We all took a beating. That's the beauty of the sport. Suck it up and keep playing.
"The lesson I learned is that if you just keep getting better, and everybody else is getting better, cool things can happen."
The 1983 Raiders were testament to that.
Miss Clipping Out Stories to Save for Later?
Click the Purchase Story button below to order a print of this story. We will print it for you on matte photo paper to keep forever.