Crim: Coaching, teaching basketball keeps JWCC assistant Rafferty in 'his happy place'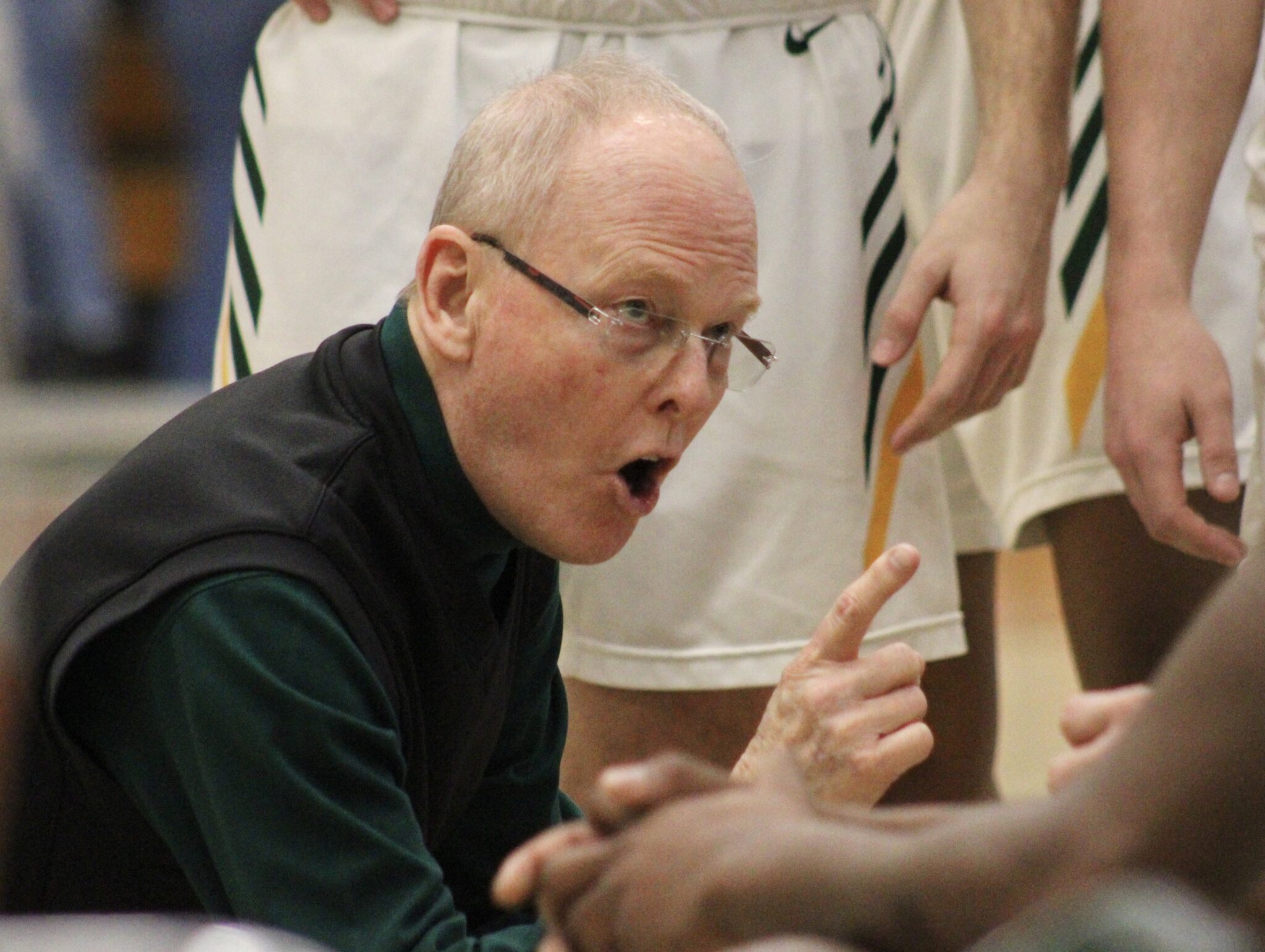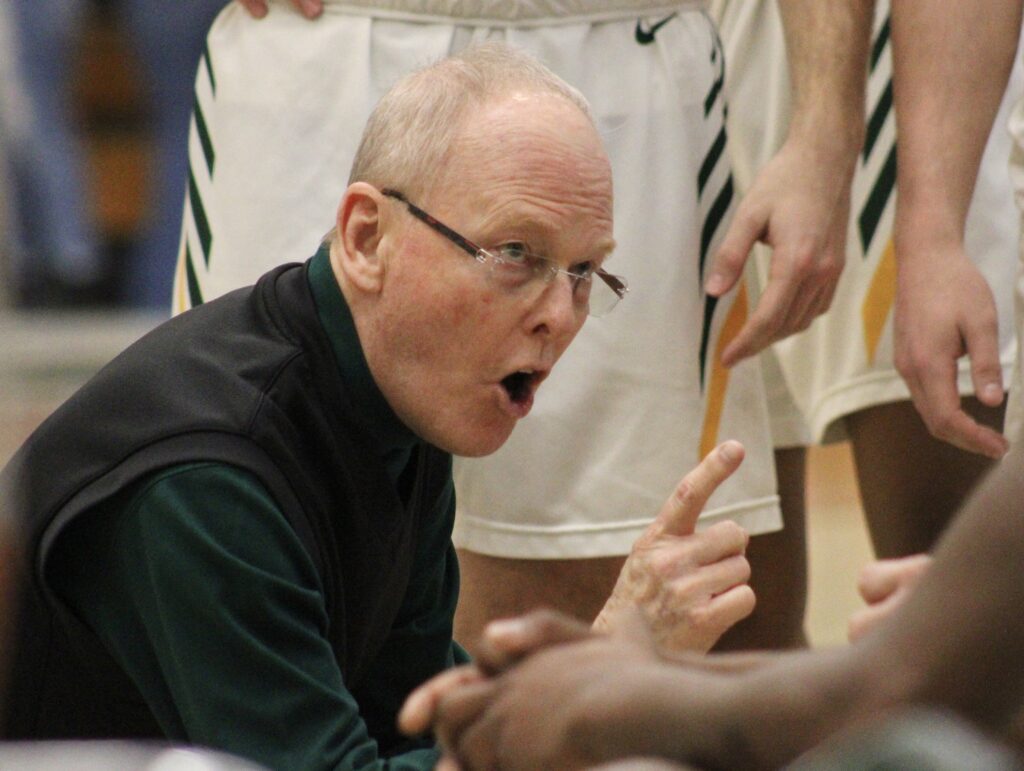 QUINCY — Pat Rafferty says he will know when it's finally time to walk away from basketball and coaching.
At 72, after spending nearly a half-century with teams in high school and college gymnasiums, that time has yet to arrive.
"He's in his happy place," John Wood Community College coach Brad Hoyt said of his assistant. "He's so comfortable in a gym. He'll say he doesn't know what he would do with his day if he didn't have a gym to go to, players and coaches to talk to."
Fortunately, those days have been few for Rafferty.
He spent 34 years as a high school head boys coach, beginning in 1973 at tiny Noble in southeastern Illinois, not far from his hometown of Mount Carmel, where he played in high school for the late Harry Elbe.
His teams at Noble, Payson Seymour, Macomb, Avon, Camp Point Central and Barry-Western won more than 500 games, earning him induction into the Illinois Basketball Coaches Association Hall of Fame, along with too many memories to count.
He led Noble, a school that had never won a regional title, to a state ranking in 1979. He guided Payson Seymour to a regional championship victory over Quincy Notre Dame at The Pit in 1987. He coached Central to its first regional title in 1996.
Along the way he earned a reputation as a "player's coach." Former players went on to become successful college and high school coaches, using their mentor as a blueprint.
"People say you never forget about the good teams," Rafferty said, "but I also remember and smile about the teams that were not so good but worked hard and got us stepping in the right direction."
Rafferty resigned his coaching position after nine years at Central following the 2002-03 season when his mother was diagnosed with cancer.
His coaching retirement was short-lived. When her prognosis was determined to be less serious than first thought three months later, he remained at Central as a teacher and spent four seasons as an assistant to girls coach Matt Long.
He returned to Payson, where he had earlier spent nine years, for two seasons before turning the program over to Brian Rea. After three years as an assistant to JWCC women's coach Norm Rodriguez, he spent two seasons coaching the boys team at Barry-Western, where he and Mike Fray taught physical education together for about a decade.
Fray, another Hall of Famer who was Rafferty's assistant during his second Payson stint, guided the Barry-Western girls team those two years — two friends and coaching lifers doing what they enjoy most, retirement be damned.
"We just wanted to get the programs rolling and then step back," Rafferty said.
Rafferty, who for the last several years has overseen JWCC's tutoring program in the Arts & Sciences division, joined Hoyt's staff last season after being sidelined from coaching for two years by health issues. He works alongside other assistants Jeff Obert and Bob Sheffield.
"Brad and I started talking about this six or seven years ago," Rafferty said. "My comment to Brad then was, 'When you really need me, I'll be there.' When Brody (Gronewald) left, I went to Brad and said, 'This could be it.'
"It's like Christmastime for me. I pick his brain and he picks mine. He's great to work under. He knows basketball and his heart is in the right place."
Rafferty sees himself as "another set of eyes" both in practice and during games, drawing upon his decades of experience to aid coaches and players.
"I usually spend the first 30 minutes of practice getting the kids started with shooting and dribbling drills while the other coaches get organized," he said. "Then I step back and observe, maybe convey a message to Brad, or talk to a kid or show him something.
"During timeouts during games while the other coaches are talking, I try to talk to the players on the bench, to settle them down, get their eyes on me and get them ready for when Brad steps into the huddle. I do the same thing at halftime. It's a role I really like."
Hoyt, the winningest coach in JWCC history, appreciates having the experience and insight Rafferty provides at his disposal. He played against Rafferty-coached teams as an athlete at QND in the early 1990s and said he has always held "an affinity and respect" for the coach.
"He brings history, but more importantly he brings knowledge and personality the players respect," Hoyt said. "He has been in a lot of situations. His mentorship has benefited me and the program.
"A lot of stuff gets shared in informal conversations. He'll show up for practice an hour early and we'll sit in the office and talk through stuff — how do we handle this; how do we handle that? In practice and on game day, he does a really good job talking to the guys individually.
"I'm the 10,000-foot view guy. He can get in the weeds with the players. I don't care how long you've been doing this, that's so valuable. We're fortunate to have him."
Rafferty enjoys the speed and physicality of the college game and calls this JWCC edition "from top to bottom the most talented and athletic team I have ever been around." Expectations have been high since this year's recruiting class, headlined by former Quincy High School all-stater Jeremiah Talton, was announced.
However, the Trail Blazers have been unable to string together more than three victories in a row in a puzzling up-and-down season. They will take a 15-14 record into their regular-season finale next Saturday at Illinois Central College.
Yet, JWCC took Mid-West Athletic Conference leader Danville, ranked seventh nationally, down to the wire last Saturday at home before losing 60-58, showing it can play with the best. Being consistent enough to beat those teams is the next step.
Three victories in the Region 24 postseason tournament March 8-11 would send the Trail Blazers to the NJCAA national tourney for the seventh time in program history, and that would make many people forget the path that got them there.
Rafferty believes this team has the talent to make a deep postseason run. And looking ahead, he hopes to be around the program next season and for years beyond that. Age is just a number, after all, and he's having too much fun to spend his winters in a recliner.
"This has been my life and I love the game, but I'm not going to be on a team to just be on a team," he said. "When I quit liking getting up every morning and wanting to go to practice, that's when I'll step away from it."
That day seems hard to imagine.
Miss Clipping Out Stories to Save for Later?
Click the Purchase Story button below to order a print of this story. We will print it for you on matte photo paper to keep forever.