Crim: Cardinals maintain focus on big picture with chance to make history in front of them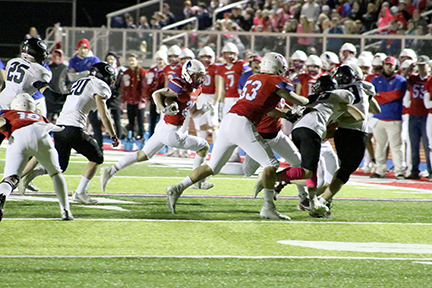 SHELBINA, Mo. — If one play could summarize the South Shelby football team's season, it might be Kendal Hammond's 10-yard touchdown run midway through the third quarter of Friday night's 48-14 dismantling of previously undefeated Centralia.
The 6-foot-2, 215-pound senior took the handoff, veered off right tackle and cut toward the end zone with a head of steam. As two defensive backs braced for a collision at the goal line, Hammond lowered his shoulder and never left his feet as he sent both defenders sprawling to the reverberating sound of pads crashing.
Even the back judge shook his head and winced.
The Cardinals have been steamrolling dazed opponents like that for eight weeks and are on the cusp of their first undefeated regular season since 2000 and first Clarence Cannon Conference championship since 2005.
Behind a punishing running game that already has surpassed 3,000 yards and is averaging nearly 13 yards per attempt, South Shelby is scoring at a 51.1-point-per-game clip and has yet to be held below 42. Its largest margin of victory has been 63 points, its narrowest 30.
An aggressive, hard-hitting defense that defeats blocks and puts a lot of players at the point of attack has forced 24 turnovers, recorded more than two dozen sacks and more than 120 tackles for loss, and has allowed only four rushing touchdowns and 58 points.
Only Centralia and Clark County have managed more than one score in a contest, and they lost by a combined 64 points.
Count Centralia coach Tyler Forsee among the believers.
"They have a great thing going right now and it's going to take a great team to beat them," Forsee said after watching the Cardinals blitz his team for 20 points in the opening eight and a half minutes to turn an anticipated showdown into a rout.
"Someone is going to have to play their absolute best to hang with these guys. I think they're going to have a long season, and I mean that in a good way."
Hammond, a combination of speed and power in the backfield and at inside linebacker, has garnered the most attention. His 255-yard effort against Centralia pushed his season rushing total to nearly 1,600 yards. His four rushing touchdowns give him 26 for the season, and he has turned two of his three receptions into scores.
Centralia loaded the box defensively in an effort to slow him, but Hammond raced 44 yards on his first carry — shedding several would-be tacklers along the way — to the Panthers' 2-yard line. It set up a short touchdown run by Cameron Wiseman, the first of two he would score in the opening quarter.
Wiseman, a second team all-state slot receiver last season, has rushed for nearly 600 yards and 11 TDs this season. Quarterback Chase Mollering is another running threat. His 40-yard run on a keeper set up South Shelby's third touchdown.
"They have a two-headed monster," said Forsee, whose team — ranked fourth in Class 3 — was coming off a 43-0 whitewashing of Highland, its third shutout of the season.
"You can ride Hammond 30 times a game right up the gut. Wiseman doesn't get as many carries, but he's a playmaker and he's super-fast. They're both capable of making the big play every time they touch the ball. And their quarterback is a solid little playmaker himself.
"Their offensive line is so quick off the ball that it's tough for a defense to stop. We were never able to get them in a position where they were uncomfortable."
Ranked seventh in Class 2, South Shelby only needs to defeat Palmyra, which notched its second victory Friday night, at home this week to wrap up a perfect regular season.
The significance of that achievement is not lost on the seniors, who were winless as freshmen in Adam Gunterman's first season as coach. The Cardinals progressed to four wins the following season and to eight last fall.
"It means a lot to us and the community," Wiseman said. "We have tried to be leaders, to get people out for the program. Time was on our side. We hit the weight room and just kept getting better and better to being the team we are now."
"Winning the CCC title would be a great feeling for that weekend," Hammond said matter-of-factly. "After that, we have to focus on the next game and just keep dominating."
Gunterman, who evened his career record at 20-20 with Friday night's win, urged his team afterward to "finish" and not lose sight of the big picture.
The CCC title would be a huge milestone, no doubt, but it is only one of the prizes the Cardinals hope to claim this season, despite moving up a class and being in a stacked district with the likes of state-ranked Bowling Green, Monroe City and Clark County.
"It would be a shoutout to not only our seniors, but to all the seniors who came before them and helped build the program back to what it is," Gunterman said. "Guys who were here my first year didn't get to experience this, but they're just as much a part of this as the kids on the team right now.
"Finishing the regular season 9-0 would mean a lot to the community and to the kids in this program. Hasn't been done in 23 years. This group's leadership is a huge reason why we've been successful, from the offseason all the way to now.
"But we want to be 14-0, so everybody's got to stay locked in."
Miss Clipping Out Stories to Save for Later?
Click the Purchase Story button below to order a print of this story. We will print it for you on matte photo paper to keep forever.