Monroe City excels playing 'old-school football,' grinds way into Class 1 state semifinals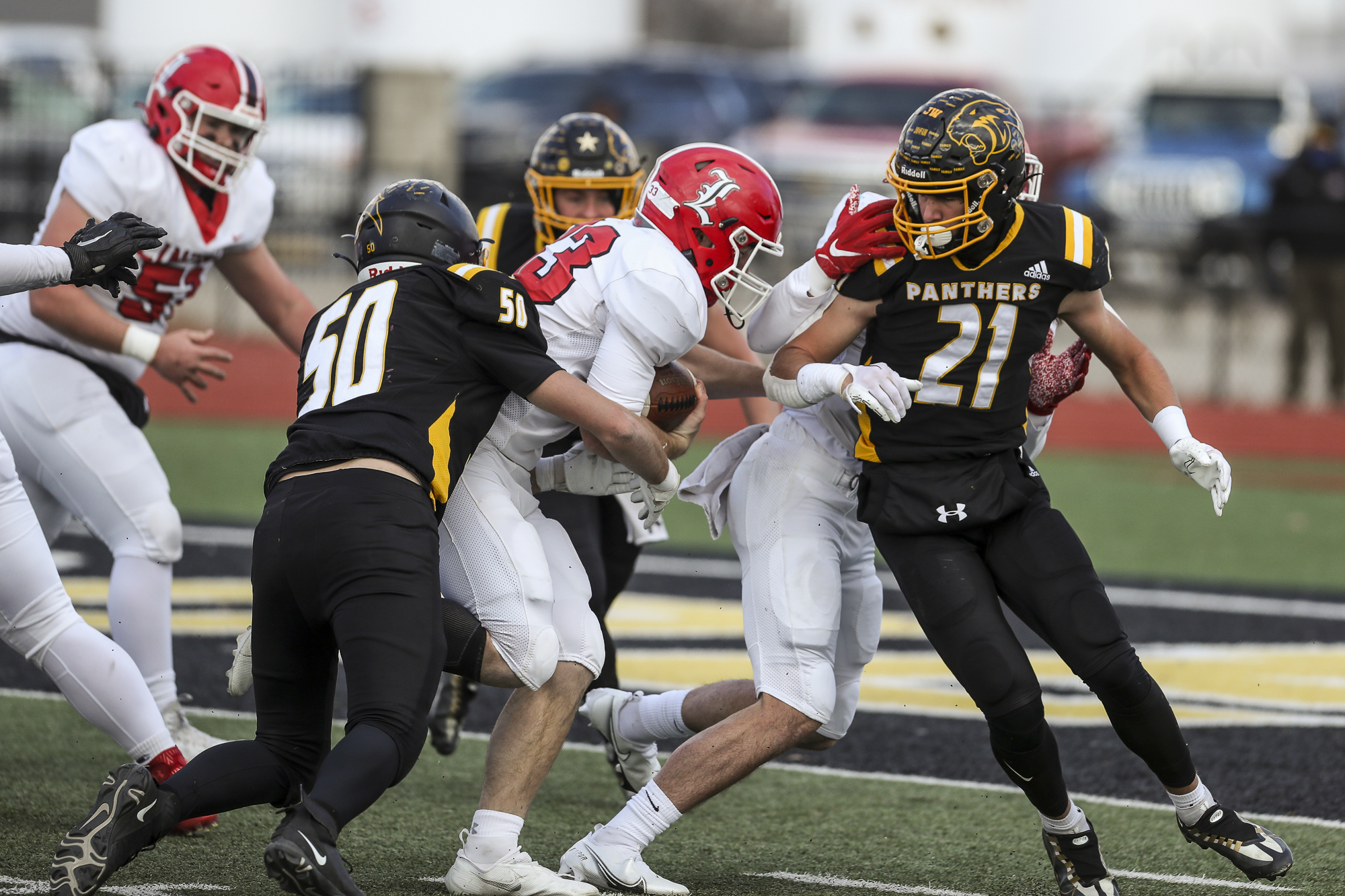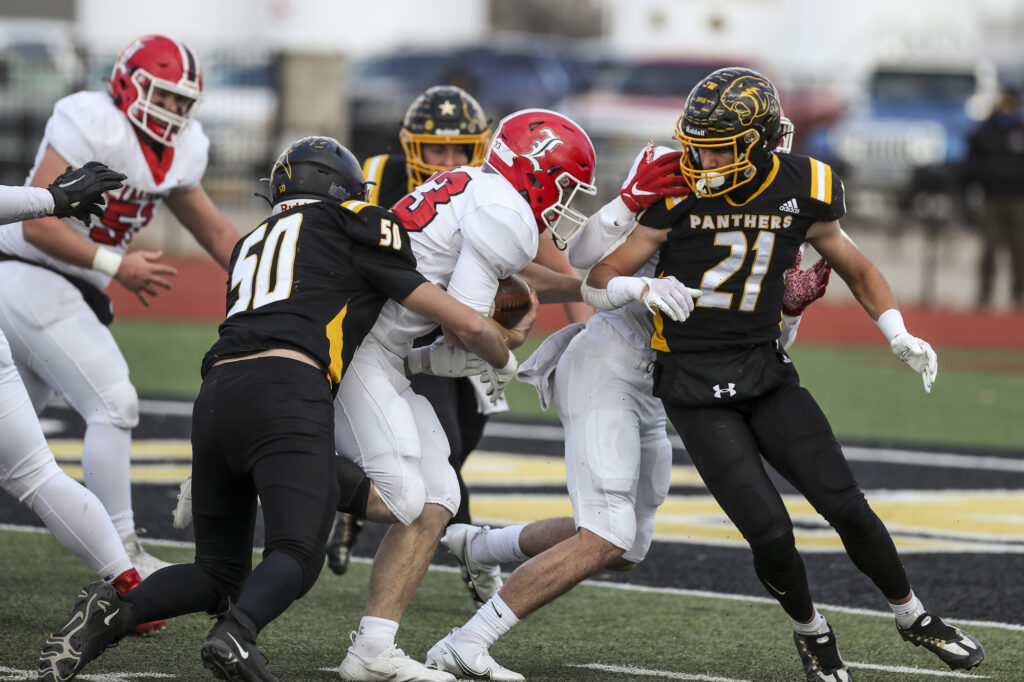 MONROE CITY, Mo. — The bottom line?
"Now we've got the chance to play 48 more minutes," said Monroe City running back Ceaton Pennewell, only moments after his club had survived a grueling Class 1 quarterfinal test Saturday afternoon against Lincoln.
Monroe City's 26-12 victory at Lankford Field did not come easy.
If nothing else, the weather alone was a challenge. The two schools played in wind-blown and bitingly cold conditions. Consistent gusts of about 20 mph, coupled with a 30-degree temperature, lowered the playing conditions to a 16-degree wind chill factor.
The passing game was virtually non-existent — there were a combined two completed throws — as both Monroe City (13-0) and Lincoln (11-2) relied on little else but their efforts to run the ball.
"This was old-school football," said Pennewell, who bulled his way to 141 yards on 30 carries. "This was Monroe City football."
The turning point in the game arguably came about 2 1/2 minutes into the third quarter. Monroe City failed to gain a first down on fourth and 4 at its own 22-yard line, but immediately got the ball back when the Panthers' defense forced a Lincoln fumble on the ensuing play. Monroe City was clinging to a 20-12 lead at the time.
Defensive end Gabriel Creel forced the fumble, leveling Lincoln quarterback Connor Lynde, who found himself engulfed in an inescapable pocket. Lynde's fumble was recovered by linebacker Dawson Karr.
"I knew it was my chance (to make an impact)," Creel said. "It felt good to step up and make a big play. It felt like slow motion as the play was unfolding."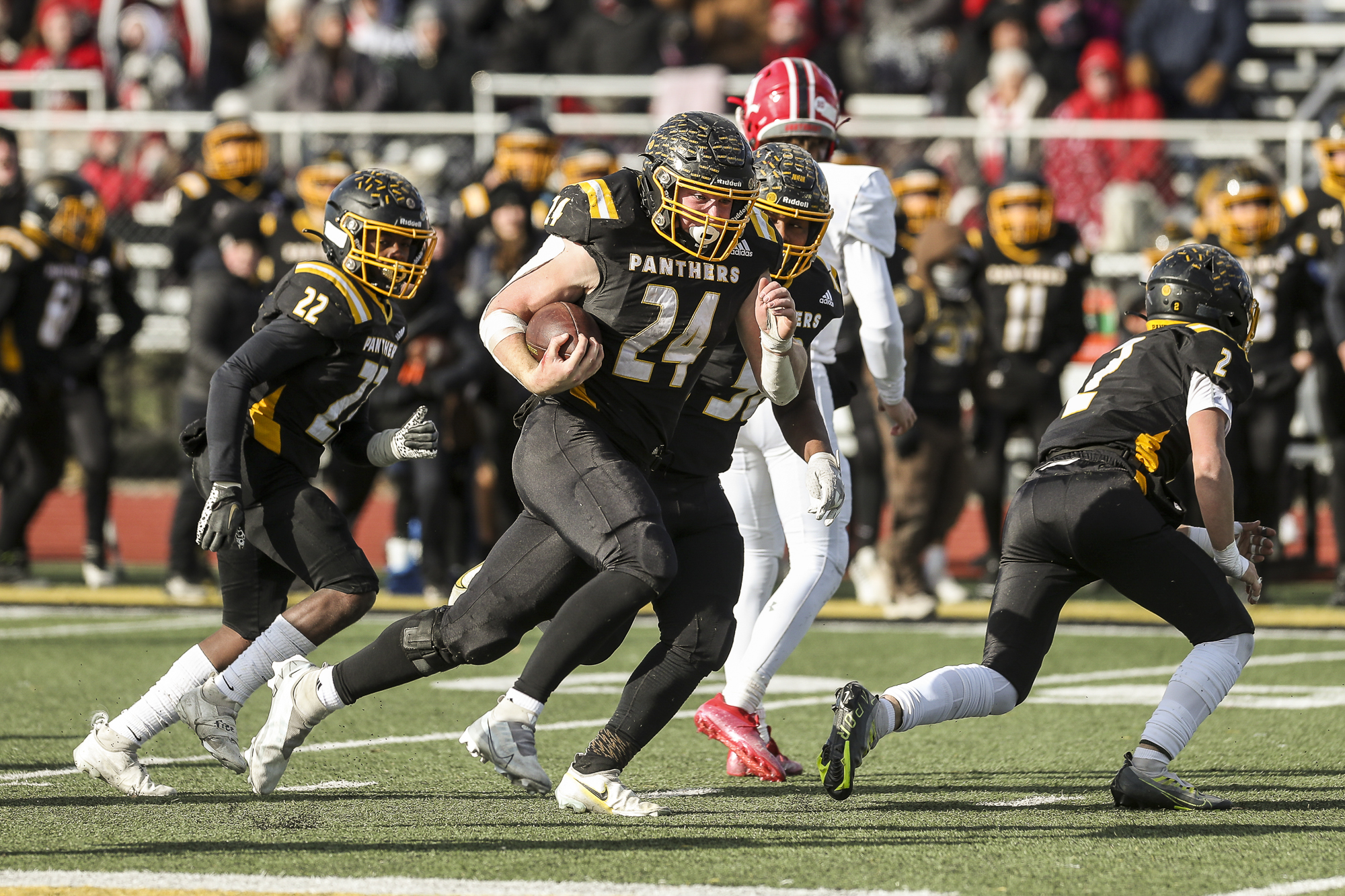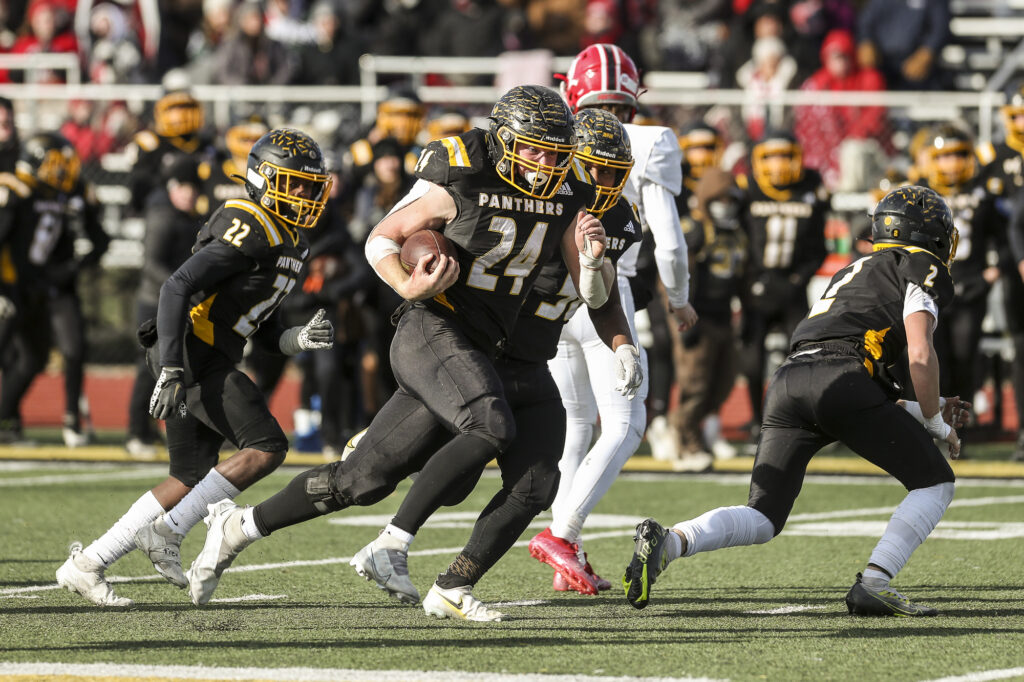 Prior to the fumble, Lincoln was about 20 yards away from potentially tying the game and had momentum on its side.
Then came the Creel hit and Karr recovery.
"I think that was probably the turning point in the game," Creel said.
Monroe City coach David Kirby both praised the work of his defense on that play and defended the decision to gamble on fourth down so deep in Panthers territory.
"That (defensive play) was a huge turning point, especially after we had failed on fourth down," he said. "Going for it in a situation like that is nothing new for us. I thought we could pick up the first down. If we don't make it on a play like that, the defense has to step up and do the job. You can't just rely on the offense."
Kirby's eyes lit up when talking about Creel's effort that forced the fumble.
"He looked like Lawrence Taylor on that play," the 10th-year coach said.
Monroe City eventually iced the victory when Landon Utterback scored the Panthers' fourth and final touchdown with 6 minutes, 31 seconds left in the fourth quarter. Utterback scored on a 4-yard run, punctuating a dominant day on the ground for the Panthers offense that laid the foundation for Monroe City's 28th win in its last 32 home games.
"This ain't the end of the track," Kirby said. "The train just keeps moving."
Monroe City, which did not throw a pass, ran the ball 59 times for 267 yards and three touchdowns. Lincoln netted 73 yards on 32 rushes. Ross Johnson was Lincoln's lone threat on the ground, finishing with 74 yards on 20 totes. Johnson and Lynde scored Lincoln's touchdowns on short runs.
Joining Utterback with Monroe City rushing touchdowns were Pennewell, who ran for the 60th of his career, and Cameron Jones. Pennewell reached the end zone from 1 yard away just before halftime and Jones on a 21-yard scamper in the first quarter. Monroe City led 20-6 at intermission.
Waylon DeGrave scored Monroe City's other touchdown on a 75-yard kickoff return to open the game. DeGrave was forced from the game, however, with a second-quarter leg injury and never returned.
Monroe City's offensive output was its lowest of the season, having scored 40-plus points in 10 of its previous 12 games. The Panthers have outscored their four postseason opponents 198-54.
Up next for Monroe City, which is 75-15 since a 3-8 finish in 2015, is a semifinal game at Adrian (11-2), scheduled for 1 p.m. next Saturday. Adrian ousted Marionville 26-14 in one of Saturday's other quarterfinals
Monroe City is seeking its fourth state championship. The Panthers won the big iron in 2017, 1996 and 1994 and finished second in 2016, 1998 and 1997.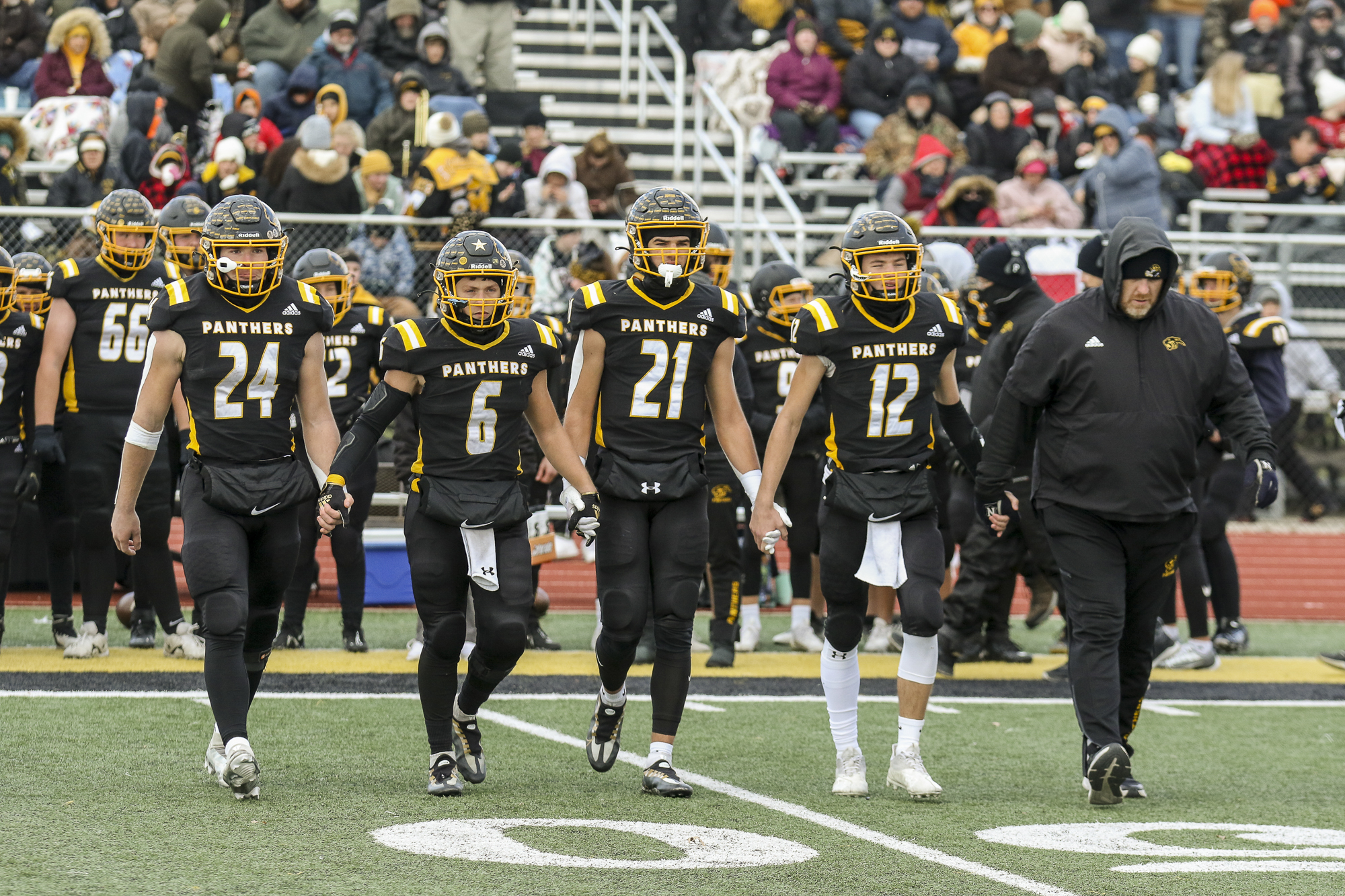 Miss Clipping Out Stories to Save for Later?
Click the Purchase Story button below to order a print of this story. We will print it for you on matte photo paper to keep forever.