JWCC Show-Me Spotlight: Record-setting Stolte making most of senior season with Pirates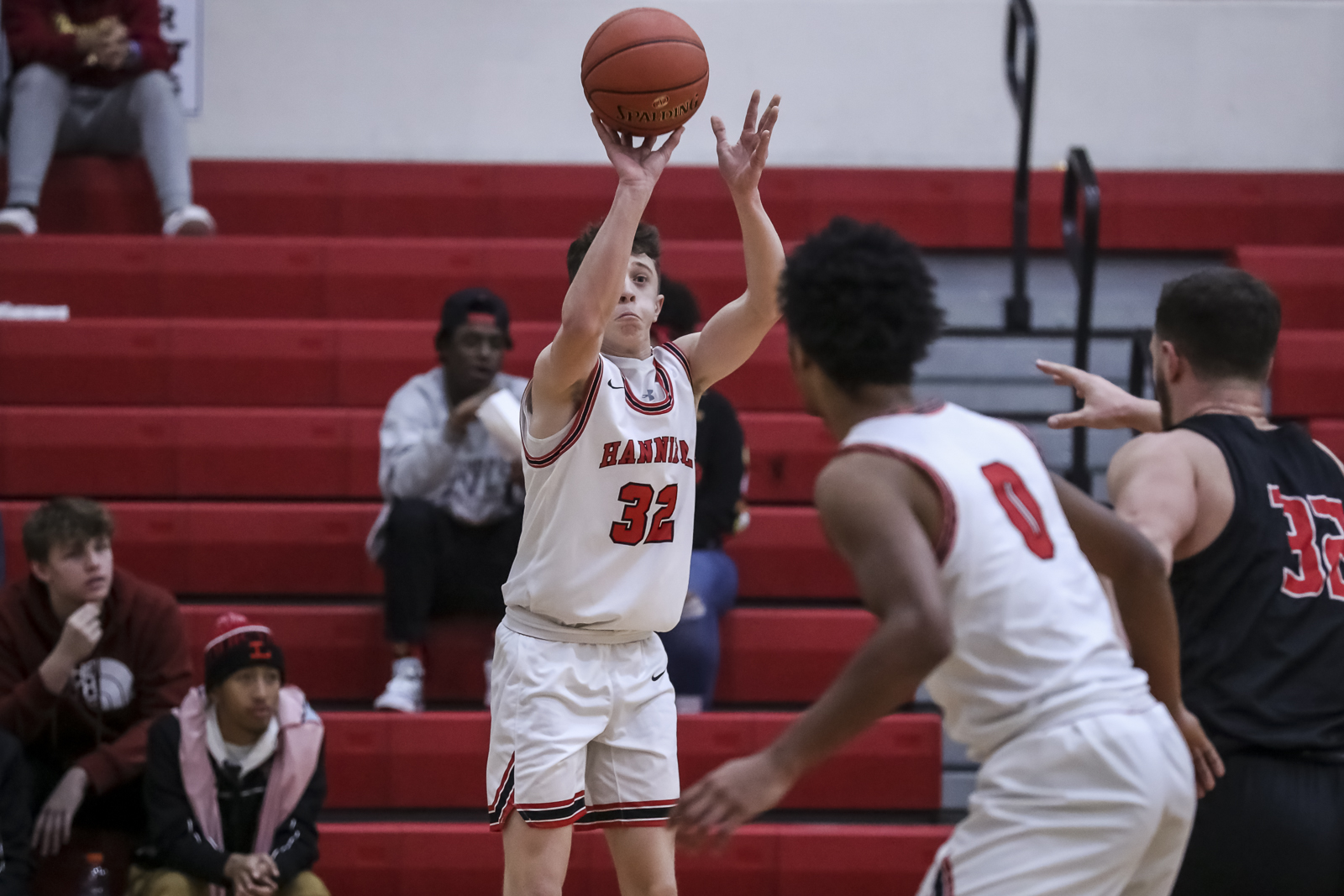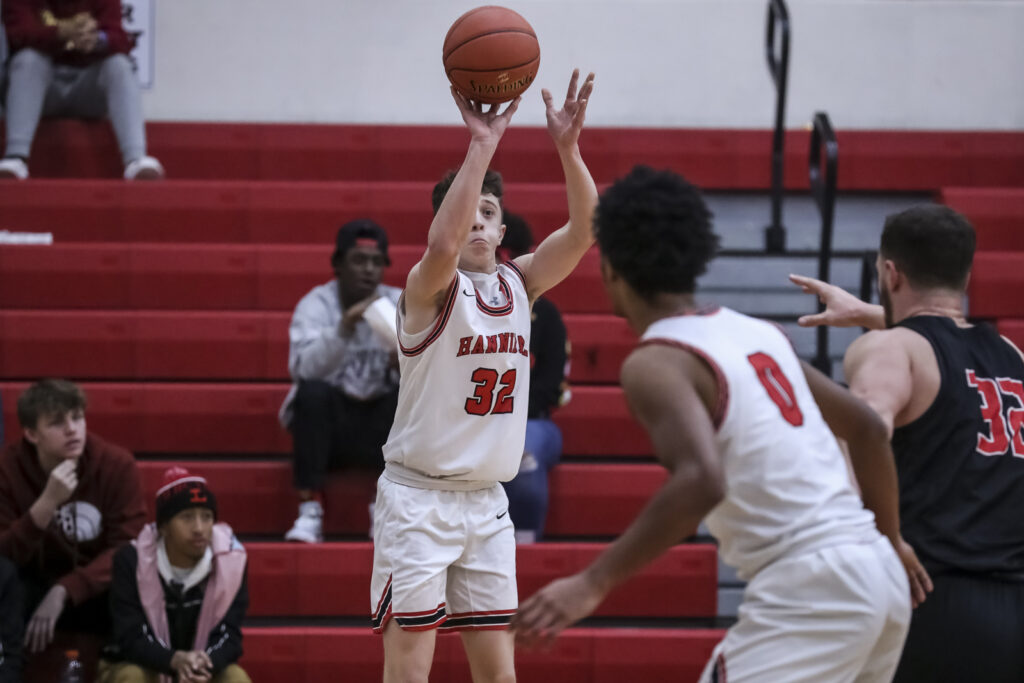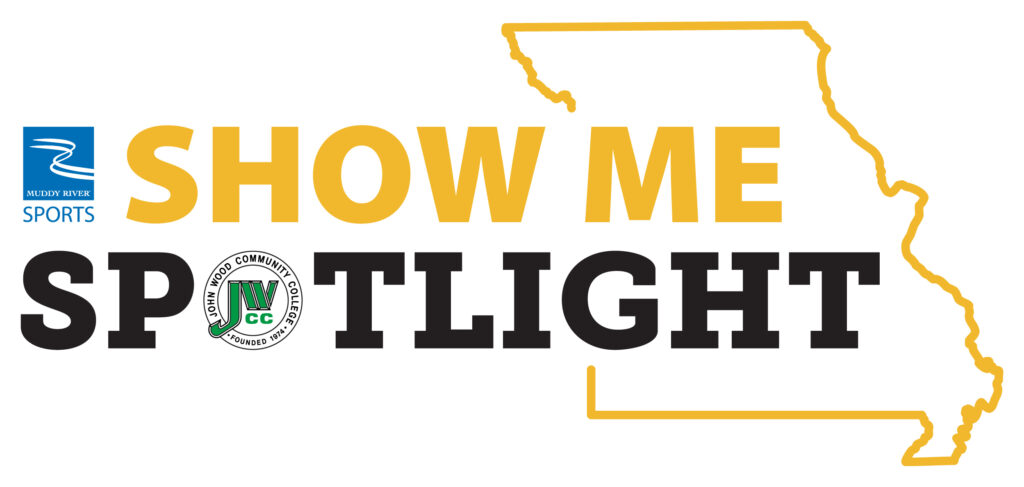 The Show-Me Spotlight will appear each week to highlight Missouri area student-athletes.
HANNIBAL, Mo. — Aaris Stolte's historic season isn't over.
He's confident the Hannibal boys basketball team's run isn't about to be through either.
A senior guard who broke Brice Scott's single-season 3-pointer record, Stolte and the second-seeded Pirates are looking to slide past sixth-seeded Hazelwood East in the Class 5 District 4 semifinals and chase a district championship.
He fully believes they have the right mentality to get it done.
"We've got a lot of warriors," Stolte said. "We've had kind of an unexpected ride this year. A lot of ups and downs. A lot of things we had to learn from. It's not the most freakishly athletic or talented team to ever go through Hannibal, but we've found a way to make it a great season. We've had some great games to show our upside and chase that district title."
Stolte, who has signed to play baseball at NCAA Division II Maryville University, broke Scott's single-season record with his 85th 3-pointer, made in a victory at Fulton, and is the Pirates' leading scorer this season.
He talked about the record, the season and the Pirates' prospects this spring on the diamond with Muddy River Sports Editor Matt Schuckman.
Q: What have you enjoyed about this basketball season?
A: Senior year, it's always something you're looking forward to. At the same time, it's the last ride. So I've tried to make it count in every way possible. I've felt like I've had the best senior season possible. I've left it all out there on the floor. My shooting success has come with it. I'm happy to be putting myself and my team in the best spots we can be in. I would definitely would say my shooting success is the best I could possibly be doing right now.
Q: What has made you a successful and potent outside shooter?
A: I would say growing up never being the big guy. I've always been the smallest kid on the court. I had to do everything right. Now that I've finally grown the past couple of year, I've still had to prove myself a lot. That's working to become an athlete with the speed and the jumping ability and the shooting behind the arc. Everything has gone into it, and I've done everything I can to prove the doubters wrong. I feel like shooting definitely comes with that, having to shoot over the big guys all those years and always having to do everything the right way. I've never had any freebies. That's taught me lot along the way.
Q: With the shooting success has come the 3-point records. Have you taken time to absorb what the individual records mean to you?
A: It's something I never would have thought of. There have been a lot of great shooters come through Hannibal, one being Brice Scott, whose record I just broke. Joe Rothweiler being another one who has multiple records up on the board. Honestly, I never thought of it. Last year, I came close to the free-throw record. The record was 85 percent and I think I ended at 84 percent for the year. That was kind of devastating missing a couple free throws late in the year to bring me down there. I definitely had sights on some sort of shooting record at the beginning of the year, but I never thought it would have come to this. I worked my tail off in the offseason to be able to do this type of stuff. I've kind of gone with the flow and it's kind of overwhelmed me.
Q: How special was it for Brice to be there the night they honored you?
A: When I got to Korf Gym that day, Coach Hull said Brice was in the house and they were going to have a little ceremony before the game. It was awesome. I've always loved seeing record ceremonies and stuff like that. Dezi Jones had quite a few of them when he played a few years ago. When I heard that was going to happen for me, it was awesome. To see all the fans in attendance supporting our team and for Brice to be able to come back and to be recognized, it's really awesome.
Q: I don't want to jump too far ahead with plenty of basketball still to play, but how special of a baseball season could this be for the Pirates?
A: I think we're looking very dangerous. We're definitely chasing that first conference title since 1985 and that first district title ever. We're returning a lot of guys, a lot of guys who have played varsity baseball already. I'm super excited for the baseball season, and hopefully we'll be a dangerous threat in the area.
Q: How nice is it to be able to relax with the college commitment already done?
A: It's awesome to have it out of the way and be able to focus on the next step. Now I have to focus on what I'm doing — treating my body right, staying healthy and going and winning some ballgames.
Q: What do you like about Maryville that made it the right fit for you?
A: Coach Pat Evers approached me extremely well from talking on the phone to talking on the visit and every single step along the way. He made it feel like home for me. I've had connections through Complete Game, who I play with during the summer, with coach Rich Polak and his son, Joey Polak, who played at Maryville. With Joey having a future coaching possibility at Maryville, I felt like it's something I wanted. Maryville felt like home.
Q: So is baseball the first love or is basketball?
A: Oh, man, I get this question a lot. It's hard to choose from. I can't ever tell anyone a single answer.
Miss Clipping Out Stories to Save for Later?
Click the Purchase Story button below to order a print of this story. We will print it for you on matte photo paper to keep forever.