Hannibal Area Shooter's Education Youth BB Gun League holds awards banquet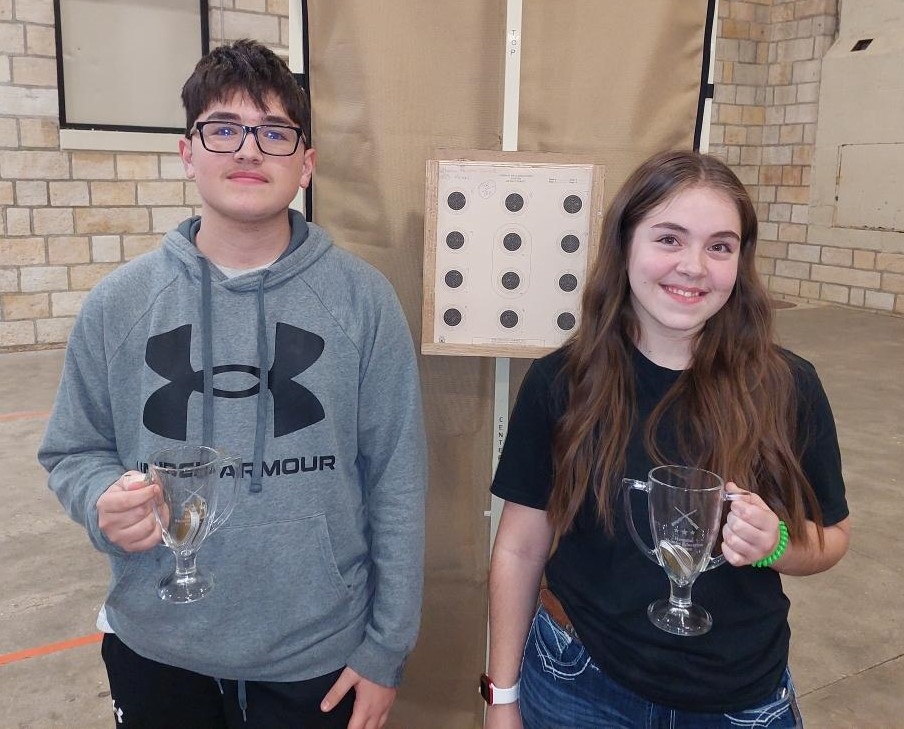 HANNIBAL, Mo. — Hannibal Area Shooter's Education Youth BB Gun League program recently had an awards banquet at the Admiral Coontz Recreation Center.
Travis Moore, program coordinator, said Nick Lawson and Katherine Painter earned a 10X in each of the four positions: prone, sitting, kneeling and standing.
Individual awards went to:
Top Pistol-Katherine Painter
Most Improved-Grant Watson
Sportsmanship-Shane Lowery
Hatton Award-Keaton Sapp
Deitle Award-Matt Lawson
Top Positions
8 – 10 Year Olds
Prone – Nolan Lowes
Sit – Sadie Richmond
Kneel – Josh Chamberlain
Stand – Ethan Brand
Top Gun – Josh Chamberlain
11 – 13 Year Olds
Prone – Kylee McMillen
Sit – Jarrett Creech
Kneel – Kylee McMillen
Stand – Jarrett Creech
Top Gun – Keaton Sapp
14 – 18 Year Olds
Prone – Nick Lawson
Sit – Nick Lawson
Kneel – Sydney Phillips
Stand – Katherine Painter
Top Gun
10X Recipients: One time
Ethan Brand
Brendon Brand
Carter Brocksieck
Alaric, Deroy
Ben Hendren
Keaton Sapp
Daniel Wellman
10X Recipients: Two times
Lilly Breuer
Brandon Gauch
Shane Lowery
Kylee McMillen
Grant Watson
10X Recipients: Three times
Jarrett Creech
Hannah Davis
Nolan Lowes
Memphis Miller
Taylor Painter
Sydney Phillips
Brielle Strubinger
10X Recipients: Four times
10X Recipients: Five times
10X Recipients: Seven times
Top Teams
First Place: Shelby Patterson, coach; Sydney Philips, coach; Jarrett Creech and Kylee McMillen
Second Place: Katherine Painter, coach; David Tutor, coach; Brielle Strubinger and Memphis Miller
Third Place: Greg Lowes, coach; Josh Chamberlain, Nolan Lowes and Lilly Breuer
Other Teams
Brian Fowler, coach; Keaton Sapp, assistant; Ethan Brand, Shane Lowery and Sadie Richmond
Taylor Painter, coach; Aiden Riveria and Shiloh Allen
Lauran Painter, coach; Brendon brand, Aaron Creech and Maggie Watson
Trinity Tutor, coach; Hannah Davis, assistant; Carter Brocksieck, Brandon Gauch and Grant Watson
Nick Lawson, coach; Matt Lawson, coach; Audra Creech and Daniel Wellman, Alaric Deroy, Even Hendren, and Ben Hendren
Moore said about 35 youngsters finished the program.
In a press release, Moore said, "There are two main goals to have the program. One is to teach area youths how to safely handle firearms. This helps protect these kids while on the range, in their homes or in the field. The second goal is to help each person improve individually. While we work to improve their shooting ability, we also build confidence in themselves."
Moore said the youngsters also come together with a common interest.
"Our participants are very diverse," he said. "We have cheerleaders, band members, basketball players and FFA members.  These kids have found a sport that they have an interest in and can be good at.  And shooting is a sport where both boys and girls can compete together."
Funding for the program was provided by Hannibal Parks and Recreation, Early Bird Kiwanis, National Rifle Association and Mike Blue.
Miss Clipping Out Stories to Save for Later?
Click the Purchase Story button below to order a print of this story. We will print it for you on matte photo paper to keep forever.