Fourth-quarter rally enables Panthers to survive Cougars' upset bid in CCC opener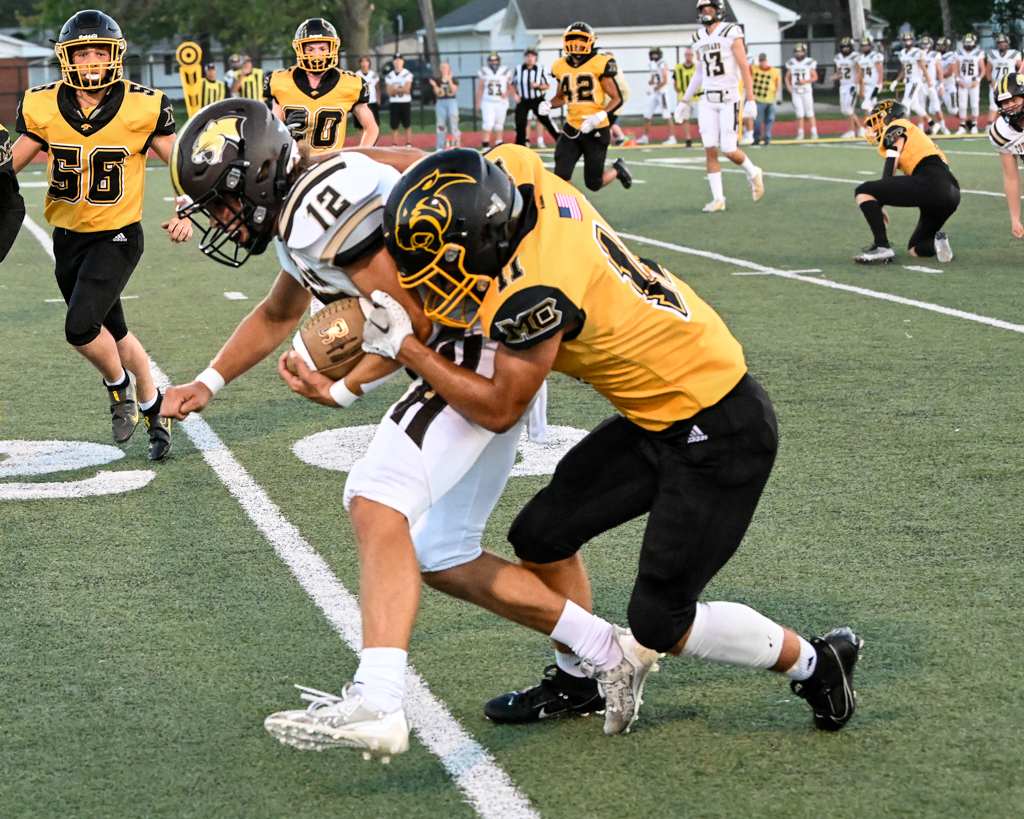 MONROE CITY, Mo. — The Highland football team was clinging to dreams of pulling off a monumental upset through three quarters.
Monroe City dashed them in the fourth.
The Panthers scored 22 unanswered points in the final 10 minutes, 10 seconds Friday night to snatch a 30-14 victory from the Cougars in the Clarence Cannon Conference opener for both teams at Lankford Field.
Monroe City, ranked fourth in Missouri Class 2, twice used a short field in the final period to set up touchdown runs by Abram Smyser and Jayden Holland to turn a 14-8 deficit into a 24-14 lead.
The Panthers iced it when Trey Smyser returned an interception 67 yards for the final score with 2:33 remaining — the team's fifth defensive touchdown in two games.
"I think we overlooked them," said Abram Smyser, a sophomore who rushed for 71 of his team-leading 94 yards in the second half, most on bruising runs up the middle. "We thought it would be an easy win. They showed us no team is easy to beat. It was a dogfight. They're a heckuva team."
Monroe City's first two drives stalled inside Highland territory when Trey Smyser fumbled trying to scramble out of the pocket to avoid the rush at the 42-yard line and Quincy Mayfield was stuffed for a 5-yard loss on a fourth down run from the 29.
Cougars dual-threat quarterback Brayden Logsdon took over from there. The 6-foot, 170-pound senior kept the Panthers' defense guessing by rushing for 71 yards and throwing for another 91 in the first half.
He connected on back-to-back passes down the left sideline early in the second quarter — the first a 28-yard strike to Brady Campen and then a 32-yard gain to Chris Gaus — to give Highland first and goal at the 2. Logsdon scored on a keeper on the next play for a 6-0 lead, but his successful two-point conversion run was wiped out by a holding penalty.
Monroe City answered with an eight-play, 64-yard drive capped by a 1-yard run by Holland. Trey Smyser's two-point conversion pass to Waylon DeGrave in the right corner of the end zone gave the hosts an 8-6 lead.
Highland, which entered the game undefeated after two come-from-behind wins, responded with a nine-play scoring drive of its own with Logsdon accounting for all but 13 of the 67 yards. He hit Campen on a crossing pattern from 14 yards out and then snuck in for the two-point conversion to make it 14-8 with 2:09 left in the first half.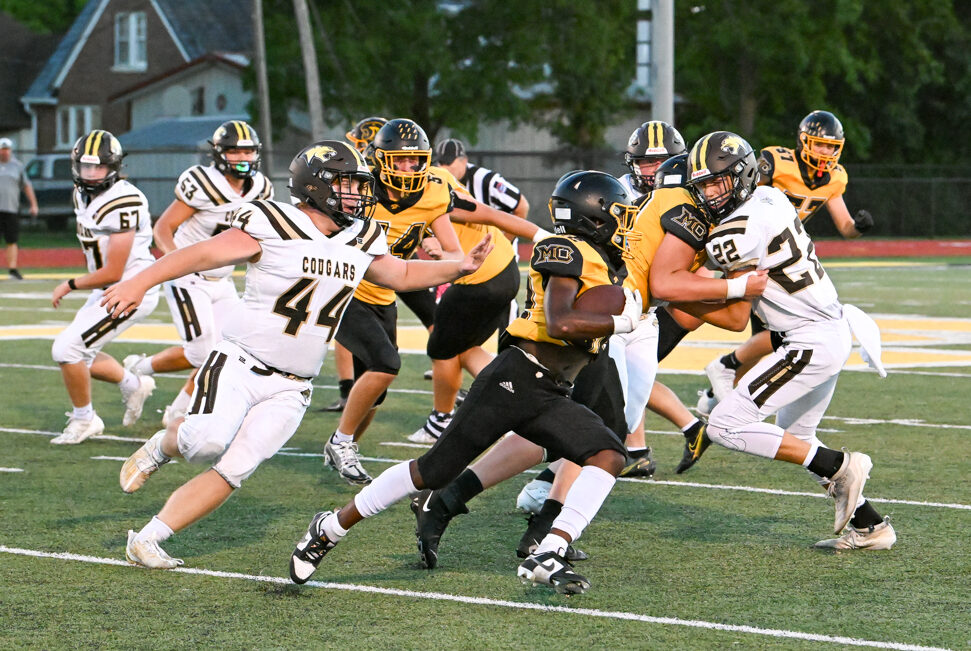 "(Logsdon) made some good reads and he was kinda slippery," Monroe City coach David Kirby said. "There were a couple of times I thought we had him wrapped up and we just could get him down. He's a darn good football player. They're going to be really, really successful moving forward because he's going to put them in a lot of great spots."
Highland's offensive line controlled much of the first half, but that changed in the second. Monroe City revved up the defensive pressure, using blitzes and stunts to confuse the Cougars, limiting them to just two first downs and 47 yards of offense.
"We thought it was going to be a walk in the park and you can't do that, especially with a team that's wanted it for a while," the Panthers' Aiden Oswald said. "They're going to come in and try to punch you in the mouth, which they did.
"We had to get pressure on the quarterback. We had to come out in the second half and get on it."
Oswald spent much of the second half harassing Logsdon in the backfield.
After Monroe City failed to capitalize on a 34-yard punt return by Mayfield to the Highland 27-yard line early in the third quarter, a blitzing Oswald forced Logsdon to throw a floater over the middle that DeGrave intercepted at the Cougars' 42.
However, after moving to the Highland 18-yard line, Trey Smyser's pass intended for DeGrave along the right sideline was intercepted by Campen at the 1.
"That was a bonehead call on my part," Kirby said. "I got greedy. It was second and 2 and I wanted to take a shot and see if we could get something. I put the kids in a bad spot."
The Cougars could only move the ball out to the 18-yard line, where Logsdon threw a third-down incompletion when pressured by linebacker Luke Lehenbauer. Campen then shanked a 19-yard punt, giving the Panthers the ball at the 37.
Monroe City needed just six plays to tie the game when Abram Smyser barreled in from the 2. A two-point conversion run by Dylan Ross gave the Panthers a 16-14 lead with 10:10 to go.
Then, facing fourth and 4 from his own 44, Logsdon hesitated before airing a pass over the middle intended for Campen, who had snuck behind the defense. The slight indecision, however, enabled DeGrave to retreat and tip the ball away.
"We missed some plays that could have potentially put us back on top," Highland coach Caleb Amsman said. "Campen would have gone for a touchdown if Brayden had thrown the ball right away."
Four plays later, Holland tumbled into the end zone from 4 yards out on fourth down and DeGrave snared Trey Smyser's two-point conversion pass to make it 24-14 with 3:50 left.
That drive was aided by an unsportsmanlike conduct penalty on Highland. The Cougars were called for nine penalties in the second half and 13 overall for 80 yards.
Trey Smyser sealed it a little more than a minute later when he stepped in front of Campen for the interception and raced down the left sideline for the touchdown.
"The score does not indicate at all how close this game was," Amsman said. "It was a dogfight throughout. We were effective moving the ball in the first half and they made some adjustments, brought some more pressure and we didn't adjust.
"A lot of little things went wrong, and we were our own worst enemy with the penalties and poor field position. We let this one slip through our fingers. This one is going to sting for a while."
Highland outgained Monroe City 233-230, with Logsdown accounting for 91 yards on the ground on 26 carries and 121 through the air on seven completions on 17 attempts.
Holland had 88 yards rushing for the Panthers, who gained all their yards on the ground.
Monroe City (3-0) travels to South Shelby (3-0) next week for a CCC showdown between two state-ranked teams. It will be another tough test.
"Nobody said it was gonna be easy," Kirby said. "You got to wake up, you got to punch a clock and you got to go to work every day. And sometimes the workday is longer than others and a little bit harder. These kids have to understand that they have to keep grinding and getting better.
"This was a good win and a good character check."
Miss Clipping Out Stories to Save for Later?
Click the Purchase Story button below to order a print of this story. We will print it for you on matte photo paper to keep forever.