First-quarter onslaught enables Bowling Green to bury Monroe City in district semifinals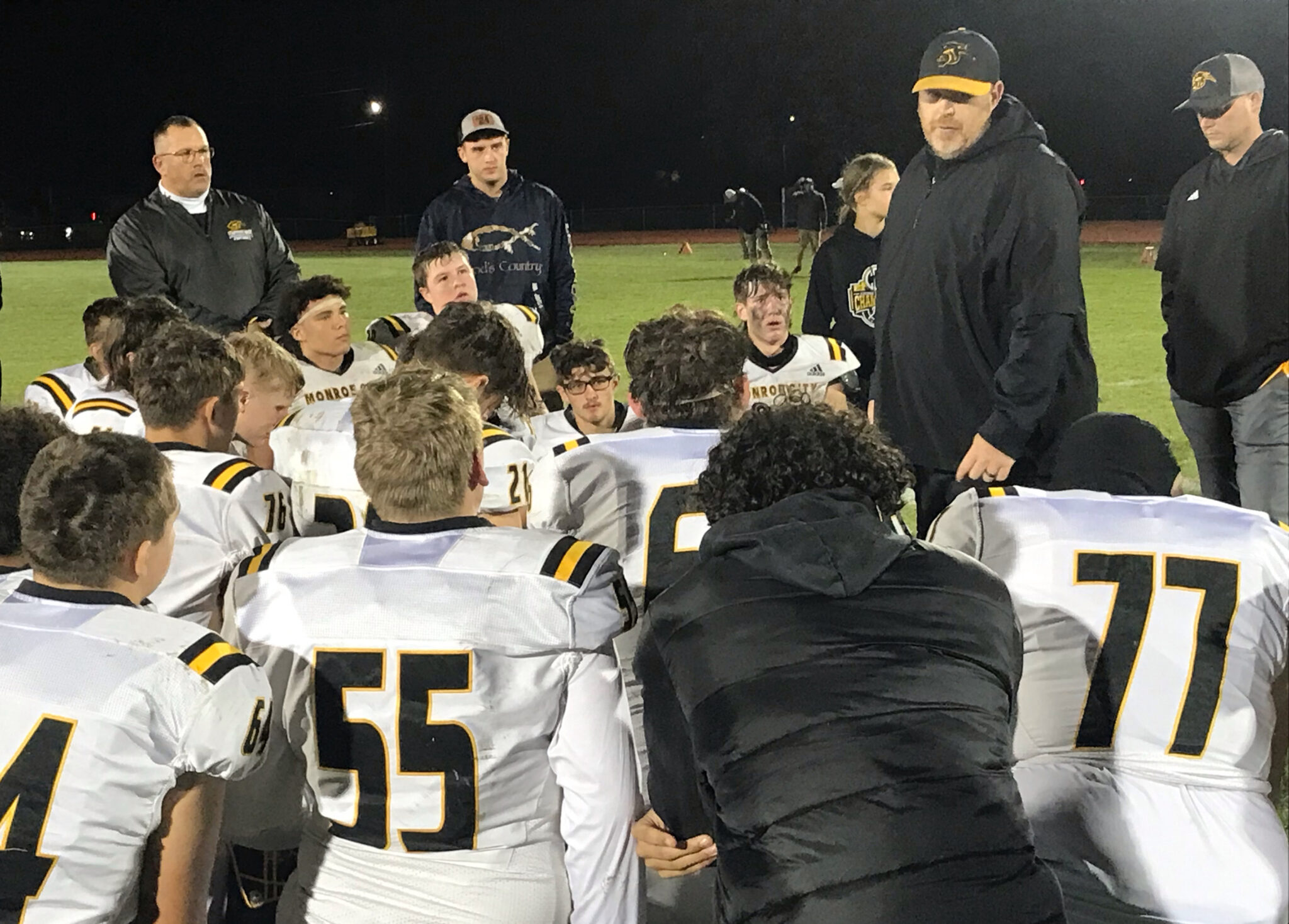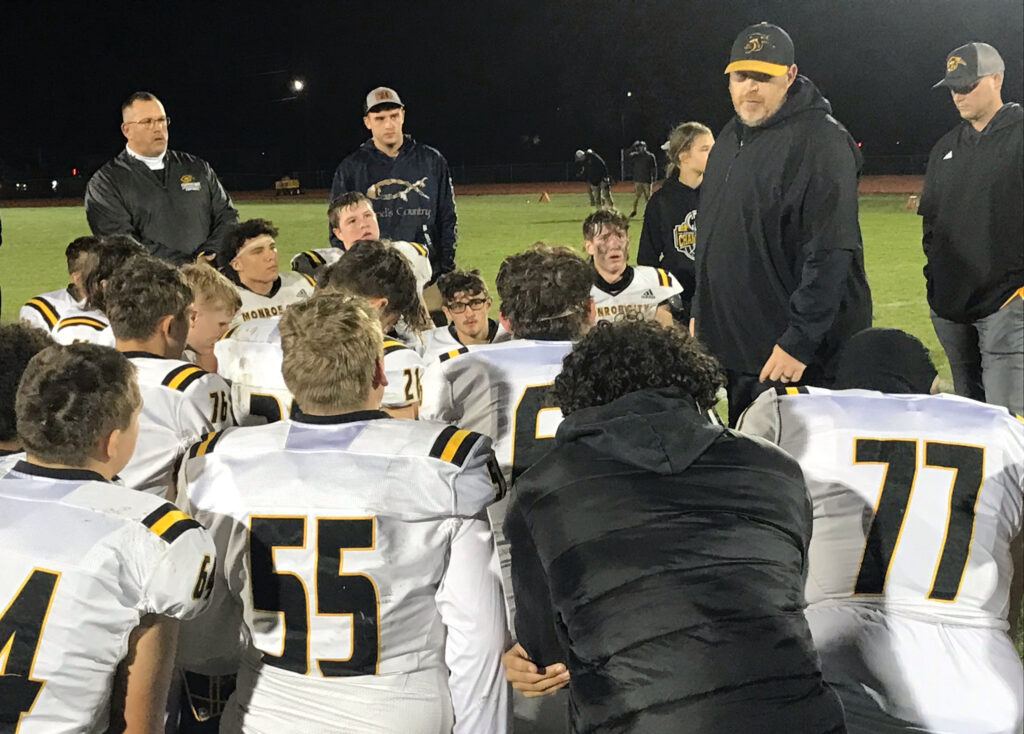 BOWLING GREEN, Mo. — Eight was enough.
Bowling Green produced 254 yards and four touchdowns on its eight offensive plays in the first quarter Friday night to bolt to a 30-0 lead and cruise to a 51-6 victory over Monroe City in the semifinals of the Class 2 District 7 playoffs.
Behind the quick-strike capabilities of running backs Bleyne Bryant and Dane Dunn and the precision passing of quarterback Jace Eskew, the Bobcats amassed 424 of their 484 yards of total offense by halftime to lead 44-0 and turn a clash between two state-ranked teams into a rout.
Only a running clock in the second half kept them from potentially reaching their season average of 61.2 points per game.
The victory sets the stage for the long-anticipated matchup with undefeated and top-seeded South Shelby in the district championship game. The Cardinals defeated Clark County 43-6 in the other semifinal contest.
"Every coach would like to say, 'Hey, let's score on our first series,' " Bowling Green coach Mark St. Clair said after his team, ranked fifth in the state and second in the district, improved to 11-0. "We were able to score quick and put some points on the board but what I liked is that we kept our intensity after that."
After Monroe City was forced to punt on the game's opening possession, Bryant broke off a 64-yard touchdown run on the Bobcats' second play from scrimmage. They needed only three plays on their next possession — all runs — to go 80 yards to make it 12-0 on a 16-yard scamper by Dunn.
After a safety when the snap sailed over the head of Monroe City punter Trey Smyser and into the end zone, Eskew found Oliver Niemeyer all alone down the left sideline for a 33-yard scoring strike on the first play following Monroe City's free kick.
Drew Dalton's 66-yard touchdown run on a counter with 59 seconds left in the opening quarter and his two-point conversion on a pass from Eskew made it 30-0.
"Their offense is nasty," Monroe City coach David Kirby said. "It's not glitz and glamour, it's bootstraps and cowboy hats. They've got some men among boys over there and they play physical.
"We thought we were going to have to play sound assignment football. And when you play split-back veer teams, the second you're not doing your assignment they break one off. It just happens that fast. And when you have running backs like the Bryant kid behind those big offensive linemen, it doesn't take long for them to hit top speed."
Bryant, the University of Wyoming commit, rushed for 187 yards on nine carries in the first half. He had only two attempts in the second half to finish with 197 yards.
Eskew hooked up with Niemeyer for a 23-yard scoring strike with 3:21 to go in the second quarter and Dunn scored from 12 yards out with 33 seconds left in the half. Dunn ran for 102 yards on 10 carries as Bowling Green compiled 404 rushing yards.
The only scoring in the second half came when Eskew weaved his way through traffic to score from 23 yards out on the first play of the fourth quarter. The junior quarterback ran for 34 yards and completed all four of his passes for 80 yards and two TDs.
Monroe City avoided the shutout when Jayden Holland scored from a yard out with less than four minutes remaining. The drive was jumpstarted by a 53-yard run on a reverse by Dylan Ross, the Panthers' biggest play from scrimmage.
Monroe City managed 188 rushing yards, with Quincy Mayfield leading the way with 102 yards on 12 carries. However, Smyser, under heavy pressure most of the night and often off target when he had time, completed just 4 of 17 passes for 33 yards.
"Losing always sucks," said Monroe City wide receiver Waylon DeGrave, who returned for his senior season after a serious knee injury last season and finished an illustrious career with two catches for 17 yards. "We played hard, but we knew they were a really good team, and it was going to be hard to stop them."
Monroe City, which advanced to the Class 1 state semifinals in each of the last two seasons before being moved up a class, bows out at 8-3. The Panthers were 10th in the latest state poll.
"The better team won," Kirby said. "We just didn't play as sharp as you need to play against an elite-level team like Bowling Green. But the thing is, I kept challenging the kids and they never backed down. They kept fighting."
Bowling Green, which advanced to the Class 2 semifinals a year ago where it lost to Blair Oaks, has won 41 of its last 47 games over four seasons. Before Friday night, it had lost 10 consecutive games against Monroe City since its last victory in 1990.
St. Clair, in his first season as head coach after spending three seasons as an assistant following a Hall of Fame career at Hannibal High School, now turns his focus to seventh-ranked South Shelby. The Cardinals (10-0) average more than 50 points per game.
"This is the matchup everybody has wanted all year long," he said. "Everybody knows what we're going to do and what they're going to do. It's a matter of going out there and executing and letting the chips fall where they may."
Miss Clipping Out Stories to Save for Later?
Click the Purchase Story button below to order a print of this story. We will print it for you on matte photo paper to keep forever.