Bryant, Bowling Green outrun South Shelby in epic district championship shootout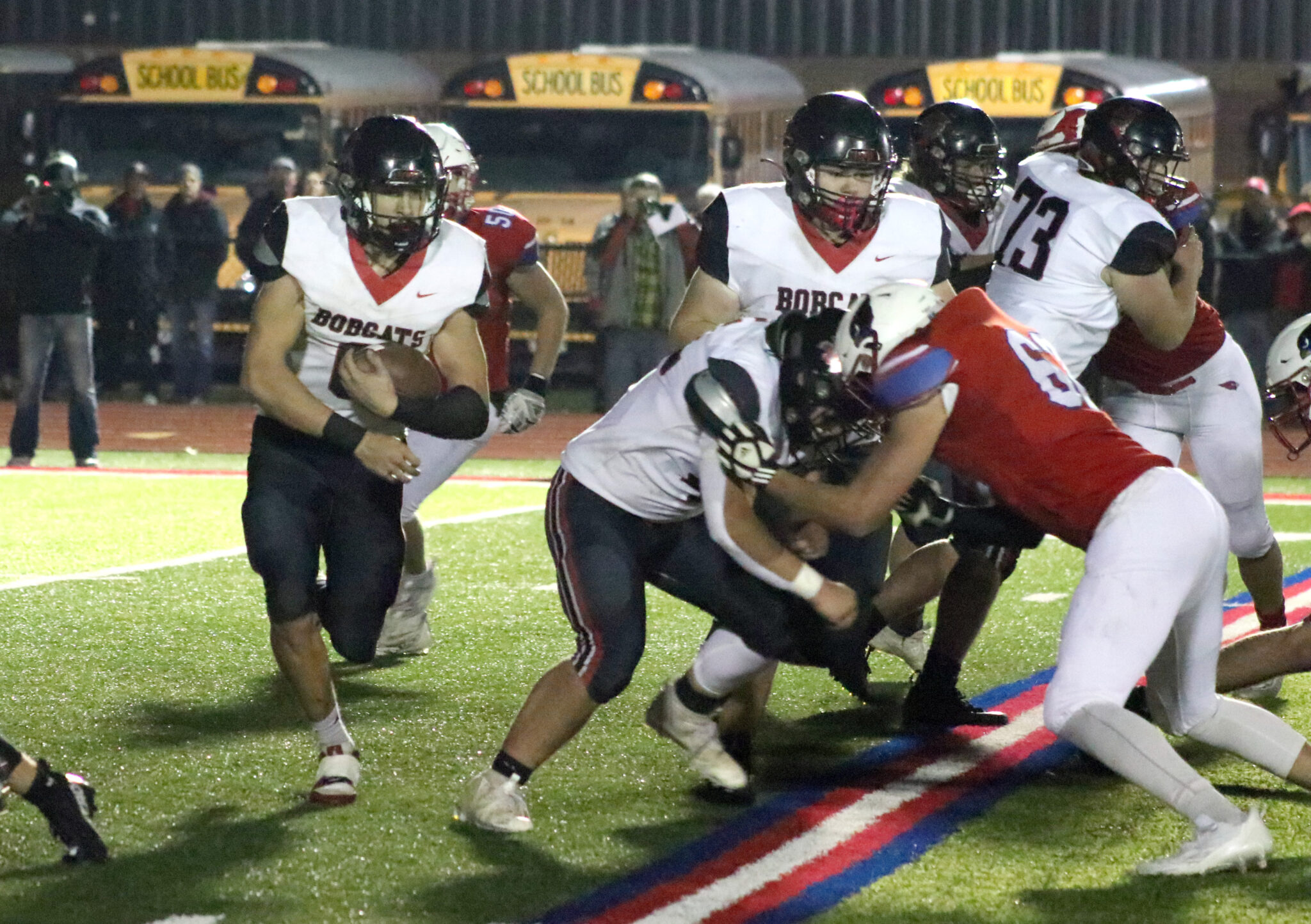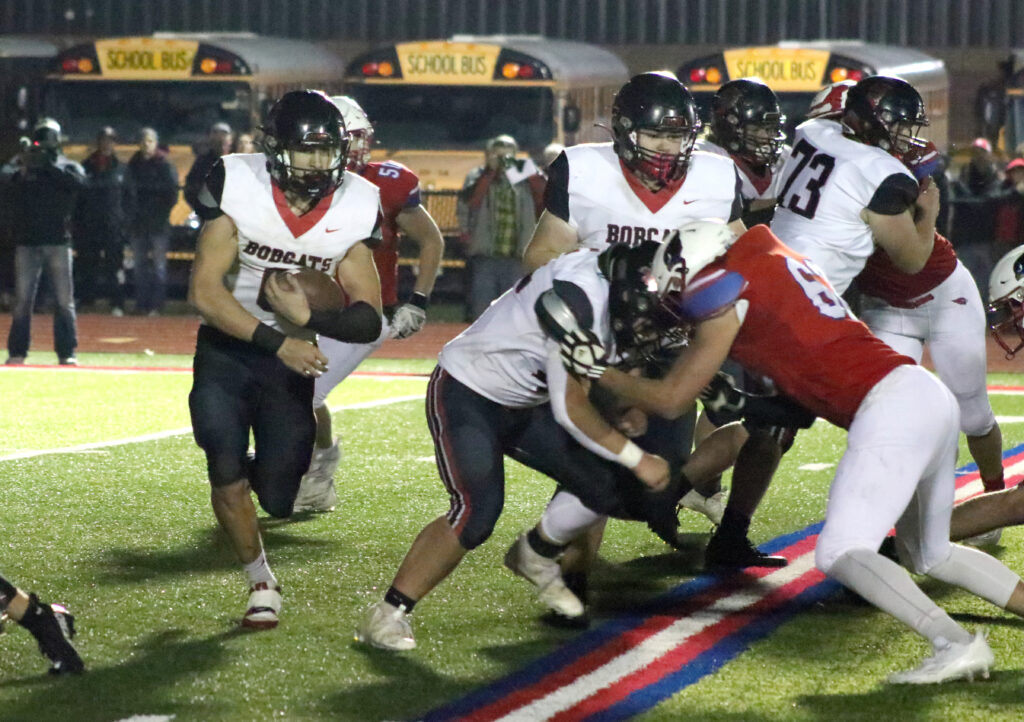 SHELBINA, Mo. — It was an offensive shootout for the ages.
Bowling Green and South Shelby, two of the highest-scoring high school football teams in Missouri, combined for 16 touchdowns, 116 points and 1,035 yards of offense Friday night in the Class 2 District 7 championship game at Charles Rash Memorial Field.
In the end, the difference between the two undefeated and state-ranked teams proved to be the running of Bowling Green's Bleyne Bryant and a timely defensive stop when it appeared momentum had swung in South Shelby's favor.
Bryant, the University of Wyoming-bound tailback, rushed for 424 yards and five touchdowns on 44 carries to help the Bobcats score on nine of their 11 offensive possessions to post a 66-50 victory to advance to the state quarterfinals against East Buchanan, which won the Class 1 state championship a year ago.
"Everybody has probably thought about this game since the beginning of the season," said Bryant, who has now rushed for 2,594 yards and 40 TDs this season. "We knew they were not going to fold, that it was going to either be a defensive game or it was going to be a shootout.
"It turned out to be a shootout, and I'm just glad we won."
Bowling Green, which entered the game scoring at a 60.3-point clip, averaged more than 9 yards per play, with 550 of its 592 yards coming on the ground. Dane Dunn added 106 yards on 14 carries and scored twice, once on a 42-yard completion from quarterback Jace Eskew, the only pass the winners attempted.
South Shelby nearly matched its 50.7 scoring average while compiling 225 yards on the ground and 218 through the air.
Kendal Hammond rushed for 174 yards and two touchdowns on 19 carries to finish the season with 2,070 rushing yards and 34 TDs. Cameron Wiseman threw for one score, ran for two more and caught two TD passes from quarterback Chase Moellering, who completed 7 of 9 passes for 189 yards.
"I think the game lived up to everything people were saying it was going to be," Bowling Green coach Mark St. Clair said. "Every time we delivered a blow, they came back with one of their own. We did what we had to do to win."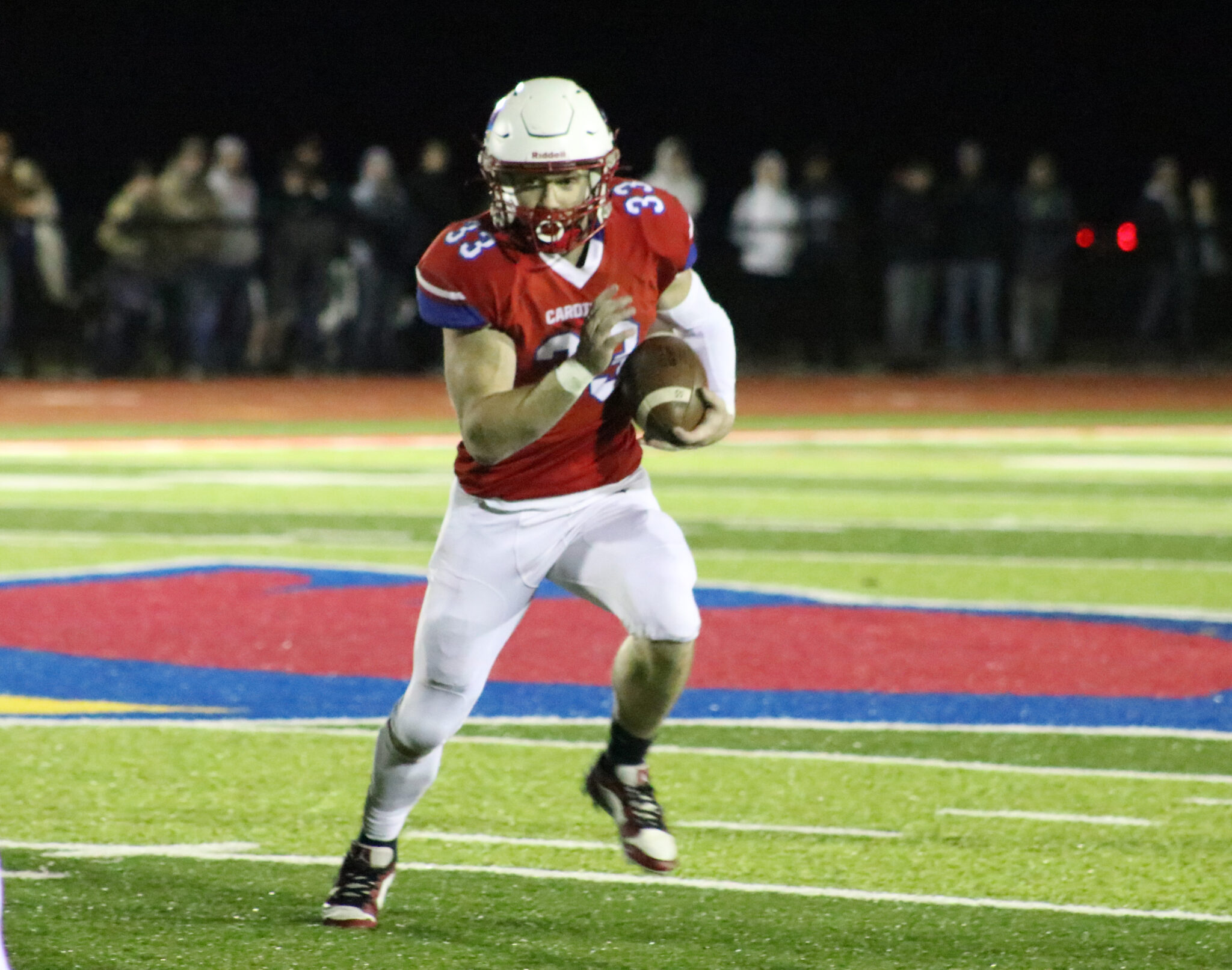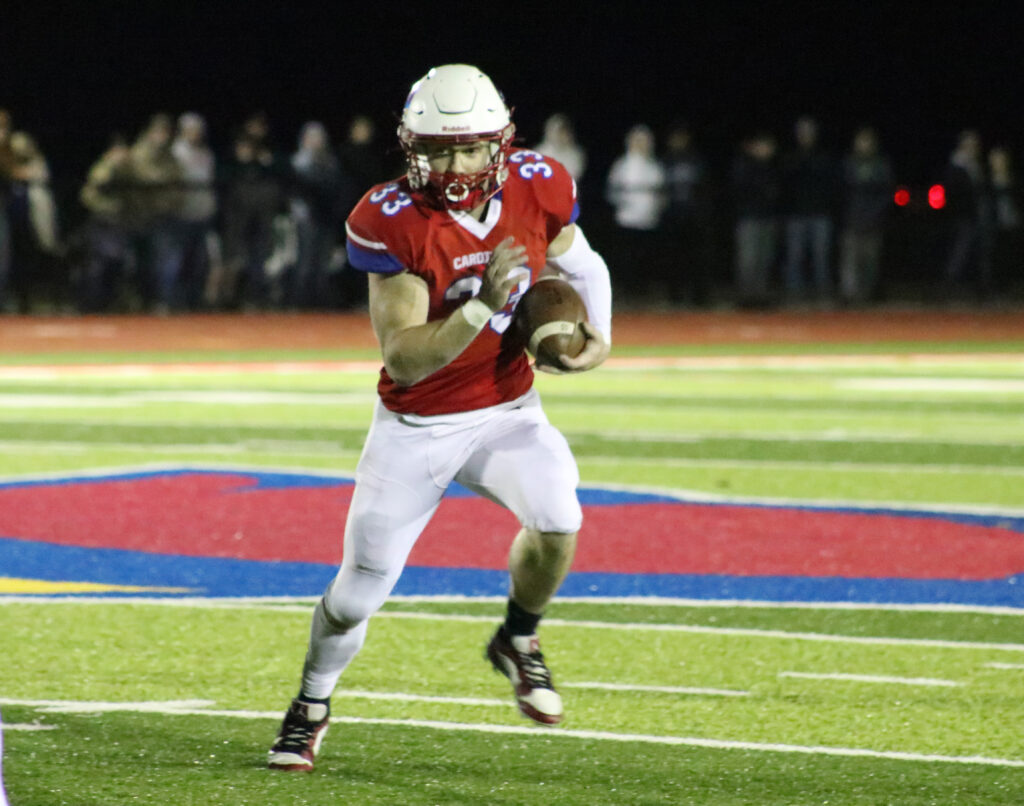 Bryant raced 75 yards for an apparent touchdown on the Bobcats' opening play following a South Shelby punt, only for it to be wiped out by an unsportsmanlike conduct penalty.
But he scored six plays later on a counter from 38 yards out and Dunn's conversion staked Bowling Green to a lead it would never relinquish. Bryant then scored on a 3-yard run to cap a 6-play, 62-yard drive and ran in the conversion to make it 16-0.
The fireworks were just beginning.
Hammond raced 70 yards on South Shelby's next play, sweeping up the left sideline and then cutting back across the field to reach the end zone. Moellering's two-point run made it 16-8.
However, the Bobcats needed only three plays to answer, with Eskew finding Dunn alone in the left flat and the junior raced 42 yards down the sideline untouched to stretch the lead to 24-8 with 1:22 still remaining in the first quarter.
Bowling Green had 192 yards of offense in the opening period alone.
"Bowling Green is great at what they do," South Shelby coach Adam Gunterman said. "They're a big, fast, physical football team and we had a hard time getting stops. The Bryant kid is a special player. There's a reason he's going where he's going."
The Cardinals used some trickery on their next possession to trim the deficit to 24-16.
Wiseman took a toss from Moellering while running right before stopping to pass back across the field to the quarterback, who eluded three tacklers near the goal line to score from 29 yards out two minutes into the second quarter before hitting Jaaron Durbin with a conversion pass.
After Dunn and Hammond traded scoring runs two minutes apart later in the period, Bowling Green drove from its own 20 to the South Shelby 4 and appeared poised to increase its 32-22 lead with time running out in the first half.
However, Eskew, under pressure from Chance Rainey, could not find an open receiver rolling to his right and was dragged down. The Bobcats, out of timeouts, could not get off another play.
Wiseman scored twice for South Shelby in the third quarter as the teams traded touchdowns. The first came when he took a short pass from Moellering in the right flat and raced down the sideline, eluding would-be tacklers. The second came on a 31-yard run that trimmed what had been an 18-point deficit to 46-38 with 3:23 to go in the period.
The Cardinals then executed a successful onside kick to take possession at midfield to energize the home portion of the overflow crowd that ringed the field.
"I thought we were going to come back and win at that point," said Wiseman, who caught six passes for 164 yards and ran for another 60 yards.
Instead, the Bowling Green defense limited South Shelby to 4 yards on four running plays to turn the ball over on downs.
"It was a gutsy call on their part because if we get it, we've got great field position," St. Clair said of the onside kick. "Right then, we're telling our kids we need a stop."
"I would like to have the possession back and do something different," Gunterman said. "But I think that's been said in every game ever in the history of football."
Bryant added scoring runs of 9 and 52 yards around a 4-yard touchdown run by Wiseman, and Eskew snuck in from a yard out with 1:02 left after a Moellering fumble to increase the lead to 66-44.
Wiseman scored on a 32-yard pass from Moellering in the final minute for the final margin.
Bowling Green, ranked fifth in Class 2 after reaching the state semifinals a year ago, improved to 12-0 and has now won 42 of its last 48 games over four seasons.
South Shelby, ranked seventh, lost for the first time in 11 games and gave up more points to Bowling Green than it had to its first 10 opponents combined (64). The Cardinals were hoping to reach the quarterfinals for the first time since back-to-back appearances in 2014 and 2015, and to ultimately win the third state title in school history.
"We knew they were tough and were electric on offense," Wiseman said of the Bobcats. "They'd get five yards at a time, six yards and then break one. We just couldn't seem to put a stop to it."
Gunterman was proud of his team's effort despite the loss.
"When we got down three touchdowns, we could have laid down and let them steamroll us, but we didn't. We came back fighting and got it within a one-score game in the third quarter and gave ourselves a shot," he said. "That kind of defines what the seniors are all about. They never give up, they're always fighting.
"This could have very well been the state title game. We had two really good football teams in a district championship game, and sometimes that's just the way it is."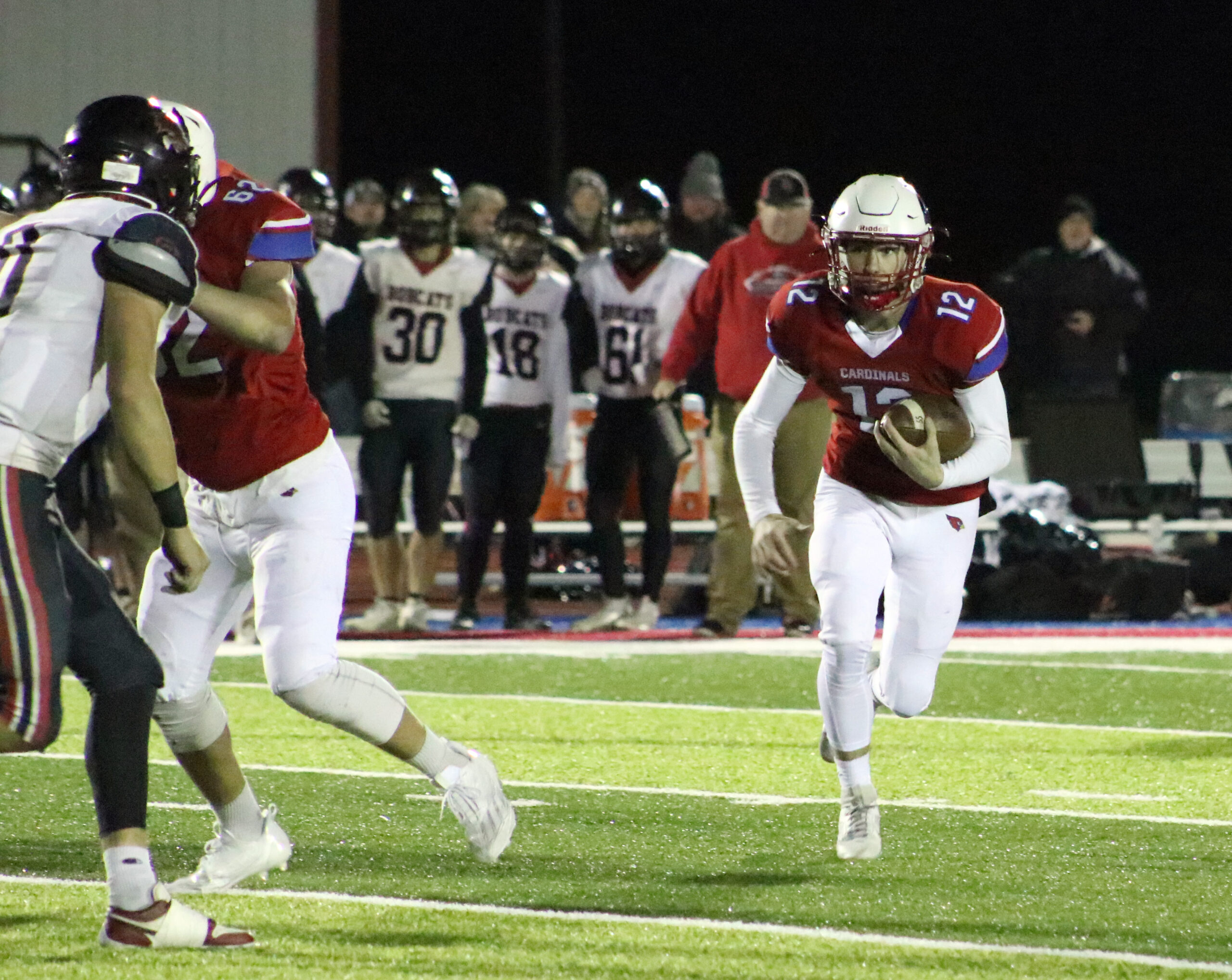 Miss Clipping Out Stories to Save for Later?
Click the Purchase Story button below to order a print of this story. We will print it for you on matte photo paper to keep forever.