'You only get to live once': Becerra's time invested in dirt-track racing pays off in victory lane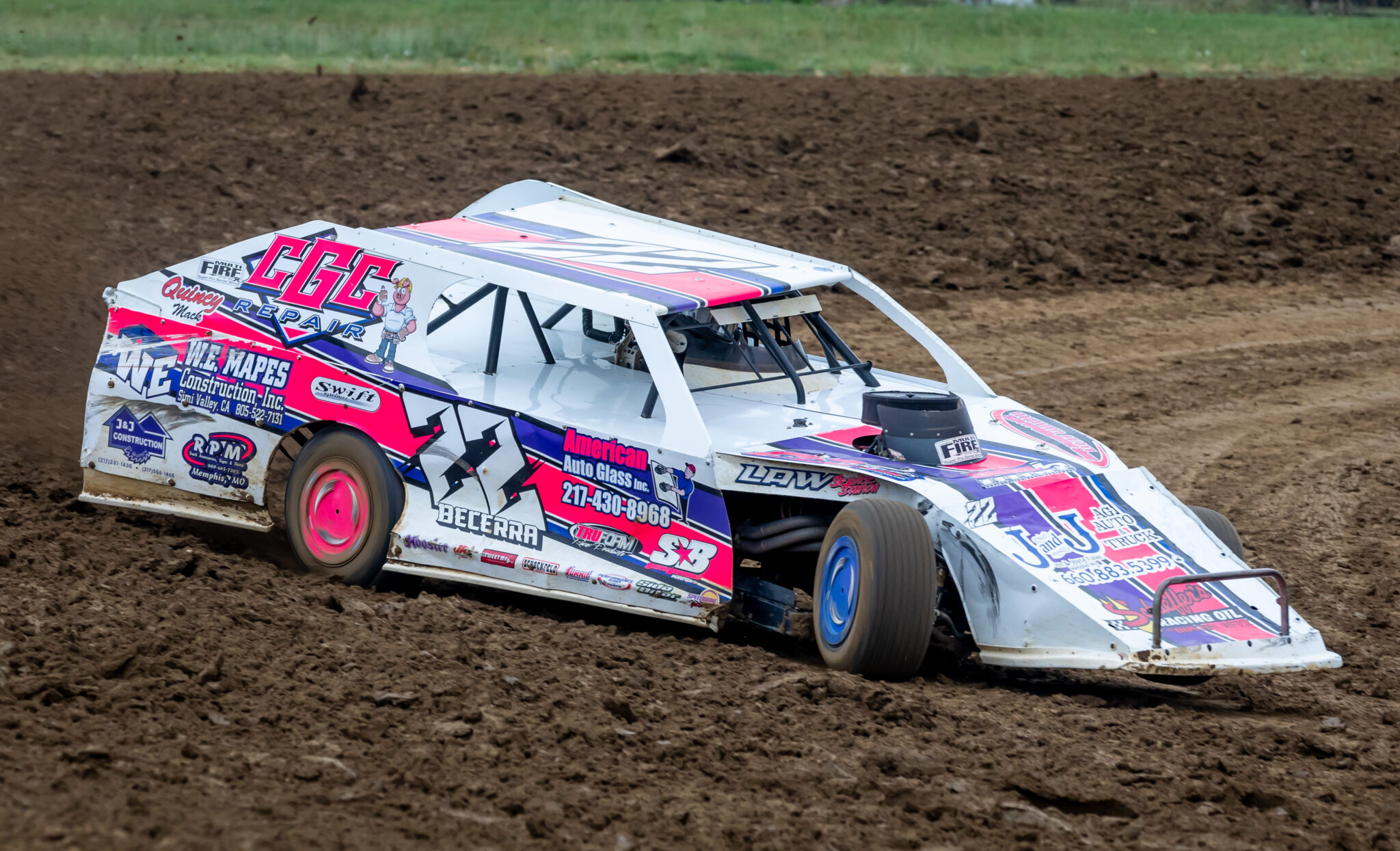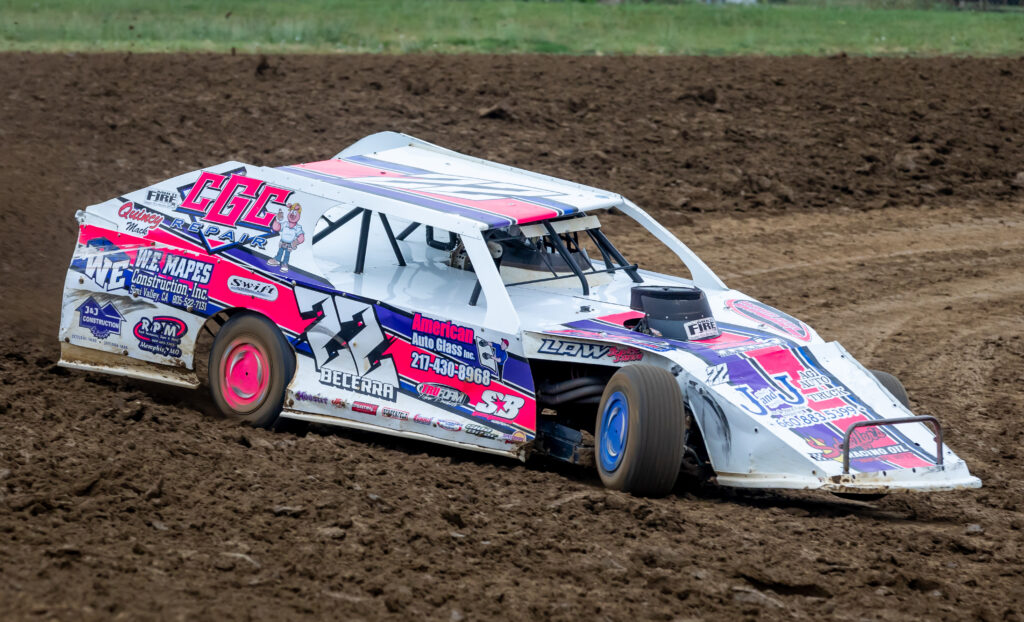 QUINCY — Austen Becerra is a busy guy, but he has no complaints.
Along with working full time, the reigning modified track champ at Adams County Speedway races three nights per week and works on his ride for three hours or so on each of the remaining four evenings. Oh, he's married, too.
"You only get to live once," he said. "You might as well try and do what you enjoy."
And for Becerra, that's dirt-track racing.
Becerra, who is already a three-time track champ at Quincy, could be on the cusp of his best season ever.
The 29-year-old Bowen resident absolutely dominated Sunday night's Father's Day feature at 8000 Broadway, which brought his season total to 16 feature victories spread across numerous tracks.
It's a busy and demanding lifestyle, but Becerra realizes, "The opportunities may not always be there."
So he's enjoying his run in the sun, but he's quick to point out the glamour associated with all of the checkered flags and track titles comes with a price, too.
"You have to put in your time in the shop," said Becerra, whose season began in late February in Florida.
Becerra's hard work continued to pay off in the form of his second straight feature victory and third of the season in Quincy. For much of the 18-lap feature he enjoyed a half-track advantage over eventual runner-up Kenny Wallace, the former NASCAR standout and current race analyst for Fox. Sunday night was Wallace's first trip to the speedway this season from his St. Louis compound.
Becerra built his series points lead to 393-380 over Jacob Rexing, who was third in the feature. Mike Vanderiet Jr. (336), Dave Wietholder (308) and Mark Burgtorf (285) round out the top five in points.
Becerra's feature victory also completed his hat trick for the evening. Becerra won a heat race and posted the series' top qualifying effort of 13.647 seconds. His qualifying time was a season best for the modifieds.
Wallace won the other modified heat race.
Becerra also upped his earnings to $3,500, the most for any driver in any series at the track. Rexing has pocketed $3,175.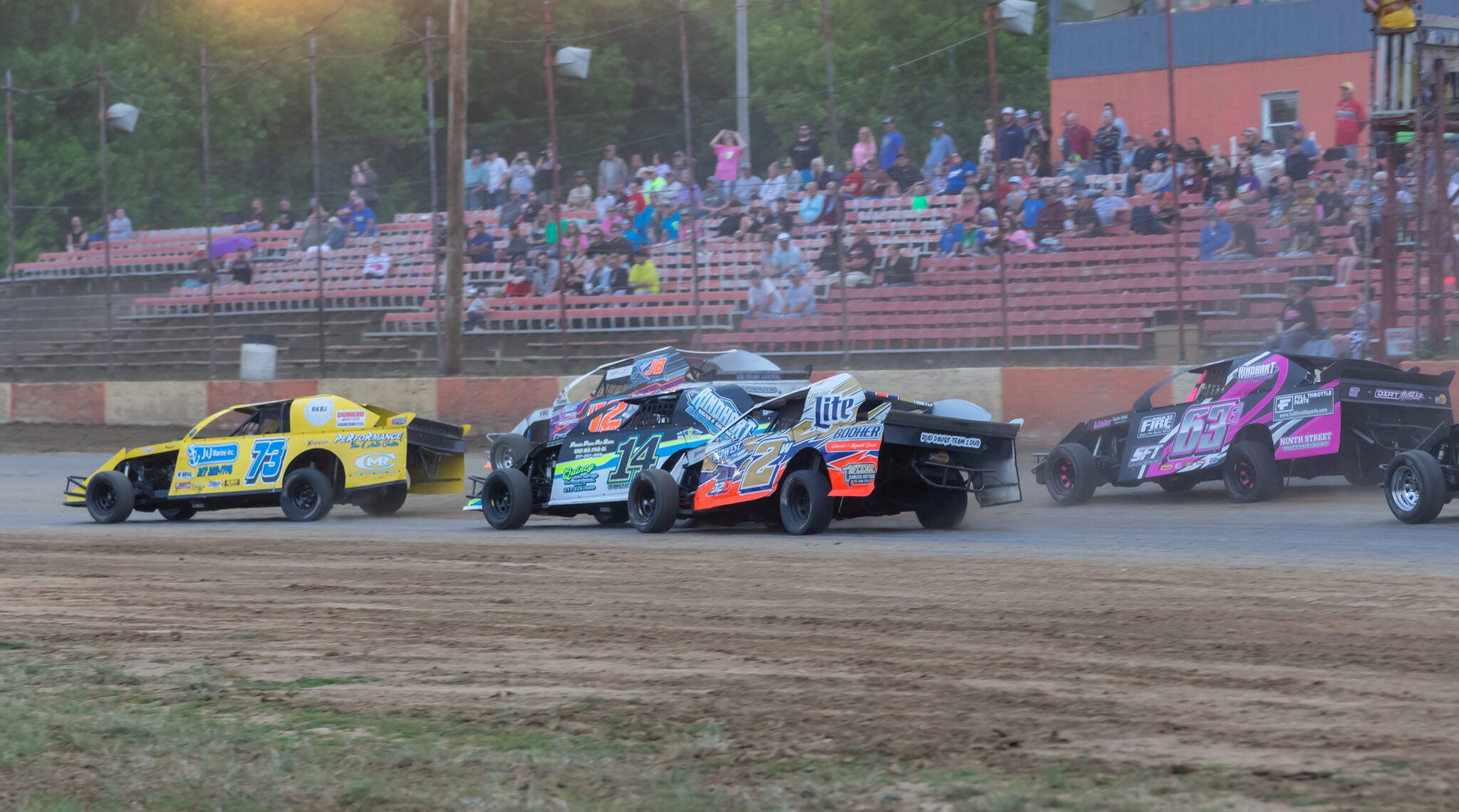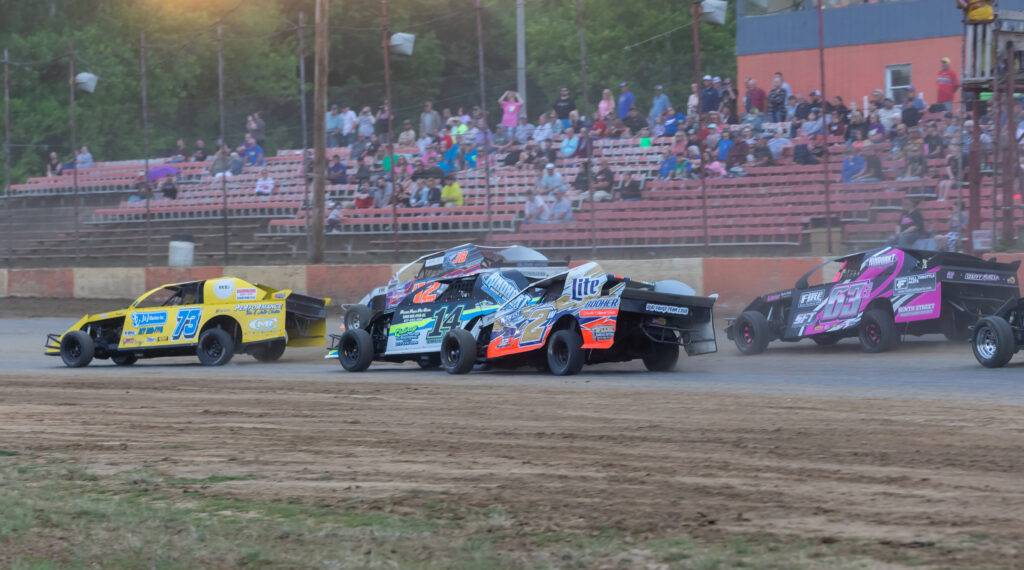 Other feature winners were Tanner Klingele in sport mods, Jason Perry in crate late models, Jeffrey DeLonjay in 4-Cylinders and Jake Powers in stock cars.
Klingele's second straight sports mod victory came on the strength of a last-lap pass of Logan Cumby, who had led the first 17 circuits.
Klingele was admittedly helped by a late caution flag that tightened the field. Cumby, who shared the 2022 features-won lead with Klingele with four, looked like a sure bet to register his initial victory of the season until the late yellow bunched the field together for a restart.
"That's two in a row," Klingele emphasized. "That late caution really saved me."
Klingele said he spent the early part of the race trying to find a line around the bottom of the track, but noticed fellow driver Adam Birck having success up high. So he joined him, and the end result was another victory.
"I'm pretty stoked," Klingele said.
Birck ended third, followed by Reed Wolfmeyer, who had won the May 28 and June 4 main events.
Sport mod heat wins went to Cumby and A.J. Tournear.
Klingele strengthened his points lead to 231-216 over Wolfmeyer. Cumby (214), Dakota Girard (209) and A.J. Tournear (208) are also in the mix.
Klingele also upped his earnings to $2,675. Wolfmeyer ($2,325) is second.
Perry's crate late victory was his second in three weeks and his series-leading sixth top-five finish. The end result allowed Perry to boost his points advantage to 410-371 over defending track champ Denny Woodworth, who finished seventh in the feature.
Jamie Wilson was third in the feature and Sam Halstead fourth.
Tommy Elston and Woodworth collected heat wins.
Perry's $1,000 first-place check gave him the series lead in earnings with $3,300. Woodworth ($2,925) is next.
Jeffrey DeLonjay's 4-Cylinder feature victory was his fourth of the season and third consecutive. He led the final nine laps, pulling away from runner-up Cyle Hawkins, Jimmy Dutlinger and younger brother Jaden DeLonjay.
Earlier in the evening, Hawkins and Coats won heat races.
Jeffrey DeLonjay (237), Dutlinger (230), Jaden DeLonjay (226) and Spencer Coats (212) continue to set the points pace in a deep 4-Cylinder field.
"There's a lot of competitive drivers in this division, but I feel if we have our car set up right no one can beat us," Jeffrey DeLonjay said.
For the rest of this season, DeLonjay said he will be concentrating on winning a second straight track title while helping his brother continue to develop his 4-Cylinder skills.
"I'm planning to drive a late model next year," DeLonjay said.
Powers outdueled stock car rival and defending series champ Rudy Zaragoza to win his second feature and increase his points lead. Powers is now 21 points (230-209) ahead of Kale Foster, who was third in the feature.
"It's always fun to run against Rudy," Powers said. "It's always a clean race."
Powers also had a little post-feature fun.
"I know my wife is happy we won ($375)," he said. "We can eat now this week."
Zaragoza won the lone stock heat.
Hell Tour update
There is no racing at the speedway next Sunday. Promoter Jim Lieurance said the track staff will be taking the extra time to prepare the facility for the arrival of the June 28 UMP Summer Nationals Hell Tour.
The Hell Tour has been a regular feature at the track since 2005.
Brian "The Squirrel" Shirley captured his third tour victory (in five races) when he outdueled Jason "The High Side Hustler" Feger Sunday night in Maple Park, Ill., at Sycamore Speedway.
Shirley is the early points leader in the 2023 series, which opened June 14 and runs through July 29. Shirley has 352 points, Feger 312, Frankie Heckenast 293 and Dennis Erb Jr.288.
Drivers from 11 different states and two foreign countries have competed so far in the 6 ½-week challenge across the Midwest.
Miss Clipping Out Stories to Save for Later?
Click the Purchase Story button below to order a print of this story. We will print it for you on matte photo paper to keep forever.