Unzicker rides 'Express' lane to victory in MARS main event at Adams County Speedway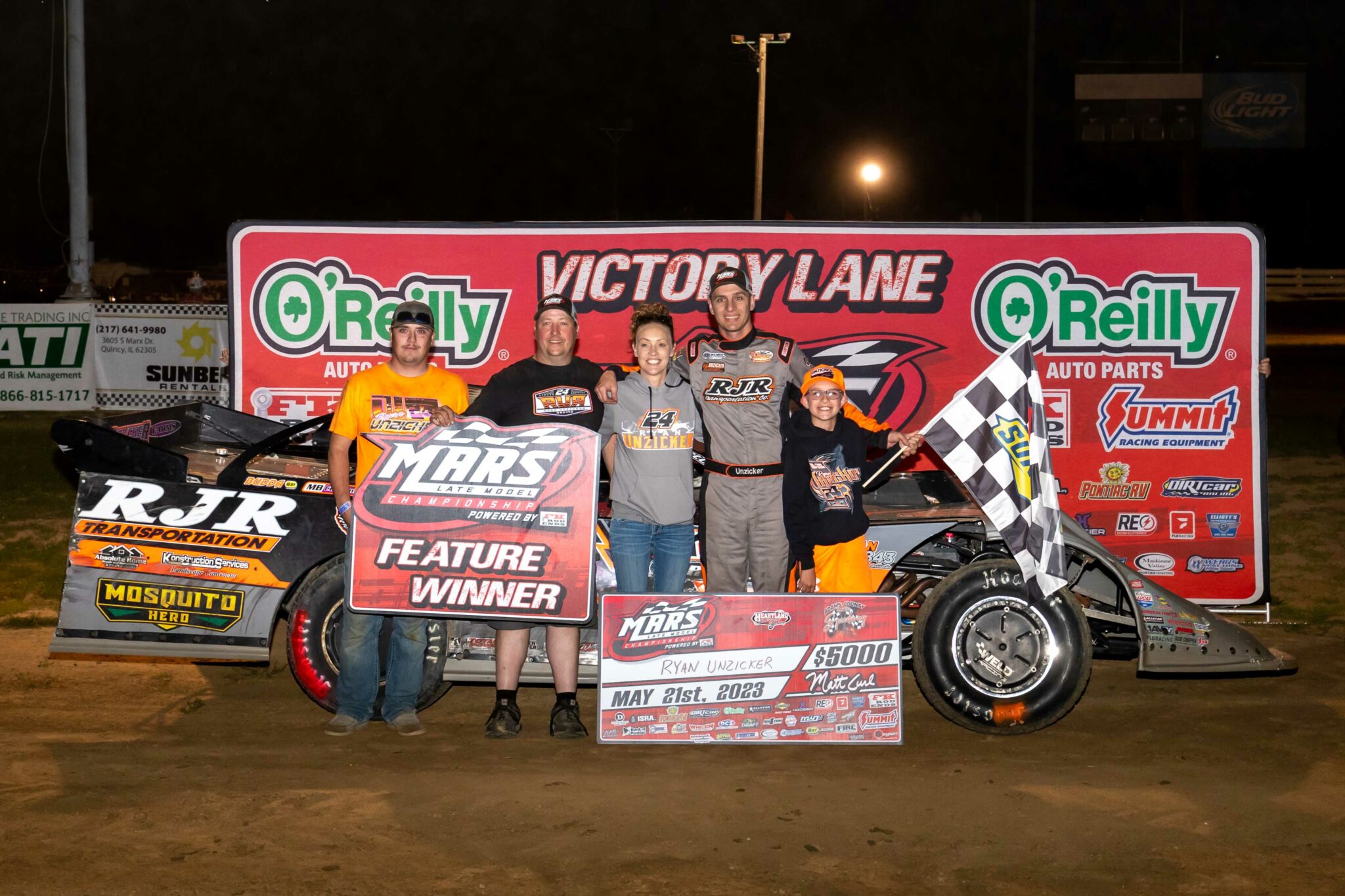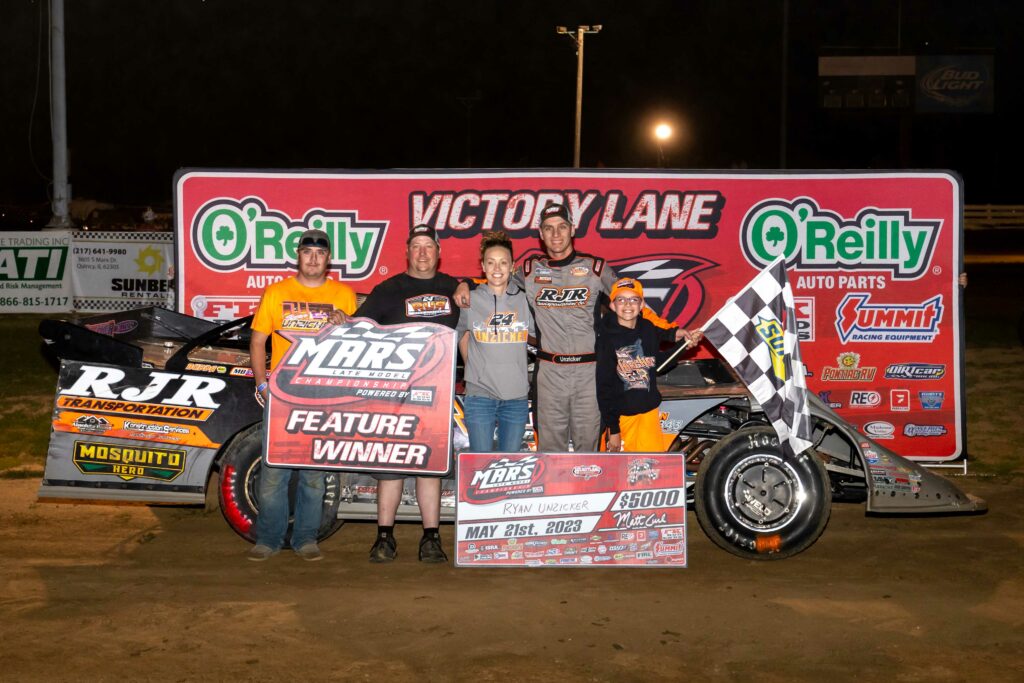 QUINCY — The second verse was highly reminiscent of the first.
The same three super late model drivers occupied the podium Sunday night, only in a different order from a year ago.
Ryan Unzicker, Jason Feger and Tommy Sheppard dominated the Mid-America Racing Series main event in front of a crowd of about 2,700 at Adams County Speedway. Those fans witnessed a dandy 40-lap feature that was not decided until the final lap.
Unzicker, who hails from El Paso, Ill., and is known by the "El Paso Express" moniker on the super late model circuit, led the final 39 laps. However, he was under constant pressure from Bloomington, Ill., native Feger — a.k.a. "The High-Side Hustler" — for most of those circuits around the .29-mile Broadway Bullring.
Sheppard, from New Berlin, Ill., and a one-time regular at Quincy, was never far behind.
A year ago, it was Sheppard who outdueled runner-up Feger and Unzicker in similar close-knit fashion.
"This reminded me a lot of last year's race," said Unzicker, who like Feger and Sheppard, had to work his way through lapped traffic most of the final 20 circuits.
In addition to relishing the moment, Unzicker was also looking at the big picture. The victory allowed him to stay in front of Feger in the MARS points race.
"We're trying to win the MARS title, and it's a great feeling to have won two in a row this weekend, especially on an awesome track this one," he said.
Quincy was the final leg of a Land of Lincoln MARS tripleheader. Unzicker came to Quincy following a Saturday night win in Charleston. Feger had won in Kankakee on Friday.
"We could have been a little better, but I was trying to be patient. We'll take second and just keep working," Feger said. "The track is different every time we come here. I don't really care as long as it's multi-groove and we can pass. Being able to pass is important."
Unzicker and Feger also won heat races. Tyler Erb was the other heat winner from a field of 24 late models representing seven states and Australia. Along with Illinois, there were drivers from Michigan, Indiana, Texas, Iowa, Arkansas and Missouri.
Erb, who made the trip to Quincy from New Waverly, Texas, was the top qualifier at 12.907 seconds (80.89 mph). The track record is 12.669 (82.41 mph), established in July 2009 by Missouri driver Will Vaught during qualifying for the 2009 UMP Summer Nationals.
"I was really excited to come back to Quincy," Erb said. "It had been five or six years since I had been here."
Unzicker pocketed $5,000 for his victory, Feger $2,500 for second place and Sheppard $2,000 for third. Sheppard ($9,300), Unzicker ($8,150) and Feger ($4,055) are the leading MARS money earners in the series' two trips to Quincy.
Feger, who is in his 21st year as a late model driver, plans on driving for "about an another 10 years," which would take him to age 55.
"It's not getting any easier," he said. "It's so expensive."
Feger said back when he started he could get in a new late model for about $30,000. Now that figure is about $110,000, and that's the "bare minimum."
"Tires used to be $120 apiece, now they're $240," Feger said. "Prices have gone up probably 30 percent over the last three years."
For the 29-year-old Sheppard, who now drives for the Bob Gardner late model team out of Washington, Ill., this season is allowing him to see all sorts and sizes of tracks on a regular basis — but his heart remains at venues like Quincy.
"I grew up racing on the quarter-mile dirt tracks in central Illinois," Sheppard said. "Coming back here is like coming home. I hated to see this place close (in 2020-21). I'm so glad it's open again."
Sheppard is chasing the MARS rookie of the year award. He has one win to his credit so far, having collected a main event checkered flag in Pevely, Mo.
The top local finishers among the super late models were Justin Reed of Camp Point in seventh, Mark Burgtorf of Quincy in 10th, Austin Howes of Memphis, Mo., in 15th and Ricky Frankel of Quincy in 20th.
Reed, who won the 2011 late model track championship, has not raced in Quincy (outside of an occasional major event like Sunday) for more than five years. In recent seasons, he has campaigned for a Wisconsin-based team owner but is now back on his own with his dad, Mark, serving as crew chief.
Reed said he builds his schedule around events offering at least $5,000 to win.
"I'm still trying, I still have the itch to compete at the highest level," the 36-year-old said. "I still like to do it."
Reed won four races a year ago. His biggest payday ($7,500) came in an event in Peoria, Ill.
Sunday night's other two feature winners were Kyle "The Warlock" Steffens of St. Charles, Mo., in the MARS modifieds and Austen Becerra of Carthage in the Heartland Auto Racing Tour sport mods.
Steffens made it back-to-back feature wins in the annual MARS event.
Steffens earned $2,000 for the victory, outdueling Josh Harris of Utica, Ky., and Tyler Nicely of Owensboro, Ky. Nicely won a pair of September features at Quincy in 2022.
Top local finishers were Michael Long of Fowler in fourth, Becerra in eighth, Dave Wietholder of Liberty in 15th, Shawn Deering of Quincy in 17th and Frankie Wellman of Quincy in 20th.
There were 29 modifieds in the pits, which is the most since the track reopened in April 2022.
Becerra won the sport mod feature driving Logan Cumby's car. Cumby won the sport mod event at last year's MARS show, but opted to have Becerra drive this year.
"I'm grateful Logan gave me the chance," said Becerra, who in recent years has concentrated almost solely on the modified division. "I'm glad I could help him out."
Becerra earned $600 for the victory.
Reed Wolfmeyer of Liberty, Matthew Edler of St. Louis, former Quincy regular Chris Spalding of Montgomery City, Mo., and Tanner Klingele of Quincy rounded out the top five in a robust field of sport mods. A season-high 32 sport mods were registered.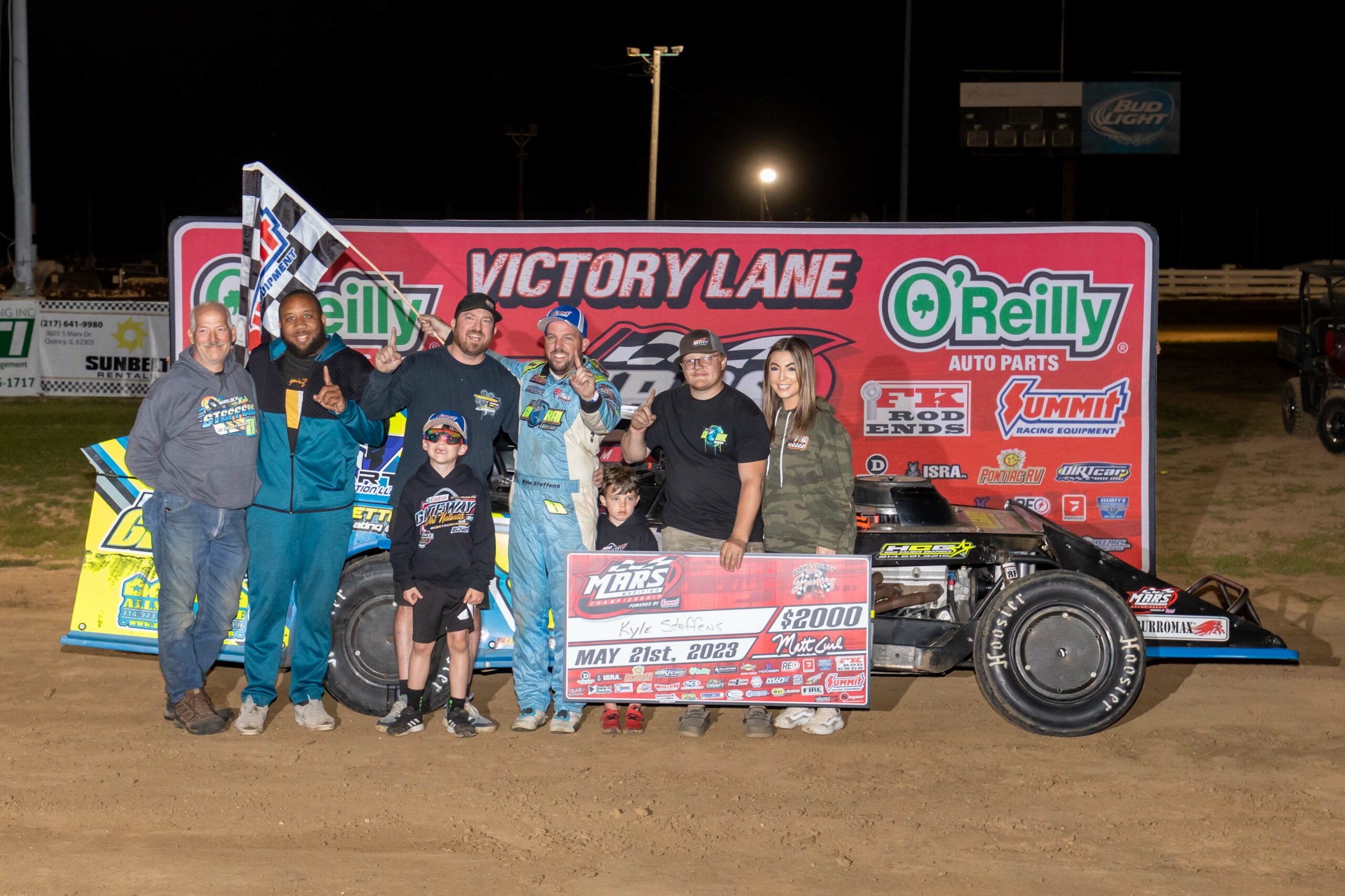 Miss Clipping Out Stories to Save for Later?
Click the Purchase Story button below to order a print of this story. We will print it for you on matte photo paper to keep forever.