Tigers' length keeps Panthers at bay as historic season ends in sectional championship game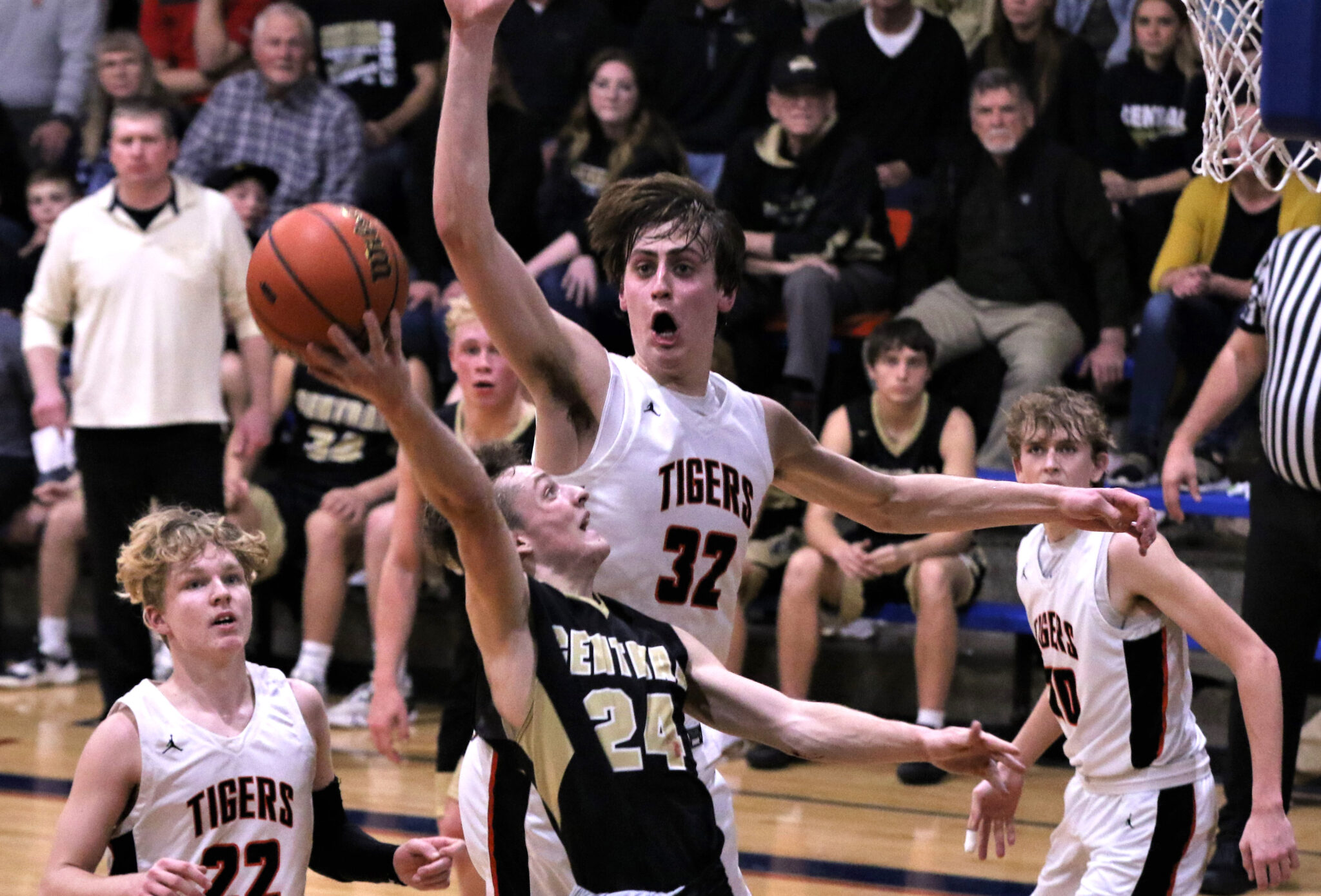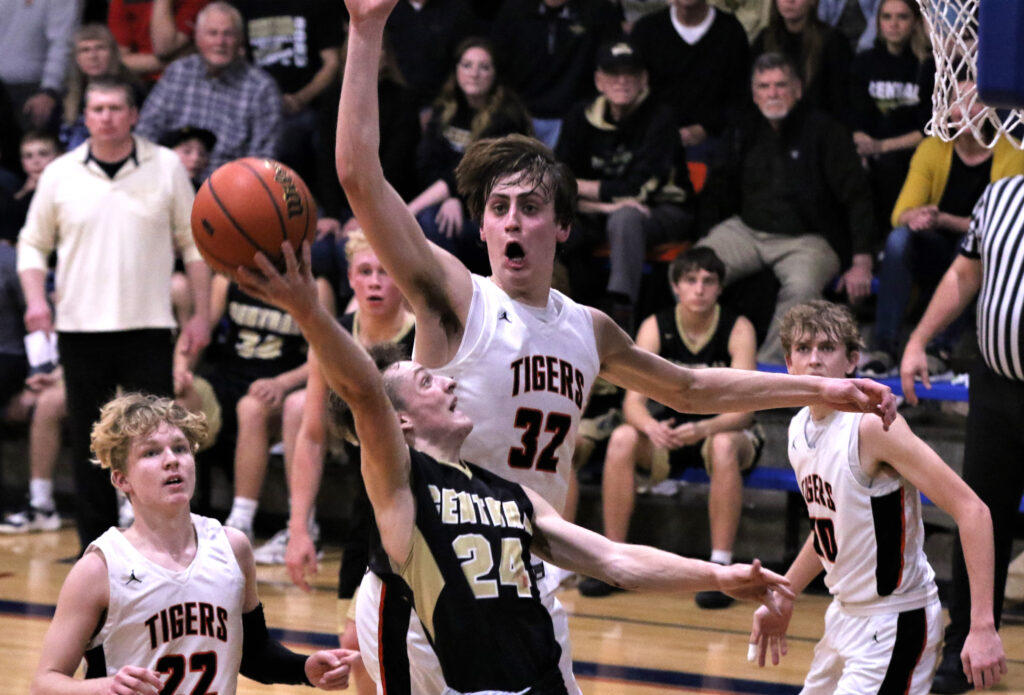 BUSHNELL, Ill. — Being double and triple teamed is a nightly occurrence for Hank Alvey. He's familiar with opposing defenses pushing and pulling him in every direction.
It comes with the territory when you're 6-foot-9 and opponents are looking for anything that may get under your skin.
"It's nothing new. That's what teams have been doing all season to me. I have just kind of gotten used to it," Alvey said.
Camp Point Central threw everything it could at the Illini Bluffs junior standout during Friday's Class 1A Bushnell-Prairie City Sectional championship game. Alvey always seemed to have an answer. He helped carry the Tigers to a 54-46 victory and a sectional trophy for the first time since 1981.
"He's pretty good," Panthers forward Carter Eyler said. "He's not a skinny 6-9. He's thick. He can push you around. It was pretty tough."
Alvey, who earlier this season hit a game winner at the buzzer to beat Central in the semifinals of the Macomb-Western Holiday Tournament, had a team-high 20 points, including eight points in the fourth quarter, and made all four of his free throw attempts down the stretch.
"He's the person that can do so many different things," said Illini Bluffs coach Clay Vass, who led Hamilton to the state tournament in 1994. "He's our best rebounder, our best passer and our best scorer. He's just a tremendous talent."
Eyler certainly did everything he could to try and sway things in a different direction, especially when Central scored nine straight points to take its first lead late in the third quarter. Eyler helped hold Alvey to only four points in the second and third quarters combined.
"I left it all out there. That's what they say, right? Leave everything on the court. I feel like I did that tonight," said Eyler, one of three Panther seniors who played their final game. "I can't really hang my head."
Eyler finished with 12 points and seven rebounds while fellow senior Isaac Genenbacher notched a game-high 23 points. Central's third senior, Breyhar Wiskirchen, led the Panthers with five assists. Junior Nick Moore added nine points.
The Tigers' length was problematic. They had 10 blocks as a team and made it difficult for the Panthers to generate much in the post. When Central had looks from the outside, the Panthers (27-5) were forced to shoot over players 3 or 4 inches taller. 
The Panthers, who made 7 of 13 3-points attempts in Wednesday's victory against Peoria Christian, struggled from beyond the arc on Friday. They missed all four 3-point shots in the first half and wound up 3 of 17 overall.
"Their length affects us," Central coach James Barnett said. "When you're 6-2 and 6-3 guarding 5-10 and 5-11, it's hard for 5-10 and 5-11 to get shots off. You don't have to guard too tight, and length bothers us in that sense because we can't get the jump shots off."
Illini Bluffs senior Brandon Coats thought they could exploit their size.
"I think it was really big to our success on defense," Coats said. "We came here and watched them play (Peoria Christian) and without as much length they made a lot of threes. They were easily able to skip the ball across and get better ball movement. I think that was the difference in why they beat them and why they couldn't beat us."
Vass said the Tigers' collective wingspan has been one of their biggest assets all season.
"Our length hurts everybody," said Vass, who will guide the Tigers (32-5) into Monday's satte quarterfinal against Waterloo Gibault at the Jacksonville Bowl. "We've scouted and watched film on a lot of teams that could really shoot lights out and then they play us and it's a different story."
Central played from behind most of the game. They trailed 10-6 after the first quarter and 24-21 at halftime. The Tigers answered the Panthers' third-quarter rally by scoring the final three points of the third quarter and the contest was tied at 33 heading to the final eight minutes.
Illini Bluffs took control in the fourth quarter and made 11 of 15 free throws to seal the deal.
"I'm not disappointed in them one bit," Barnett said. "Any time you lose you're disappointed in the outcome but there's nothing to be mad about. Mistakes happen in the game of basketball and you move on. We had some and they had some. But at the end of the day our guys busted their butts for 32 minutes."
Miss Clipping Out Stories to Save for Later?
Click the Purchase Story button below to order a print of this story. We will print it for you on matte photo paper to keep forever.