Taking the high road: Klingele's sling shot coming out of turn four leads to sport mod victory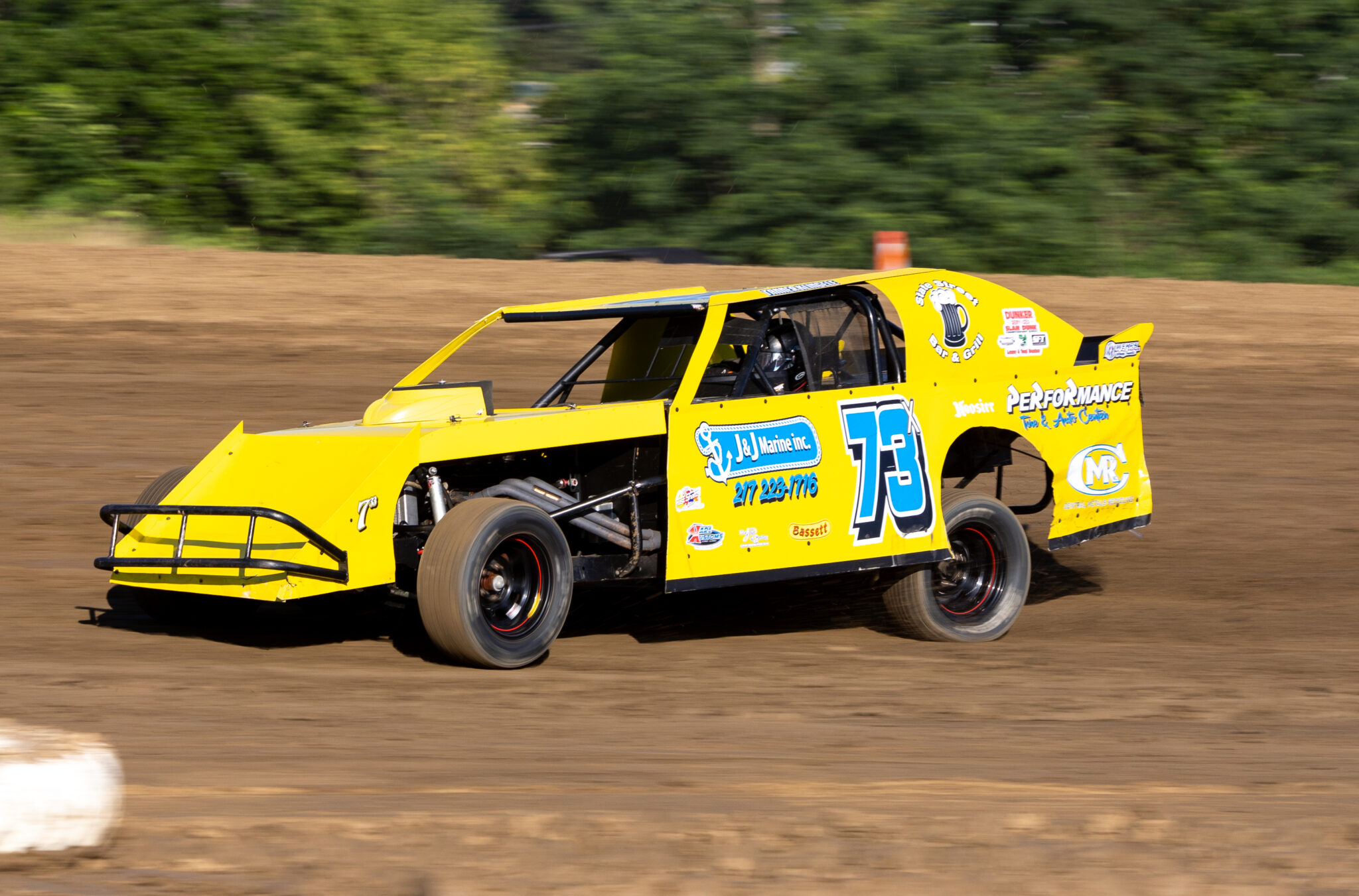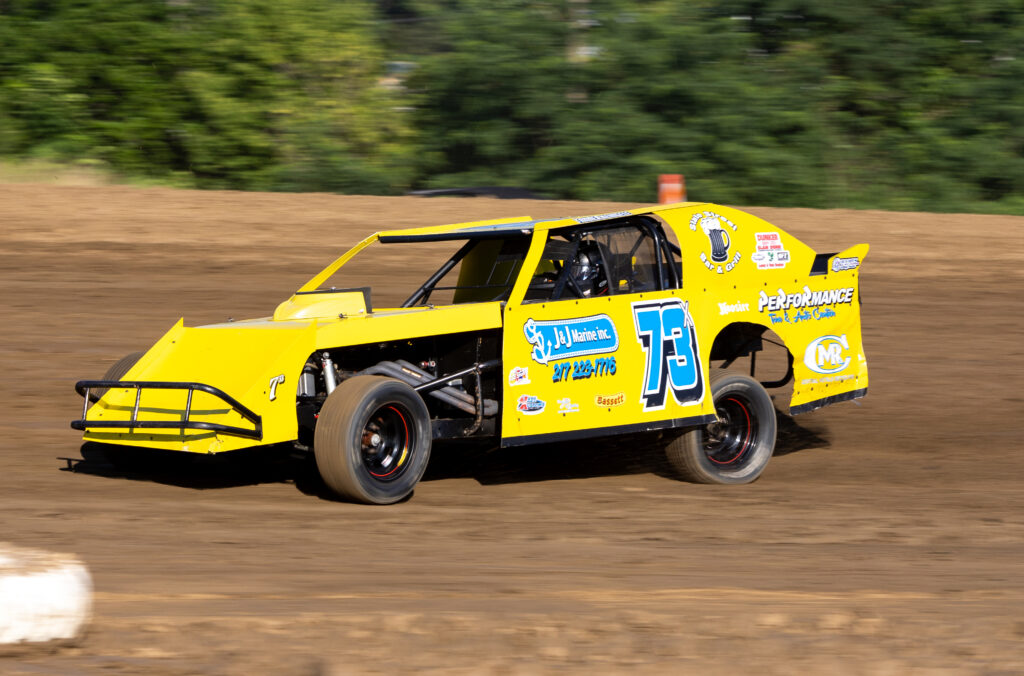 QUINCY — Tanner Klingele says it's one thing to reach the proverbial mountain top, but staying there is another story in itself.
Klingele, the points leader in the super-competitive sport mod division at Adams County Speedway, solidified his No. 1 position Sunday night with a thrilling — and that's likely a major understatement — victory in the feature.
Klingele's kamikaze pass along the high line coming out of turn four on the closing lap sling-shotted his familiar No. 73 yellow hot rod past Dakota Girard, who had led the entire race until the closing 50 yards or so.
The winner of the main event was virtually impossible to determine by the naked eye, but the transponders that are required for all cars in all five classes at the track determined Klingele had won the main event by .059 of a second.
"Thank goodness for transponders!" bellowed veteran track announcer Doug Mealy across the pubic address system.
"I knew my only chance to win was to roll to the top and let my momentum take over," Klingele said.
Klingele's feature win was his series-best third of the season and helped maintain his points lead. Klingele has defended what he refers to as his "mountain top" position in the sport mods since assuming the series lead May 7. He has withstood one challenge after another over the past 2 ½ months.
"If you become satisfied with being on top of the mountain, you'll fall off," Klingele said. "I'm happy where we're at right now."
That's happy, not complacent.
"Our only real goal each season is to win more features than the year before," he said. "Last year we won five, and we have three right now."
But the big picture is the track title, right?
"We're working as hard as we can to (protect the points lead)," Klingele said. "I feel really good where we're at at this point of the season."
Klingele (343), Logan Cumby (329), Reed Wolfmeyer (326), A.J. Tournear (314) and defending series champ Adam Birck (293) make up the top five in points.
Cumby finished third, Birck fourth and Wolfmeyer fifth in the feature. Heat winners were Tournear, Birck and Girard.
Klingele ($3,800) also remains the money-earned leader in the division. Cumby ($3,150) took over second, followed by Wolfmeyer ($3,100), Girard ($2,540) and Birck ($2,150).
Other Sunday night feature winners were Michael Long in the MARS (Midwest Auto Racing Series) modified special, Jamie Wilson in crate late models, Robert Cottom in stock cars and Jeffrey DeLonjay in 4-Cylinders.
Long worked his way past Tyler Nicely near the halfway point of the 30-lap mod main event to collect the $2,000 first-prize check.
Long won the 2016, 2008 and 2007 track titles and finished runner-up three other seasons, but has raced more of a regional schedule in recent seasons. The Fowler resident led the final 17 laps.
Long said a key was being able to effectively run both the high and low grooves in what was a new car, a feat that became obvious as the race unfolded.
"Some drivers can run the top, some drivers can run the bottom … but Michael Long can do both," MARS spokesman Mike Norris said.
"This was only our second night in this new car, and we had some (mechanical problems) the night before," Long said.
Kenny Wallace, Trevor Neville and Josh Harris rounded out the top five in the feature.
"Michael had the faster car," Nicely said. "My car was just too tight to run the bottom with him."
Heat wins went to Long, Austen Becerra and Nicely.
No points were awarded in the mod division Sunday night. Becerra still controls the series with a 523-503 lead over Jacob Rexing.
Becerra also maintains his earnings lead with $6,625. Rexing ($4,625) and Dave Wietholder ($4,005) round out the top three.
Wilson's crate late victory was his first of the season, beating Jason Perry to the finish line by 1.141 seconds. Denny Woodworth was third and Braden Bilger fourth.
Wilson, who had to maneuver his way through lapped traffic in the closing laps while holding off Perry and Woodworth, is feeling more comfortable as the season unfolds. Wilson came out of retirement this year and admittedly struggled at times.
"The car's really been coming around," he said. "I had also been making some mistakes, but it all came together tonight. I was trying to hold the bottom and pick up some speed without leaving the sweet spots."
Wilson led 19 of 20 feature laps.
Woodworth and Bilger collected crate heat victories.
Woodworth (561), Perry (550) and Tommy Elston (546) are the closely bunched late model points leaders. The late model money leaders are equally close: Perry ($4,300), Woodworth ($4,160) and Elston ($4,025).
Jeffrey DeLonjay's 4-Cylinder feature win was his seventh of the season, tops in any series. He led the final 10 laps to easily outdistance Kyle Weisenberger, Jaden DeLonjay and Travis DeMint.
Jaden DeLonjay and Devin Harrell finished first in the heats.
The DeLonjays are dominating the points race. Jeffrey DeLonjay has 357 and Jaden DeLonjay 332. Landon Neisen (312) is their closest pursuer.
Jeffrey DeLonjay ($2,375), Jimmy Dutlinger ($1,170) and Jaden DeLonjay ($1,140) have won the most 4-Cylinder money.
Cottom's stock-car feature victory was his third of the campaign and came in dominating fashion over Sage Martin and Rudy Zaragoza. Jake Powers and Cottom snared heat wins.
Despite dropping out of the feature early, Powers still holds a comfortable (343-318) points lead over Kale Foster. Powers also holds a narrow $2,300-$2,125 advantage in earnings.
Miss Clipping Out Stories to Save for Later?
Click the Purchase Story button below to order a print of this story. We will print it for you on matte photo paper to keep forever.