Taking low line carries Winger to Hell Tour victory at Adams County Speedway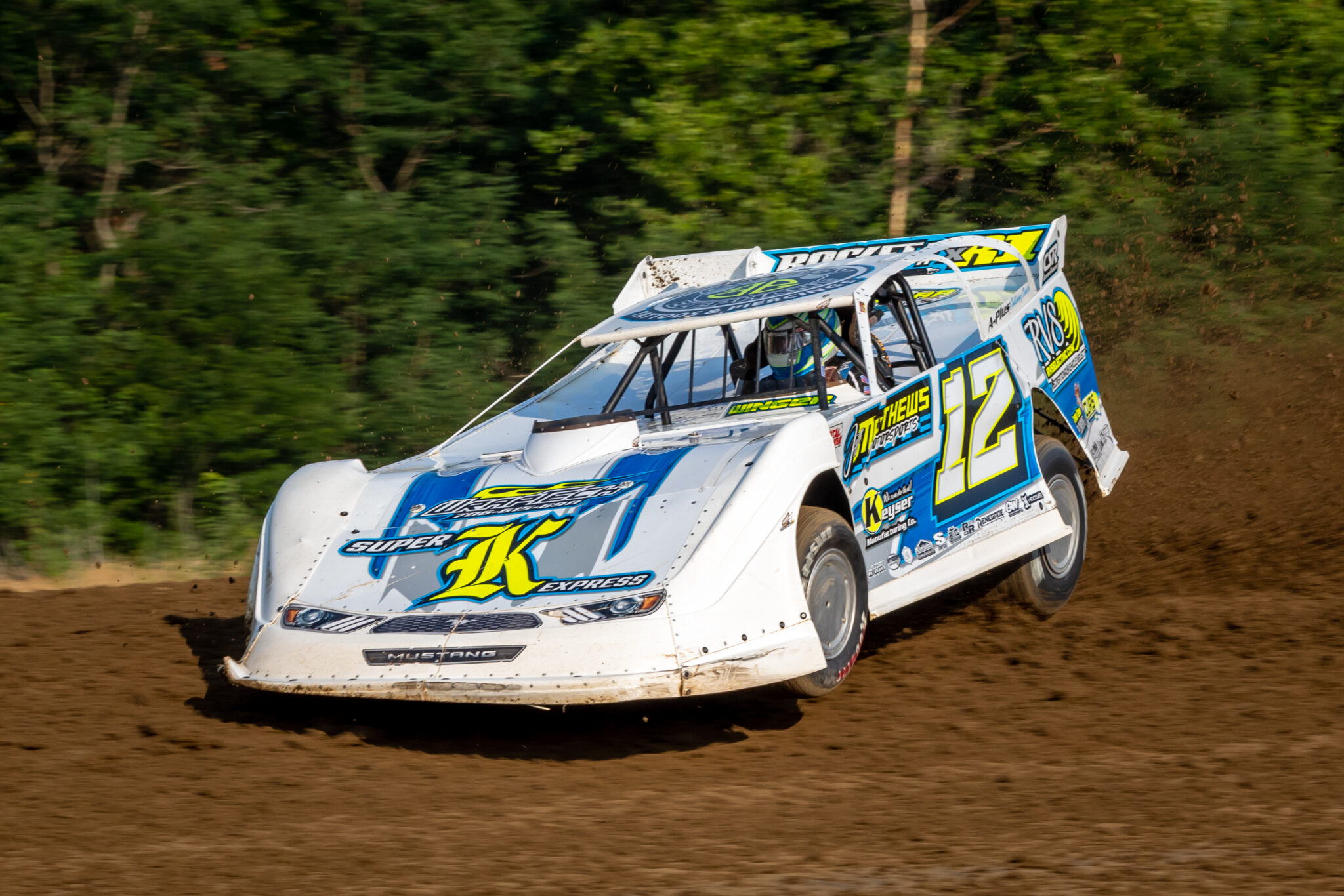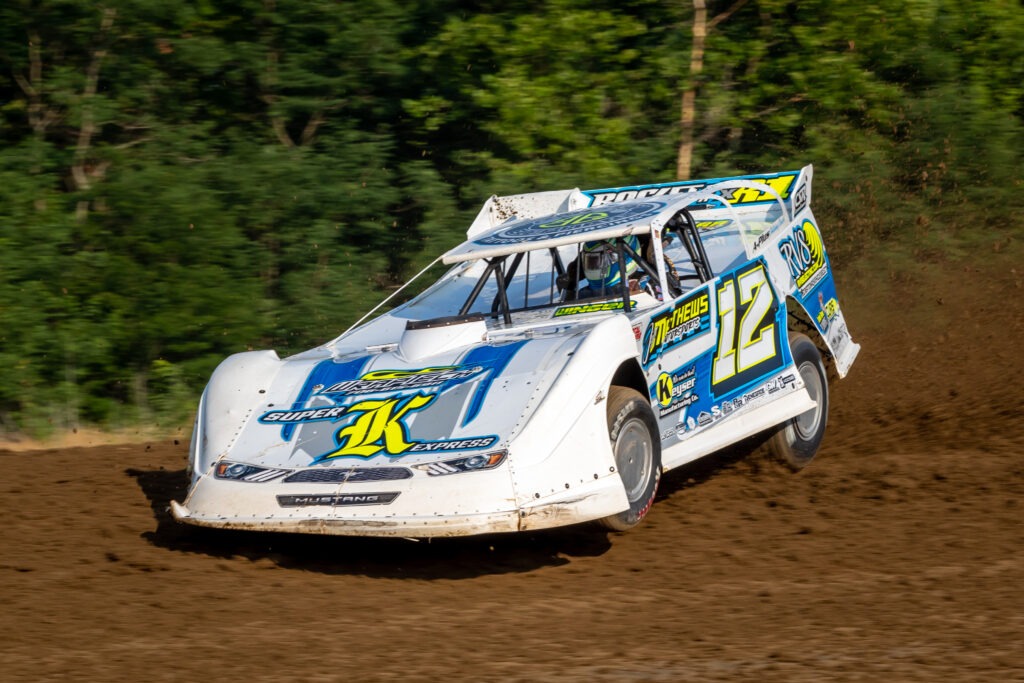 QUINCY — Ashton Winger is lovin' life and livin' large.
Really, really large.
The 23-year-old native of Senoia, Ga., roared to Wednesday night's super late model victory in the UMP Summer Nationals annual Hell Tour stop at Adams County Speedway.
Winger, earning his second tour victory in a week, did so in exclamation-point fashion. He withstood repeated high-line charges from the tour's current points leader, Jason "The High Side Hustler" Feger of Bloomington, Ill., over much of the second half of the 40-lap, 25-car main event that played out in front of more than 3,000 enthusiastic fans.
Winger also dodged a variety of late-race crashes and spins to collect a $5,200 payday.
"I could never imagine doing normal things for a living," said Winger, who has been racing since he was 14 and has been in a late model for the past five years.
Winger comes from a long line of family racers in the southeast, where dirt-track racing is more than a pastime. It's a way of life.
"I was kind of born into it," Winger said.
Winger utilized the low line around the .29-mile Broadway Bullring almost exclusively, eventually securing the lead at the 20-lap mark. He said down low was where his car felt the most comfortable.
"Each track has its own personality, and you have to be able to adapt to it," Winger said.
The Hell Tour is a seven-week excursion back and forth across eight states in the Midwest, Mideast and Midsouth. It's not for the faint of heart.
"One of the highlights of a Hell Tour is not killing any of the other guys on your team who you are traveling with," Winger said.
Rounding out the top five behind Winger and Feger were Morgan Bagley of Longview, Texas, Shannon Babb of Moweaqua, Ill., and Drake Troutman of Hyndman, Pa.
The top local finishers were eighth-place Justin Reed of Camp Point and ninth-place Mark Burgtorf of Quincy. The record finish for a local racer in the 12 Hell Tour stops in Quincy was a fifth-place showing by Burgtorf in 2010 and 2006.
Reed and Burgtorf both finishing in the top 10 was only the second time a pair of local drivers have managed the feat. The first time was in 2010 when Burgtorf was fifth and Denny Woodworth was ninth.
Drivers from nine different states and two foreign countries qualified for Wednesday night's feature. Both Australians following the tour qualified for the feature — Kye Blight of Bunbury and Brent Vosbergen of Perth. A third foreigner raced in the feature — Thomas Hunziker of Switzerland, but he now lives in Bend, Ore.
Blight finished 12th, Hunziker 14th and Vosbergen 15th.
Blight said he enjoys the camaraderie of the American racers and has enjoyed learning from his rivals. This is his first year on the tour.
"In Australia, the tracks are flatter," Blight said.
Blight said there is another major difference in racing in the two countries.
"Here in the U.S., racing is more of a job," he said.
Blight also said U.S. purses are much more lucrative than they are in Australia.
Vosbergen expanded on his coutryman's thoughts.
"Racing is more of a hobby back home," he said. "We may only race once every two weeks."
Vosbergern said the Hell Tour is well known in the land down under. Since it's winter there at the moment, Vosbergen said "a lot of people get together to watch the races (via satellite)."
One of the future big names of dirt-track racing may have been on display Wednesday night in the form of Troutman, who is an 18-year-old running his own team with the help of two other teens. He led the first 18 laps of the feature before crossing over the cushion near turn two and getting caught in the marbles.
Troutman said he's been racing for six years. He started out in UMP mods and moved this year to a full-time super late model ride.
"I've always been around racing," he said. "I love it, and the money is good."
Troutman said it is "awesome" being a part of his first Hell Tour, and fully expects as many downs as there are ups.
"This is tough," he said.
Track record
Troutman shattered the track record when he turned in an 11.898-second qualifying lap, erasing the 14-year-old mark of Will Vaught of Crane, Mo. Vaught turned in a 12.669 lap in Hell Tour qualifying in 2009.
Lieurance ecstatic
Track promoter Jim Lieurance said Wednesday night's crowd was the largest since the track re-opened in 2022. An official count will not be known until sometime Thursday, but the 3,000 is a safe estimate.
"Another thing that made me real happy was when (feature winner) Ashton Winger told me this was one of the best tracks he's raced on all year," Lieurance said.
Becerra goes flag to flag
Austen Becerra collected his third straight and fourth overall modified feature win Wednesday night. Becerra led flag to flag in the 17-car Summit Modified Nationals main event, the principal support series of the Hell Tour. Becerra turned back several challenges from Michael Long in the 20-lapper.
Kenny Wallace finished third, Rick Conoyer fourth and Dave Wietholder fifth.
Becerra said he drove a cautious race, keeping Long at arm's length until he needed to add some additional distance between the two.
"I used to be all-out all the time, just go like hell," Becerra said.
Becerra is the winningest overall driver at the track so far this season. He has 10 combined heat and feature wins in the mods and sport mods.
Keefer collects sport mod victory
Damian Keefer of Ste. Genevieve, Mo., rolled to a 1.98-second victory over James Hileman of Granite City in Wednesday night's 15-car sport mod feature. Dan Wheeler of Savage, Minn., was third.
The top local finisher was A.J. Tournear of Quincy, who finished fifth.
MLRA cars invade Sunday
A big week at the speedway gets even bigger Sunday night when the Lucas Oil MLRA super late models come to town. Track preparation for that event began shortly after the conclusion of Wednesday night's show.
First-place money for the MLRA feature will pay $7,000.
MLRA points leaders are Chad Simpson (1,645 points) of Mount Vernon, Iowa; Chris Simpson (1,460) of Oxford, Iowa; Garrett Albertson (1,440) of Las Cruces, N.M.; and Dillon McCowan (1,400) of Urbana, Mo.
Other classes on the schedule are sport mods and 4-Cylinders.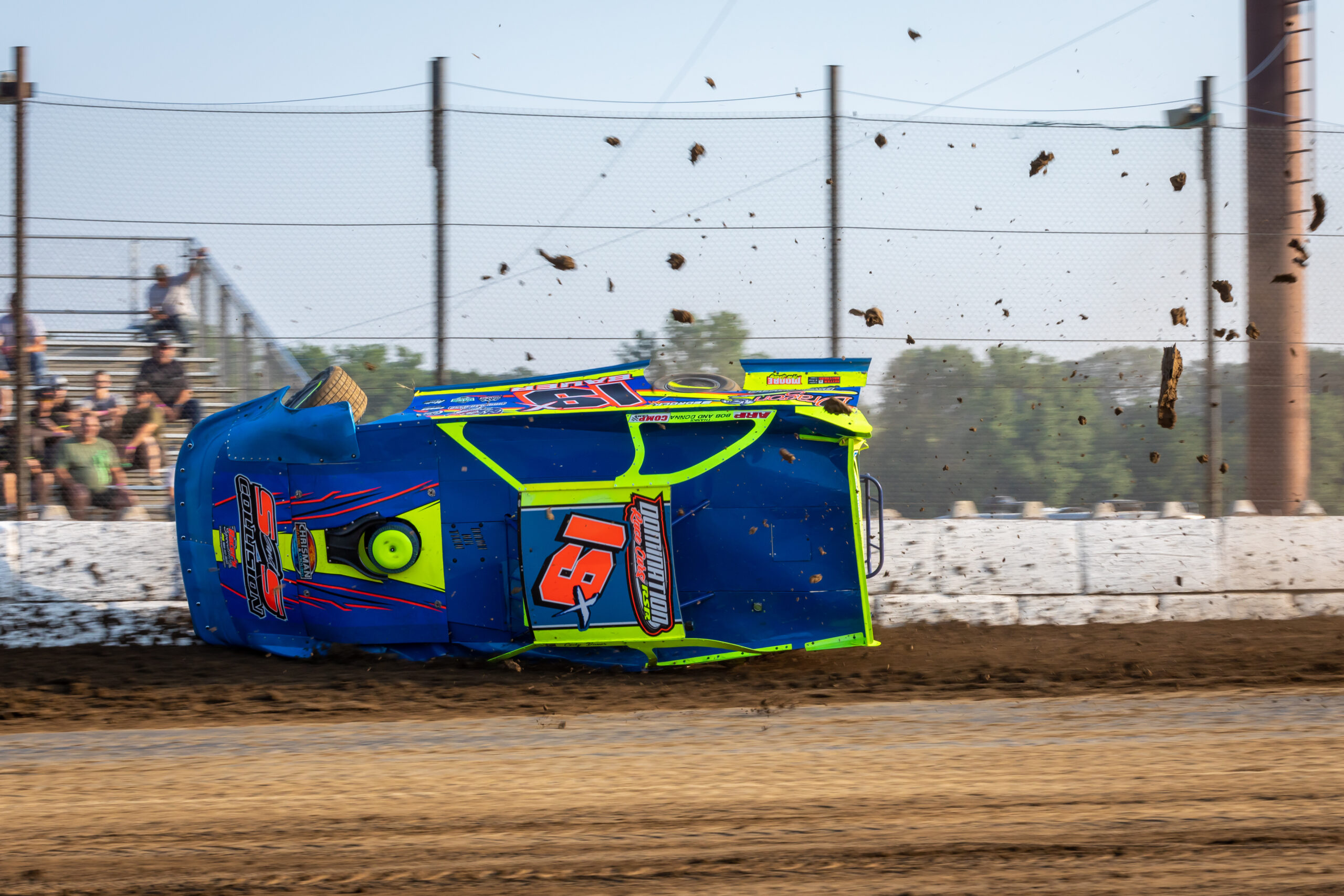 Miss Clipping Out Stories to Save for Later?
Click the Purchase Story button below to order a print of this story. We will print it for you on matte photo paper to keep forever.