Stroke of genius: Moore's relationship with Central's offensive mastermind creates efficient attack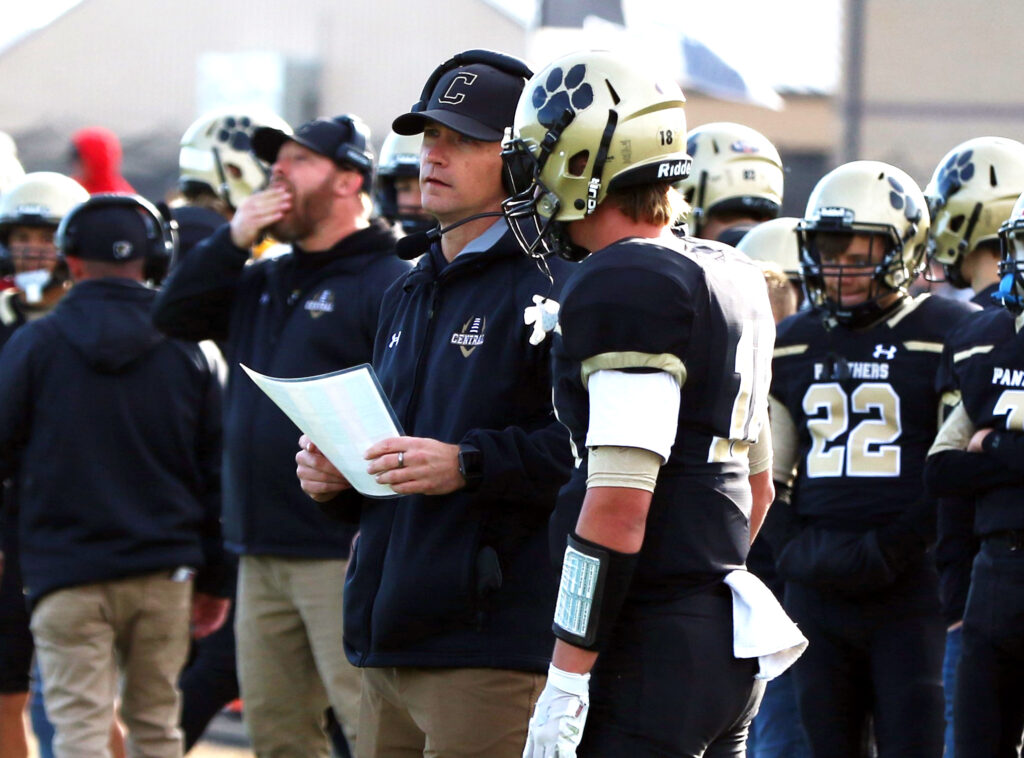 CAMP POINT, Ill. — By now, Nick Moore shouldn't be amazed or surprised.
Yet, he always is.
Together over the past three seasons, Camp Point Central offensive coordinator Casey Rhea and Moore, his starting quarterback, have poured over hours of game film to gain a better grasp of what opposing defenses intend to do and how the Panthers need to attack it.
Inevitably, Rhea sees things Moore hadn't considered or spotted.
"You really get blown away because he literally knows everything about the other team and what to run," said Moore, a senior and three-year starter. "He walks you through his mindset so we understand what is going on. We trust what he is thinking."
That trust is unwavering.
"Our coach is a mastermind, knowing the other team's defense like the back of his hand," Moore said. "He has our trust in every respect."
It explains why the Panthers are so efficient offensively, averaging 7.4 yards per carry and 363.5 total yards per game as they head into Saturday's Class 1A state semifinal against Greenfield-Northwestern. This is the second consecutive season the Western Illinois Valley Conference schools have met in the postseason with Central owning a 24-12 state quarterfinal victory a year ago.
The Panthers expect the Tigers to play with an edge and a little fire in their belly because of that loss, but they also believe they have the great equalizer in Rhea's offensive mind.
"He's a math genius," Moore said. "And a play-calling genius."
And a coach who trusts his quarterback's eyes as much as he trusts his own.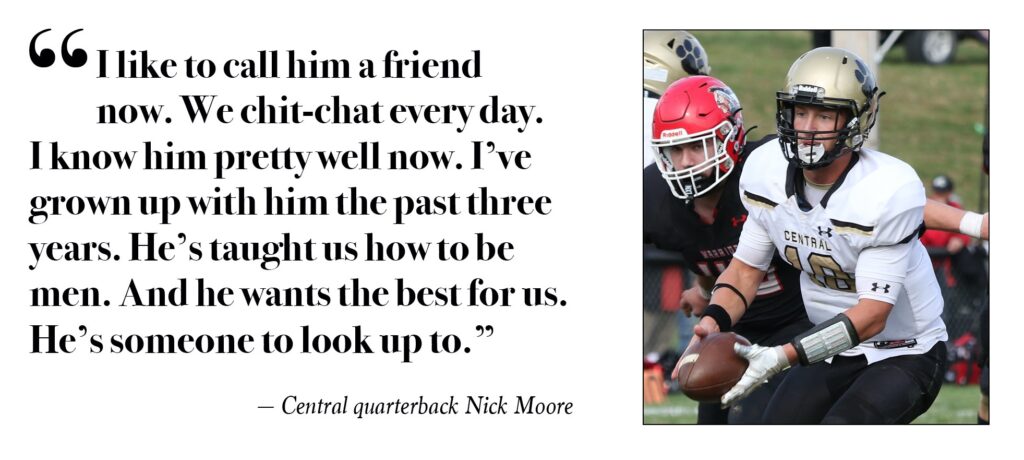 "When I see something, if I hand the ball to Elijah and I see they're ducking in, I'll say, 'Hey, Coach, look at that,'" Moore said. "We have an iPad on the sideline so he can look at it right away. He'll usually look at it and see what they're doing."
Rhea has taught Moore to see and think the game the same .
"Throughout the game, he might say, 'Hey, we should have checked to a different play,'" Rhea said. "He'll tell me if we run a certain play that a certain player would be open. A lot of times, at least in the closer games, those things can make a big difference."
That trust is a two-way street.
"Coach has proven time and time again to trust what he sees," Moore said. "Just look at the game against Greenfield last year. The touchdown pass at the end, we aren't known for passing, but it was a pass play that sealed the game. I trusted his call."
That was a 20-yard touchdown pass to Isaac Genenbacher on fourth and 2 that gave Central a 16-12 lead and was part of a 24-point run to close the game.
It was similar to the call Rhea made with Central leading Belleville Althoff 24-0 in the first quarter last Saturday. After recovering an onside kick, the Panthers immediately went to the air as Moore connected with Drew Paben for a xx-yard touchdown that completely derailed Althoff.
"He said some words right before we did that pass that he knew it was going to work," Moore said. "So I was pretty fired up for that."
Rhea's trust in Moore allowed him to make that call.
"I'm really confident in his ability to execute a lot of things we haven't asked other quarterbacks to do," Rhea said. "He just does a really good job of executing when the time comes. His footwork is great. He usually throws the ball pretty well."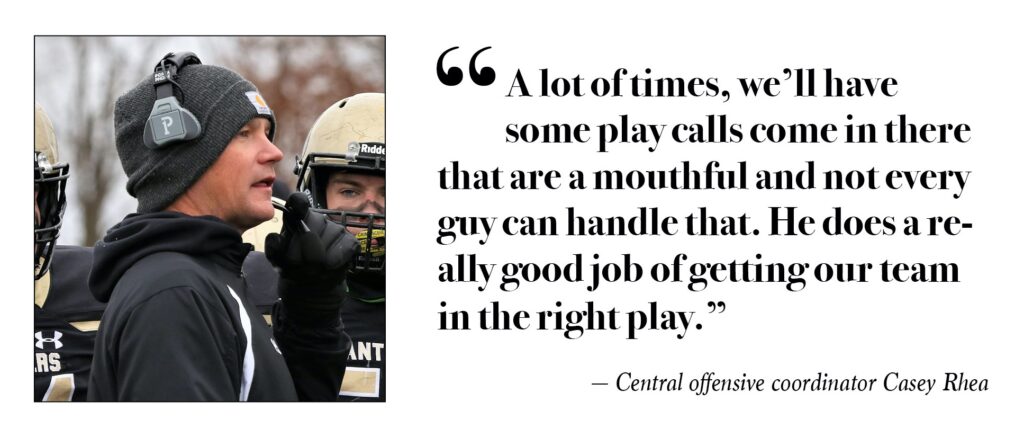 Moore doesn't have to throw the ball often with an offense that grinds out 300.4 yards rushing per game. This season, he's completed 28 of 42 passes for 565 yards with seven touchdowns and one interception. He's also rushed for 204 yards and three scores and is seeing more action as a running option as the year progresses.
"He has said so much to me over the years, but it's not the words. It's the trust in what he calls," Moore said. "In big, key situations, he tends to go to me or Elijah (Genenbacher). When he goes to me on big plays, that means so much to me."
Rhea knows Moore will make the right play.
"When a quarterback comes in as a sophomore, there are things that happen in a game where you go, 'Oh, we haven't talked about that,'" Rhea said. "He's gotten good at taking what defenses are giving us and not forcing things. He keeps us out of really bad plays."
That's confidence.
Moore is 34-3 as a starter, having guided the Panthers to a 9-2 record as a sophomore, a 13-1 state runner-up finish last season and a 12-0 record to date this season. His only regular-season loss was a 22-20 setback to Brown County in his fourth game as a starter.
"The first year, I wasn't really that comfortable," Moore said. "I was a sophomore playing quarterback, and that's kind of scary. I've gotten more confident every game I;'ve played, and I'm really enjoying the sport for what it is, knowing that I have amazing coaches that put us in the best situation to win and I have these guys around me, the best guys you could ask for."
No one could quarterback this team better either.
"A lot of times, we'll have some play calls come in there that are a mouthful and not every guy can handle that," Rhea said. "He does a really good job of getting our team in the right play."
It's because he thinks and acts like Rhea these days.
"Our relationship has grown," Moore said. "I like to call him a friend now. We chit-chat every day. I know him pretty well now. I've grown up with him the past three years. He's taught us how to be men. And he wants the best for us. He's someone to look up to.
"You want coaches to be hard and tough, but when you have someone to talk to, that means more than being hard on your players."
Miss Clipping Out Stories to Save for Later?
Click the Purchase Story button below to order a print of this story. We will print it for you on matte photo paper to keep forever.