Sound the alarms: Sizzling effort from 3-point range, stingy defense carry Panthers into sectional championship game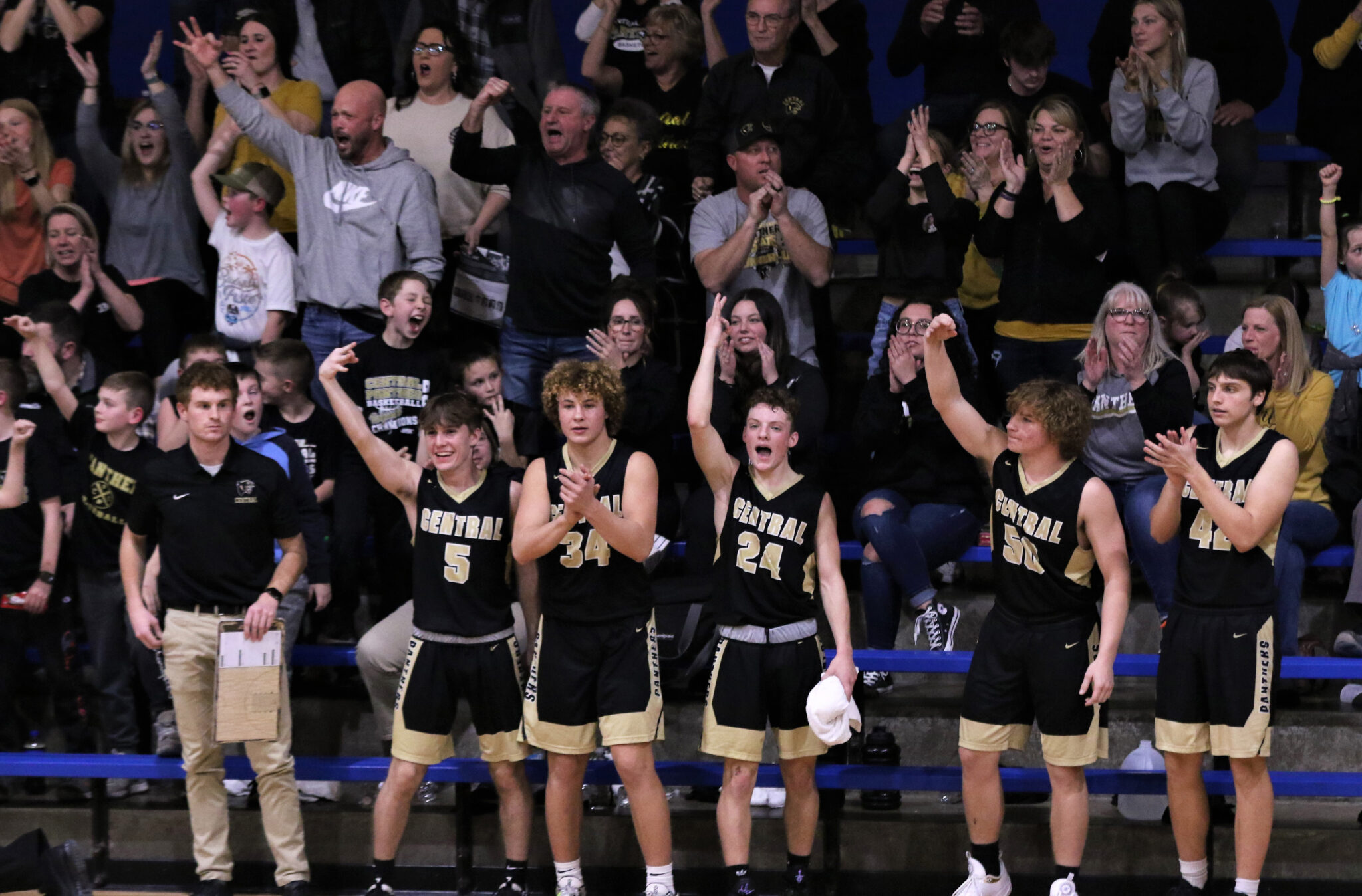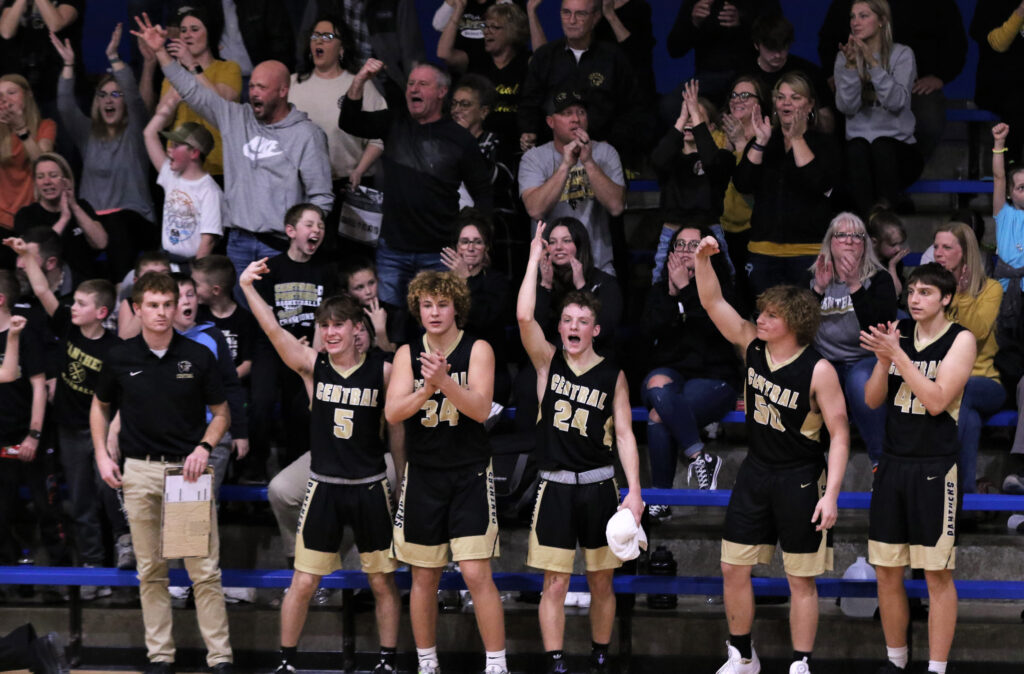 BUSHNELL, Ill. — Not much could delay the inevitable, but the fire alarms blaring in the Bushnell-Prairie City High School gymnasium created a significant sense of confusion in the waning minutes of Wednesday's Class 1A sectional semifinal boys basketball game between Camp Point Central and Peoria Christian.
"It just came out of nowhere," Central junior Nick Moore said. "I didn't know what to think. We looked at our coach like, 'What are we supposed to do?'"
With 1:52 left in the fourth quarter and the Panthers leading 46-37, the fire alarms went off.
B-PC administration announced everyone, including both teams, had to leave the gym and go outside in order to better assess the situation.
It turned out to be a false alarm, and after approximately 25 minutes, the game resumed follwoing a brief warm-up.
Central scored five of the game's last seven points, all by way of the free-throw line, to defeat Peoria Christian 51-39 and win its first sectional game in program history.
Panthers coach James Barnett, who witnessed a fire alarm delay as Putnam County (Ill.) girls basketball coach earlier in his career — ironically also against Peoria Christian — said Central (27-4) had to hit the reset button while they waited for play to continue.
"We talked about press break and what we wanted to do against different looks that we've seen out of (Peoria Christian) and how we wanted to attack it and being strong with the ball," Barnett said. "We reminded them on how many timeouts we had and anything I could think of, and just tried to keep them in the mindset of what we were trying to do and not let them wander."
The Panthers' 27th victory of the season matches a single-season program record and elevates them to the sectional championship game for the first time ever. They get a rematch with Illini Bluffs, which defeated Central 51-50 in the semifinals of the Macomb-Western Holiday Tournament on December 30 thanks to a buzzer-beater from Hank Alvey, who finished that game with 27 points and 10 rebounds.
Central led that contest by four points with less than a minute to play.
"I don't see anything different than the game it was (in December)," Barnett said. "I think it's going to be back and forth. Hopefully we have the lead again in the final two minutes. I think we're a better team in the final two minutes than we were two months ago."
Moore says there's still a lingering feeling of disappointment from that loss.
"We're hungry," he said. "We're going to come out swinging."
It's exactly what Central's tandem of Moore and senior Isaac Genenbacher did Wednesday night.
Moore had a game-high 22 points, including 12 in the fourth quarter, and Genenbacher nearly pulled off a triple-double with 16 points, 10 rebounds, and seven steals.
"They're our guys," Barnett said. "We have a great team and I trust all of the guys. But when it comes down to it, we need the ball in Isaac and Nick's hands."
Genenbacher was a continual thorn in the side of the Chargers. He forced nearly half of Peoria Christian's 16 turnovers.
"We were prepared," Genenbacher said. "We knew who their (main) guys were and we knew we could score on offense, but defense was the main thing we had to focus on."
The Panthers held the Chargers to 15 of 42 (35.7 percent) from the field and gave up only two baskets in the fourth quarter.
"We went straight man, kept them in front, and took care of business," Barnett said.
Unlike last week's regional championship, Central did most of its offensive damage from beyond the arc.
The Panthers went 5 of 8 from the 3-point line in the first half, including a pair of 3-pointers from Drew Paben, and led 24-18 at halftime. They pushed that advantage to 36-29 after three quarters before Moore hit back-to-back threes to start the final frame and the lead ballooned to double digits.
"Honestly, that's our main look in every possession because we have so many shooters," Moore said. "If it's not going down,we've got other looks we can get to, but we believe in each other to make threes."
When the Panthers are clicking from distance, Genenbacher says the Panthers are dangerous.
"It gives us a lot of energy," he said. "Sometimes we're off, but tonight we were on."
Malachi Persinger led Peoria Christian (24-11) with 16 points and Kitan Isawumi added 10. The Chargers made only two 3-pointersin the contest and struggled in the second half, converting just 7 of 22 (31.8 percent) from the field.
Miss Clipping Out Stories to Save for Later?
Click the Purchase Story button below to order a print of this story. We will print it for you on matte photo paper to keep forever.