Showcase notebook: Reunion of traveling team quite Magic-al for Illinois all-stars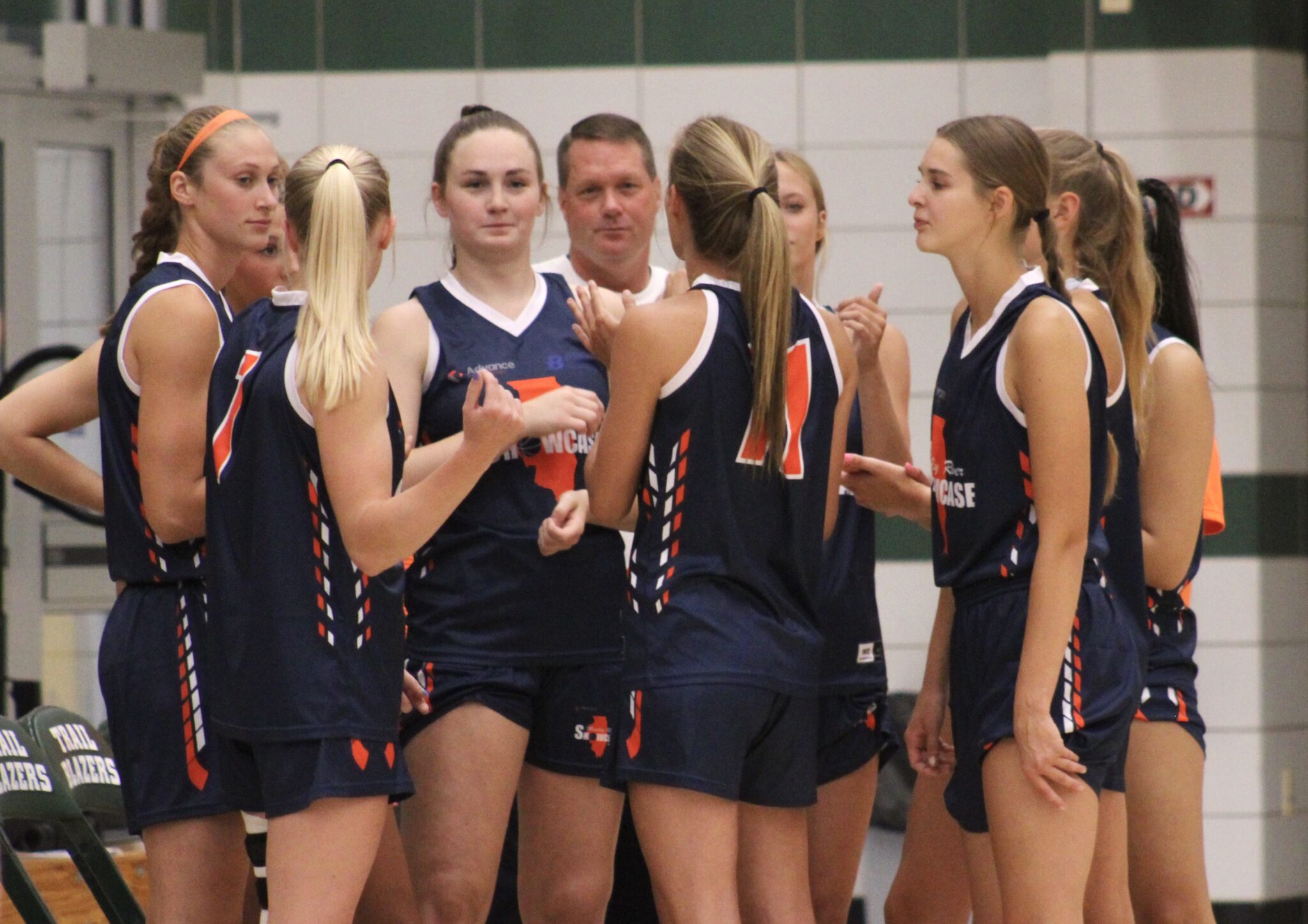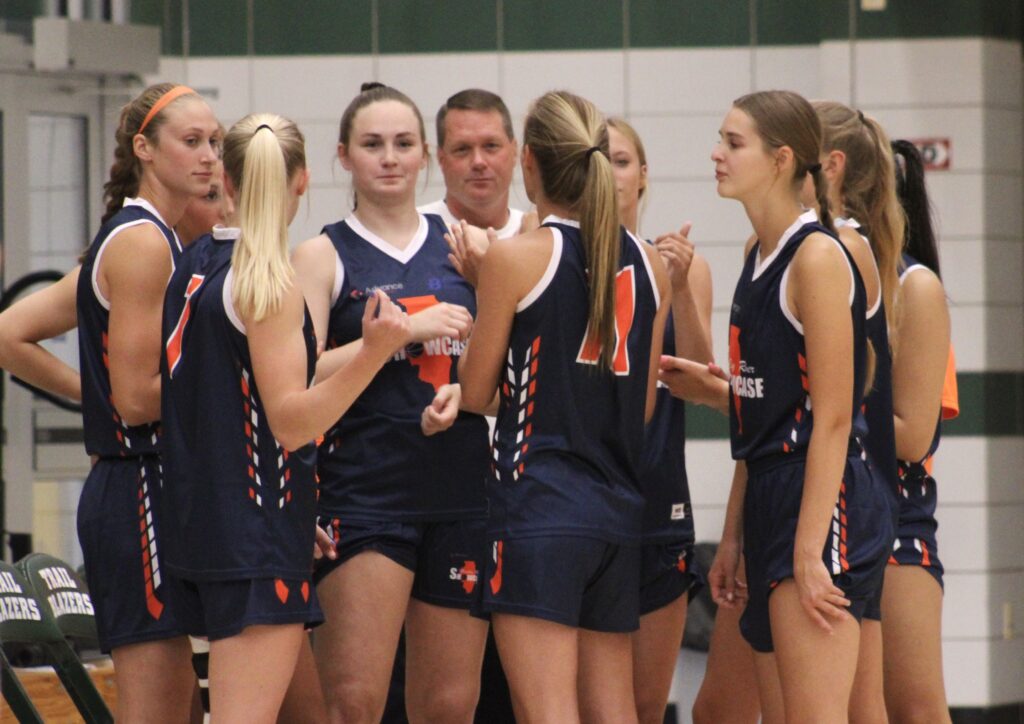 QUINCY — Do you believe in Magic? The Illinois girls all-stars certainly do.
Q-City Magic, that is.
Six of the 10 players on the Illinois roster for the Saturday's Muddy River Showcase began playing together in sixth grade as part of the Q-City Magic program coached by the late Gayland Blakemore. It allowed the Showcase to be a reunion and a trip down memory lane.
"It started at the banquet," Quincy Notre Dame's Abbey Schreacke, referencing the banquet held for players and coaches Friday night. "We were sitting at the table talking about everything we did growing up."
Mostly what they did was win, just like they did Saturday.
Schreacke, QND's Blair Eftink, Brown County's Katey and Klare Flynn, Unity's Ashlynn Arnsman and Illini West's Rylee Reed powered Illinois to an 87-48 victory at John Wood Community College's Student Activity Center. All six were part of the Q-City Magic, as was South Shelby's Miranda Patteron, who was named MVP of the Missouri squad.
"It was kind of like how we used to beat teams," Eftink said. "We'd get up into the 70s when we were like 12 years old. Everyone played their game, and it was always a lot of fun. That's what you saw on the floor here. Those days developed me as a player and formed really great relationships."
Those relationships have withstood head-to-head meetings, postseason battles and rivalries to remain strong.
"It was like we were all back together one last time," said Arnsman, who was named the Illinois MVP. "We're not going against each other anymore, but we got to play together one last time which was really special."
It touched all of them.
"I like being able to play with the girls I started playing with," Rylee Reed said.
Blazers comfortable in future home
Nolan Deitrich realized some eyes were on him, but he shrugged it off.
It's a feeling he better get used to in JWCC's Student Activity Center.
"I didn't really feel it, but you could say there was," the Illini West shooting guard said of pressure to perform in the Muddy River Showcase on the floor where he plans to play college basketball. "A majority of people know this is going to be our next home. So there is some sort of added pressure that you have to perform to show that you belong."
Dietrich and Macomb's Connor Watson have signed to play at JWCC, and this was their first game on their future home floor since making that decision. They didn't disappoint as Watson led the Illinois squad with 21 points and Deitrich added 12 in the Land of Lincoln's 118-80 victory.
"The atmosphere made it fun," Dietrich said. "You're playing a border state with buddies you've played against the last four years. Coming together, maybe with future teammates like a couple of us, made it all the better."
It heightens the expectations for next winter.
"I'm looking forward to getting here and competing," Watson said. "This is where I want to be."
Three players on the Illinois girls squad found themselves in similar circumstances.
Katey Flynn, Reed and Quincy High School's Asia Seangmany have signed with JWCC, and they helped lead the Illinois girls to an 87-48 victory in the first game of the Showcase.
Flynn finished with 12 points, 10 of which came in the second half when Illinois pulled away. Reed had nine points, six in the second half, and Seangmany dished out three assists.
"It's great to get experience on this floor," Reed said. "I can't wait to play here."
Stratton showcases two-way talent
Jackson Stratton's day started with a bang. It ended with two victories.
The Quincy Notre Dame product played a pivotal role in helping the Blue squad to a 20-3 victory in the Illinois Shrine Bowl, the statewide football all-star game that took place at Illinois Wesleyan University in Bloomington.
Playing safety, the Butler University-bound Stratton had a quarterback sack, an interception and a forced fumble. He made it back to Quincy in plenty of time to participate in the Muddy River Showcase and did exactly what he did all last winter.
He defended and facilitated. Stratton finished with 11 points, led Illinois with six assists, grabbed five rebounds and played harassing, physical defense in Illinois' lopsided victory.
Quick weekend home
Schreacke has been on the University of Missouri campus the past two weeks working out with the Mizzou women's basketball program in preparation for her freshman season. Given the weekend off, she was able to participate in the Showcase, although it took a little bit of an adjustment.
"It was different coming back and playing against high school players again," Schreacke said. "I'm getting used to getting roughed up."
Schreacke said the workouts and camps she has participated in at Mizzou so far have been beneficial to her game and made her confident in her choice to sign with the Tigers.
"I love it there," Schreacke said.
Still, she was appreciative of being able to play one final time with high school friends and teammates. Schreacke scored 18 points and grabbed five rebounds.
"Luckily, they gave me the weekend off," Schreacke said. "I'm thankful for that."
Miss Clipping Out Stories to Save for Later?
Click the Purchase Story button below to order a print of this story. We will print it for you on matte photo paper to keep forever.