Priceless Father's Day gift: Hoyt powers Illinois all-stars to victory in gym where his dad coaches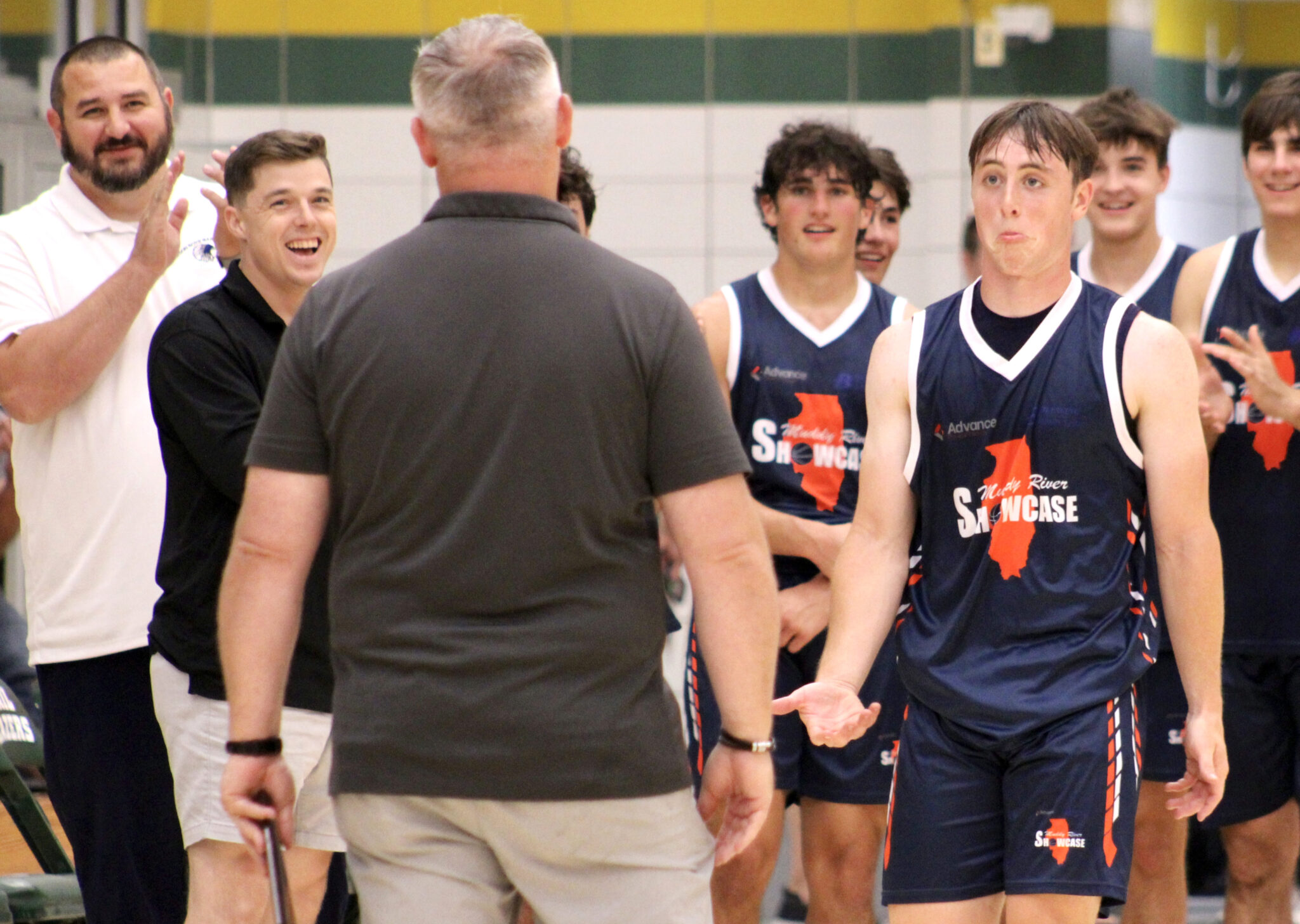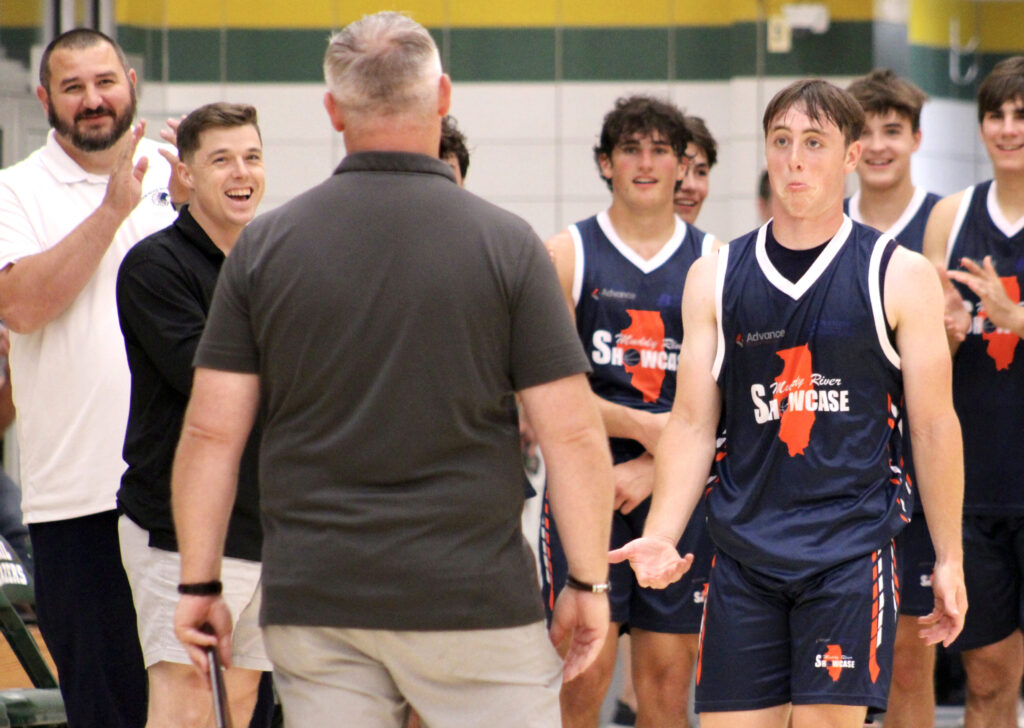 QUINCY — Jake Hoyt's reaction was genuine.
His appreciation of the moment was, too.
Announced as the most valuable player for the Illinois all-stars after a 118-80 victory over Missouri in Saturday's Muddy River Showcase boys basketball game, Hoyt walked toward midcourt to receive his plaque and shrugged and smiled at the person about to congratulate him.
That happened to be his dad, John Wood Community college athletic director and men's basketball coach Brad Hoyt. They shook hands and posed for pictures, all with a father putting his arm around his son on Father's Day weekend.
"Coming from my dad, that was just weird," said Hoyt, the Quincy Notre Dame point guard who scored 13 points and had five assists as the Land of Lincoln won for the second year in a row. "Of course, being able to perform in front of family, that's kind of what you play for. This was truly special."
For it to happen in a place Hoyt has hosted more shots than anyone possibly ever seemed fitting too.
"It's like a homecourt advantage almost," Hoyt said of JWCC's Student Activity Center. "It was fun to actually play a game here."
Yet, he was still surprised to hear his name called as MVP.
"I honestly didn't think I had a chance to get it," said Hoyt, who is going to play basketball at Illinois College. "I had plenty of other teammates who made a ton of shots."
They certainly did.
All nine all-stars who represented Illinois — QND's Alex Connoyer couldn't play because of elbow surgery — scored in double figures. Macomb guard Connor Watson led the way with 21 points, while Payson Seymour forward Bryan Dieker had 15 points.
The real story of Illinois's success came at the 3-point stripe. The Land of Lincolners made 19 treys with every player on the roster making at least one. Watson made four 3-pointers, while Central's Breyhar Wiskirchen and West Hancock's Alec Hymes made three apiece.
"We had good ball movement," Watson said. "We found shooters, and we all could shoot. So we played to each other's strengths."
That resulted in 32 assists on 45 field goals.
"Just playing with guys we played against the last four years and putting us all on the same team for one last time made it fun," Watson said. "These are guys we played against our whole lives, so it was neat to come together."
"Our team was built with guys who like to share the ball," said Hoyt, who was one of five Illinois players with at least five assists. "They're all team players, so it kind of comes pretty natural."
QND's Jackson Stratton, who starred in the Illinois Shrine Bowl football all-star game earlier in the day, led Illinois with six assists.
"There were a lot of guards, quick guards with high IQ," said Illini West's Nolan Dietrich, who had 12 points with a pair of 3-pointers. "We put together some shooters, and we knew we were going to get some nice shots. That was a lot of points put up on the board."
Illinois scored 13 of the game's first 15 points, led 21-4 in the first quarter and never let up. Missouri trailed 52-28 at halftime but scored 31 points in the third quarter as Highland's Devin Stutsman made four 3-pointers and scored 14 points in that frame.
Unfortunately, Illinois scored 36 points in the third quarter as the Show-Me State never could chisel away at the deficit.
Stutsman led Missouri with 20 points, while Canton's Kyle Frazier had 18 points and North Shelby's Brendyn McDaniel added 15 points.
"It's always fun to play basketball," said Stutsman, who is going to play football at Culver-Stockton College. "For me to play basketball for my last time in a big place like this, it felt great. To be able to come together for the first time with guys you've been playing against your whole career and enjoy the moment, that felt great."
It proved to be a moment to relish for everyone.
"It's an all-star game, so you want to come out and win," Watson said. "And we did. So that was fun."
Miss Clipping Out Stories to Save for Later?
Click the Purchase Story button below to order a print of this story. We will print it for you on matte photo paper to keep forever.