Prairie State Profile: Payson's Frese becomes program's first golfer to reach state tournament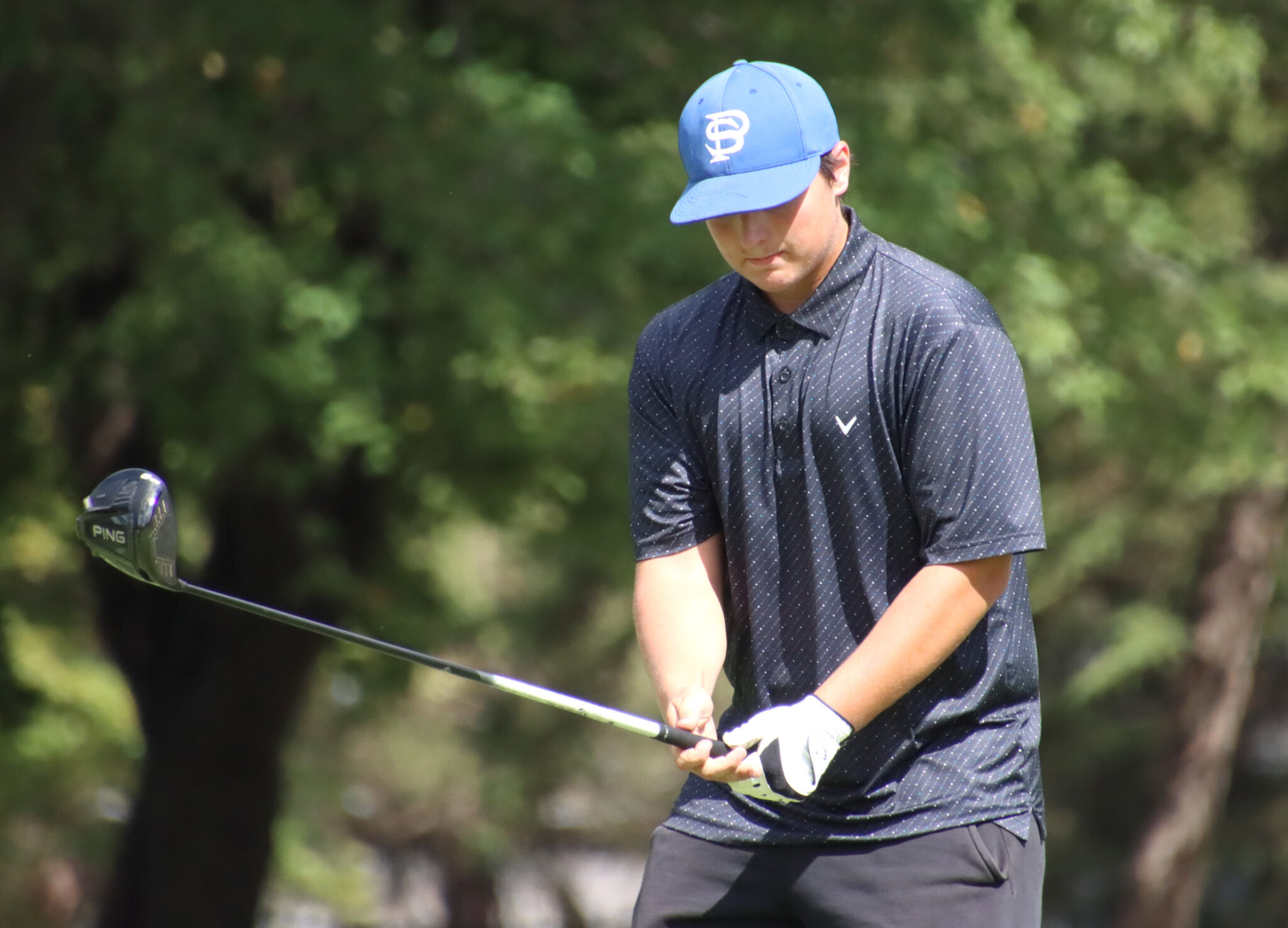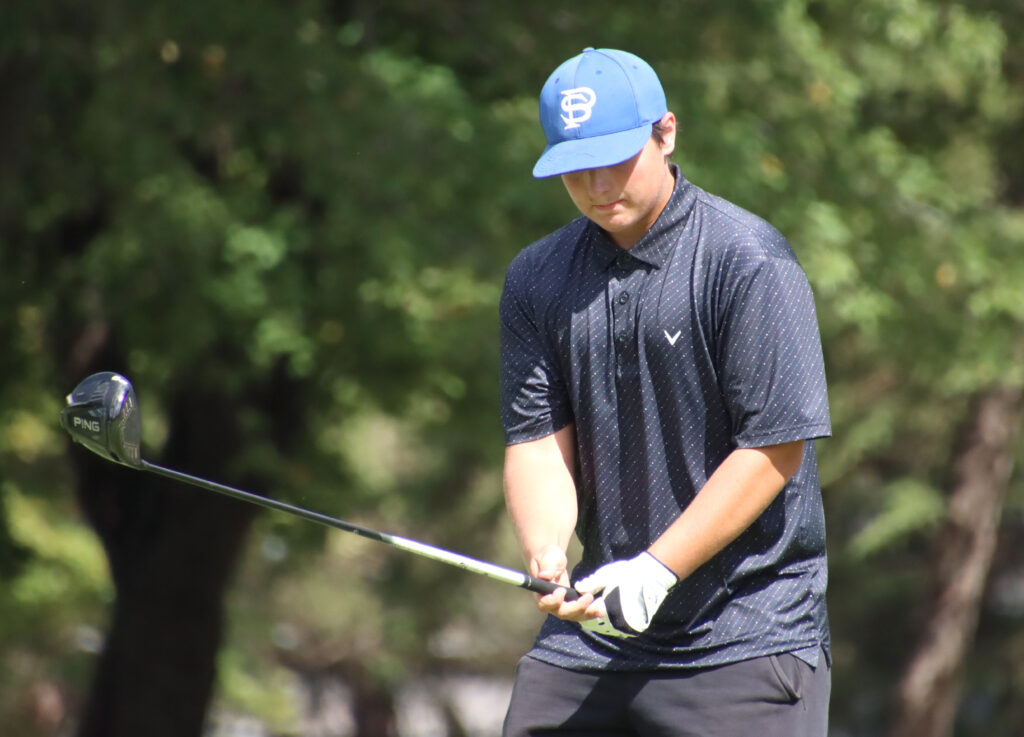 PAYSON, Ill. — Aden Frese positioned himself to make history. Then came the ninth hole at Edgewood Golf Course in Auburn, Ill., and suddenly, he felt like he was teetering on the edge.
A wayward shot into the woods on his final hole of the Class 1A Auburn Sectional saddled the Payson Seymour senior golfer with a double-bogey a par-4 and had him curiously close to the cutline. Frese shot an 81 after posting a 3-over 39 on his final nine holes, but only the top 10 individual golfers not on the three qualifying teams advanced to the state tournament.
He couldn't be certain an 81 would keep him in that mix.
"I was scrolling through those scores so much," Frese said. "I was waiting for the update every second. I did not want to go to a playoff."
That double bogey loomed large, especially after he had birdied back-to-back holes in the middle of his round.
"I was definitely kicking myself for hitting it in the woods," he said.
Frese need not worry. He was one of six golfers to shoot 81, one stroke ahead of the cutline. One of his playing partners that day — West Hancock's Brayson Smeltser — shot an 82 and grabbed the 10th and final spot as six area golfers were among the 10 individuals to qualify for this weekend's Class 1A state tournament at Prairie Vista Golf Course in Bloomington.
For Frese, it was indeed historic. He is the first Payson golfer to qualify for the state tournament.
He chatted with Muddy River Sports Editor Matt Schuckman about the sectional tournament, his golf game and joining the U.S. Army National Guard for this week's Prairie State Profile, brought to you by Sleep Tight.
Q: What did you like about how you played at sectionals?
A: I really liked the way my short game was going that day. It was pretty consistent, more than normal. The people I played with were really nice. That helped out a little bit. Everyone in my group played pretty decent, we were all just one stroke away from each other."
Q: Did it help everyone stay engaged because everyone was playing well?
A: Oh, for sure. And if one of us messed up on a hole, we had each other's backs. We all had done it during the day. So if someone put one in the water, you just knew it'd be OK. I put one in the woods on the last hole and it turned out OK.
Q: How much chatter takes place among the group during sectionals?
A: Not a lot to be honest. It's kind of hard to talk when you're trying to be focused the entire time. You go on and off every hole. You're trying to focus, and it's still really hard to be nice and be competitive at the same time.
Q: Were you locked in from the start that day?
A: My teammates have been saying I was locked in the entire time.
Q: How do you approach the state tournament?
A: I've been taking it a little easy lately. I'll play nine holes and I'll chip around. I specifically want to work on my short game, because that's going to matter the most.
Q: Is that the best part of your game?
A: Definitely my chipping. I was always told when I was younger that if you're good enough to chip in you don't have to worry about putting.
Q: So how did you get started playing golf?
A: My dad got me into it when I was pretty little. He set a bucket out in the backyard — and I still do this to this day and actually I did it today — and I started chipping at it. The goal was to make it in the bucket.
Q: How much better are you now at making it in the bucket?
A: Leaps and bounds for sure.
Q: How much do you enjoy that?
A: I love it. It makes me a little bit better every time. That's what I like about it. I hate sucking at things. I always want to be good at whatever I do. I'm always trying to get better at things.
Q: When the season began, did you believe you'd make it to the state tournament?
A: I did. I messed up last year. I wasn't as good as I am now, but I should have made sectionals and I played really bad.
Q: How much did you work on your game over the past year?
A: Every day. I literally worked on something every day. I'd chip downstairs in our house on the rug. I did everything I could to get better.
Q: What's your home course?
A: Westview Golf Course. They know me in there.
Q: What do you like about that course?
A: To be honest, I kind of like all of it. It's a really tough course for how open it is. There are some holes that will mess with you quite a bit. Norwoods (Golf Course in Hannibal) is definitely my second favorite for sure.
Q: What has golf taught you that carries over to other sports or just life in general?
A: For one, you can only blame yourself for messing up. Also, it's teaching me quite a bit of patience. If you have a slow group in front of you, you try not to hit into them.
Q: What's your favorite thing about golf?
A: To be honest, chipping in. It's way too satisfying.
Q: Have you ever played Prairie Vista Golf Course?
A: I have not as far as I know. I remember playing a course over there my sophomore year when we went as a team to sectionals, but I don't think it was that specific course.
Q: When you play a course you've never been to, how do you prepare?
A: Sometimes I just go to the range and practice shots I wouldn't normally hit. So, for example, I don't pull my 4-iron out of my bag very often. At the range, I'll start using my 4-iron quite a bit to make sure I'm ready if I need it.
Q: What else do you like to do besides golf?
A: I play a lot of basketball. I missed out on a lot of open gyms this year because I was playing golf. (Payson coach Tyler) Duschinsky doesn't really appreciate that I know. He knows it's going for something good now.
Q: Are you looking forward to basketball season?
A: We're going to run a lot, but that's going to be fun.
Q: What do you like about playing basketball for Payson?
A: I like how competitive it gets. We're really competitive with each other. We'll get down each other's throats, but it makes us all better.
Q: After playing well last season, especially down the stretch, expectations will rise. How do you handle high expectations?
A: You just try as hard as you can to meet them or exceed them.
Q: When you want to get away from sports, what do you do?
A: Sleep. I sleep a lot. Or I just work (at Tropical Smoothie Cafe).
Q: What's the best Tropical Smoothie flavor?
A: I really liked our Mango Monsoon, but we don't have that anymore.
Q: So if I showed up at Tropical Smoothie and you're working, what would you recommend?
A: Definitely, the Bahama Mama.
Q: You have to worry about school, too. So what's your favorite class?
A: It's not a fun one, but it's English. I love going into that class.
Q: What about that class do you like?
A: I like how difficult (English teacher Nick Holtschlag) makes it. It's such a difficult class to pass. I'm happy with a B- in there right now.
Q: What are your plans following high school?
A: I'm already going to the National Guard, but I definitely want to go into college sports.
Q: Basketball or golf?
A: Definitely golf. I'm not tall enough to play college basketball. Maybe if I hit a foot growth spurt I'd get lucky.
Q: Any idea where you want to go?
A: I definitely want to go to the Auburn area in Auburn. I'm looking at Auburn or the University of South Alabama.
Q: So you're going to join the U.S. Army National Guard after high school?
A: I have already joined the National Guard, but I go to basic training after graduation.
Q: What made you decide to do that?
A: I've already had that plan in mind since my freshman year of high school. I wanted to join the military and see what it's like. If I like it, I'll stay in it and make a career out of it.
Miss Clipping Out Stories to Save for Later?
Click the Purchase Story button below to order a print of this story. We will print it for you on matte photo paper to keep forever.