Prairie State Profile: Mustangs' Shaffer brings fun-loving attitude, leadership to senior season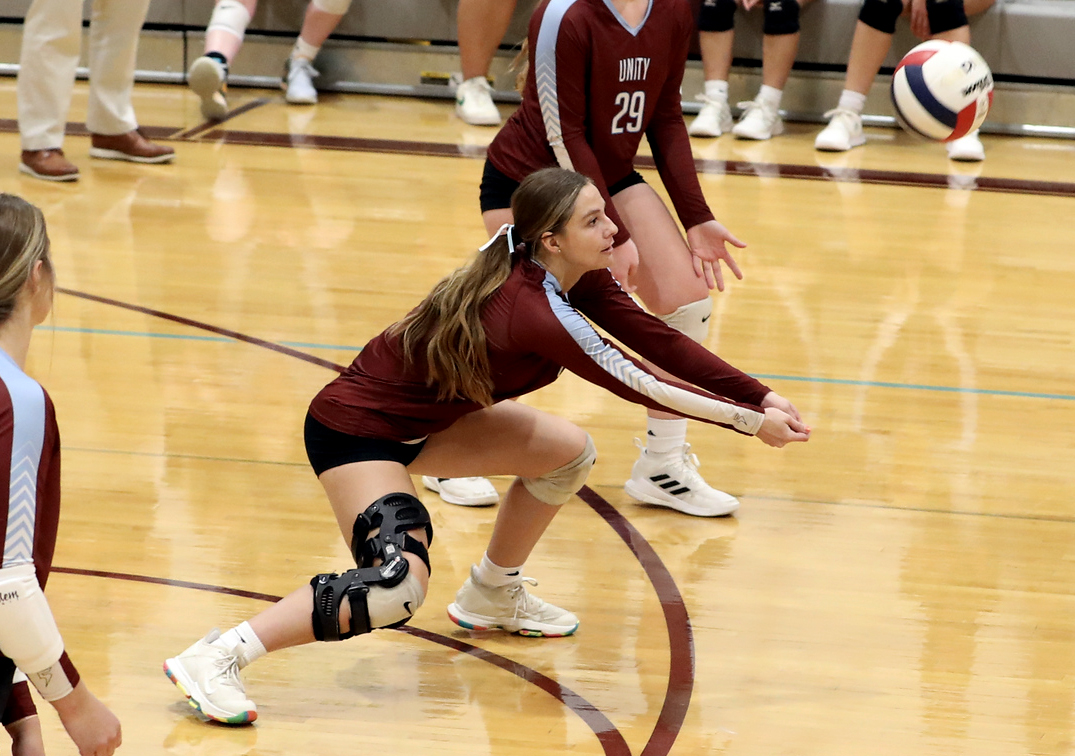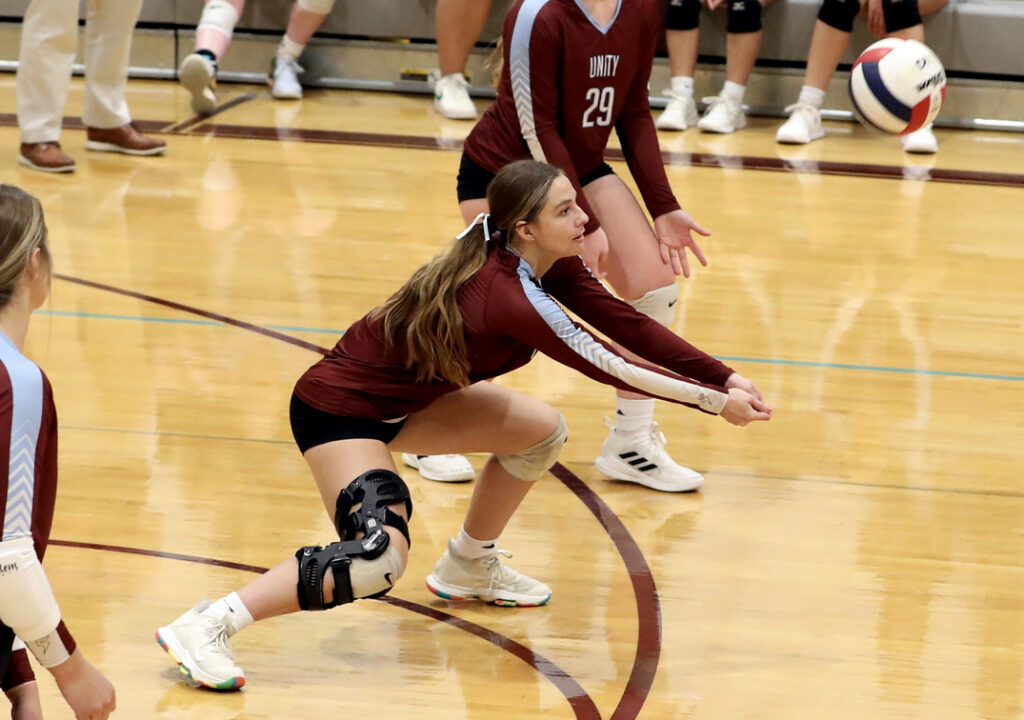 MENDON, Ill. — Sophia Shaffer is trying to savor the moment.
A senior multi-sport athlete at Unity High School, Shaffer has learned through injury and triumph to be undeterred and play for the love of the game.
"It's why I want to make sure this year is fun," Shaffer said.
She also realizes this is her last go-round athletically. Shaffer is leaning toward attending medical school and pursuing a degree in dermatology. If she were to take a chance on playing volleyball or basketball in college, she understands it would be at a smaller school, but she's ready to pursue life on a bigger scale.
"I was always on the fence about it," Shaffer said.
She also would be putting her body through more wear and tear. As a freshman, Shaffer suffered a partially torn ACL that required surgery. As a sophomore, a torn labrum meant shoulder surgery. To this day, she's braced up and taped up when she takes the court.
"I'm just in pain all the time after sports," Shaffer said. "I'm ready to move on and not have a bunch of surgeries by the time I'm 20."
What she's endured and the success she's experienced with the Mustangs has turned her into a bona fide leader who is pushing the volleyball team to improved results. Unity graduated a bulk of the team that went 33-5-1 last season, but the Mustangs are 12-5 overall, reached the championship pool of the Lady Suns Classic and won't be an easy out in the postseason.
Shaffer recently chatted with Muddy River Sports Editor Matt Schuckman about the Unity volleyball team, the coaching change in basketball and being part of a farm family for this week's Prairie State Profile, brought to you by Sleep Tight.
Q: What do you like about the way your team is playing right now?
A: I think we are playing a lot better than we were at the beginning of the season. We kind of found our groove and we're finding what works well. Our setters and our hitters are working really well together to find the set that's good for the hitters. All of our passers have grown tremendously since the beginning of the season. It was a huge change from last year to this year. We didn't have that group — Ashlynn (Arnsman), Kyra (Carothers), Kylee (Barry), Caroline (Knox) — they were huge hitters and blockers. We're trying to play smart and finding the holes on the court because we can't hit it straight down every time.
Q: Was there a moment when it all clicked?
A: It was at the Lady Suns Classic. We beat Southeastern and played a great game against Illini West, and then it was like, "Wow, we can play with these top area teams." Going into the season, we didn't know how we were going to stand against good area teams that brought girls back and didn't have very many graduate.
Q: You had to go through a learning curve, didn't you?
A: That was a big thing. (Unity coach Seth Klusmeyer) is constantly reminding us we have to play smart. We're very smart players, and it's not making stupid mistakes and playing within ourselves instead of trying to be a player we're not.
Q: Why is this team a smart team?
A: I feel like we've been playing together since we were little. There are eight seniors on the team and we're all playing. Then we have two sophomores that start with us, but we've been playing together for so long that we know how everyone plays. We know what some people's weak spots are and what other people's strong suits are. We all have very high volleyball IQs and we know what we're supposed to be doing.
Q: How much fun is it to play with this group then?
A: It's been a lot of fun. Like I said, we've all been playing together and we're all best friends. We have some fun moments on the court, and we really enjoy (Klusmeyer and assistant coach Alese Speckhart) being our coaches. Practices and things like that are a lot of fun. We are constantly having a good time and trying to make this season fun. We just wanted this season to be fun.
Q: Does playing for such a successful coach allow the players to trust what he says?
A: For sure. We're always going to him and asking, "What can we do to make this better? What can we do to make our setters and hitters work together better?" We're always asking him questions and hearing his input and working together as coaches and players to do the best for the team.
Q: The adjustments you're making during volleyball should help with the transition in basketball as well, right?
A: I'm looking forward to basketball because I think it's going to be a lot of fun with Coach (Cole) Thompson. He's already doing things for us like summer weights and trying to get us new travel suits. The culture is going to be a lot different, and we have a bunch of new girls coming out. It will definitely be a big change, but I think it will be a lot of fun. Over the summer, we did pretty well. It kind of shocked me. Last year, we didn't have a JV team, so those girls didn't get a lot of minutes. They did really well over the summer, so I'm excited for our basketball team.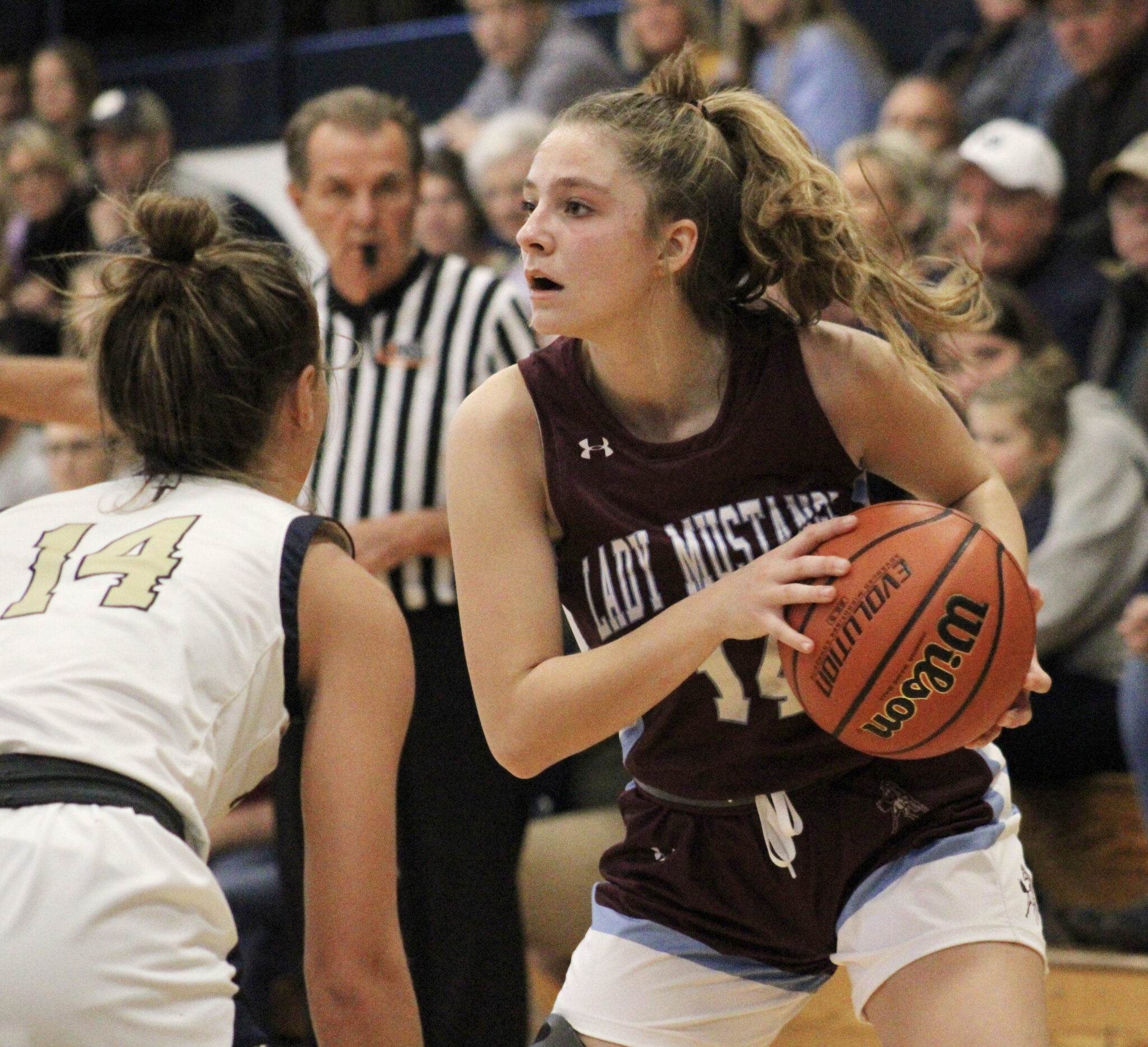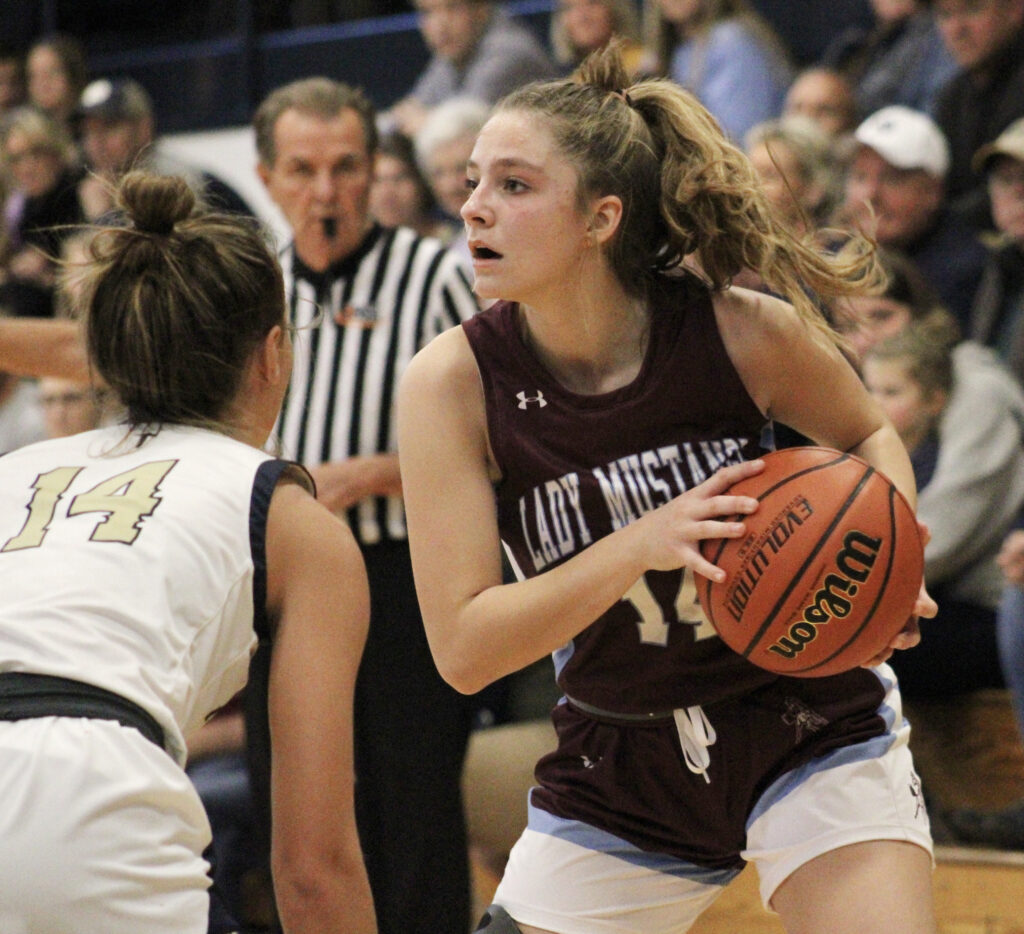 Q: What was the summer like playing for a new coach?
A: You have to learn how he coaches. It's learning what his strategies are and how to work together. I'm a senior leader, so I need to work with him to get the best outcome for our season. He tried to make it fun for us and work on some basic skills that we needed to work on. I think it's going to be good.
Q: What does it mean to you to be a senior leader?
A: I want the culture of sports to be good and fun for everyone. I see way too many girls quitting because they either don't like the coach or they hate the sport. I'm trying to pull the girls together and have a fun, enjoyable experience and culture. I'm trying to lift up the younger players and bring the team together.
Q: You've been through the ups and downs, the highs and lows. Has that enabled you to relate to younger teammates who are struggling?
A: I'm trying to constantly help out the younger kids and explain all of the things we've been through. I'm trying to help them the best I can.
Q: What's the best piece of advice you could give any of them?
A: Probably don't let a coach or other players make you hate the sport. If you love something, you need to block other people out and do what you love. There are going to be haters in life, but you have to do you and do the best you can for yourself. Don't play for anyone else besides yourself.
Q: Where does your love of sports come from?
A: My family has always been so competitive, and I'm super competitive. I've been playing travel sports ever since I was little. All the girls I played with I absolutely loved. Going to all of those tournaments with the girls who were a grade above me — Abbey Schreacke, Blair Eftink, the Flynn twins, Ashlynn Arnsman — we would travel and it was just so much fun. We were all good friends, and I've always loved sports because of the friends I've made.
Q: So who is the most competitive person in your family?
A: Oh my, probably my dad (Tom) and I. If there's anything we do, we always go at it. We have ping pong tournaments at our house when it's just our family, and we have a sash that we made that says "Ping Pong King" and "Ping Pong Queen." So we have these really competitive games all the time.
Q: What is the most important thing for you about spending time with family?
A: I like the memories we make around Christmas and Easter and all the times we get together. Grandma makes good food. There are a lot of memories we make when we're opening presents or playing kickball or doing something. We're always playing a game at these family events because we're all competitive. It's the memories we make when we're together that matter.
Q: It means you have your own cheering section at games, right?
A: Yes, always.
Q: What does that do for you when you step on the court?
A: It makes me want to do well because I know people are watching me. I want to do well for my family and my community. It makes me feel good after every game when people congratulate me or tell me I played good. So I'm constantly wanting to make my family and community proud.
Q: So who's the best athlete in the family?
A: Me, of course (laughing). I might not be the tallest, but I'm coordinated and I think I have the most drive out of anyone.
Q: What else do you do outside of sports?
A: I'm involved in student council, FFA, 4-H. I was the vice-president and then president of Wreaths Across America. I'm on the Great River Honor Flight committee as a student intern. Recently, I joined the Adams County Bicentennial Education board, which is trying to do the celebration for the 200th anniversary of Adams County. Another thing I'm doing this year is I'm part of the Adams County CEO class.
Q: Do you ever take time to breathe?
A: Not very often, but I always find time to take naps throughout the day. I have to have a nap every day. That's probably what I'm doing when I'm not doing all these other things.
Q: What do you like most about a nap?
A: I just feel reenergized after I take a nap. I can't take energy drinks or anything like that. Before every game, before anything I do, I have to take a nap. People know that. On the bus, when we're going to games, people don't disturb me because they know I'm taking a nap before the game.
Q: So you can nap on the bus?
A: Oh, yeah, I can nap anywhere. At tournaments, I'll nap in the bleachers. I can nap anywhere.
Q: Is there a pre- or postgame meal that is as important as a nap?
A: After a game, I always want a sweet tea. I don't know if that's the healthiest option. But after every game, I'm craving a sweet tea.
Q: If you just want to go do something for fun, what do you do?
A: I like golfing with my family and camping, too. Another thing I do is show pigs at the fair. During the summer, I'll go out with the pigs and work with them.
Q: Is showing pigs just part of life growing up on a farm?
A: My mom showed pigs. Once it was time for me to be in 4-H, it was kind of like, "Yeah, I'm going to show pigs." I've loved it ever since.
Q: What's the best thing about being part of a farm family?
A: Just to see all the hard work my dad and my grandpa do. I see the community aspect of it and all of the hard work that goes into it. I enjoy learning from my dad and my grandpa. They are constantly telling me things about the farm or things about the corn and beans. There's a lot of life lessons there. I always try to go with them whenever I can because I just enjoy being around them when they're working.
Q: Does that mean you want to study something in the agricultural field in college?
A: Not necessarily. I've always wanted to go into medicine. I really enjoy dermatology, and that's always been in the back of my mind. If dermatology or medicine doesn't work out, something in agriculture would be my next option. I thought about it and asked the question, "What would I do with an ag degree?" Nothing ever stood out to me, but that doesn't mean I don't enjoy learning about it still.
Q: Do you have any idea where you might want to study medicine?
A: Not yet exactly. I have toured two colleges so far. UMKC (University of Missouri-Kansas City) and they have a med school there that is only six years, so I really liked that. I've also toured the University of Kansas. But so far, I'm hoping to get accepted to the UMKC program, but we'll see.
Miss Clipping Out Stories to Save for Later?
Click the Purchase Story button below to order a print of this story. We will print it for you on matte photo paper to keep forever.