Panthers' first-quarter blitz knocks Crusaders out, sends Central to Class 1A state semifinals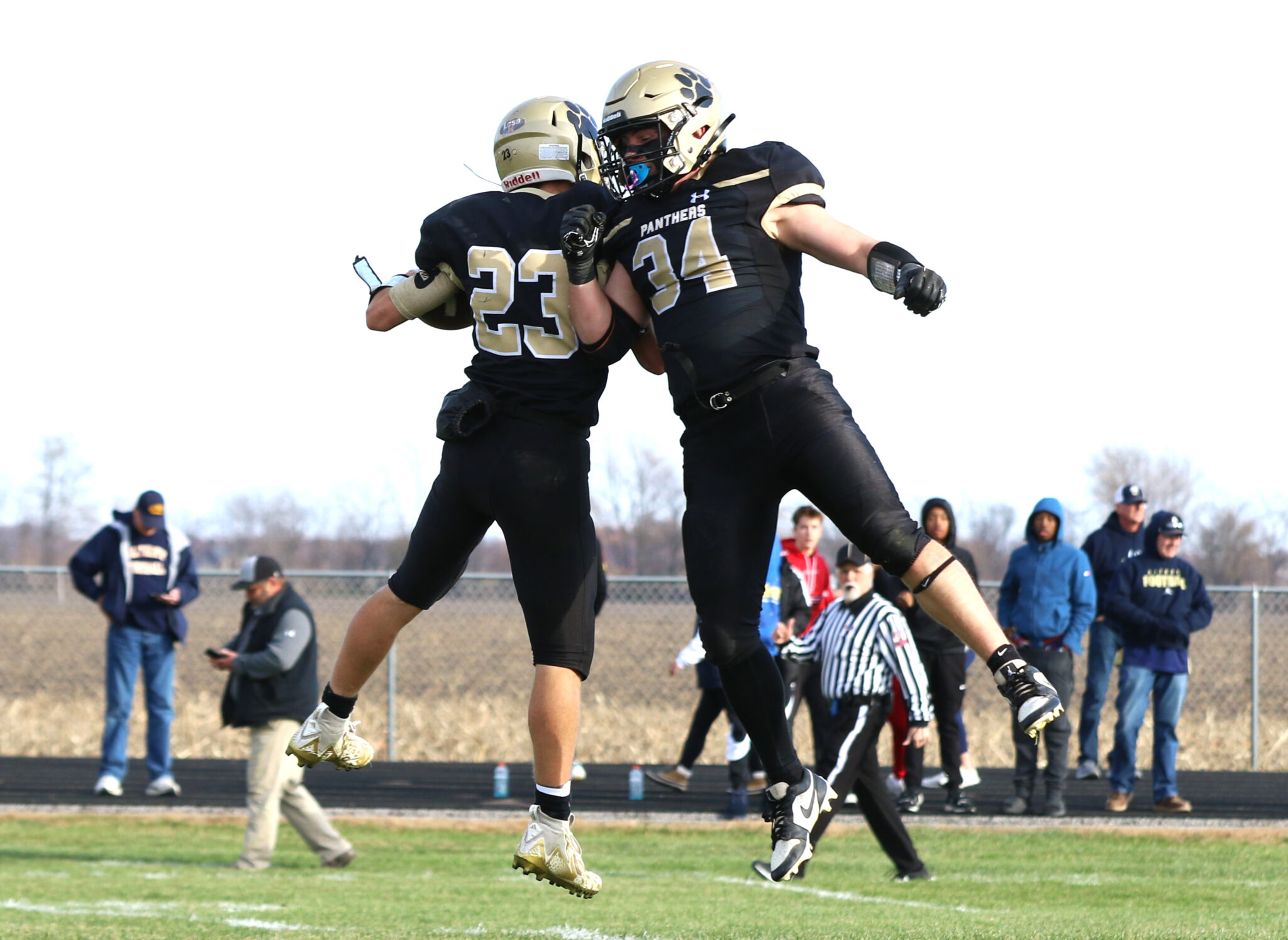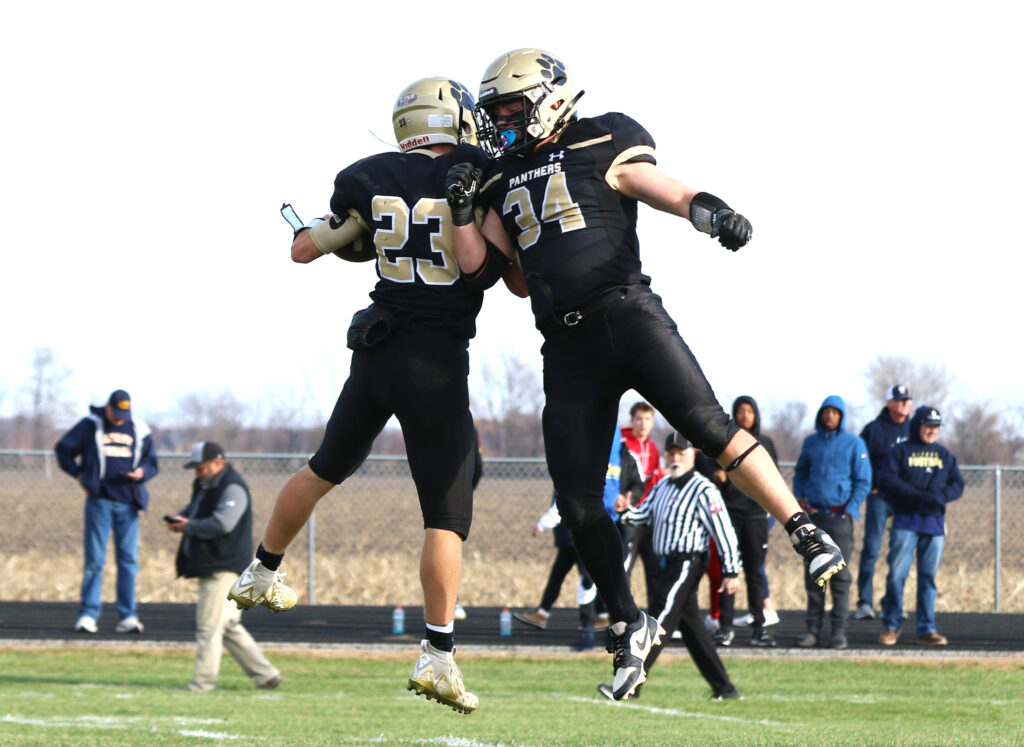 CAMP POINT, Ill. — Many of those attending Saturday's playoff game at Camp Point Central High School likely passed a particular sign on the west side of Illinois 94.
The placard reads: "Small Town. Big dreams."
Oh so true on both accounts.
On paper, the Central football team faced a daunting task in its Class 1A state quarterfinal matchup against Belleville Althoff, a team that had scored 132 points in demolishing its first two postseason opponents.
So much for that daunting task.
Central stunned Althoff with a 30-point first quarter and was never seriously challenged en route to a 42-22 victory that played out before a crowd of about 900.
The victory sends the Panthers (12-0) into next weekend's state semifinals against Greenfield-Northwestern (12-0), which cruised to a 44-16 win over Sesser Valier. The matchup between the Western Illinois Valley Conference North and South Division champions will take place at 2 p.m. next Saturday in Camp Point.
Central running back Elijah Genenbacher rushed for three touchdowns and a game-high 96 yards, helping the Panthers win their 14th consecutive home victory. Althoff, which finishes 10-2, saw a seven-game win streak snapped.
"I think (Althoff) thought we were just a little 1A school that played in a cornfield," Genenbacher said. "We knew we needed to come out and (establish) some momentum. We just did what we do."
Central quarterback Nick Moore embraced the victory with both arms.
"We believed in ourselves," he said.
Panthers coach Brad Dixon, whose program has won 25 of its last 26 games, was ecstatic over his club's performance.
"Obviously, a lot of people were probably betting on Althoff," he said. "But our kids never wavered. They never backed down. They believed."
Even though Central entered the game with a slightly better record and a higher seed, Althoff was a consensus favorite. The Crusaders play in the rugged Metro East region in southwestern Illinois, just across the river from St. Louis. Althoff's storied program includes three state championships and a pair of runner-up finishes.
Those kind of intangibles did not matter, however, on a crisp autumn afternoon on the wind-swept plains of northern Adams County.
Central delivered its first-quarter haymaker with a help of a blocked punt, a fumbled kickoff by Althoff and a recovered onside kick — all of which led to Panther touchdowns. In the second quarter, Althoff was stopped at the Central 1-yard line and later missed a field goal. By halftime, the realistic question was not if the Panthers would win, but simply by how many points.
"It was crazy," Central offensive lineman-linebacker Darren Rigg said. "I don't think (Althoff) was expecting much of a game. That start we had was huge. We knew what we could do."
Moore echoed not only Rigg's thoughts, but likely most of the onlookers on both sides of the field.
"That 30-0 lead was hard to believe," Moore said.
Running back Drew Paben, who rushed for 29 yards and caught four passes for 110 more yards, felt the turning point in the game probably came early.
"That 30-0 start was a big momentum swing, it set the tone for the rest of the game," Paben said.
Paben's rushing total pushed his season figure to 1,013 yards, making him the 13th Central player in the last 12 seasons to rush for more than 1,000 yards.
Five of Central's six touchdowns came via the run. Along with Genenbacher's scores on rushes of 1, 5 and 2 yards, Paben reached the end zone from 2 yards out and Moore slipped through the Althoff defense from 8 yards away.
Central's other touchdown came from a 28-yard touchdown pass from Moore to Paben.
The longest pass play of the day, however, was a 63-yarder from Genenbacher to Paben. Genenbacher took a pitch from Moore and lofted the ball down the sideline to Paben, who was knocked out of bounds at the 2-yard line, but on the ensuing play Genenbacher bulled into the end zone for his final score of the day and his 20th touchdown of the season.
Genenbacher leads Central in rushing during the postseason, showing 449 yards and a team-best nine touchdowns.
Lineman Wes Crooks felt the victory was as much for the Camp Point fans, who were out in full force, as it was for the Panthers football team.
"We love our community, and appreciate the kind of support they give us," Crooks said.
Moore said the win over Althoff was one of the two biggest in his three-year career.
"The other would have been over Greenfield-Northwestern last year," he said of the state quarterfinal matchup. "We were down 12-0 in that game and came back to win (24-12)."
Central will advance to the semifinals for the fourth time since 2012.
"There is no sport like high school football," Dixon said. "You only play once a week, and not everyone gets into the postseason. We don't want to be a 1- or 2-year type of program. We want to be a consistent winner."
That's pretty much been established under Dixon's watch. The Panthers are 113-25 since he took over in 2011, including 23-11 in the postseason.
Miss Clipping Out Stories to Save for Later?
Click the Purchase Story button below to order a print of this story. We will print it for you on matte photo paper to keep forever.