Paben puts finishing touch on Central football team's second-round playoff victory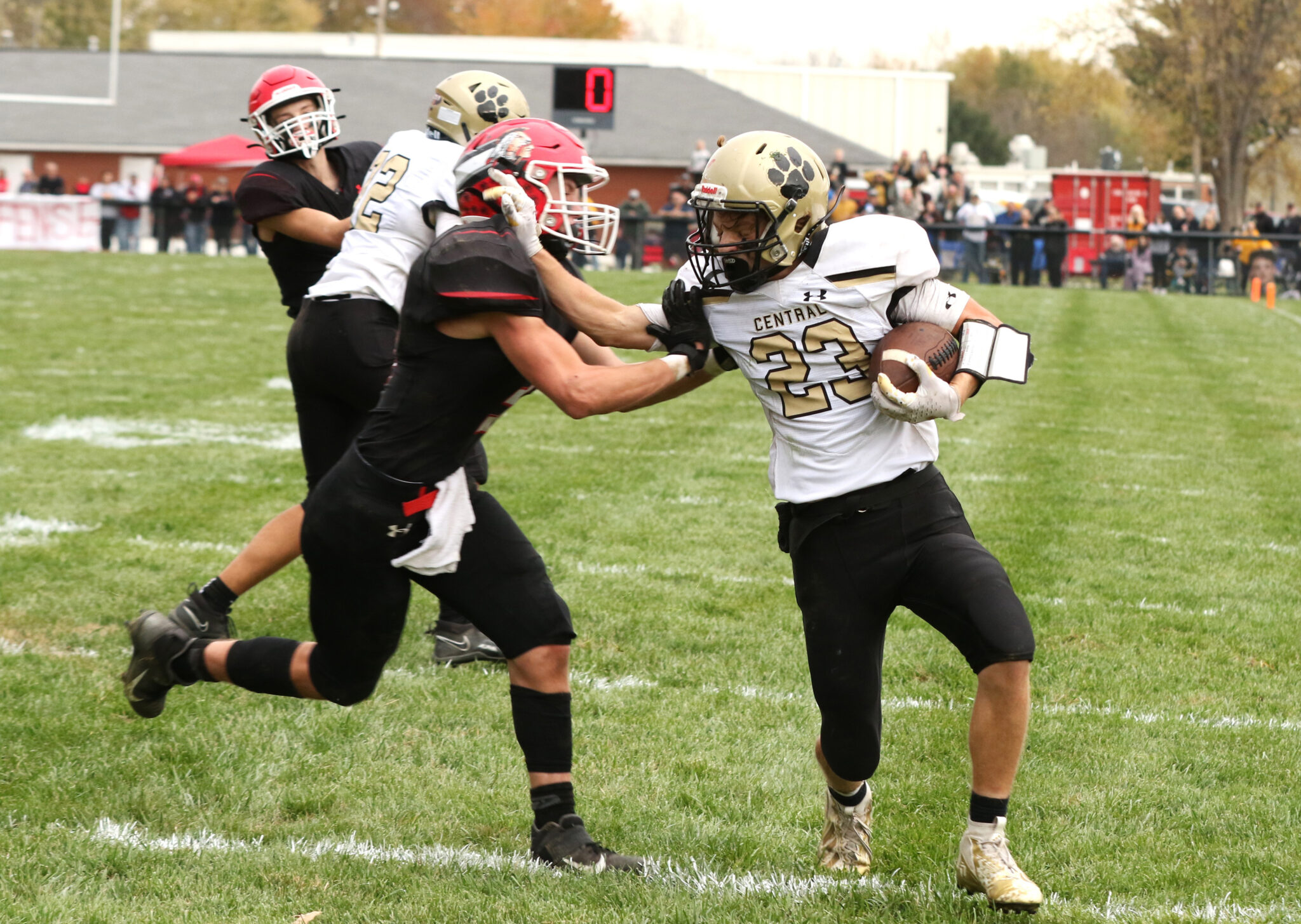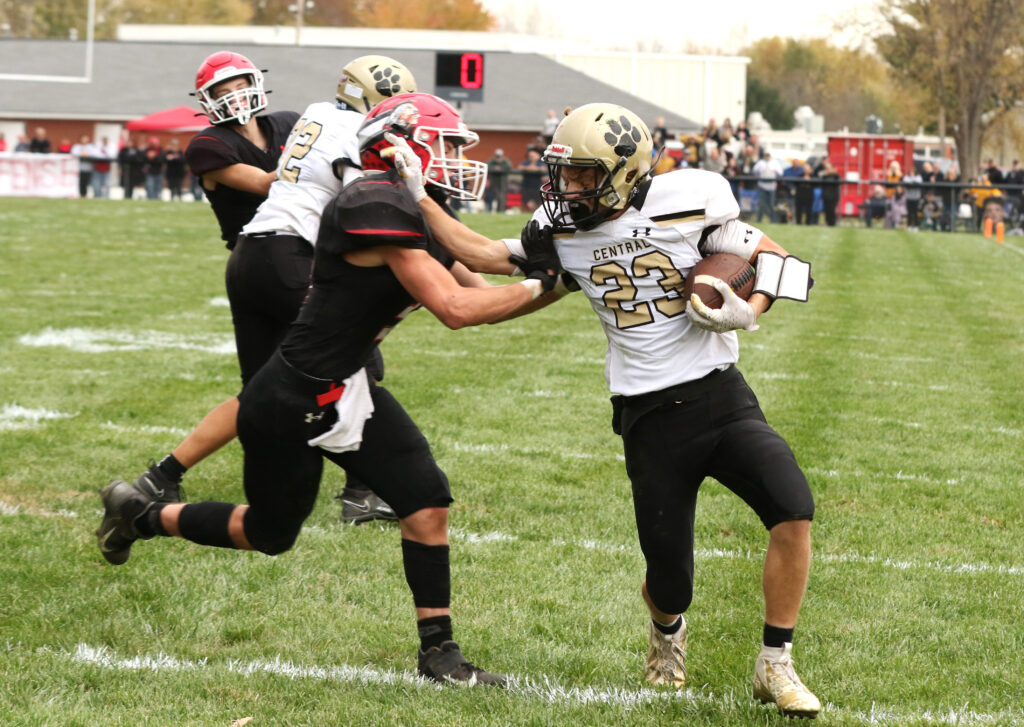 HARDIN, Ill. — Drew Paben's first touchdown run was by design, but his second was more or less an accident.
Paben scored twice in the fourth quarter Saturday afternoon to propel Camp Point Central past Hardin Calhoun 32-14 in the second round of the Class 1A state playoffs.
Paben's two touchdowns allowed Central to pull away from what had been a 20-14 advantage heading into the final quarter.
Paben's first score, with 9 minutes, 14 seconds to play, came via a 5-yard run through a hole cleared by the left side of Central's offensive line. The second touchdown, with 2:34 remaining, was the result of a 51-yard sprint down the sideline.
"On that first run, I was trying for the score, to just get into the end zone," Paben said. "On that second run, I was just trying to get a first down … and things opened up."
The victory boosted Central's record to 11-0 and sends the Panthers into next weekend's quarterfinals with a home game against Belleville Althoff (10-1). Kickoff will be at 2 p.m. next Saturday.
Althoff advanced Saturday with a 56-20 win over LeRoy, which followed a 76-40 first-round victory against Tuscola.
Central, which has won 24 of its last 25 games, used its usual punishing rushing attack to control the clock and momentum for much of the game against Calhoun (7-4), which lost for the second time this season to the Panthers. Central, which defeated Calhoun 30-22 on Sept. 1 in Camp Point, has beaten the Warriors six straight times. Central is 9-1 against Calhoun since the Panthers joined the Western Illinois Valley Conference in 2012.
Calhoun entered Saturday's game with five straight victories and had outscored its opponents 238-14 in that span. But the Warriors were never able to get their option attack working and had little success stopping Central's ground game, which rolled up 410 yards on 58 tries, a healthy 7.1 average per carry.
While Paben stole the fourth-quarter spotlight, it was Elijah Genenbacher who arguably had the finest overall day. Genenbacher finished with 224 yards on 25 tries, scoring on runs of 62 and 4 yards.
"We felt Eli and his 205 pounds could have a big game against (Calhoun's) defense," said Central coach Brad Dixon, whose club has scored in 89 straight games. "We purposely held Eli back during the regular season so he'd be fresh for a big finish to the year."
Genenbacher had only carried the ball 62 times prior to Saturday.
"I didn't mind the extra carries today at all," Genenbacher said. "I'm ready for it."
Genenbacher said while playing an opponent twice in a season can cause problems, he was not worried going into the game with Calhoun.
"They knew what we do, and we know what they do," he said. "We were ready."
Genenbacher made sure to credit his up-front blockers — Wes Crooks, Darren Rigg, Jaden Summy, Robert Gooding, Reese Wilkey, Kaden Niekamp, Jack Thompson, Mason Miller and Jase Wallace — for his big day.
Dixon added one more name to that list, running back Connor Griffin.
"Eli and Drew are both all-state running backs, in my opinion, and Connor is the best-blocking wingback in the state. He just blocked his butt off today," Dixon said. "We tried to concentrate on pounding away for 4 and 5 yards a play, but we can handle the physical play."
Genenbacher (17) and Paben (14) have combined for 31 rushing touchdowns, and both have stepped up their game a notch in the postseason.
Genenbacher has run for 353 yards and six scores in two playoff games. Paben has a pair of 100-yard postseason efforts and upped his season rushing total to an unofficial 989 yards. If he can eclipse 1,000 yards, Paben will be the 14th back to reach that mark during Dixon's 13 years.
Central quarterback Nick Moore scored the Panthers' other touchdown, a 15-yard burst around left end on a keeper late in the third quarter that gave the Panthers a 20-7 lead.
Central has not played Althoff, a perennial state power, since the 2012 postseason. Althoff won that game 28-7 in Belleville.
"We won't be wowed by their record," Dixon said.
The winner of the Central-Althoff game will get the winner of the Sesser-Valier (11-0) vs. Greenfield Northwestern (11-0) matchup.
Miss Clipping Out Stories to Save for Later?
Click the Purchase Story button below to order a print of this story. We will print it for you on matte photo paper to keep forever.