Opportunity awaits: Behind another dominant first quarter, Central earns rematch with Lena-Winslow in Class 1A title game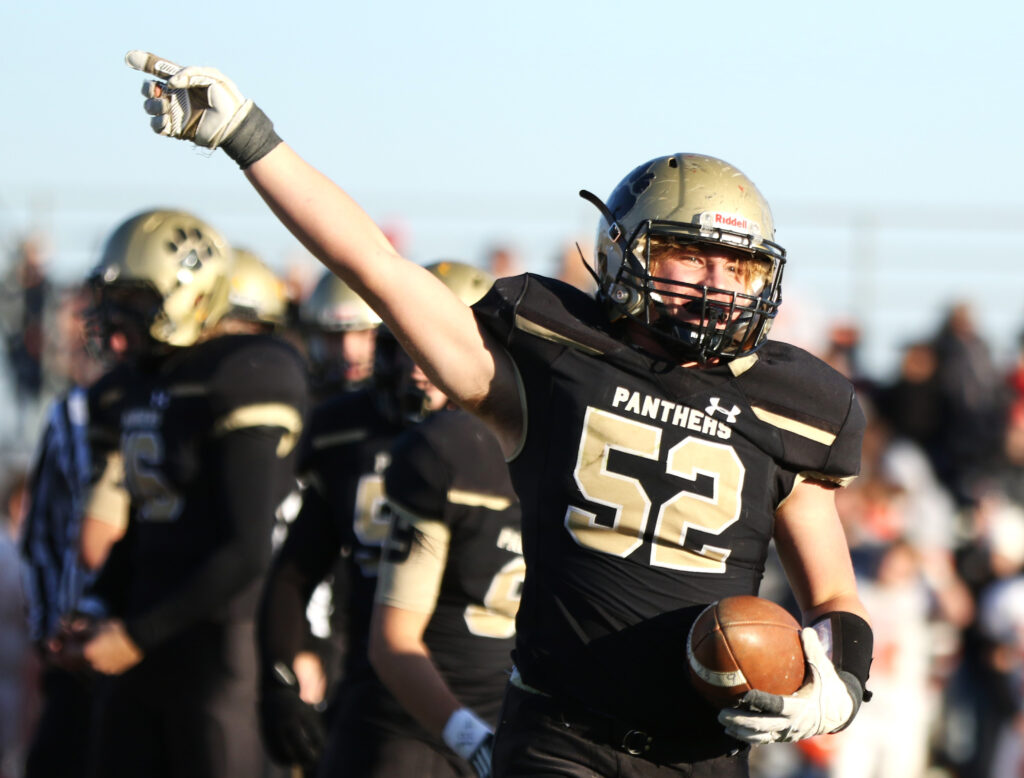 CAMP POINT, Ill. — The politically correct expression would be "unfinished business."
In football layman's terms, Camp Point Central tight end Jack Thompson may have hit the nail on the proverbial head.
"We want some revenge," Thompson said only moments following the Panthers' 54-20 rout of Greenfield Northwestern in the Class 1A semifinals Saturday afternoon before an overflow crowd of about 2,000 that was standing six and seven deep in some areas around the playing surface.
Central's victory sets up the championship rematch most expected once the playoffs began late last month. Central will meet Lena-Winslow at 10 a.m. Friday on the artificial turf at Illinois State University's Hancock Stadium in Normal for the small-school state title.
Lena-Winslow defeated Central 30-8 in the 2022 title game, and both powerhouse programs have been on a collision course toward a rematch for almost a year.
Both Lena-Winslow and Central will enter Showdown II with 13-0 records. Lena-Winslow, a three-time defending state champ, has won 32 straight games. Central has won 26 of its last 27.
"I think we made a statement," Central coach Brad Dixon said. "We wanted to get back to the championship game."
So did his players.
"We felt we'd be meeting (Lena-Winslow) again," said Central junior fullback Elijah Genenbacher, who scored five touchdowns and rushed for 177 yards against previously unbeaten Greenfield (12-1).
Central quarterback Nick Moore put the approaching math in its simplest form.
"We're 13-0," he said. "One more to go."
For the second straight week, Central put the game out of reach early. The Panthers led 32-0 midway through the second quarter and most of the second half was played with a running clock. A week earlier, Central struck for a 30-0 first-quarter lead against Belleville Althoff en route to a 42-22 victory.
"We just wanted to come out and take control," Genenbacher said.
The Panthers most certainly did in winning their 15th straight home game, and Genenbacher was one of the principal reasons.
Genenbacher scored on first-half runs of 6, 1, 39, 1 and 13 yards, helping push his season rushing totals to 977 yards and 25 touchdowns. Most of that damage has been accomplished in the postseason where he has run for 622 yards and 13 scores.
"It's amazing just to see how good Eli is," Thompson said.
Since Genenbacher became the focal point of the Central offense at the onset of the playoffs, he has repeatedly chewed up sizable amounts of yardage with multiple defenders hanging on him.
"Watching Eli carry three guys on his back is something to watch," Moore said.
Offensive guard Reese Wilkey just smiles when explaining what it's like blocking for Genenbacher.
"We focus a lot on technique, and it's a great feeling to know we helped open a hole for an amazing back like Eli," Wilkey said.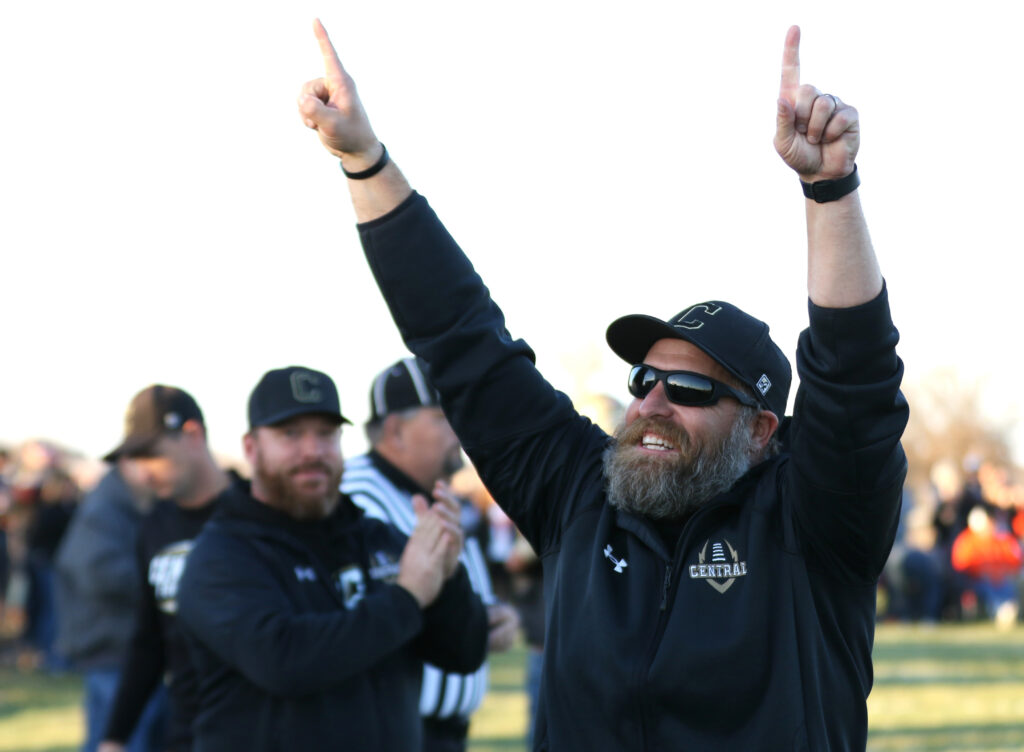 The emergence of Genenbacher in the postseason has raised the Central offense to new heights.
"To be 205 pounds (and a running back) in our system makes him dangerous," said Dixon, whose program has scored in 89 straight games and has not been shut out since 2016. "But he's just one of our weapons."
Scoring Central's other touchdowns were Drew Paben (55-yard interception return), Nick Peters (29-yard run) and Conner Griffin (17-yard run). Thompson caught three of Moore's passes for 60 yards.
Central's ground-oriented offense has now rushed for a school-record 73 touchdowns this season behind an offensive line of tight ends Thompson and Mason Miller, tackles Darren Rigg and Robert Gooding, guards Wilkey and Wes Crooks and center Jaden Summers.
The importance Central places on its running game is seen in the 558 rushing touchdowns and 51,410 rushing yards during Dixon's 13 seasons as coach. In eight of those seasons, the Panthers have averaged more than 300 yards per game on the ground, including this year.
There's very little that the ball-control Central offense cannot do at the moment, especially at the Class 1A level, and it has demonstrated that over the past four weeks of postseason play. The Panthers are averaging 45.5 points in those games.
"We have been able to jump on a lot of teams early," Dixon said. "Today, all phases of our game were working."
Greenfield's offense, which had scored 69 touchdowns and boasted a quarterback (Drew Pembrook) who had thrown a little less than 2,000 yards and a running back (Kohen Vetter) who had rushed for 1,300 yards, never got untracked.
Central was so dominant in the first half that it ran 28 of the game's first 30 offensive plays, using a punishing ground game in concert with opportunistic defense and special team units to force turnovers. Throughout the game, the Panthers forced fumbles, intercepted passes and even recovered an onside kick.
Much of the postgame rhetoric dealt with the huge crowd that turned out for the game, believed by some Central officials to be an all-time record at the site.
"That kind of support means everything," blocking back Conner Griffin said. "We have quite a community."
Moore looked around the stadium a half hour after the game and was amazed by how many fans still remained, talking with and congratulating the Central players.
"There's nothing like this community," he said.
Moore, a three-year starter at quarterback, also spoke about how quickly the seasons have passed.
"It's gone by so fast," he said. "I thought I'd be playing high school football forever. I haven't taken anything for granted, and I'll keep these memories forever."
Hopefully, there's one more of those memories awaiting Moore and the rest of the Panthers.
Miss Clipping Out Stories to Save for Later?
Click the Purchase Story button below to order a print of this story. We will print it for you on matte photo paper to keep forever.