Game Night Guide: Area football's Week 1 schedule, broadcast links and did you knows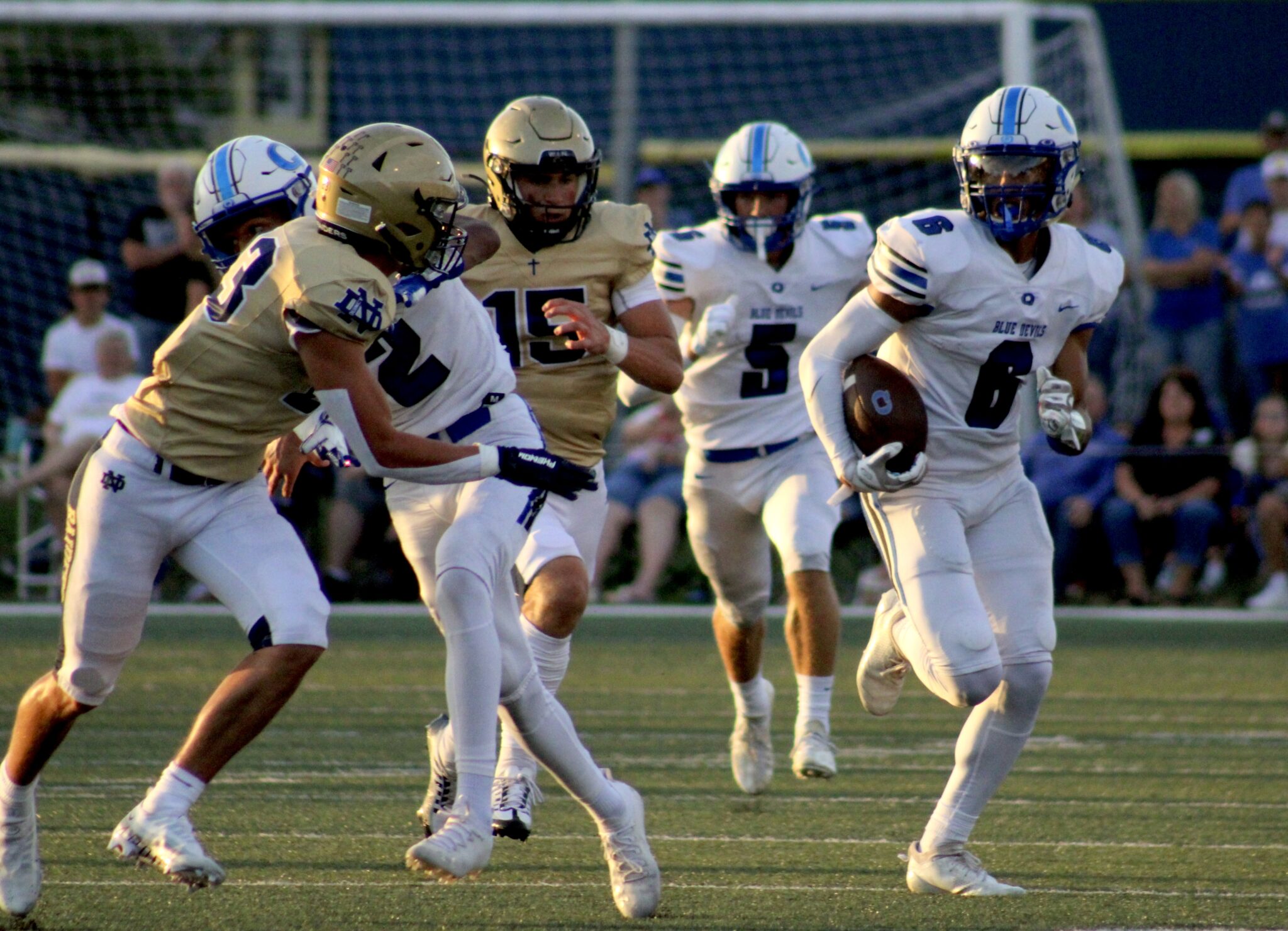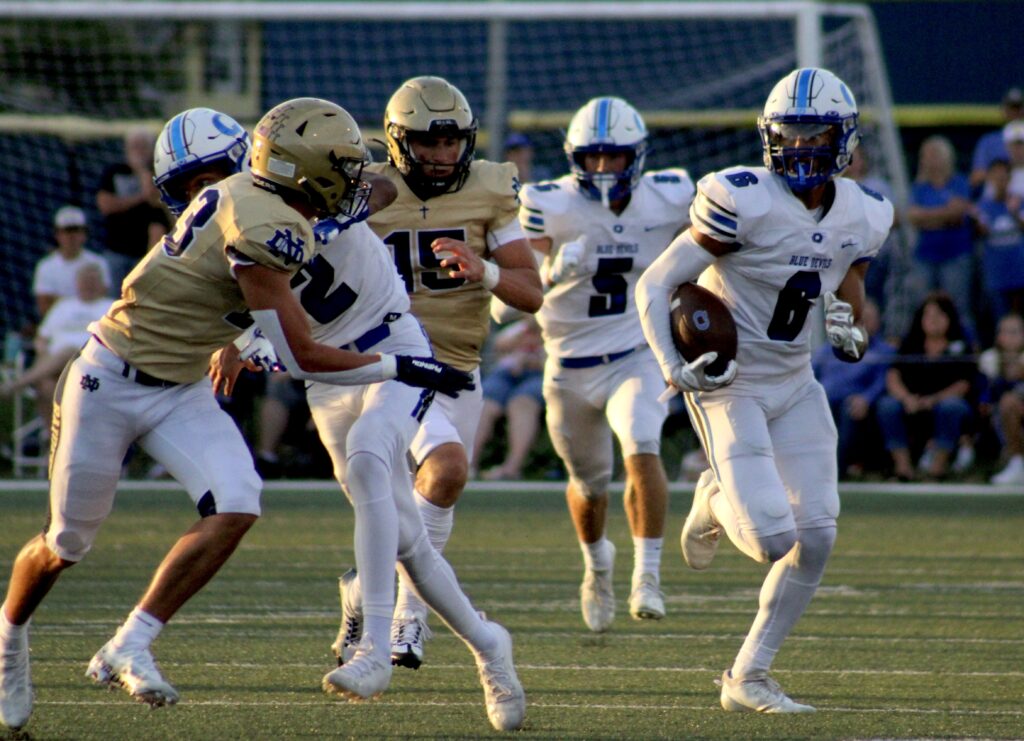 QUINCY — The first Friday of the prep football season is nearly here, although it comes with a myriad of game time adjustments due to the heat. Here is a look at the schedule for area teams and where those games can be found on the radio or via livestream:
Quincy Notre Dame at Quincy High School, 8 p.m.
Did you know?: This will be the seventh time the crosstown rivals have met since renewing the series in 2015. The Blue Devils have won five of the six meetings. The teams have met 11 times in the past 42 years, with QHS owning a 7-4 edge. Prior to 1981, when a five-year series began, the teams hadn't played since 1952.
Hannibal at Jefferson City Helias, 8 p.m.
Did you know?: The Pirates and Crusaders have met in the season opener six of the past seven seasons and have split those meetings. In 2020, Hannibal delayed the start of its school year due to the COVID-19 pandemic and could not play the scheduled game with Helias. Since the Crusaders left the North Central Missouri Conference in 2013, Hannibal owns a 6-4 lead in the series with two district victories.
Central at North Greene, 8 p.m.
• Central Illinois Sports on YouTube
Did you know?: The Panthers are 10-2 in season openers under head coach Brad Dixon and have won five straight. They also are 43-10 in Western Illinois Valley Conference North Division games under Dixon. Central is 8-0 against North Greene, a member of the WIVC South Division, since joining the league. The Panthers have outscored the Spartans 384-87 in those meetings.
Greenfield-Northwestern at Brown County, 8 p.m.
• BC Hornets Sports on YouTube
Did you know?: The Brown County coaching staff is enjoying a family reunion of sorts. Lyle Klein has joined Tom Little's staff, and it brings three former Carthage assistants together. Little, Klein and Heath Fullerton all coached at Carthage under Jim Unruh. Little is the dean of area coaches, entering his 22nd season as the Hornets head coach.
Winchester West Central at Unity-Payson, 8 p.m.
• Unity Mustangs Sports Network on YouTube
Did you know?: The Mustangs have won three consecutive season openers and six of their last eight lid-lifters. Unity-Payson will be looking for its third straight playoff appearance, something that hasn't happened in program history. Gary Brickman led the Mustangs to back-to-back playoff appearances three times between 1989 and 1999. Kevin Krietemeyer also led the Mustangs to consecutive playoff appearances in 2015 and 2016.
Farmington at Illini West, 8 p.m.
Did you know?: Jacob Calvin, a Quincy High School graduate, will be making his debut as the Chargers head coach. The two previous Illini West coaches — Tim Lafferty and Lyle Klein — split their openers. Lafferty's Chargers lost to Mendota to open the 2011 season, while Klein's team beat Pittsfield 38-12.
Lewistown at Macomb, 8 p.m.
Did you know?: Bombers coach Tanner Horrell, a 2008 Macomb graduate, played on three playoff teams in high school. From his sophomore season through his senior year, the Bombers went 21-9 in Class 4A. As head coach, he's won 16 games in two seasons with two playoff appearances.
Pittsfield at Athens, 8 p.m.
• Central Illinois Sports on YouTube
Did you know?: This is the 50th anniversary of when "The Streak" was snapped. The Saukees won 64 consecutive games from 1966-73 — the longest winning streak in state history — before suffering a 12-0 loss to Winchester on Sept. 21, 1973. The second longest streak in state history belongs to New Lenox Providence with 50 consecutive wins.
Triopia at Pleasant Hill, 8 p.m.
• No radio or livestream
Did you know?: Pleasant Hill has the smallest enrollment of any area team playing 11-man football with 94 students. Mike Giles is entering his 17th season at the helm and led the Wolves to the playoffs twice.
West Hancock at Heyworth, 8 p.m.
Did you know?: Since becoming the West Hancock co-op in 2005, the Titans have made the playoffs seven times with two state quarterfinal appearances. First-year Titans coach Coy Dorothy threw for 6,691 yards and 58 touchdowns during his collegiate career at NCAA Division III MacMurray.
Highland at Putnam County, 8 p.m.
• Putnam County stream at Tri-Rivers Broadcasting
Did you know?: After opening on the road, the Cougars play three of their next four games at home. The one road game in that stretch is the Clarence Cannon Conference opener at Monroe City. How important is winning the CCC opener? The only time the Cougars have done that in the past 13 seasons, they enjoyed their only winning season in that stretch, going 8-4 in 2021.
Monroe City at Mark Twain, 8 p.m.
Did you know?: The two former Clarence Cannon Conference combatants who have been district foes in recent years could find themselves in Class 2 this postseason. The Missouri State High School Activities Association is redoing how it classifies teams for districts, and many area schools which have been playing in Class 1 are expected to get bumped up.
Hallsville at Palmyra, 8 p.m.
Did you know?: First-year Panthers coach Dalton Hill's freshman year at Mark Twain was the Tigers' last season in the Clarence Cannon Conference. Palmyra beat Mark Twain 56-0 during the 2013 season. Palmyra and Hallsville have played five times in the past three seasons with the Indians winning three times.
Milan at South Shelby, 8 p.m.
Did you know?: South Shelby coach Adam Gunterman graduated from Pleasant Hill, played collegiately at Culver-Stockton College and began his coaching career as an assistant at Palmyra.
Miss Clipping Out Stories to Save for Later?
Click the Purchase Story button below to order a print of this story. We will print it for you on matte photo paper to keep forever.