Elston continues push to win his first Adams County Speedway track championship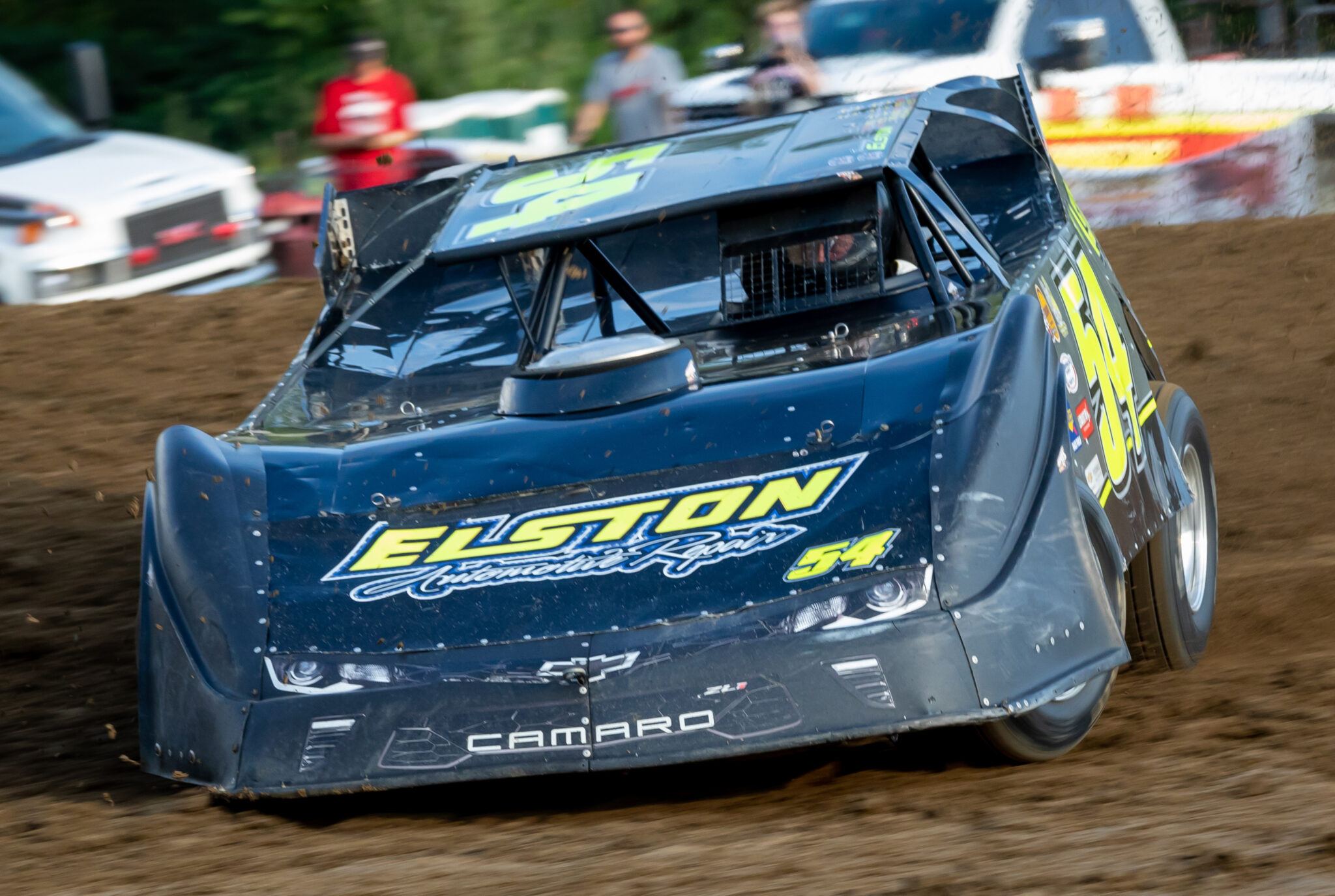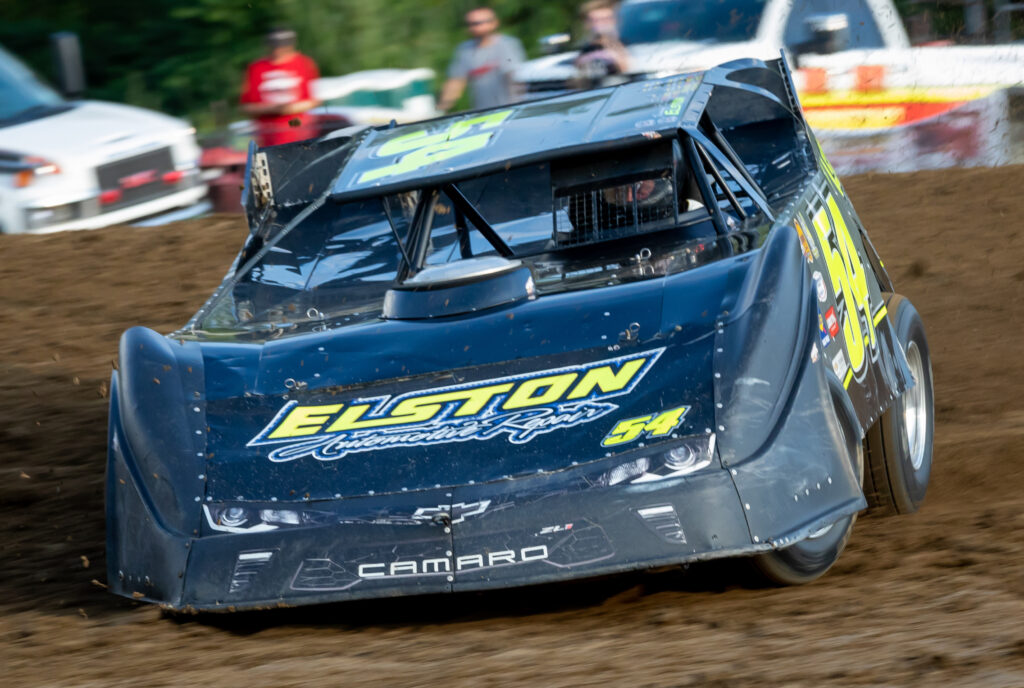 QUINCY — Tommy Elston's late-season surge appears to have put him in the catbird's seat when it comes to the pursuit of the Adams County Speedway crate late model championship.
The veteran driver from Keokuk, Iowa, who has been a late model mainstay at the dirt track at 8000 Broadway for much of a career that has spanned 30-plus years, finds himself closer than he's ever been to a series title at the venerable .29-mile oval that dates to 1975.
Elston collected his third checkered flag in the last four features at the speedway and is now tied for the series points lead with defending champ Denny Woodworth. Each driver has 896 points with three weeks of points racing remaining. Also in the late-season mix is Jason Perry at 885 points.
The closest Elston has come to a title in Quincy was a runner-up finish to Woodworth in 2017.
Elston's latest feature victory, his series-best fifth of the season, came in commanding fashion Sunday night. Elston led all 20 laps, with Woodworth finishing second and Perry third. Elston gained enough points finishing one spot ahead of Woodworth to move into the first-place tie.
"It's nice," Elston said of the position he finds himself holding in the title chase.
The southeast Iowa hotshoe had no problem warding off any challenges and spent the majority of the race stretching his lead rather than having to protect it.
"I had a good rhythm out there," Elston said. "The car was as good as it's ever been here."
Elston also has an excellent shot to earn the most money in the crate late model era (since 2017) at the track. He's pocketed $7,450 — boosted by Sunday night's $1,000 paycheck — and will likely surpass Woodworth's record $8,050 won in 2022. The overall late model record for earnings is $17,510, won by 16-time track champ Mark Burgtorf in 2006 during the IMCA era at the speedway.
Elston's recent dominance in the features also has catapulted him into the lead for most feature laps led with 106. Perry has 62 and Woodworth 54.
Woodworth, who has won six track championships since 2016, was driving his backup car Sunday night after severely damaging his primary ride during a special event at Lee County Speedway in Donnellson, Iowa.
Woodworth, seeking his 10th overall track crown, was fortunate to be able to drive Sunday after the crash at Donnellson.
"There's nothing in my body that does not hurt right now," Woodworth said.
Perry has a track championship (2012) and a runner-up finish (2010) on his resume.
Only four of the past 50 late model track championships have been decided by fewer than 10 points, the most recent in 2011 when Justin Reed edged Lonnie Bailey on a tiebreaker. The two drivers were tied in points at the end of the season, but Reed had won more features.
Other close pennant races saw Woodworth slip past Perry by eight points in 2010, Bailey nip Reed by six in 2009 and Bailey hold off the late Brent Slocum by four in 2004.
Points racing for all classes ends Sept. 24.
Collecting late model heat wins Sunday night were Perry and Woodworth, who are tied with Elston for the most prelim victories with seven. Elston has the most overall victories with 12, two ahead of both Woodworth and Perry.
Other feature winners were Austen Becerra in modifieds, Matthew Edler in "B" mods/sport mods, Robert Cottom in street stocks and Jeffrey DeLonjay in 4-Cylinders.
Becerra rolled to his eighth modified feature victory and 17th overall win of the season at the speedway. Becerra led all 18 laps in the main event to turn back Kenny Wallace, Rick Conoyer and Trey Harris.
"You could race all over the track tonight, but I was most comfortable up top," Becerra said. "I tried down low one lap, and that didn't work."
Wallace had nothing but praise for Becerra's latest effort.
"Austen is one of the best drivers in America," said the St. Louis-based Wallace, the former NASCAR driver who often refers to Quincy as his home away from home. "Quincy is lucky to have (Becerra) racing here."
Becerra further solidified his points lead. He now holds an 813-714 advantage over Jacob Rexing, who finished sixth. Modified heat wins went to Becerra and Harris. Becerra leads the series with seven heat victories.
Becerra has now won a modified record $9,725 and is zeroing in becoming the first non-late model driver to reach $10,000. In addition, Becerra and Elston are tied for the most feature laps led (106) in all series.
Edler, who hails from St. Louis but has a history in Quincy, garnered his first feature win at the Bullring. He led all 18 main-event laps, finishing ahead of Tanner Klingele, Seth Wyett and Joe Rudy.
"This is an amazing feeling," Edler said. "I cut my teeth at this track in 2016 and 2017 when I didn't know what the hell I was doing. This place is truly a hidden gem and we try to get here whenever we can."
Klingele, who leads the sport mods with four victories, could never run down Edler.
"We'll go home a bridesmaid and try to see that doesn't happen again," Klingele said.
Klingele raised his winnings to $5,200 and has a shot at Birck's series record of $5,810 in 2022.
No points were awarded in the sport mod class (or will be next week), due to many of the top local cars taking part in the Boone Nationals in Boone, Iowa. Rules were modified enough to allow for out-of-town "B" mods to run with the sport mods during this two-week period.
Logan Cumby (439), Reed Wofmeyer (436), Klingele (422), A.J. Tournear (422) and Adam Birck (405) are atop the sport mods points. Klingele was the only one of those drivers participating Sunday night. The others had gone to Boone.
Klingele and Rudy won sport mod heats.
Cottom led all but one lap to win his sixth stock feature of the season, giving him 14 since 2022. Dennis Wernle, Ricky Frankel III and Gage Walker rounded out the top four.
Jake Powers, who finished 12th in the feature, maintains control of the stock points race with 483. Rudy Zaragoza, who finished 13th, is runner-up at 453.
One week after seeing his nine-race 4-Cylinder feature win streak halted, Jeffrey DeLonjay was back in the winner's circle. He passed younger brother Jaden DeLonjay late in the race for his 10th feature and 18th overall series victory.
Jeffrey DeLonjay, who also won the lone 4-Cylinder heat race, has a shot of catching Becerra and Elston for most feature laps led. He currently has 97.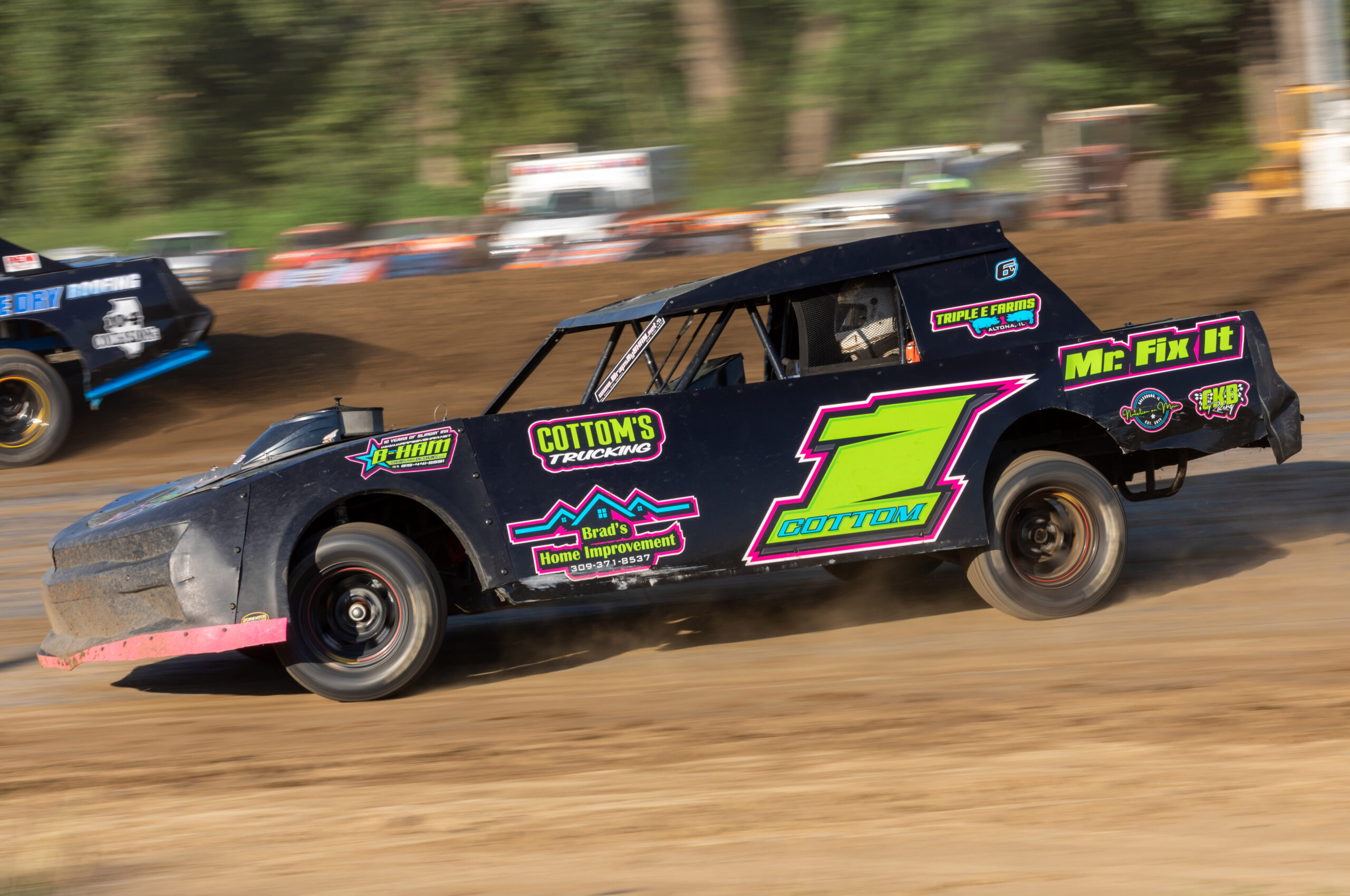 Miss Clipping Out Stories to Save for Later?
Click the Purchase Story button below to order a print of this story. We will print it for you on matte photo paper to keep forever.