Elston captures elusive track championship following another crate late model feature win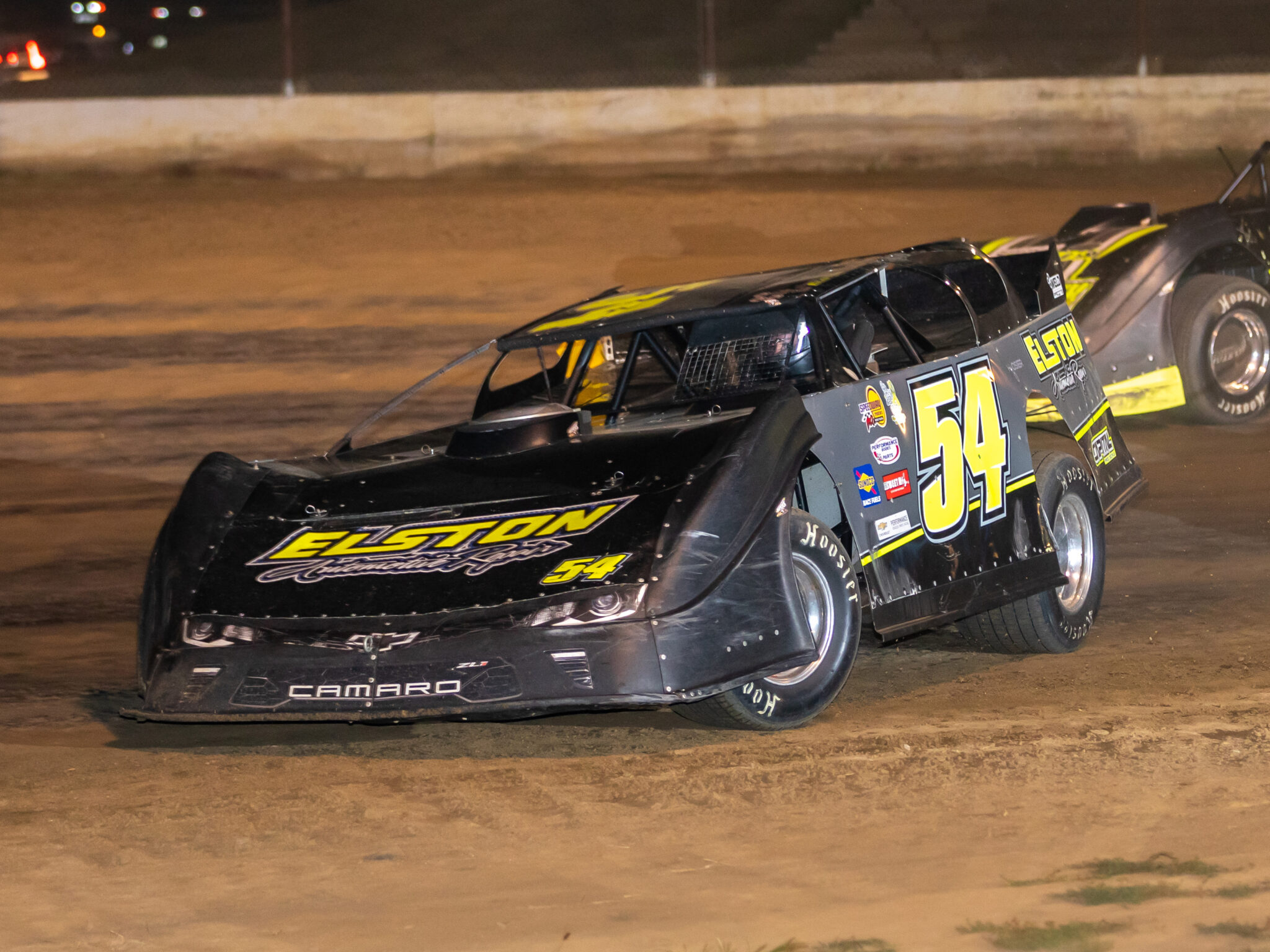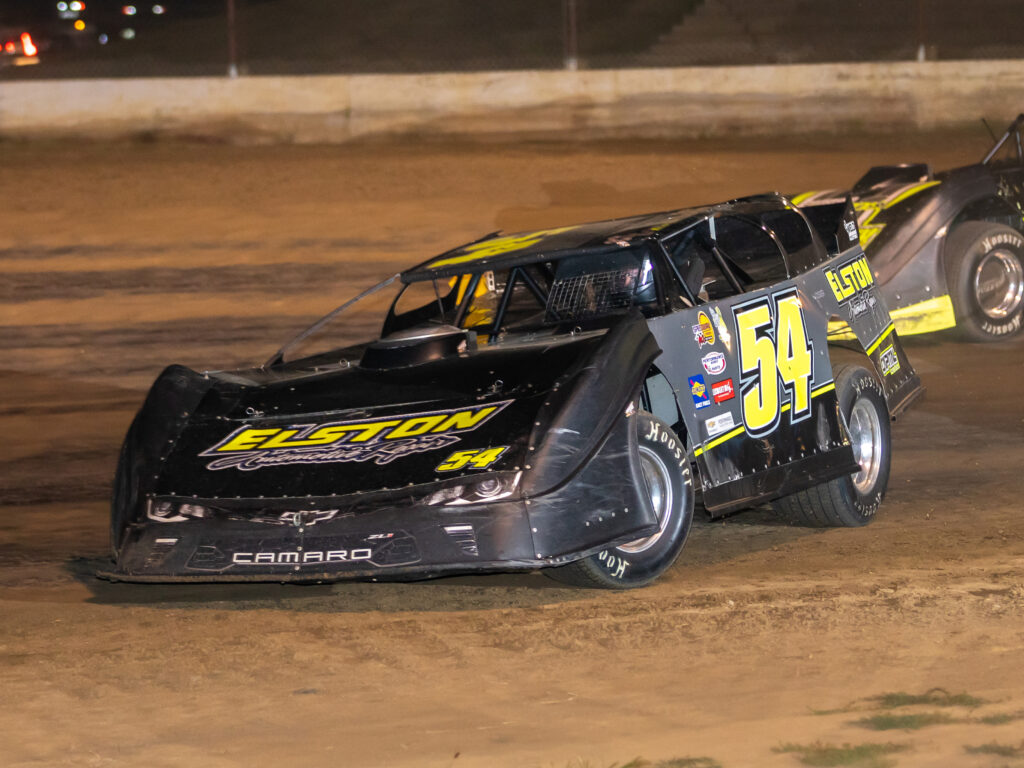 QUINCY — Finally.
The long wait officially ended Sunday night for Tommy Elston, who won his first crate late model track title at Adams County Speedway.
Elston has been an on-again, off-again semi-regular at the Broadway Bullring since about the mid-1990s, but had never come closer to a championship than a runner-up points finish in 2017.
Until this season.
Elston capped a brilliant points season that saw him win seven of 17 features, plus string together 15 top-five finishes.
"I really wanted to win this," Elston said of the track championship. "And I wanted to dominate (Sunday's feature), and I'm happy with the way we did it."
Elston led the final 12 laps, most of them in convincing fashion. At one point, he held a whopping 2.3-second lead on the rest of the field.
Elston entered the night with a five-point advantage over Denny Woodworth, who had won every late model track title since 2016, including all in the crate late era, which dates to 2017.
The title did not come without a slight hitch near the end of the feature. Just after Elston and two other cars had taken the checkered flag there was a sizable pileup in turn four involving multiple entries from the 13-car starting field. Track officials ruled one more lap needed to be run, calling for a green-white finish.
Elston had already driven his car to victory lane when informed there would be one more lap needed to complete the 20-circuit finale.
"I didn't know what the hell was going on, but it is what it is," a good-natured Elston said afterward.
The restart proved no problem. Elston again drove away from the rest of the field to cap a championship season that saw him win five of the final seven points features to finish 25 points (1,116-1,091) ahead of Woodworth, who wound up fifth in the main event after challenging early.
Chase Osterhoff finished second in the feature, followed by Jason Perry and Vance Wilson. Perry ended up third in points (1,075).
Elston leads all late-model drivers with seven feature victories — eight if a special "king of the hill" run earlier this month is included.
Other feature winners on the final night of the regular season included Rick Conoyer in modifieds, A.J. Tournear in sport mods, Robert Cottom in street stocks and Jeffrey DeLonjay in 4-Cylinder cars.
Wrapping up the other four track titles were Austen Becerra in modifieds, Logan Cumby in sport mods, Jake Powers in stocks and Jeffrey DeLonjay in 4-Cylinders.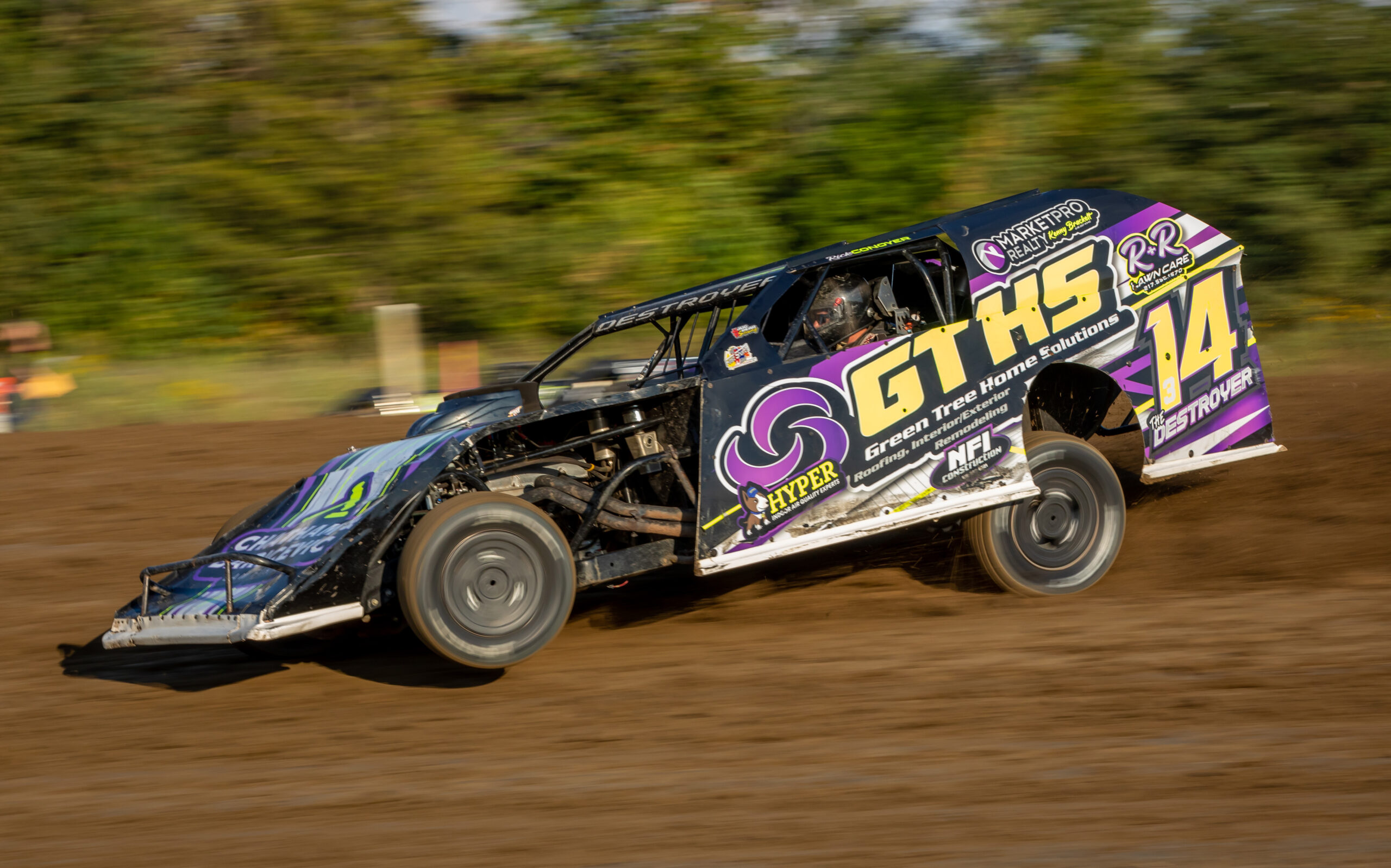 Conoyer's feature victory was a welcome relief from what had been a frustrating second half of the season.
"The first half of the season was pretty good, but in August we had six DNFs in seven features," said Conoyer, who admitted he and his team had "tried just about anything they could think of" following that rough stretch.
Said Conoyer, "We just threw the kitchen sink at it."
Conoyer's checkered flag was his first of the season. He finished well ahead of Mark Burgtorf, Becerra and Rick Stevenson.
Becerra had the modified title assured before Sunday night's races even began. Becerra's second straight series championship saw him finish comfortably ahead of points runner-up Jacob Rexing 1,001-868. Becerra won a series-best eight features.
Tournear's sport mod feature win was his first of the season and came in dramatic style. Tournear caught and passed series champ Cumby with two laps remaining and held on for the victory.
"I just let it all hang out," Tournear said of his mad dash to the front.
Patrick Profeta and Nicholas Profeta rounded out the top four.
Cumby's sport mod crown was his first championship at the speedway and followed up a fourth-place finish in 2022. Cumby entered the feature with a two-point lead over Reed Wolfmeyer, but what might have been a memorable run for the championship ended on the first lap. That's when Wolfmeyer got caught up in a turn-four crash with several other cars and was forced from the field.
Cumby's title also ended a three-year championship run in the sport mods for Adam Birck, who ended fifth in points. Following Cumby (514) in the final standings were Wolfmeyer (501), Tournear (497) and Tanner Klingele (496).
Cottom's stock victory was his series-leading eighth, which he has stockpiled despite running just 11 of 16 features. Cottom led all 15 laps of the feature.
"Starting up front in the feature, I wasn't sure where to go," said Cottom, who worked different grooves searching for a sweet spot. "When we had a caution with five laps remaining, I decided to roll up high in the marbles and was lucky enough to hold on."
Cottom has won 16 features over the past two seasons.
Running behind Cottom were Rexing, Rudy Zaragoza and Powers.
The strong finish for Powers, who controlled the stock car points race the majority of the season, put the finishing touches on his second track title. Powers' other championship came in 2012 in the hobby stock series.
Powers ended the season with 597 points, outdistancing runner-up Zaragoza (565), who won the 2022 title.
Jeffrey DeLonjay capped a memorable season with his track-best 14th feature win that accented his one-sided advantage in the points race over his brother Jaden DeLonjay 668-613. Jeffrey DeLonjay, who also won the 2022 championship, is likely moving to the late model division in 2024.
Including heat-race wins, Jeffrey DeLonjay currently sits with 25 overall victories. That ties for sixth all-time for all series and the most ever for the 4-Cylinder/Sport Compact/Hobby Stock divisions. DeLonjay's 14 feature victories are the most ever for the 4-Cylinder/Sport Compact/Hobby Stock series and fourth most overall for all divisions.
Finishing behind Jeffrey DeLonjay in the feature were Jaden DeLonjay, Spencer Coats and Kim Abbott. Jeffrey DeLonjay led 14 of the 15 feature laps and was never threatened after taking the lead.
"Oh yeah, the only way to do it," joked DeLonjay about his dominance.
Money leaders at the end of points racing are Elston ($9,650) in late models, Becerra ($11,175) in modifieds, Klingele ($5,975) in sports mods, Cottom ($3,925) in stocks and Jeffrey DeLonjay ($4,555) in 4-Cylinders.
There are two more dates on the speedway calendar, both high-paying programs that are expected to attract all-star casts from across the region. The first is the third annual Chad McCoy Memorial races, a two-night affair set for next Saturday and Sunday, followed by the MLRA late model special on Oct. 12.
Miss Clipping Out Stories to Save for Later?
Click the Purchase Story button below to order a print of this story. We will print it for you on matte photo paper to keep forever.