Becerra continues to drive past modified field at Adams County Speedway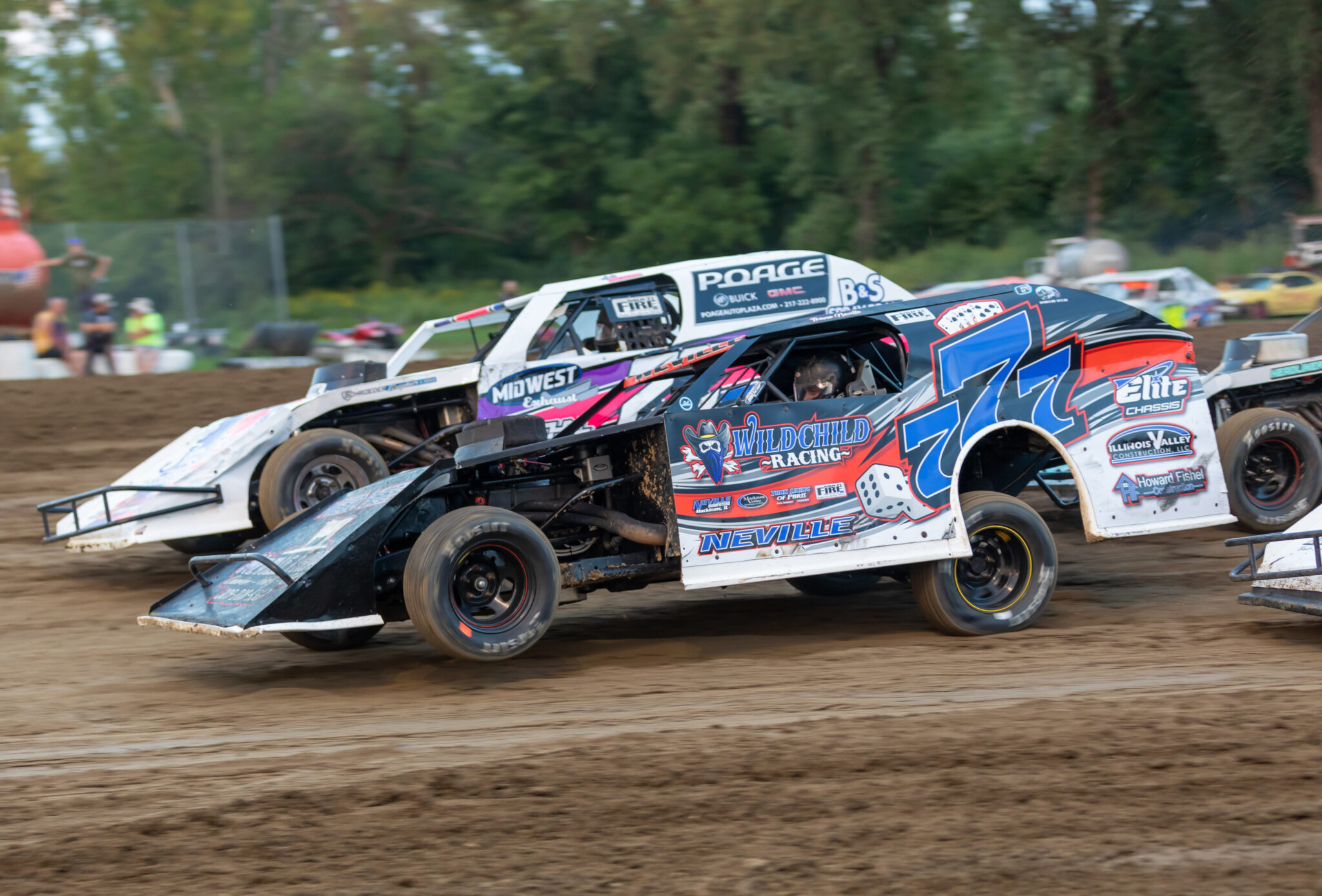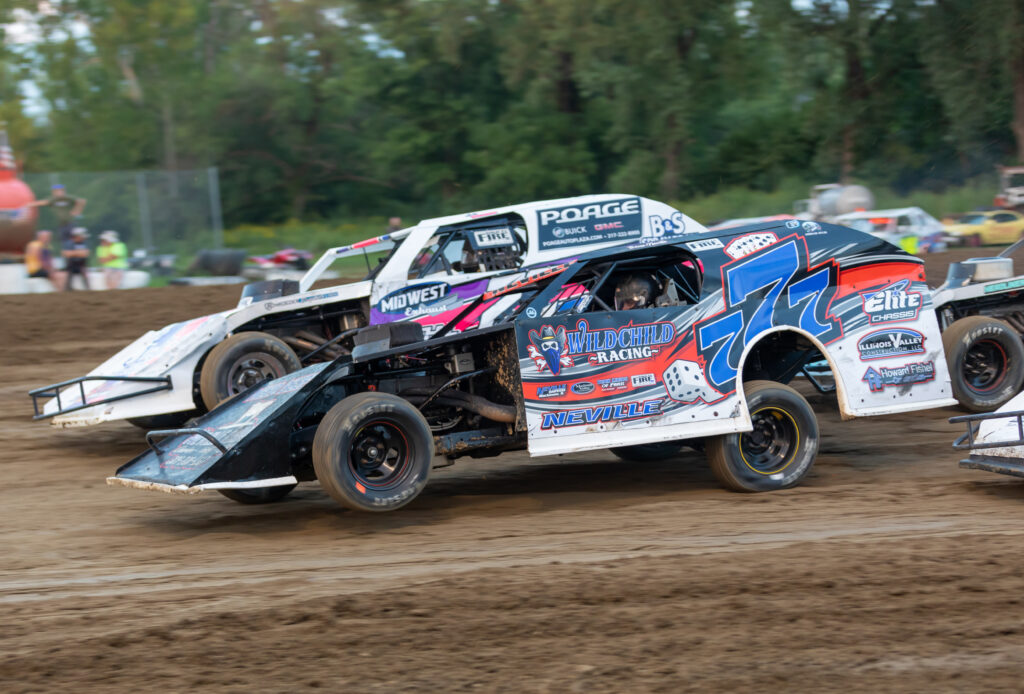 QUINCY — Austen Becerra is approaching the homestretch of what has been a breakout summer as a modified driver.
Becerra further accented his ascent to dirt-track nobility with a scintillating feature win Sunday night at Adams County Speedway.
The 29-year-old Bowen resident, who has won 24 overall features this season while racing at tracks sprinkled across the Midwest, came from nearly a half-lap down to catch and power past Trevor Neville of Mackinaw, Ill., and claim the $1,000 first-prize check at the .29-mile Broadway Bullring.
Becerra only led the final two laps of the 20-circuit main event, but never felt first place was out of his reach.
"I could see (Neville) was encountering lapped traffic," Becerra said.
That's when Becerra made a move up the track toward the cushion.
"And I just ripped the top," he said, recreating the frantic final couple of laps.
Becerra had exercised patience through the first half of the feature, waiting for an opening while positioning himself for a charge from the upper third of a 21-car lineup. When the field began to bunch up, he made his move.
"We had made some changes on the car (during the night) to tighten it up," Becerra said. "I just tried to stay patient."
Becerra's feature victory was his seventh in the modified division at Quincy, and allowed him to build his series lead to a whopping 74 points (738-664) over Jacob Rexing of Brighton, Ill.. Barring some catastrophic points occurrence, Becerra has all but wrapped up his second modified and fourth overall track title. Points racing ends Sept. 24.
Even though Becerra has enjoyed much success on a regional level this season, there is one victory in particular that stands out for him in 2023.
"The most satisfying win is still probably the (June 28) victory, the night the Hell Tour was in town," he said.
Becerra won the Summit Modified Tour support series feature that night in impressive fashion. Becerra led flag-to-flag to win a 25-lapper ahead of such modified luminaries as Michael Long of Fowler, former NASCAR driver Kenny Wallace of St. Louis, Rick Conoyer of Wentzville, Mo., and Dave Wietholder of Fowler.
Becerra tries not to get too caught up in points races, but is well aware of his standing in such areas.
"I just figure if I win as much as possible, the rest will take of itself." he said.
Becerra's Sunday night payday raised his season earnings in a modified at Quincy to $8,925, which is just $110 short of his 2022 series record of $9,035. Becerra is also seeking to become the first non-late model Quincy driver to reach $10,000 in season earnings.
Becerra has won six of the last nine modified features in Quincy.
Rounding out the top five behind Becerra and Rexing were Chase Holland of Success, Miss., Wallace and Tim Luttrell of Riverton, Ill.
Other feature winners were Denny Woodworth in crate late models, Logan Cumby in sport mods and Travis Demint in 4-Cylinders.
Woodworth's victory was doubly beneficial. The late model lawyer reached victory lane for the first time since May 28 and regained the series points lead over longtime rival Tommy Elston 826-821. Elston finished fifth in the feature.
Woodworth, who now has three feature victories to his credit, led all 20 laps to outdistance runner-up Jamie Wilson, Jason Perry and Christian Miles. Perry is third in points with 820.
Not only are Woodworth, Elston and Perry bunched atop the points, they are also battling for the money-earned crown. Elston ($6,450) holds a narrow margin in that department over Perry ($6,175) and Woodworth ($5,960).
Cumby mirrored Woodworth in Sunday night accomplishments, winning the sport mod feature in flag-to-flag style while taking over the series points lead. Cumby's second feature win of the season saw him ward off challenges from Tanner Klingele, A.J. Tournear and Reed Wolfmeyer.
Cumby (439), Wolfmeyer (436), Klingele (422), Tournear (422) and Adam Birck (415) are the top five drivers in points. Klingele ($4,800) sits atop the money list ahead of Wolfmeyer ($3,800), Cumby ($3,650) and Birck ($3,275).
Demint's 4-Cylinder victory was the first of his career and ended the nine-race feature victory string belonging to Jeffrey DeLonjay. Kim Abbott, Landon Neisen and Kyle Weisenberger completed the top four.
DeLonjay was forced from the finale — while leading — with a mechanical issue, denying him a chance to move closer to Michael Long's track record of 12 consecutive feature wins during the 2009-10 seasons.
Despite his DNF, DeLonjay remains in control of the points race, holding a 509-468 advantage over brother Jaden DeLonjay. Jeffrey DeLonjay also has a healthy lead in earnings with $3,355. Jaden DeLonjay is next at $1,520.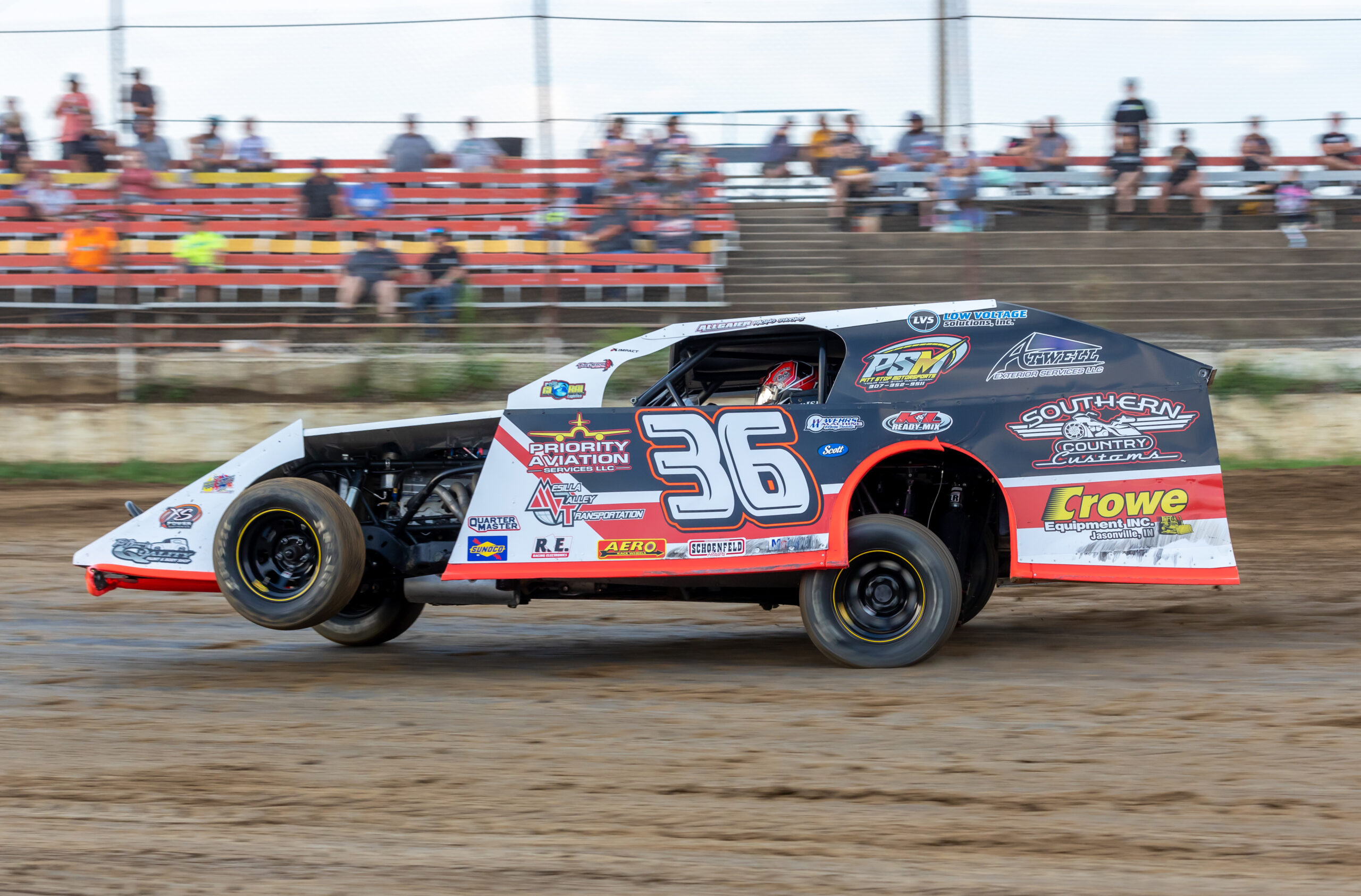 Miss Clipping Out Stories to Save for Later?
Click the Purchase Story button below to order a print of this story. We will print it for you on matte photo paper to keep forever.