Full-time return to backfield for Williams catapults Pirates into district championship game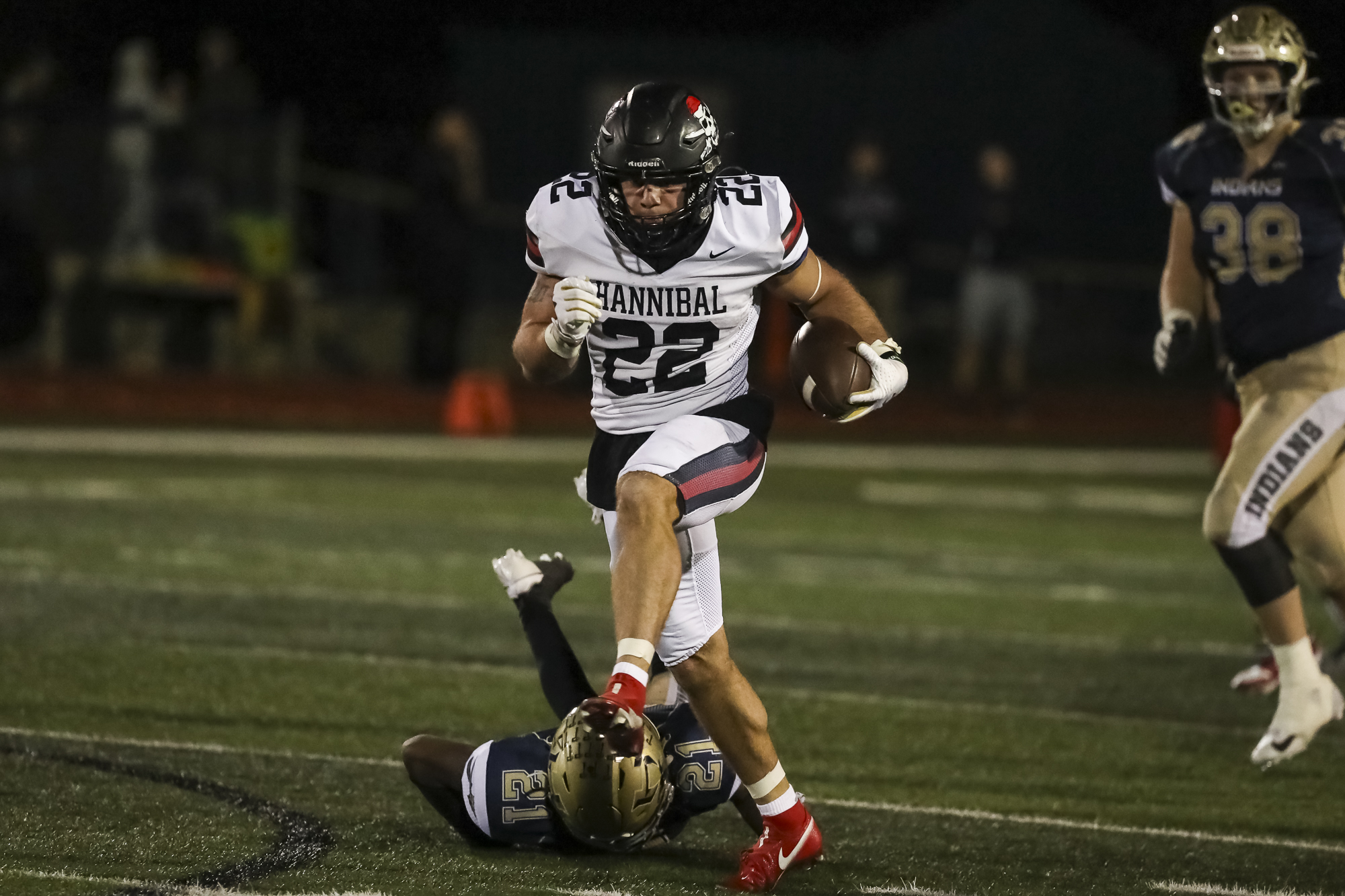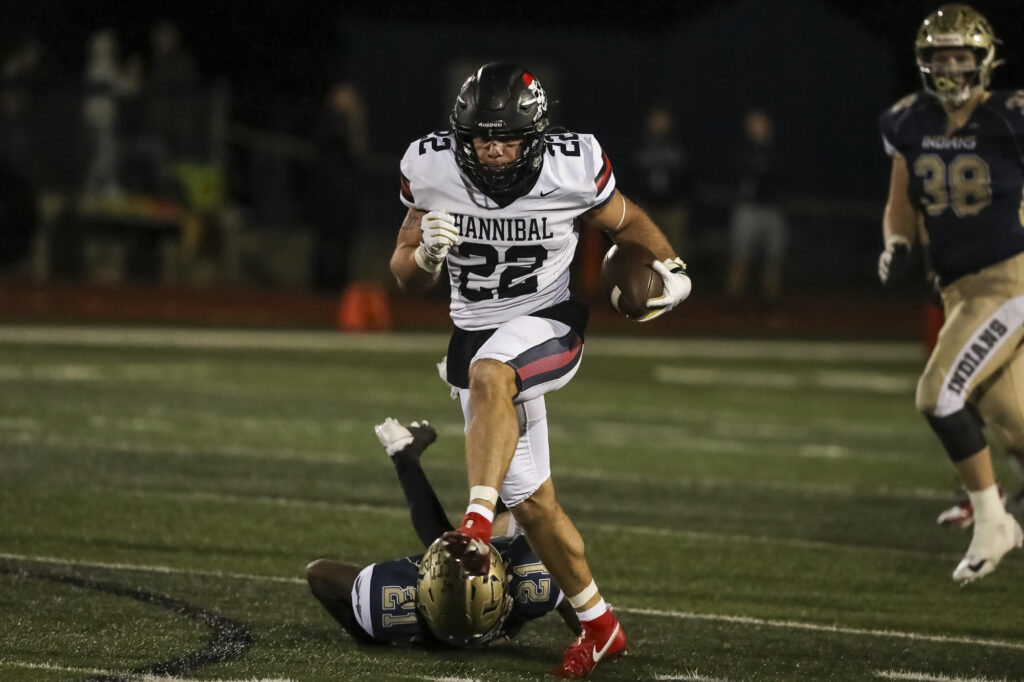 WENTZVILLE, Mo. — This was Aneyas Williams at his absolute best.
Williams, the all-purpose wunderkind whose marvelous four-year football career at Hannibal is rapidly winding down, proved Friday night he may be saving the best for last.
Williams' performance in the third-seeded Pirates' 48-27 defeat of second-seeded Wentzville Holt in the Class 4 District 4 semifinals before a crowd of about 1,600 at Soby Field left little to the imagination.
The victory was the 10th straight for Hannibal (10-1) after a season-opening loss at Jefferson City Helias. Holt's year ends at 7-4.
The talented and versatile Williams returned to the offensive backfield full-time for the first time since the third week of the season, responding with a 25-carry, 257-yard rushing performance.
Williams also scored four touchdowns, caught a 33-yard pass with an in-air Baryshnikov-like move that drew a huge ovation. In his spare time, he played defensive back when Holt had the ball.
Oh, he also booted a 68-yard punt.
Williams has spent much of the season as a wideout/flanker, and yeah, he's pretty good there, too. He leads with Hannibal with 37 receptions, 14 of those for touchdowns.
So was it a big deal to move back to running back?
"Nah," the low-key Williams said. "It doesn't matter to me where I'm playing, as long as I can help the team. Whatever it takes."
The University of Notre Dame-bound Williams hinted that the Hannibal coaches had been limiting his carries the previous seven games, saving him for the stretch run, which was perfectly fine with him. It's no secret that Hannibal's goal is to reach its second state championship game in three years, and Williams trusts the process.
"That means everything to this senior class," Williams said. "We've have been together 16, 17 years and we're just trying to make the most of this (final postseason run)."
Williams went virtually silent as a running back following a 34-28 Week 3 win over Troy Buchanan, a game that saw him rush 40 times for 233 yards. Prior to Friday night, Williams had carried the ball just 22 times in the previous seven games combined.
Against Holt, however, it was obvious from Hannibal's first offensive series that Williams was going to be the night's MVP — most valuable Pirate. He ran for first-half scores covering 68, 63 and 11 yards, plus making the spectacular catch, reeling in the 33-yarder from quarterback Waylon Anders with basically one hand while twisting his body in a backward motion.
Hannibal never trailed in the game and held a 27-7 halftime advantage, but when Holt struck for two quick touchdowns in the third quarter, the Pirates immediately snuffed out any comeback thoughts the Indians may have been entertaining.
Anders turned a broken play into a 63-yard touchdown run, Williams followed with a 14-yard scoring burst and Mike Ferreira capped Hannibal's night on a 7-yard blast to put the Pirates back in control 48-20. Ferreira also scored on a 1-yard run in the first half.
While Williams was the dominating figure in the game, Anders' third-quarter touchdown run proved equally invaluable.
"Waylon's run was a backbreaker," Hannibal coach Jeff Gschwender said. "That was a great run by Waylon."
Anders bounced to the left at the of scrimmage on a keeper, saw a gaping hole and took off. He simply outran the Holt defense to the end zone.
"That play was supposed to go the other way," Gschwender said.
Williams appreciated Anders' effort, too.
"That gave us the momentum back," he said.
Hannibal ended with 460 yards rushing, including 144 from Ferreira, who has 10 100-yard games to his credit this season. By halftime, Williams (206) and Ferreira (104) had already ran for a combined 310 yards.
Gschwender rightfully singled out the efforts of the offensive line — Ryan Ross, Noah Young, Xxavion Washington, Jarren Landis, Trenton Cowden, Kane Wilson and Houston Morrison — which continues to help the Pirates put up eye-opening rushing numbers. As a team, Hannibal has stockpiled 3,206 yards on the ground (282.4 per game), led by Ferreira (1,469) and Williams (892).
"It's all because of those guys," Williams said of the Hannibal blockers.
Holt quarterback Ayden Sullivan completed 28 of 45 passes for 343 yards and three touchdowns, the ninth time this season he has thrown three or more TD passes. Sullivan ended the year with 35 touchdown passes, plus 2,671 yards passing.
Gschwender lauded Holt's offensive schemes and Sullivan's ability to make the most of matchups with the Indians' approach to the passing game.
"They did a lot of good things, but I think we played very well on defense, too," Gschwender said.
Hannibal's defense collected interceptions from Aaron Daughtery and Dorian Turner, with Wilson, Dylan Bock and Tre Hoskins recording sacks. Wilson and Bock led the defense with 10 tackles apiece.
Hannibal will play Warrenton for the district championship at 7 p.m. next Friday at Porter Stadium. Fourth-seeded Warrenton (11-0) ousted top-seeded Parkway North 28-21 on Friday night.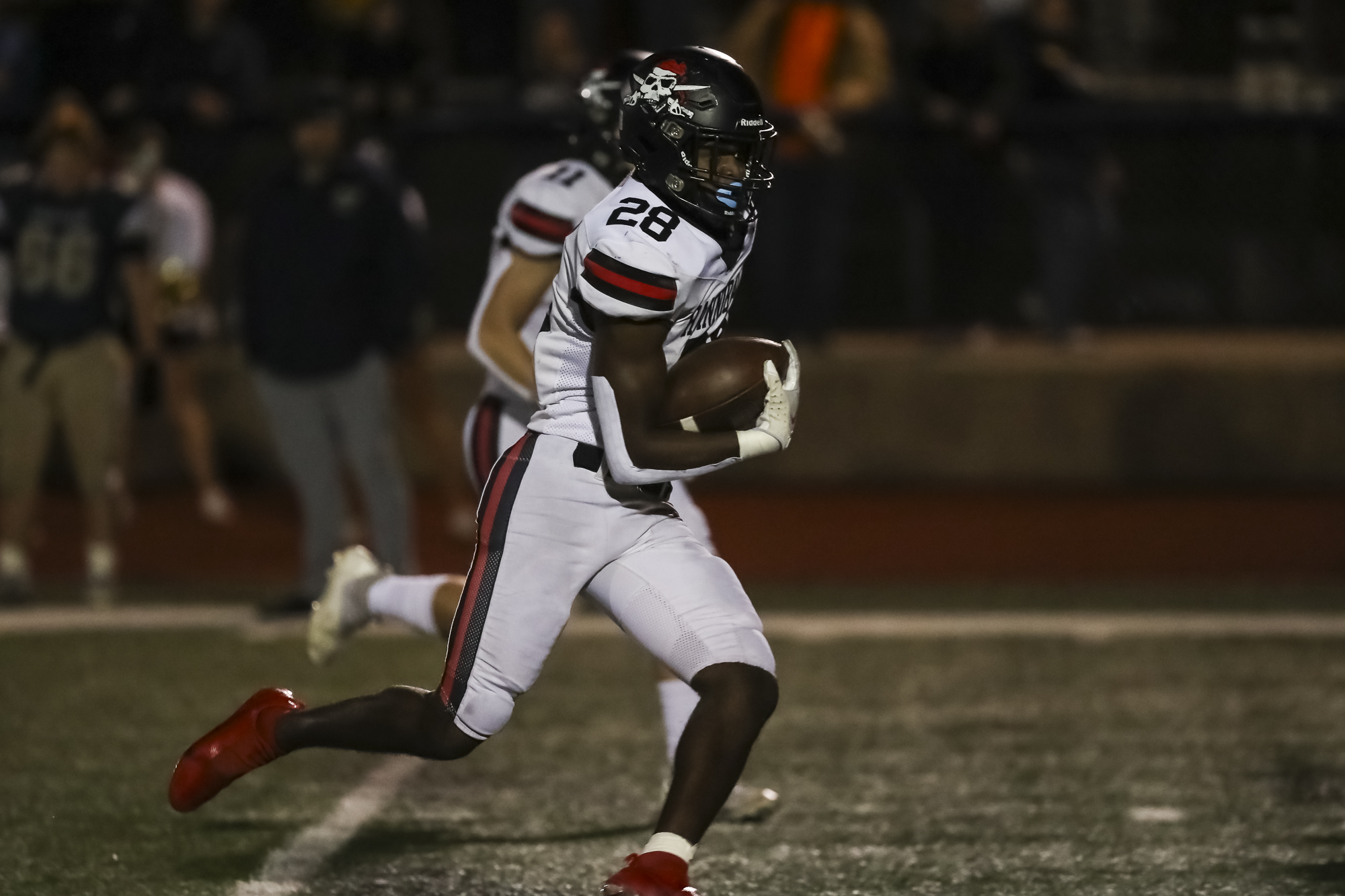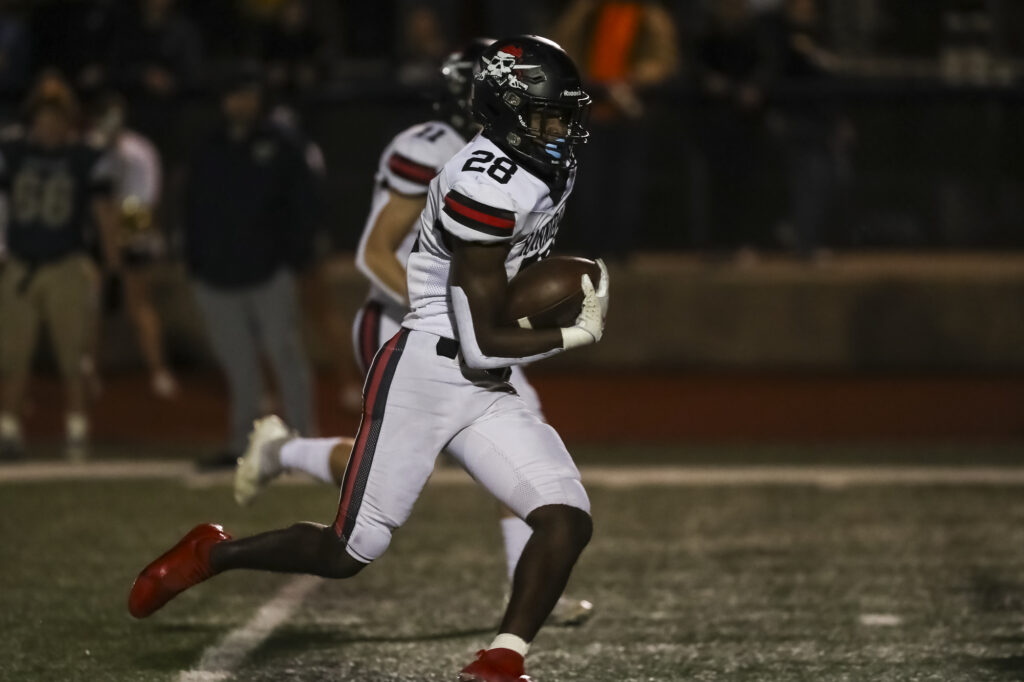 Miss Clipping Out Stories to Save for Later?
Click the Purchase Story button below to order a print of this story. We will print it for you on matte photo paper to keep forever.