Crim: Hannibal relying on Ferreira to balance attack and keep offense churning forward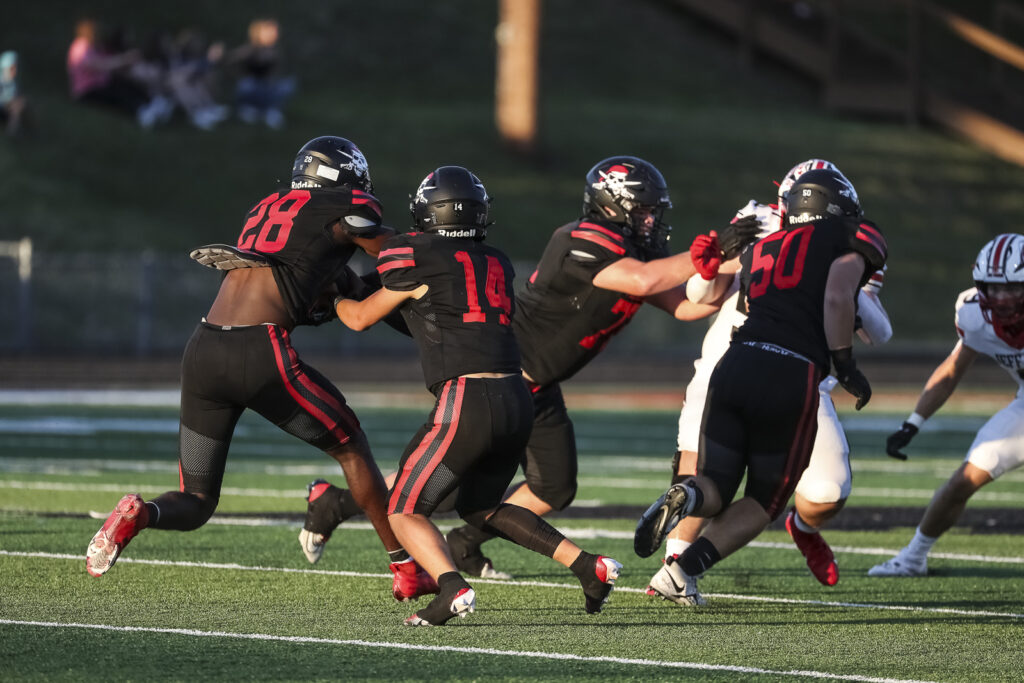 HANNIBAL, Mo. — After carrying the football 28 times, most of them straight-ahead bursts into heavy traffic between the tackles, Mike Ferreira admitted his body had absorbed some punishment.
"I've got a few bruises, but I'll be good," Hannibal's junior running back said after the Pirates evened their record at 1-1 Friday night with an impressive 42-21 win over Jefferson City. "I'm just trying to help the team the best I can."
Ferreira is emerging as an important offensive weapon for Hannibal. After gaining 291 yards in seven games as a sophomore, he already has rushed for 351 yards on 55 carries through two games, both team highs.
Importantly, he's becoming a nice backfield complement to Aneyas Williams, the University of Notre Dame commit who is a threat to score anytime he touches the ball, a reason why opposing defenses continually try to scheme to stop him, usually without much success.
Case in point: Williams had only 14 offensive touches against Jefferson City and still scored four touchdowns.
"Just the work he has put in, you know, he's someone you can really count on now," Williams said of Ferreira. "Having somebody else that we can count on to get the ball helps me, helps the offense, helps the team. Whenever we need 3, 4 yards, he's gonna get them. I mean, that's huge."
Ferreira ran for 174 yards in Hannibal's season-opening loss to Jefferson City Helias, with 79 of those coming on a touchdown run in the second half.
His 47-yard burst up the middle on the second offensive play Friday night put the Pirates in the red zone and led to their first touchdown against Jefferson City. It also helped set the tone for a game they dominated up front.
Later, he bolted through the line of scrimmage to score from 17 yards out to give Hannibal a 35-7 lead over the Jays. He finished with 177 yards on those 28 carries.
"We've got a few guys who can carry the ball a little bit," Hannibal coach Jeff Gschwender said. "It's on our offensive line (anchored by seniors Ryan Ross and Xxavion Washington) to block for whoever is carrying the ball. Lots of times, it doesn't matter who's carrying the ball, there's gonna be a hole."
Still, the coach has been impressed with the progress Ferreira has made this season. His ability to withstand a heavy workload and gobble up yards often enables the coaching staff to split Williams outside, stretching defenses and giving Williams an opportunity to operate in open spaces.
Of Williams' four scores, two came on receptions — one a 54-yard catch-and-run and another on a dazzling 60-yard run after a short shovel pass.
"He had a great offseason and got stronger," Gschwender said of Ferreira. "He got a lot faster running track last season. It's just a case of us making sure he has his confidence. He's a talent, that's for sure."
Ferreira's confidence appeared shaken when he fumbled after Hannibal had driven from its own 30 to the Jefferson City 24 midway through the second quarter, chewing up more than four minutes off the clock with the Pirates clinging to a 13-7 lead.
However, the Jays gave the ball back on a fumbled exchange on the next play. Three plays later, quarterback Waylon Anders threw a 20-yard scoring strike to Ashlin Sharkey to enable Hannibal to take a 21-7 lead and regain the momentum.
The fumble apparently was still bothering Ferreira at halftime. So, as the second half was about to begin, Gschwender went up to 6-foot back on the sideline and repeatedly told him to forget about the fumble and just play.
To prove his point, Gschwender called Ferreira's number five times on a nine-play drive to open the third quarter that culminated with Williams' 30-yard touchdown run down the left sideline. Fifteen of Ferreira's carries came in the second half.
"Having me and Mike in the backfield is like having a little one-two-punch, you know," Williams said. "We're throwing just so many things at the defense they don't know who to put their eyes on. You can't just focus on me and load the box. You've got to stop Mike, too."
That dynamic bodes well for Hannibal, which hosts Troy Buchanan this week before opening North Central Missouri Conference play. Its success on the ground helps open the passing game for Anders, who completed 7 of 10 passes for 151 yards and three scores against Jefferson City.
"It's just a matter of whatever the defense is gonna give us. We need to be able to take it, whether it's running the ball or throwing the ball," Gschwender said. "And whenever you're able to do both, now you can start playing games with them."
Miss Clipping Out Stories to Save for Later?
Click the Purchase Story button below to order a print of this story. We will print it for you on matte photo paper to keep forever.