Coming through loud and clear: Pirates rebound from Week 1 setback by overpowering Jays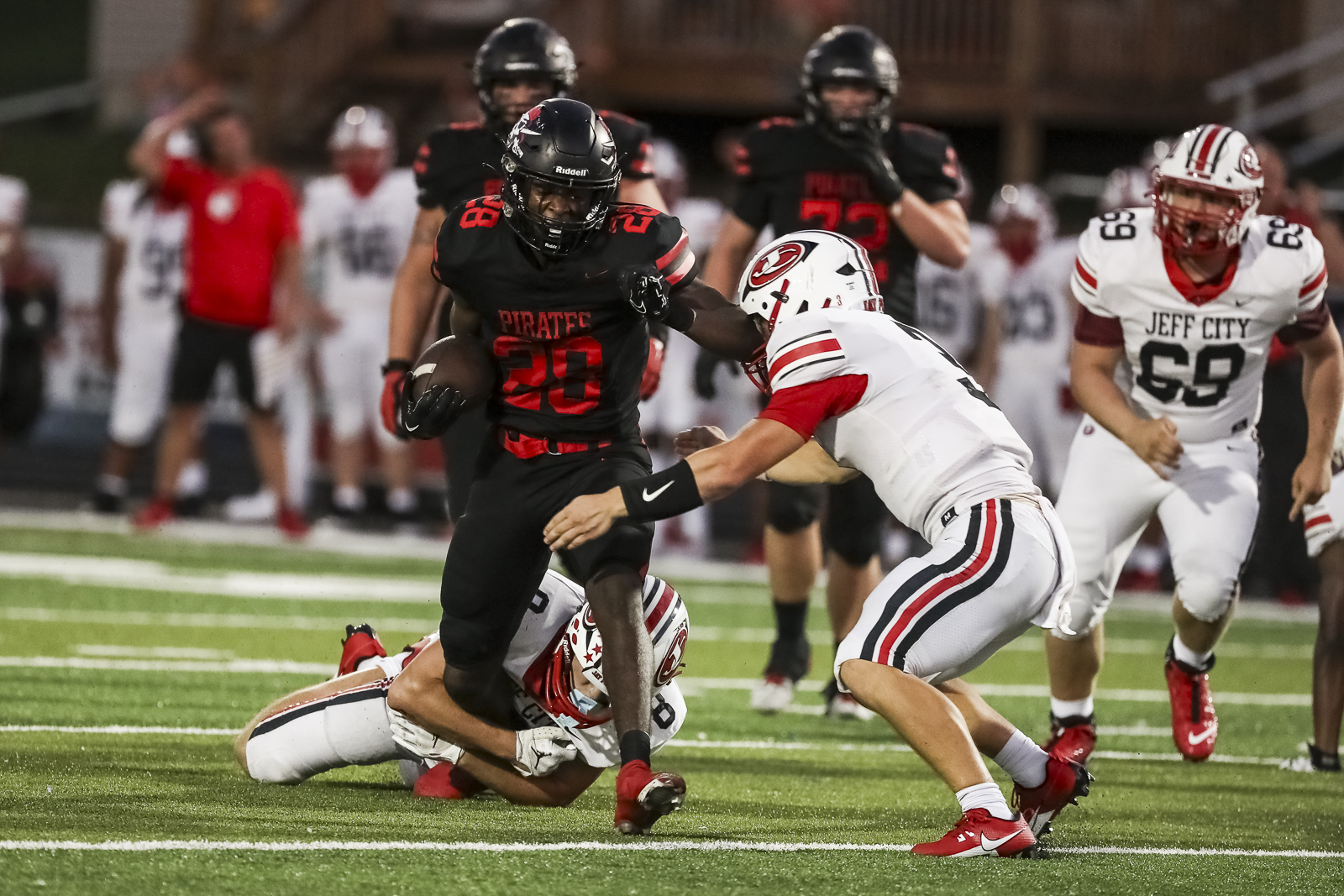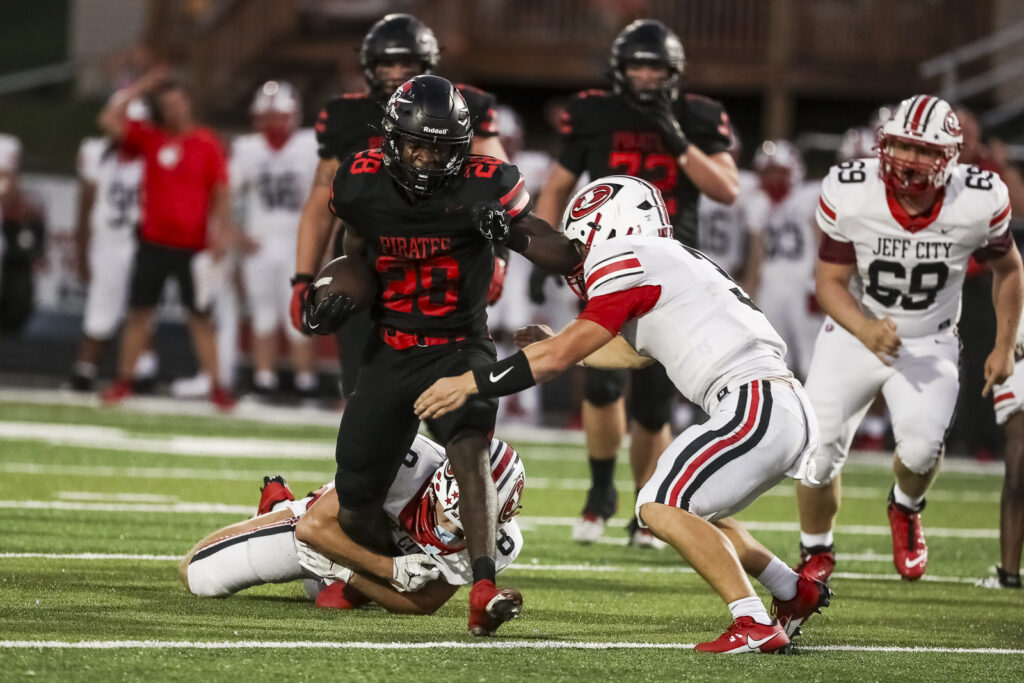 HANNIBAL, Mo. — Smarting from a lopsided road loss to Jefferson City Helias in its season opener, the Hannibal football team was out to make a statement before its home crowd Friday night at Porter Stadium.
The message was received loud and clear.
Mike Ferreira ran for 177 tough yards, quarterback Waylon Anders threw for 151 yards and three touchdowns, and Aneyas Williams scored four times to propel the Pirates to 42-21 victory over the Jefferson City Jays.
It helped erase the sting of the 49-13 setback to Helias that included a running clock in the fourth quarter.
"We knew last week wasn't us," Williams said. "That put a little chip on our shoulder, it humbled us. A good week of practice led to this. I mean, this is what we needed. This is what we were expected to do this year."
Scoring on a mixture of long drives and quick strikes, Hannibal rolled up 442 yards of total offense by dominating the line of scrimmage and overpowering Jefferson City on both sides of the ball.
The Jays' vaunted running game, which racked up 495 yards last week in a 40-3 victory over Osage, managed just 202 yards on the ground and 246 overall — and 130 of those yards came after the Pirates took a 35-7 lead late in the third quarter.
"Everybody was disappointed last week," Hannibal coach Jeff Gschwender said. "No one played the way they should. Those kids kind of let their blood boil a little bit throughout practice. I think (the loss) hung on us all week long.
"The energy level in the locker room before the game felt so much different from last week. They were ready to prove to themselves and proved to each other what they can do."
The Jays drove from their own 26-yard line to the Pirates' 36 on the opening possession before Williams intercepted a Jacob Wilson pass in the middle of the field and returned it 16 yards to the 32.
Seven plays later, Williams barreled in from 5 yards out to give Hannibal a 7-0 lead. The big play was a 47-yard burst up the middle by Ferreira on the Pirates' second play from scrimmage.
After forcing Jefferson City to punt after just one first down, Hannibal needed just six plays to go 75 yards, with Willilams getting behind the secondary to haul in pass from Anders and race 54 yards for the score to make it 13-0 with 2:44 left in the first quarter.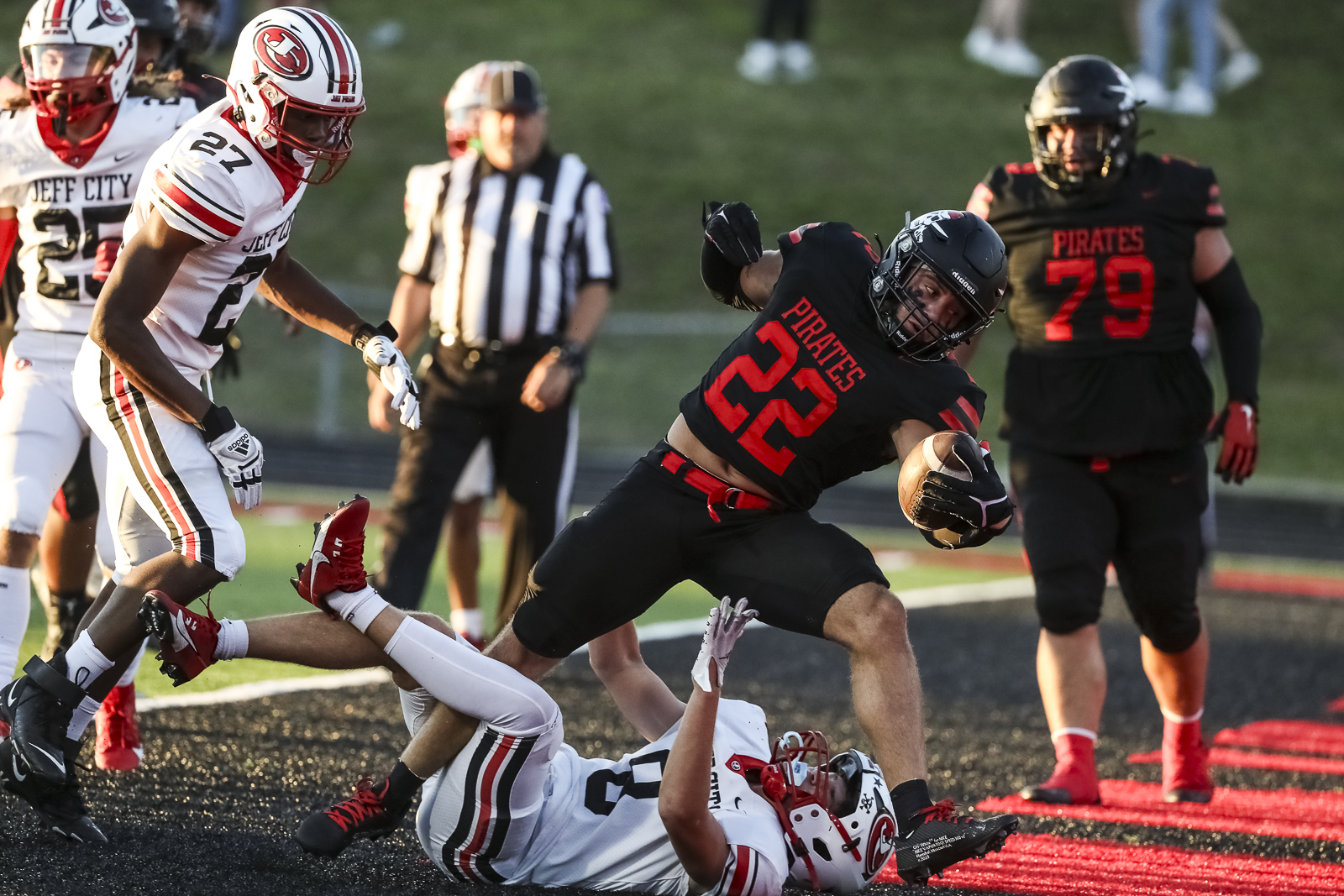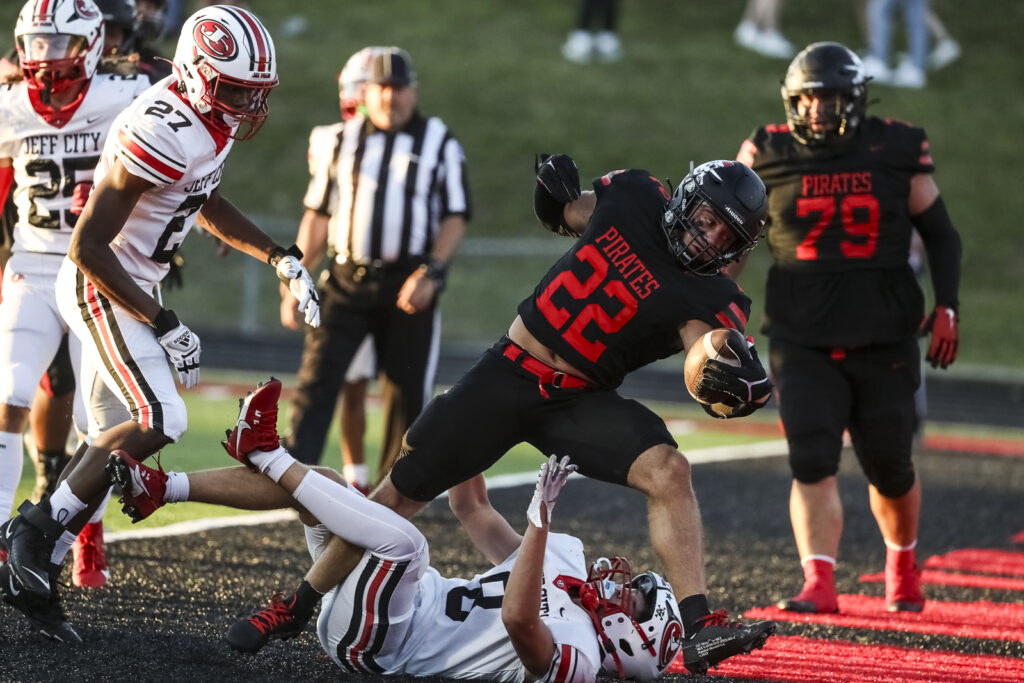 A failed onside kick attempt gave the Jays possession at their own 49, and they cut the deficit to 13-7 a little more than a minute into the second quarter when Wilson snuck in from a yard out to culminate a nine-play drive.
"A one-score game in the second quarter, we'll take that because you know one play and we're prepared to take the lead," Jefferson City coach Damon Wells said. "We knew coming in they're a quality football team. They're well coached, their kids play hard and they're a heckuva challenge.
"Probably the biggest challenge is their level of physicality. They have good athletes and skill kids, but it's their level of physicality that sets them apart."
The Pirates, tied for seventh in the initial Class 4 state poll, answered with a 12-play drive from their own 30 to the Jays' 24 before Ferreira fumbled. However, Wilson returned the favor on the next play when he mishandled an exchange with wingback Zach Barnes and Hannibal recovered.
Three plays later, Anders found Ashlin Sharkey with a 20-yard strike over the middle. Williams leaped over the line for the two-point conversion to make it 21-7. Anders completed 7 of 10 passing attempts overall to nearly triple his yardage output from Week 1.
"We thought we were gonna be able to come out and throw the ball a little bit," Gschwender said. "We found some open spots. By doing that, it allowed us to run the ball a little more in the second half and really control the game."
Hannibal made it 28-7 by driving 65 yards — all on the ground — on the opening possession of the second half, with Williams bouncing outside, breaking a couple of tackles and racing down the left sideline from 30 yards out for the score.
Then, after the defense forced a three-and-out, the Pirates drove 60 yards on 11 plays to make it 35-7 when Ferreira bolted up the middle to score from 17 yards out. The 6-foot junior was a workhorse, carrying the ball 28 times, mostly between the tackles.
"Having me and Mike in the backfield is like having a little one-two punch, you know," Williams said. "We're throwing just so many things at the defense they don't know who to put their eyes on. You can't just focus on me and load the box. You've got to stop Mike, too."
Jefferson City cut the deficit to 35-14 when Kendric Johnson hauled in a Wilson pass in the left flat, spun away from defensive back Dorian Turner and raced 58 yards down the sideline for a score with 1:05 left in the third quarter.
However, two plays later, Williams took an Anders swing pass from his own 40, broke one tackle, bolted down the right sideline and then cut back all the way across the field to score on the final play of the period to make it 42-14.
Williams finished with 74 yards rushing on 11 carries and 110 yards receiving on three catches.
"Once he gets past the first level, there's no telling what he's going to do," Gschwender said of Williams. "But it usually turns out pretty good."
A 17-yard touchdown run by Kantrell Jordan, who led the Jays with 104 yards on 15 carries, provided the final margin. The Pirates ran out the final 6:48, taking a knee three times after driving to the Jefferson City 4.
"We pretty much hit the restart button in practice and said, 'This is what we're going to do, and you guys are gonna buy in or you're not," Gschwender said. "The kids really responded. I was really proud."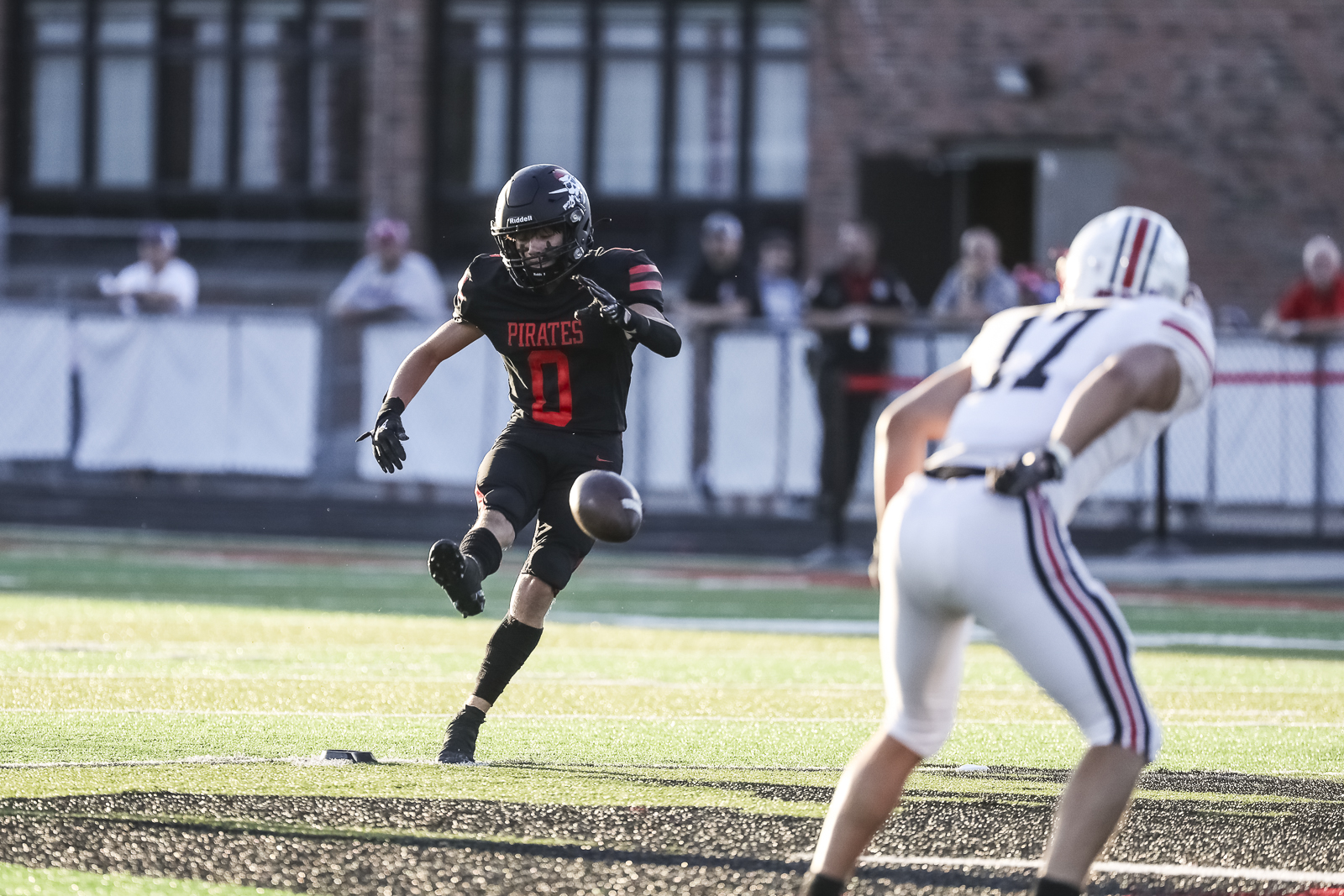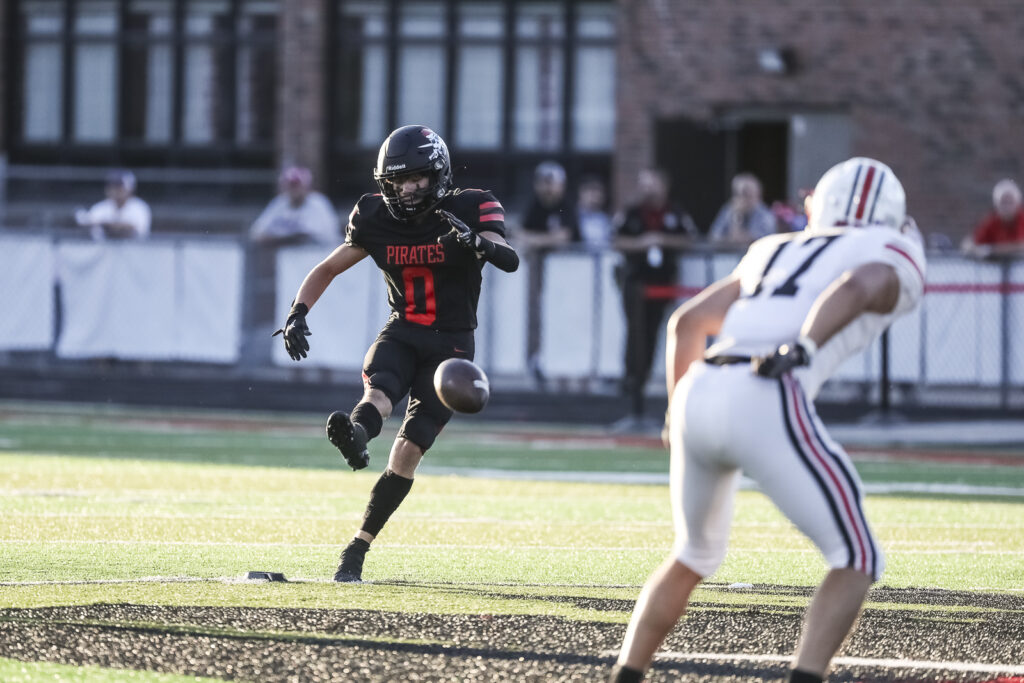 Miss Clipping Out Stories to Save for Later?
Click the Purchase Story button below to order a print of this story. We will print it for you on matte photo paper to keep forever.