Six area teams still in Illinois prep football playoff picture with two games remaining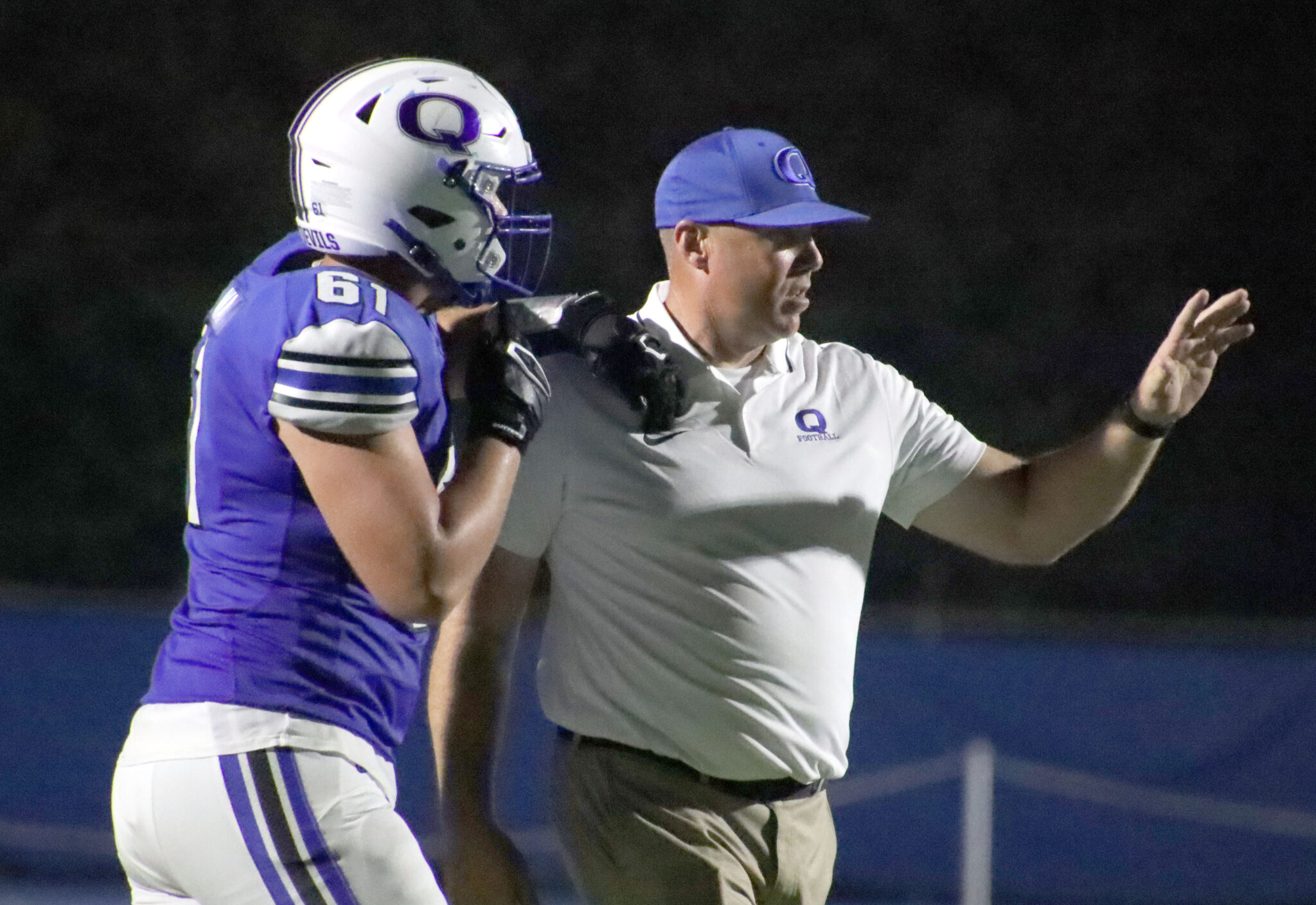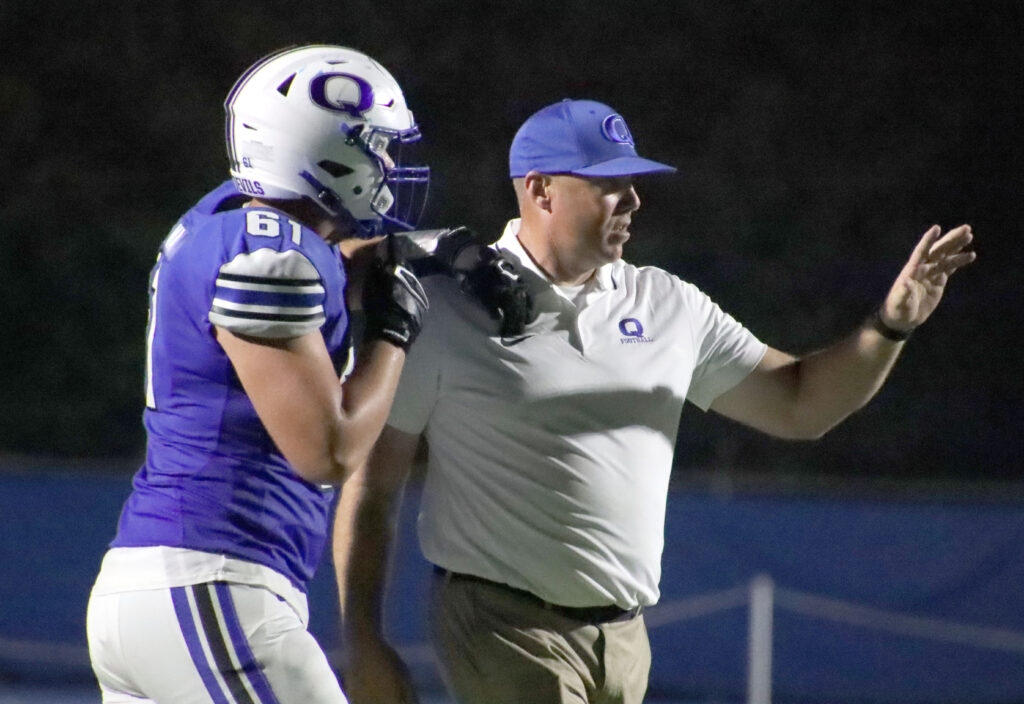 QUINCY — The Illinois prep football playoff picture is starting to gain some clarity.
Six teams in our area have qualified, should qualify or could qualify depending on what happens over the final two weeks of the regular season. Around the state, some coaches and other prognosticators are updating and changing brackets, opinions and thoughts almost on a daily basis.
So here's a deep dive into what we know and what could happen for our area teams:
Quincy High School
Record: 7-0 (5-0 Western Big 6 Conference).
Where things stand: The Blue Devils are guaranteed their 13th playoff appearance in program history and are trending toward a first-round home game. Quincy's classification remains in limbo. The Blue Devils have been considered a Class 7A team all season, but with an enrollment of 1,876, they teeter on the cutline between Class 6A and 7A.
Projections: Joliet Herald News Sports Editor Steve Soucie, Shaw Media's Friday Night Drive bracketologist, has the Blue Devils as the No. 4 seed in Class 7A's 32-team bracket and facing Wheaton Warrenville South in the first round.
What remains: The Blue Devils close the regular season with two home games, looking to go undefeated for the first time since 1935. Geneseo and Mahomet-Seymour are a combined 12-2, which suggests these should be playoff-caliber games.
Camp Point Central
Record: 7-0 (5-0 Western Illinois Valley Conference North Division).
Where things stand: The Panthers have wrapped up the WIVC North championship and the automatic playoff berth that comes with it, not that they need the automatic berth. Central had already guaranteed itself a 15th consecutive playoff appearance.
Projections: Soucie, among others, have Central as the No. 1 seed in the southern 16-team bracket in Class 1A.
What remains: No team on Central's schedule to date has more than four victories, but the final two weeks should be playoff primers. The Panthers travel to Carrollton this Saturday and play host to Winchester West Central in the finale. Both teams currently are 5-2.
Unity-Payson
Record: 4-3 (4-1 Western Illinois Valley Conference North Division).
Where things stand: The Mustangs' 35-0 whipping of Beardstown last week not only secured second place in the division, but it opened the path for a six-win season and a better playoff seed. Unity-Payson has to win its final two games to be guaranteed a playoff berth.
Projections: Soucie currently has the Mustangs as a No. 12 seed in the northern bracket in Class 2A and squaring off against Knoxville in the first round.
What remains: The Mustangs should finish 6-3 based on the final two opponents. Pleasant Hill and North Greene are a combined 1-13, have allowed a combined 541 points and the only victory between them came in a game against each other with Pleasant Hill winning 28-14.
Macomb
Record: 3-4 (3-3 Lincoln Trail-Prairieland Conference).
Where things stand: The Bombers' loss last week to Elmwood-Brimfield appears to be detrimental. Victories in the final two weeks will get Macomb to five victories, but the Bombers lost any safety net by stumbling in Week 7 to a team that had only one victory coming in.
Projections: Soucie dropped the Bombers out of the Class 4A bracket this week, but should the Bombers fight their way in, they are looking at a trip to either Murphysboro or Rochester.
What remains: The Bombers finish with two road games, but this week determined everything. They travel to Mercer County, which beat Illini West last week to improve its playoff stock and move to 4-3. Week 9 is a trip to Havana, which is 0-7.
Illini West
Record: 3-4 (2-4 Lincoln Trail-Prairieland Conference).
Where things stand: The Chargers have to fight their way into the postseason fracas by winning the final two weeks. Back-to-back losses on the road put them in this predicament, but a path to their first playoff appearance since 2018 exists. It takes two victories.
Projections: Soucie penciled the Chargers in as a No. 13 seed in the northern bracket in Class 2A and facing a road trip to Wilmington. If Illini West gets in, it will be on the road.
What remains: The Chargers will be favored the final two weeks with a home game against West Hancock and a road trip to Moweaqua Central A&M. Those opponents have a combined three victories and are out of playoff contention.
Quincy Notre Dame
Record: 2-5.
Where things stand: It's a longshot, but the Raiders could still get in the playoffs. It's not inconceivable for a 4-5 with a high number of playoff points to wriggle its way into the field. Last year, one 4-5 team (Buffalo Grove) made the playoffs. It was one of two times at least one 4-5 team made the playoffs since Illinois went to eight classes in 2000. In 2019, three five-loss teams made the playoffs. The Raiders also have 39 playoff points. Only three schools in the 256-team field last year had 50 or more playoff points. QND could hit that mark.
Projections: Soucie does not have the Raiders sneaking into the playoffs, but other projections have QND as the No. 16 seed in the southern bracket in Class 2A.
What remains: The Raiders have two home games against St. Louis area teams with losing records. St. Louis Soldan (0-7) visits Advance Physical Therapy Field this week, with John Burroughs (3-4) making the trip next week. Win both and hope.
Miss Clipping Out Stories to Save for Later?
Click the Purchase Story button below to order a print of this story. We will print it for you on matte photo paper to keep forever.