Game night guide: Illinois teams make final playoff push, Missouri squads look for momentum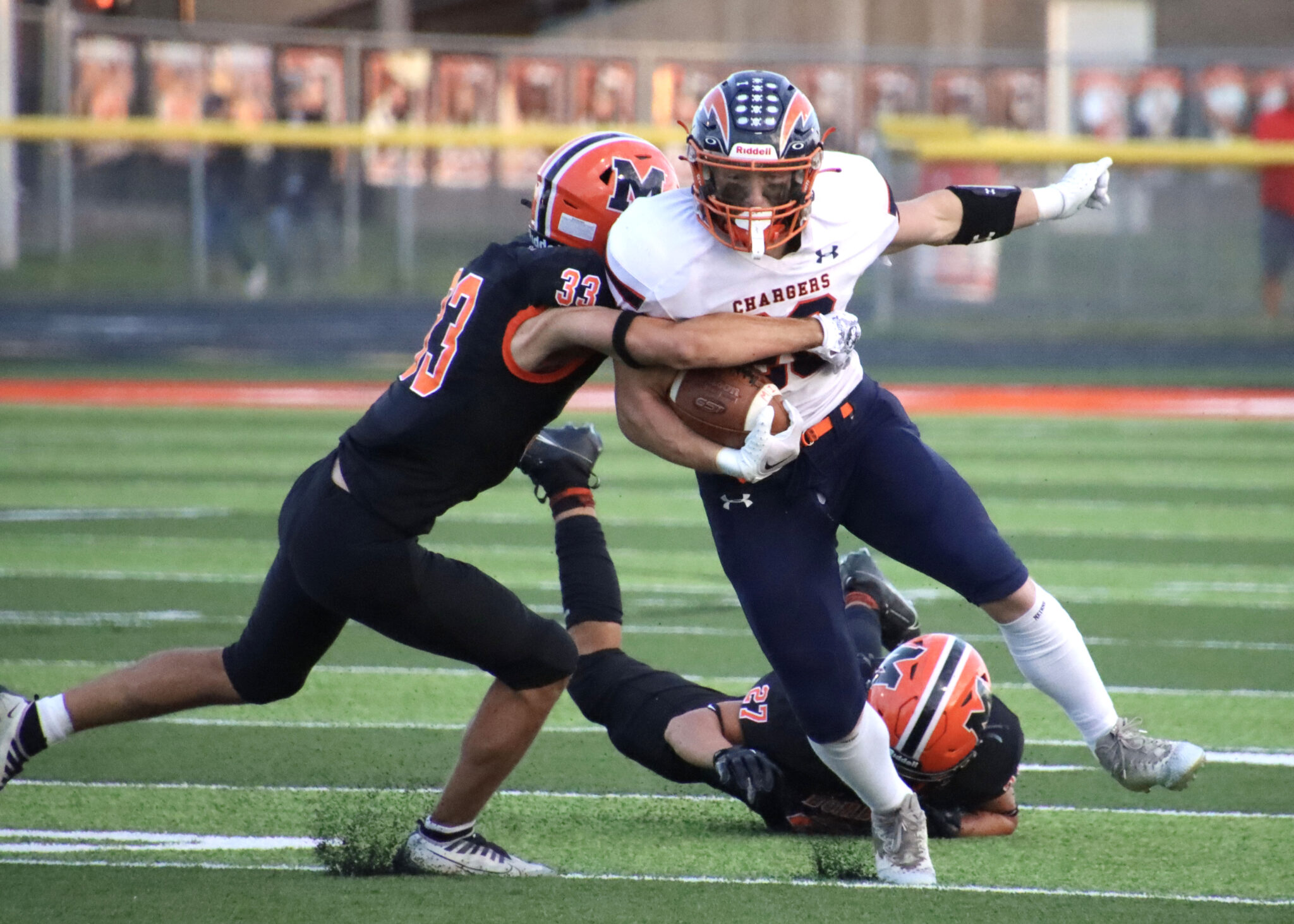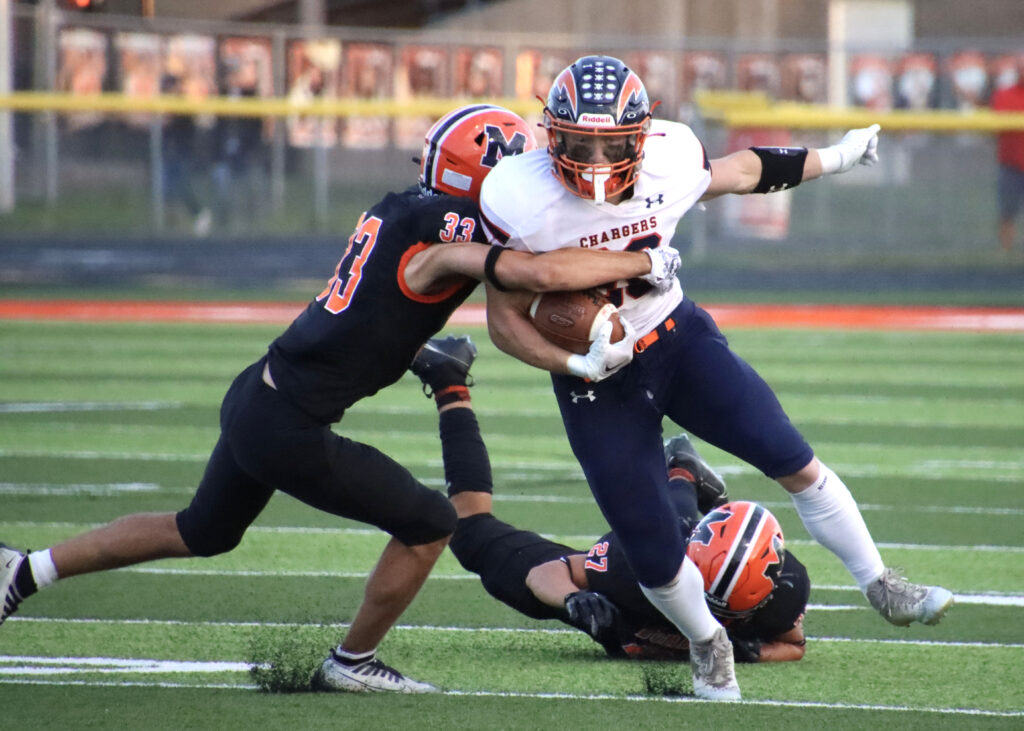 QUINCY — Some of the postseason drama that comes with Week 9 has been eliminated already, although a couple of Illinois prep football teams need victories to enhance their postseason prospects.
Here is a look at what's on tap this week:
Mahomet-Seymour (7-1) at Quincy High School (8-0), 7 p.m.
Did you know?: The Blue Devils moved up to No. 5 in the Class 7A state poll this week, while the Bulldogs slid into the Class 5A poll at No. 10. Quincy is looking to put the finishing touches on the first 9-0 season since 1935. QHS junior quarterback Bradyn Little already has broken the single-season touchdown passes record with 31 scoring tosses.
John Burroughs (4-4) at Quincy Notre Dame (3-5), 7 p.m.
• No livestream or radio
Did you know?: The Raiders are looking to end the regular season on a three-game win streak. Although there remains a slim chance QND earns a postseason berth with a victory, it's more likely the Raiders' run of three straight playoff appearances ends.
Hannibal (7-1) at Columbia Battle (3-5), 7 p.m.
Did you know?: Pirates senior all-purpose back Aneyas Williams has 10 receiving touchdowns on just 25 receptions. The Pirates are averaging 45.5 points and 467 yards per game. Junior quarterback Waylon Anders has thrown just two interceptions while tossing 16 touchdown passes.
Winchester West Central (6-2) at Camp Point Central (8-0), 7 p.m.
• Central Illinois Sports on YouTube
Did you know?: The Panthers are looking to cap their fifth undefeated regular season in Brad Dixon's 13 seasons as head coach. Central will be making its 15th consecutive playoff appearance and is doing so with incredible balance. Five Panthers have rushed for 250 or more yards with no one rushing for more than Drew Paben's 670 yards. Six players have four or more rushing touchdowns.
Unity-Payson (5-3) at North Greene (0-8), 7 p.m.
• Unity Mustangs Sports Network on YouTube
Did you know?: The Mustangs will be making their fourth consecutive playoff appearance, the longest stretch in program history. Unity-Payson will also be looking for just the third playoff victory in program history.
Brown County (2-6) at Pleasant Hill (1-7), 7 p.m.
• BC Hornets Sports on YouTube
Did you know?: This will be just the third time since 2004 the Hornets have missed the playoffs. The Wolves have not beaten a team other than North Greene since 2017.
Illini West (4-4) at Moweaqua A&M (3-5), 7 p.m.
Did you know?: The Chargers will qualify for the postseason for the first time since 2018 with a victory. The program went to the playoffs 24 consecutive years from 1991-2014 and again three straight from 2016-18, winning 56 playoff games and six state championships.
Macomb (3-5) at Havana (0-8), 7 p.m.
• TSSR Game Time Live on YouTube
Did you know?: After back-to-back playoff appearances in Tanner Horrell's first two seasons as head coach, the Bombers will miss the postseason. However, junior quarterback Braden Holthaus, sophomore wide receiver Drew Watson and freshman linebacker Drake May all return.
Mercer County (5-3) at West Hancock (1-7), 7 p.m.
• TSSR Game Time Live on YouTube
Did you know?: The Titans' record is deceiving. West Hancock has scored three or more touchdowns in six games, including a 67-point effort against Lewistown and a 30-point effort against Macomb. Titans junior quarterback Gavin Grothaus could reach 2,000 yards passing for the season this week.
Pittsfield (1-7) at Riverton (0-8), 7 p.m.
• Central Illinois Sports on YouTube
Did you know?: The Saukees have lost seven consecutive games to start each of the past two seasons and have a chance to carry a two-game win streak into the offseason for the second straight year. Junior running back Jesse Davidsmeyer rushed for 211 yards and three touchdowns in last week's victory over Petersburg PORTA.
Palmyra (2-6) at South Shelby (8-0), 7 p.m.
Did you know?: The Cardinals are looking to put the wraps on their first Clarence Cannon Conference championship in almost two decades and first undefeated regular season in almost a quarter century. Meanwhile, the Panthers are hoping to build momentum for district play. Palmyra blasted Highland 44-0 last week, and it has been within at least three scores of every opponent the last six weeks.
Monroe City (6-2) at Clark County (5-3), 7 p.m.
Did you know?: The Panthers are hoping to solidify the No. 3 seed in a loaded district that includes two undefeated, state-ranked teams in Bowling Green and South Shelby. Monroe City has rebounded from back-to-back losses by winning three consecutive games, scoring 36 or more points in each of those three games.
Brookfield (4-4) at Highland (3-5), 7 p.m.
• No livestream
Did you know?: Two teams battling in the middle of the Clarence Cannon Conference each want to build postseason momentum. For the Cougars, that means changing a recent trend. After winning three of their first five games, the Cougars have scored just six points the past three weeks, getting outscored 156-6.
Mark Twain (1-7) at Van-Far (4-4), 7 p.m.
• No livestream
Did you know?: The Tigers suffered a 28-20 loss to South Callaway last week, the closest they have played any opponent in their seven losses.
Miss Clipping Out Stories to Save for Later?
Click the Purchase Story button below to order a print of this story. We will print it for you on matte photo paper to keep forever.