Game night guide: Conference titles, playoff positioning raise stakes for Week 8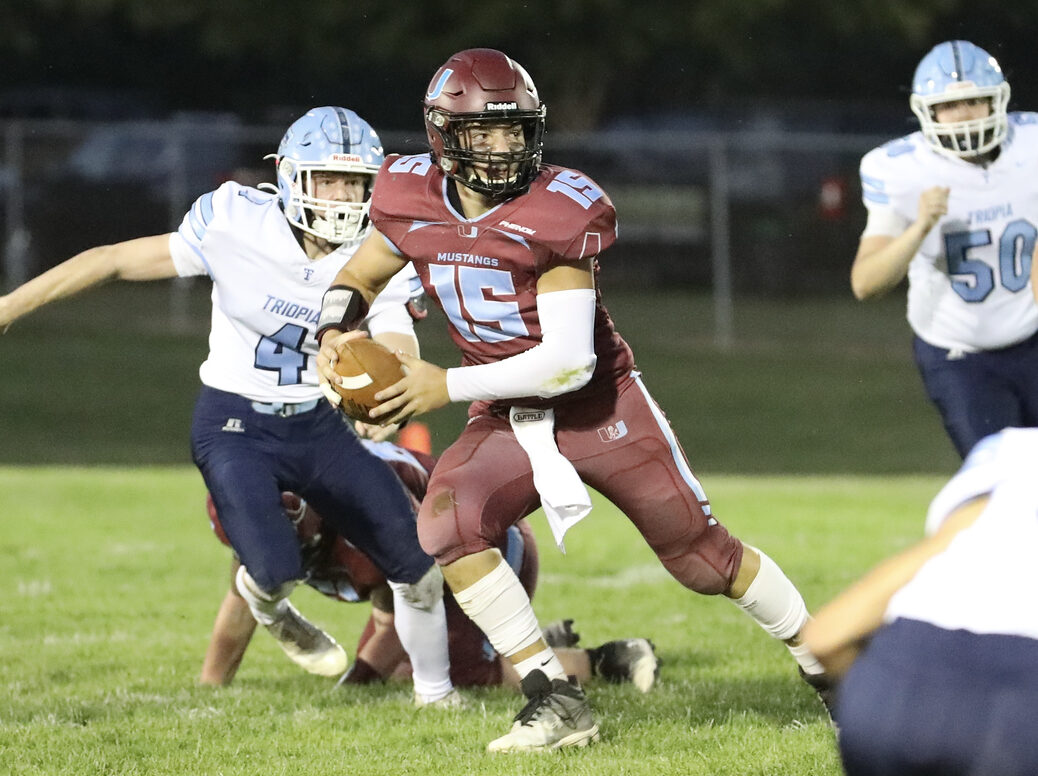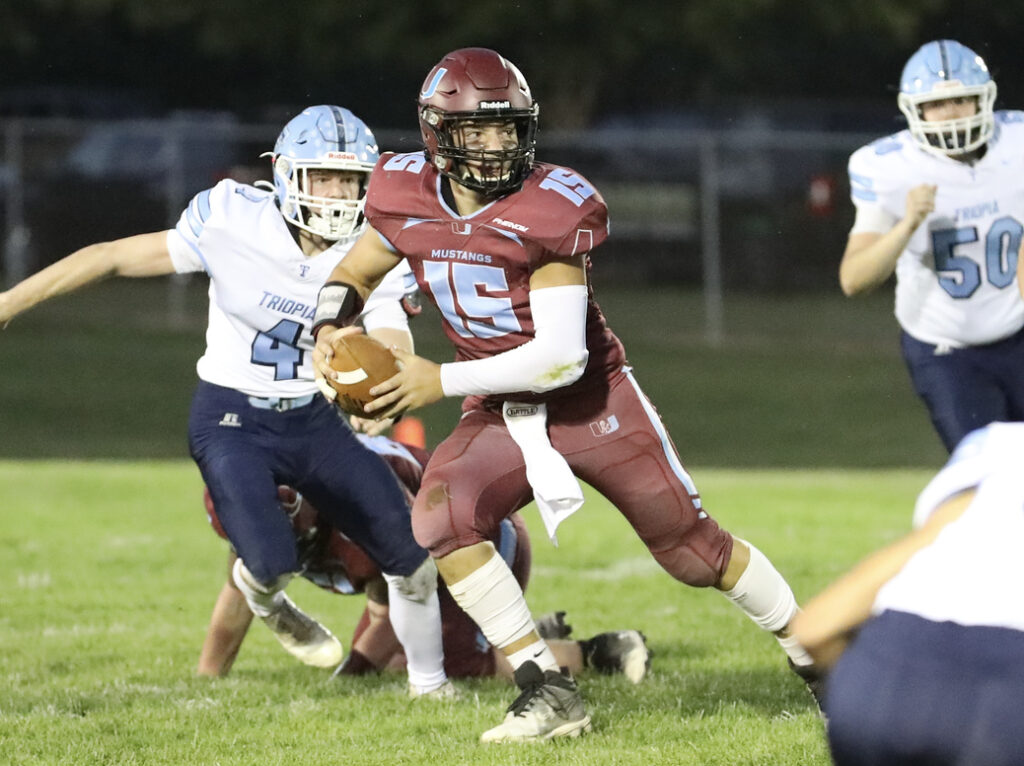 QUINCY — Conference championships. Playoff qualifiers. District seeding. Week 8's importance is at a high level across the board for Illinois and Missouri prep football teams. Here is a look at this weekend's slate:
Friday's games
Geneseo (6-1, 3-1 WB6) at Quincy High School (7-0, 5-0 WB6), 7 p.m.
Did you know?: A victory gives the Blue Devils the Western Big 6 Conference title outright. They haven't won a league championship since 2016 and own only five WB6 crowns in school history. No QHS team has been 8-0 since 1935. Geneseo can forge a tie for the WB6 title with a victory and another win next week at home against Rock Island. QHS junior quarterback Bradyn Little is 13 yards shy of 2,000 yards passing this season, while junior running back Jeraius Rice Jr. is 3 yards shy of a 1,000-yard rushing season.
St. Louis Soldan (0-7) at Quincy Notre Dame (2-5), 6 p.m.
• No livestream
Did you know?: After scoring 52 points in its first four games, QND has scored 117 points in its last three games, highlighted by an improved running game. The Raiders have averaged 193.3 yards rushing per game the last three weeks with junior running back Ivan Hun toting the ball 68 times for 453 yards.
Marshall (2-5) at Hannibal (6-1), 7 p.m.
Did you know?: The Pirates are looking to finish their North Central Missouri Conference slate 5-0 and win their third consecutive conference crown. Hannibal has won 16 consecutive NCMC games and has outscored its four NCMC opponents this season 219-21.
Pleasant Hill (1-6) at Unity-Payson (4-3), 7 p.m.
• Unity Mustangs Sports Network on YouTube
Did you know?: The Mustangs will qualify for the playoffs with five victories by winning the Western Illinois Valley Conference crossover game. Unity-Payson finished second in the WIVC North with a 4-1, losing only to No. 2-ranked Camp Point Central. The two programs haven't met since 2019 when the Mustangs won 47-22. The Wolves last beat the Mustangs 48-7 in 2017 when Pleasant Hill reached the Class 1A playoffs and finished 5-5.
Calhoun (4-3) at Brown County (2-5), 7 p.m.
• BC Hornets Sports on YouTube
Did you know?: The Hornets have continued to battle and fight despite losing four players to knee injuries during the season, including quarterback Tyce Fullerton. Last week's 39-30 loss to Jacksonville Routt was one of three 10-point games the Hornets have played this season. Senior running back Angel Duarte rushed for a single-game school record 278 yards against Routt.
Macomb (3-4) at Mercer County (4-3), 7 p.m.
Did you know?: The Bombers have put themselves in a challenging position. Last week's loss to Elmwood-Brimfield, which had one victory coming into Week 7, means Macomb has to win its final two games to reach the playoffs for the third straight season. Week 9 is a trip to winless Havana, which has allowed 224 points this season.
West Hancock (1-6) at Illini West (3-4), 7 p.m.
Did you know?: The battle for Hancock County supremacy includes a lot of intrigue. The Chargers need to win their final two games to become playoff eligible for the first time since 2018, while the Titans look to build on their string of strong efforts. Not only did West Hancock beat Lewistown 67-8 two weeks ago, but they played with Macomb and Knoxville into the fourth quarter in two of the past four weeks. Titans junior quarterback Gavin Grothaus has completed 66 percent of his passes for 1,488 yards and 16 touchdowns.
Petersburg PORTA (1-6) at Pittsfield (0-7), 7 p.m.
• Central Illinois Sports on YouTube
Did you know?: The Saukees are trying to avoid going 0-9 for only the second time in more than a century. The 2017 team finished 0-9, allowing 50 or more points five times. Since joining the Sangamo Conference in 2014, Pittsfield has gone 15-69 and won more than two games in a season only once.
Centralia (7-0) at South Shelby (7-0), 7 p.m.
Did you know?: This is the de facto Clarence Cannon Conference championship game. Both teams are state-ranked in their respective classes — Centralia No. 4 in Class 3, South Shelby No. 7 in Class 2 — and both have been juggernauts. The Cardinals are averaging 51.6 points per game and allowing just 6.3 points. The Panthers are averaging 38.4 points and allowing 14 points. Both teams wrap up CCC play in Week 9 against opponents with a combined record of 1-13.
Highland (3-4) at Palmyra (1-6), 7 p.m.
Did you know?: Both teams are looking to improve their district seeding and avoid a first-round matchup with either state-ranked Bowling Green or South Shelby. After winning three of their first five games, the Cougars have scored just six points the past two weeks in losses to Clarence Cannon Conference titans Centralia and South Shelby. The Panthers have been competitive the past five weeks, averaging 27.2 points in that stretch.
Monroe City (5-2) at Macon (0-7), 7 p.m.
Did you know?: The Panthers moved up to Class 2 this season and will face a loaded district, so generating as much momentum as possible is critical. Monroe City has won back-to-back games since losing back-to-back weeks to South Shelby and Centralia.
South Callaway (4-3) at Mark Twain (1-6), 7 p.m.
• No livestream
Did you know?: The Tigers suffered a 65-0 loss to Bowling Green last week have averaged just 11.3 points in their six losses.
Saturday's game
Camp Point Central (7-0) at Carrollton (5-2), 1 p.m.
• Central Illinois Sports on YouTube
Did you know?: Getting tested the final two weeks of the regular season proved to be a springboard for the 2018 Central team, which beat Greenfield-Northwestern and Carrollton 82-38 and then powered its way to a state runner-up finish. Last year, the Panthers won their final two games 110-12 ahead of a state runner-up finish. This year, the tests seem tougher with a pair of opponents currently sitting at 5-2.
Miss Clipping Out Stories to Save for Later?
Click the Purchase Story button below to order a print of this story. We will print it for you on matte photo paper to keep forever.