Friday Night Lights rewind: First victory shows Palmyra continues to 'do simple better'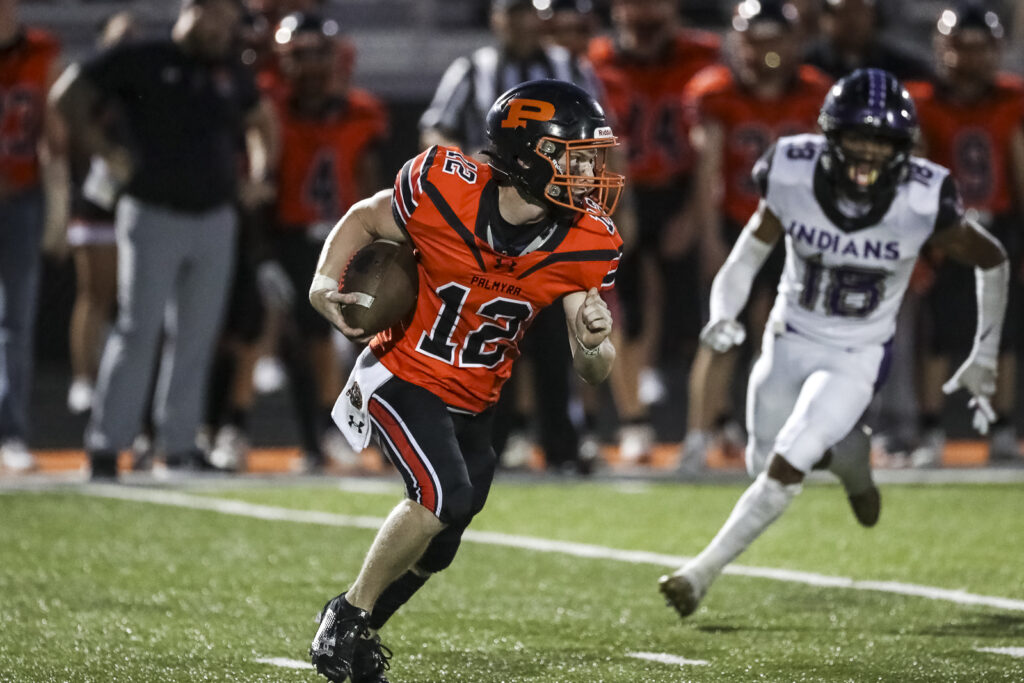 QUINCY — Emotions ran the gamut during Week 4 of the high school football season, from elation over first victories to relief courtesy fourth-quarter survival to grief born of losing a teammate and friend.
Add a sense of pride to that list for Palmyra coach Dalton Hill, who is watching the Panthers mature week by week by sticking to one basic philosophy.
Keep it simple.
"When I say do simple better or focus on the basics better, I think we just have to keep getting better at the small things," said Hill, the first-year coach who watched the Panthers win their first game of the season with last Friday's 34-20 victory at Macon. "The small things add up into big things."
Hill rattled off a litany of small things he looks at to assess progress.
"For example, with pass protection, are we sitting back as offensive linemen and kicking with our right foot?" said Hill, who started as an offensive lineman at Northwest Missouri State. "It's about striking with independent hands, knowing our assignment. For the quarterback, it's executing throwing mechanics and knowing our routes."
He pointed to two or three things at every position that matter. Hill and the rest of the Palmyra staff are able to concentrate on those because the Panthers have stayed committed despite losing the first three weeks
"It's their mentality, their buy-in, the give-a-crap factor," Hill said. "At the beginning, some guys were discouraged or maybe they were half-in, half-out-the-door type of guys. As we've progressed, the buy-in has been great. … Overall, the attitude has gotten better as we've moved on."
So has the play.
In Week 3, Palmyra pushed state-ranked Centralia for four quarters, ultimately losing 35-24. Palmyra had lost its first two games by a combined score of 90-14.
"We were hard on them after that loss," Hill said. "We see the potential in this group. We can get some wins in the 'W' and do things the right way. So we were hard on them. We talked about the mistakes like turning the ball over three times and leaving eight points off the board.
"It could have been different if we had done some things differently, and we showed them that. Ultimately, we kept that fire in them and it drove us into Macon."
Palmyra built a 26-6 halftime lead at Macon and utilized a variety of offensive weapons to finish off the 14-point victory. Wyatt Augsburg scored three touchdowns — a 1-yard run, a 37-yard pass and a 68-yard kickoff return — while Aaron Ritchey rushed for 161 yards and a touchdown on 28 carries.
"It's a big step in our program," Hill said. "We're excited to hopefully keep the momentum rolling week to week. That's my biggest thing to talk about with these guys — keep climbing the mountain, perfecting the small things and doing simple better. It comes down to doing your job, doing you one-eleventh, being disciplined and good things will happen."
Palmyra (1-3) plays at Brookfield (1-3) this week before returning home for the Mayor's Cup game against Monroe City on September 29.
Bombers finish victory over Titans
The challenge of playing hours after the funeral of a teammate turned into three days of waiting for an ending, but the Macomb football team kept its composure and ultimately finished off a 40-30 victory over West Hancock on Monday night.
Last week, Macomb freshman Landon Cromer died from injuries sustained in an automobile accident, and last Saturday morning, the Bombers attended his funeral as a team. They then headed to Hamilton for West Hancock's homecoming game, only to have it suspended at halftime due to weather.
So they came back Monday with a 26-20 lead, which the Bombers built upon to take a three-score advantage. Two interceptions by Jack Beal punctuated the victory and moved the Bombers to 3-1 overall.
Chargers bounce back with victory
So far, the Illini West football team has had a bounce-back mentality.
The Chargers would like to change the need for that this week.
Coming off a loss at Macomb in Week 3, Illini West shut out South Fulton 32-0 at Fuzz Berges Field last Saturday to improve to 2-2. The Chargers also rebounded from a Week 1 loss to Farmington by beating Elmwood-Brimfield 34-14.
Defense dominated Saturday's game with the Chargers forcing five turnovers and using a workmanlike run game to grind the clock. Nick Johnson scored twice and Ian Bentzinger had a 48-yard touchdown run.
The Chargers are at home Friday night against winless Lewistown, looking for back-to-back victories for the first time this season.
Quote of the week
"Time to go get two, three, four, five and six. Get as many as we can." — Quincy Notre Dame senior center Ben Schwartz after the Raiders earned their first victory of the season last Saturday by beating Lift for Life Academy 20-6.
Miss Clipping Out Stories to Save for Later?
Click the Purchase Story button below to order a print of this story. We will print it for you on matte photo paper to keep forever.