'Sometimes it's a bounce, sometimes it's just luck': Coakley's putback beats buzzer and Panthers as Hawks rally for GLVC victory
QUINCY — Paul Zilinskas never saw what happened after he released his shot.
JJ Schwepker's reaction told him all he needed to know.
With two seconds remaining in regulation Monday night and the Quincy University men's basketball team trailing Drury by a point, Zilinskas caught an inbounds pass while moving toward the basket. He collided with the Panthers' Brock Wakefield and threw an off-balance shot at the rim.
"I fell on the ground and someone fell on top of me," Zilinskas said. "I looked and saw JJ scream. I thought JJ (who also was on the ground) had made it because he was screaming like crazy. I get up and I hug him and I ask what happened. He told me (Jamaurie Coakley) laid it in for the win. I just went crazy."
Zilinskas' shot caromed off the bottom of the rim and directly to Coakley, who had inbounded the ball and stepped into the lane unabated. His putback beat the buzzer, salvaging an 84-83 victory in Great Lakes Valley Conference play at Pepsi Arena.
It kept the Hawks (11-6, 7-2 GLVC) tied for first place in the league standings with Indianapolis after going 2-1 on a three-game homestand.
"Sometimes it's just a bounce," Quincy coach Steve Hawkins said. "It's not always strategy. Sometimes it's a bounce, sometimes it's just luck."
Both went QU's direction.
"Sometimes it's not the first shot that beats you," Zilinskas said. "It's the second shot."
The second shot was a dagger. The Hawks spilled onto the court to celebrate Coakley's putback until they were pulled back to the bench and were forced to endure an excruciatingly long video review.
"We knew it was good," said Quincy's Zion Richardson, who scored a career-high 25 points while going 5 of 7 from 3-point range. "I looked over to see the ref count it, and we just went crazy. Even when they pulled us back, we knew it was good."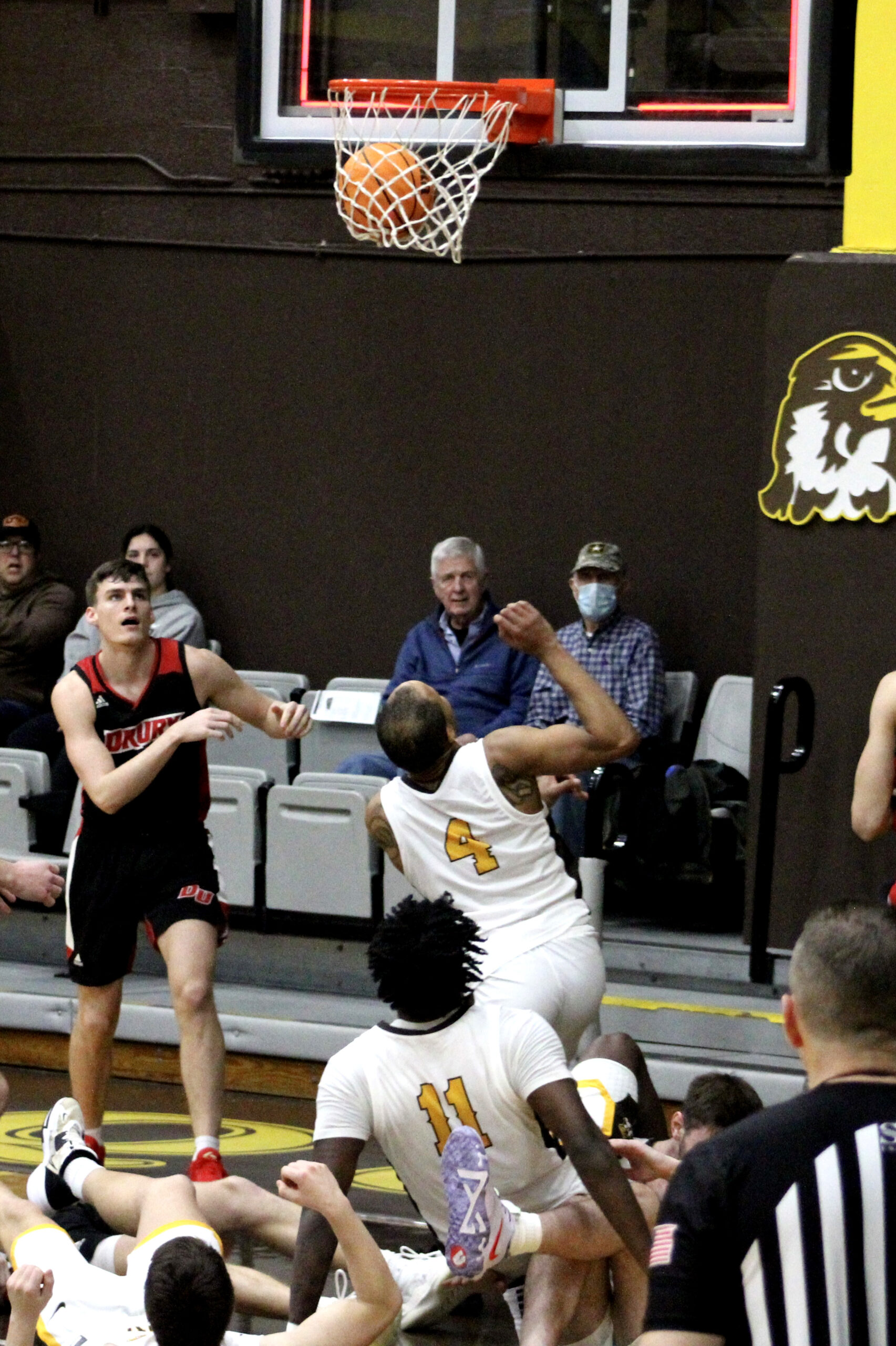 The three game officials — Eric Dust, Nate Gamet and Ryan Odneal — immediately signaled for the shot to count and a split-second later signaled for a review. They viewed the footage multiple times, resorting to using a stopwatch to time the play themselves. Each stopwatch review showed the shot leaving Coakley's hand in 1.97 seconds or less.
"When they took the stopwatch to it, that's when I really knew it was good," Hawkins said. "I was like, 'OK, they're checking time. They're not checking anything else.'"
Indeed, the shot was good and Drury was out of time.
"It was crazy," Coakley said. "I still haven't even processed it through my head yet."
The lengthy review gave the Hawks time to set up a defense in case the officials added any time to the clock, but it also gave them time to consider the Panthers spoiling everything.
"I was thinking none of this even matters if they came down and threw up a Hail Mary of some sort and somehow made something happen," said Coakley, who finished with five points, five rebounds and seven assists. "That would have been painful."
The review was painful enough.
"The anticipation was just building," said Zilinskas, who scored 20 points. "Coach was trying to keep us composed and drawing up a defensive scheme for us to tip the ball away just in case they had time for a play. The anticipation was building and then we saw he signaled the shot good and game over. A Quincy win."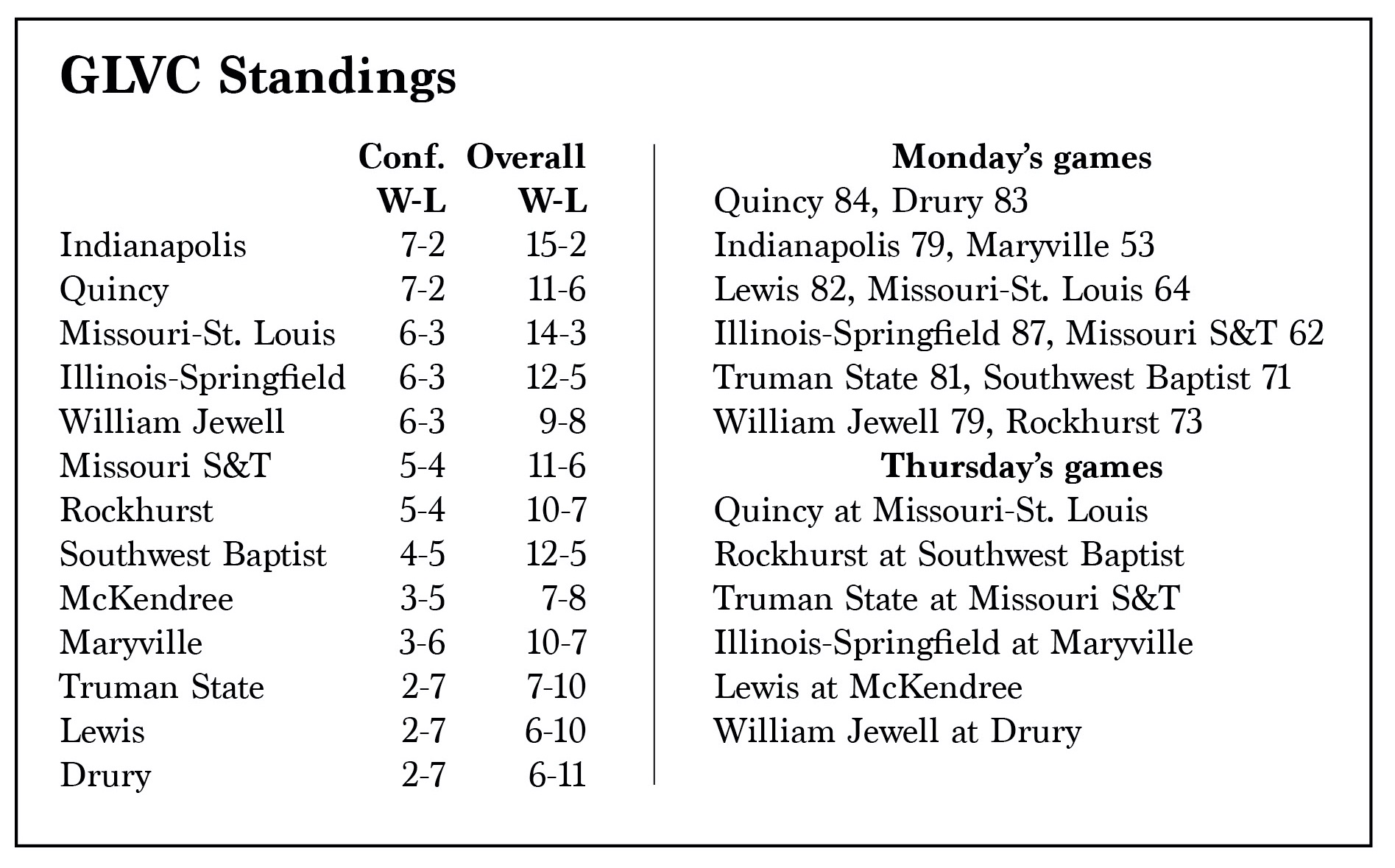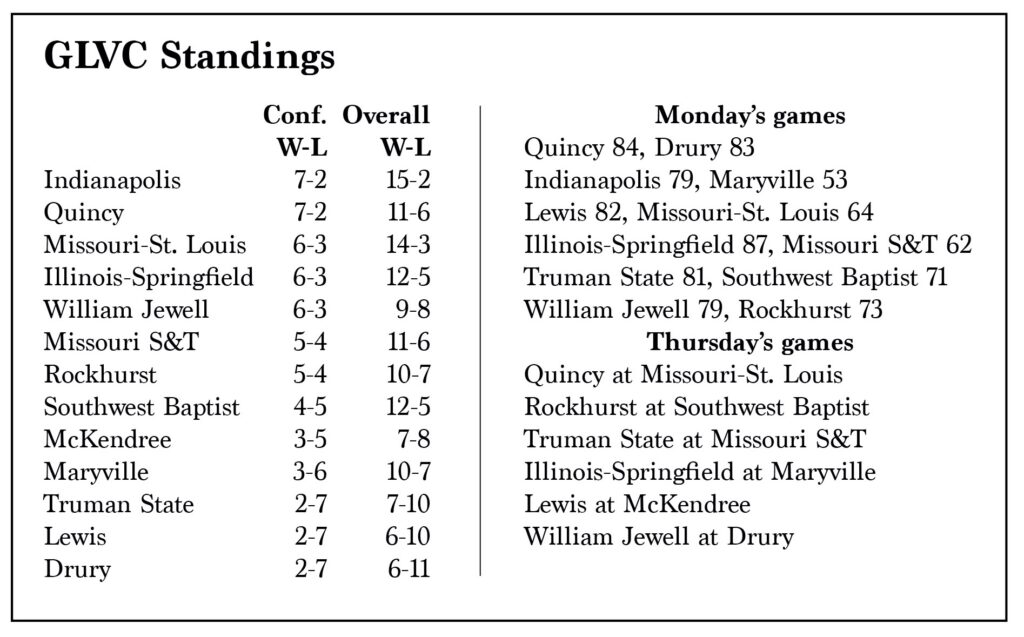 The play benefitted from two calls made in the aftermath of the Panthers taking the lead.
Quincy led 82-80 with 27 seconds remaining after Zilinskas scored in the paint, but Drury guard Logan Applegate buried a 3-pointer from the right corner with 7.3 seconds to play. The Hawks quickly got the ball into the frontcourt and freshman Isaiah Foster drove the right side of the lane with Applegate blocking his shot out of bounds.
Officials reviewed the play and added two-tenths of a second to the clock, giving the Hawks two full seconds instead of the 1.8 the clock showed after the block.
Then, before the Hawks could inbound the ball, the Panthers' Brady O'Connell stepped over the endline, resulting in a delay of game warning. The move backfired.
"Before the delay, the play looked kind of like it wasn't going to be open," Coakley said. "We got a second chance to run the play, and the second time Paul was open. He was just wide open. When he went up, I thought it was going to be a clear good bucket for him. He was right there.
"I thought it was going to be an easy one, which it wasn't. I just happened to be in the right spot at the right time."
That was good enough for the Hawks to avoid back-to-back losses. Having had their six-game win streak snapped last Saturday with an 81-79 loss to Southwest Baptist, the Hawks rebounded with contributions from everyone, especially with leading scorer Malik Hardmon sidelined with an ankle injury.
"(Hawkins) is preaching it's not about taking a loss," Richardson said. "It's how you respond."
The Hawks responded with a gutsy effort.
"Everybody stepped up," Richardson said. "Everybody was ready. The bench was engaged. Our whole program was in it."
With a stiff test looming Thursday at Missouri-St. Louis, which was 11th in the NCAA Division II national poll before suffering back-to-back losses to Indianapolis and Lewis, the Hawks needed to get re-engaged. The Tritons (14-3, 6-3 GLVC) are 8-0 this season at the Mark Twain Building, a place the Hawks haven't won since 2008.
Miss Clipping Out Stories to Save for Later?
Click the Purchase Story button below to order a print of this story. We will print it for you on matte photo paper to keep forever.