Same old situation? Hawks say not at all despite Eagles' late TD costing them season opener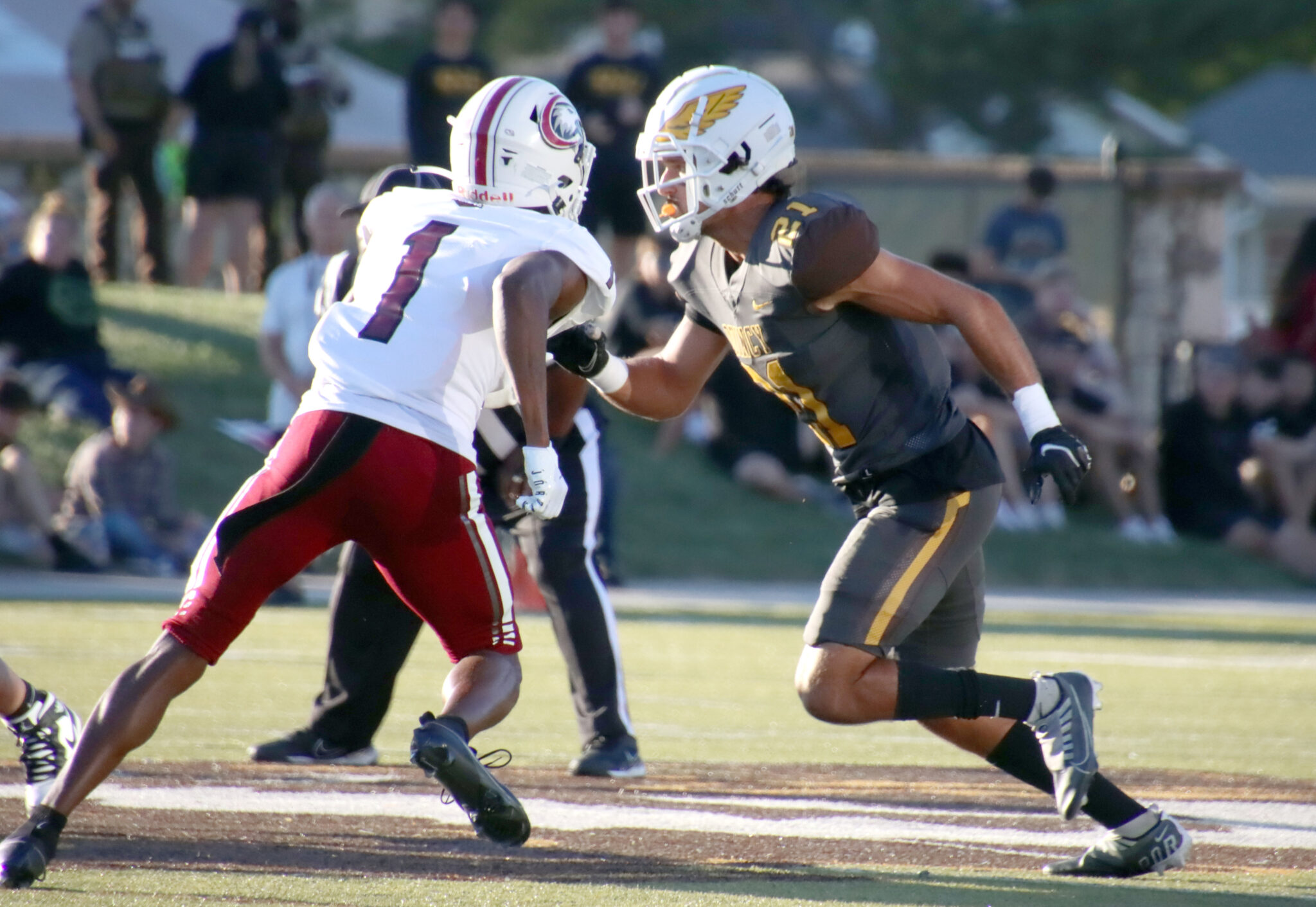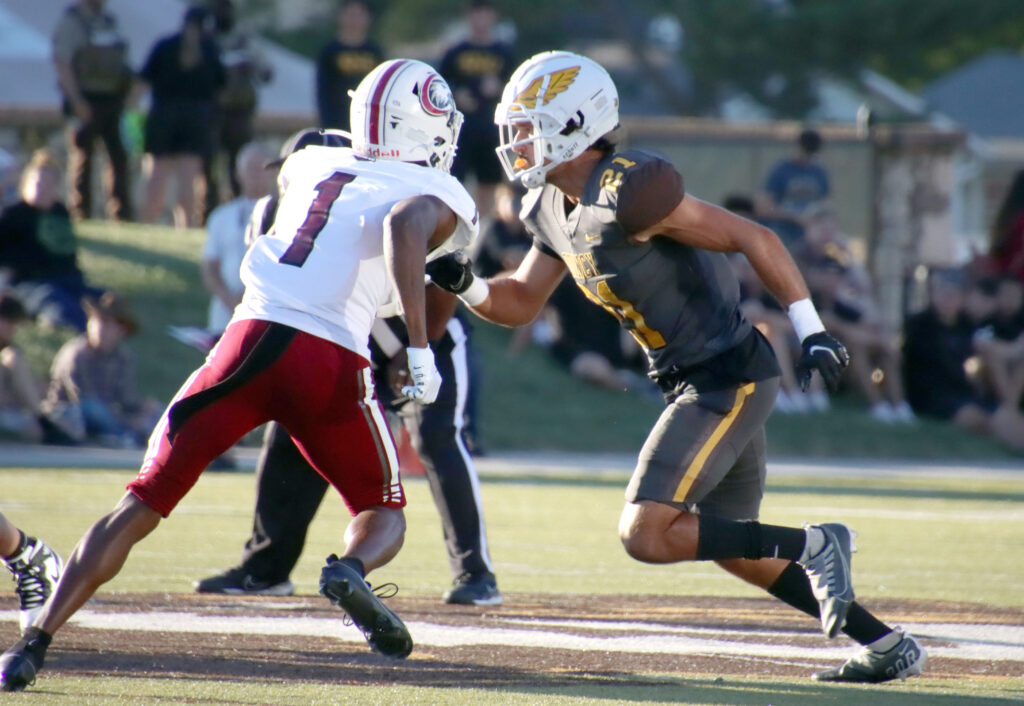 QUINCY — Some may see it as the same old song and dance.
Jackson Connell insists it's a different tune, and he's been around the Quincy University football program long enough to know the difference.
Sure, the self-inflicted wounds responsible for allowing Chadron State to sneak out of QU Stadium on Thursday night with a season-opening 35-34 victory were reminiscent of the Hawks' past struggles. But the determination necessary to erase a 22-point first-half deficit and the confidence to take the lead in the fourth quarter suggest it's a new era.
Eliminate the miscues and it might truly be that way.
"The overall effort is something I haven't seen in my six years here," said Connell, the graduate student linebacker and Quincy Notre Dame graduate. "Most years, when we get down a couple touchdowns, we just crumble and start pointing fingers. That didn't happen.
"I've never seen something that special where we fought for each other, fought for our coaches, fought for everyone. We had a few plays we wish we could change that led to that final score, but in the end, we gained something from that game that showed us what this season could be."
Cleaning up the mistakes that gave Chadron State good field position are critical.
The Hawks fell behind 22-0 with 2:22 remaining in the first quarter as a combination of poor punts, penalties and missed assignments led to three touchdowns. The Eagles' Tommy Thomas scored on a 39-yard run, Jeydon Cox powered in on a 2-yard run and Ahlonte Hair hauled in a 17-yard touchdown pass put the Hawks on their heels.
"We just can't hurt ourselves like that," said QU coach Gary Bass, who was not on the sideline during the third quarter to address a medical issue in the locker room but returned for the fourth quarter. "We dug ourselves a 22-0 hole all because we made too many mistakes in all three phases of the game.
"Hats off to our kids. They fight. They fight hard. They get all the way back in it."
It started with the defense. Jadon Washington's 2-yard touchdown run 18 seconds into the second quarter got the Hawks on the scoreboard, and senior linebacker Peyton Plunkett intercepted a pass and returned it to the 3-yard line. QU quarterback Drake Davis scored on a 3-yard run to get the Hawks within 22-14.
Yet, the Eagles made it a two-possession game at halftime when tight end Peter Korhn caught a 7-yard touchdown pass on third and goal with 4:15 remaining in the third quarter.
"We definitely shot ourselves in the foot," Plunkett said. "We talked about it at halftime. We talked about how we have to take a deep breath, recollect and understand that to win this game we have to win in all three phases of the game. We can't shoot ourselves in the foot."
The Hawks did a better job of that in the second half. After the Eagles missed a 46-yard field goal attempt on the opening possession of the third quarter and were forced to punt on their next possession, the Hawks pulled within 29-21 as Marlon Washington caught a 24-yard touchdown pass.
"It creates momentum," said Plunkett, a Palmyra product. "It's a momentum sport. If you have a little momentum, the other team is trying to get it back. If you make a play on defense, the offense wants to carry that momentum."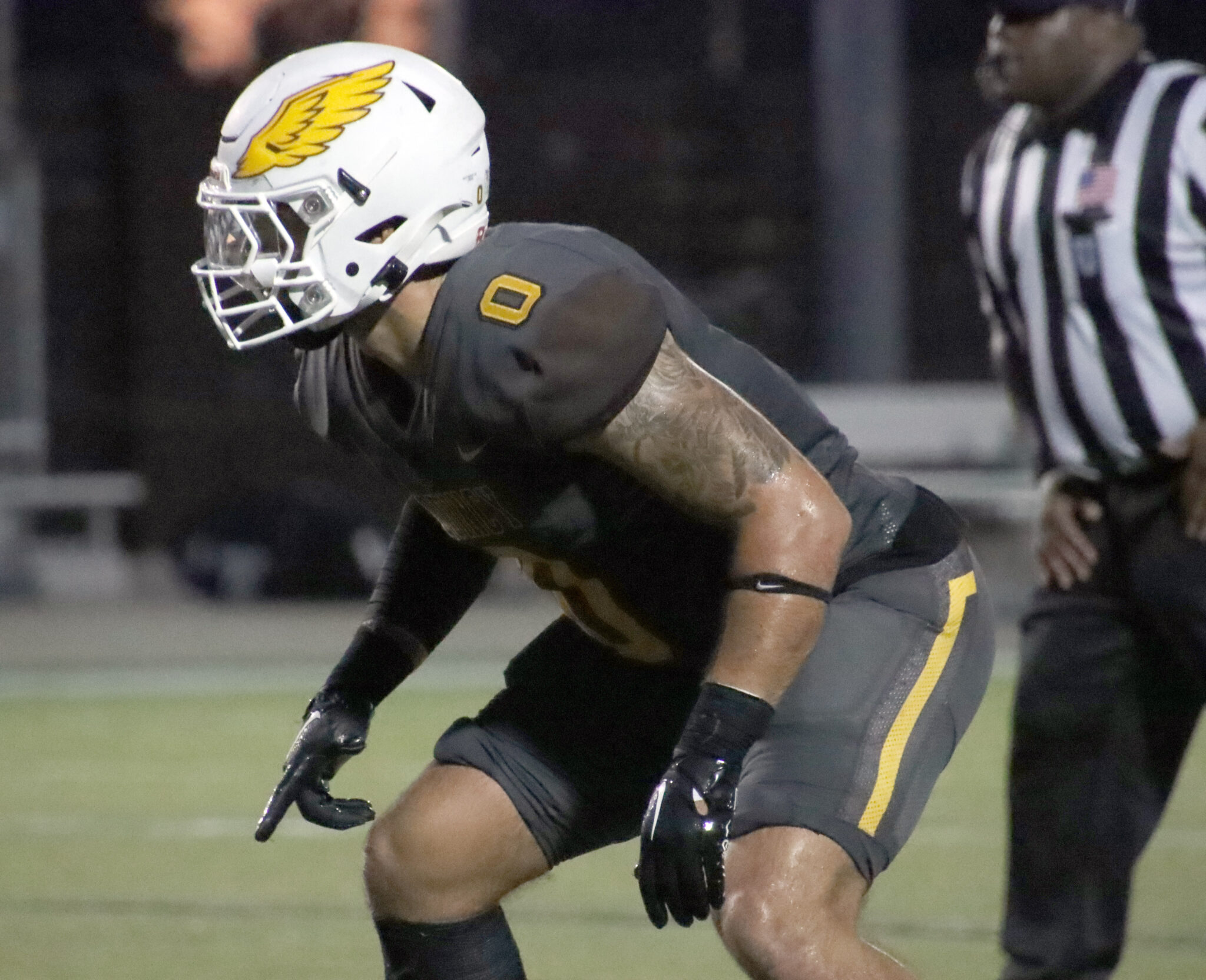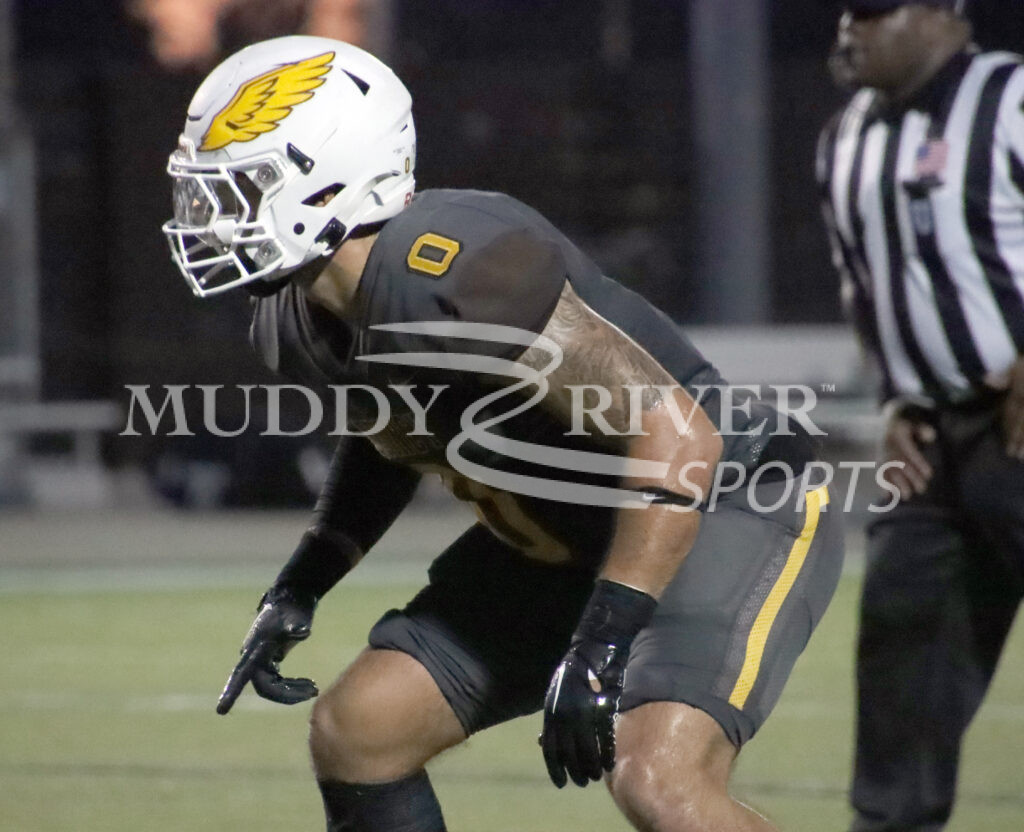 The biggest defensive play came in the fourth quarter.
Chadron State lined up on third and goal from the 1-yard line with the chance to take a two-possession lead. Instead, a fumbled handoff was picked up by Plunkett and returned it 97 yards untouched for a touchdown that drew Quincy within 29-28 with 10:17 to play.
Another defensive gem led to the go-ahead touchdown. Lazerick Hill intercepted a pass with 5:05 remaining and returned it to the Chadron State 19-yard line. A defensive pass interference play moved the ball to the 6-yard line, and JQ Brown scored on the next play to give the Hawks a 34-29 lead with 4:16 to go.
Chadron State's next possession stalled, forcing the Eagles to punt and give the Hawks the ball with 2:48 remaining. Limited to a 3-yard run on third and 4 with 1:51 to go, Quincy decided to punt the ball instead of going for it on fourth and 1 at the QU 25-yard line.
However, the punt was shanked and went out of bounds at the Hawks' 35-yard line. A personal foul on the Hawks after the punt gave the Eagles the ball at the 20-yard line. Chadron State capitalized as Thomas scored on a 2-yard run to go ahead 35-34 with 36 seconds remaining.
The Hawks converted on fourth and 15 with a 24-yard completion to Travis Isaac with 5.2 seconds remaining and picked up 10 yards on the next play with Marlon Washington catching a pass and getting out of bounds with 1.6 seconds to play.
It allowed kicker Michael Owens to attempt a 53-yard field goal as time expired, but it sailed wide left.
"It hurts because I know how hard our kids play," Bass said. "Unfortunately, it didn't go the way we wanted it to go. Sometimes that's the nature of the beast. We made too many mistakes and didn't deserve to win the ballgame to be honest with you. They tried to give us a chance, and we just didn't take it."
No final stats were available from the QU sports information department.
Miss Clipping Out Stories to Save for Later?
Click the Purchase Story button below to order a print of this story. We will print it for you on matte photo paper to keep forever.