QU baseball notebook: Triple in first at-bat gets Napleton close to hitting for cycle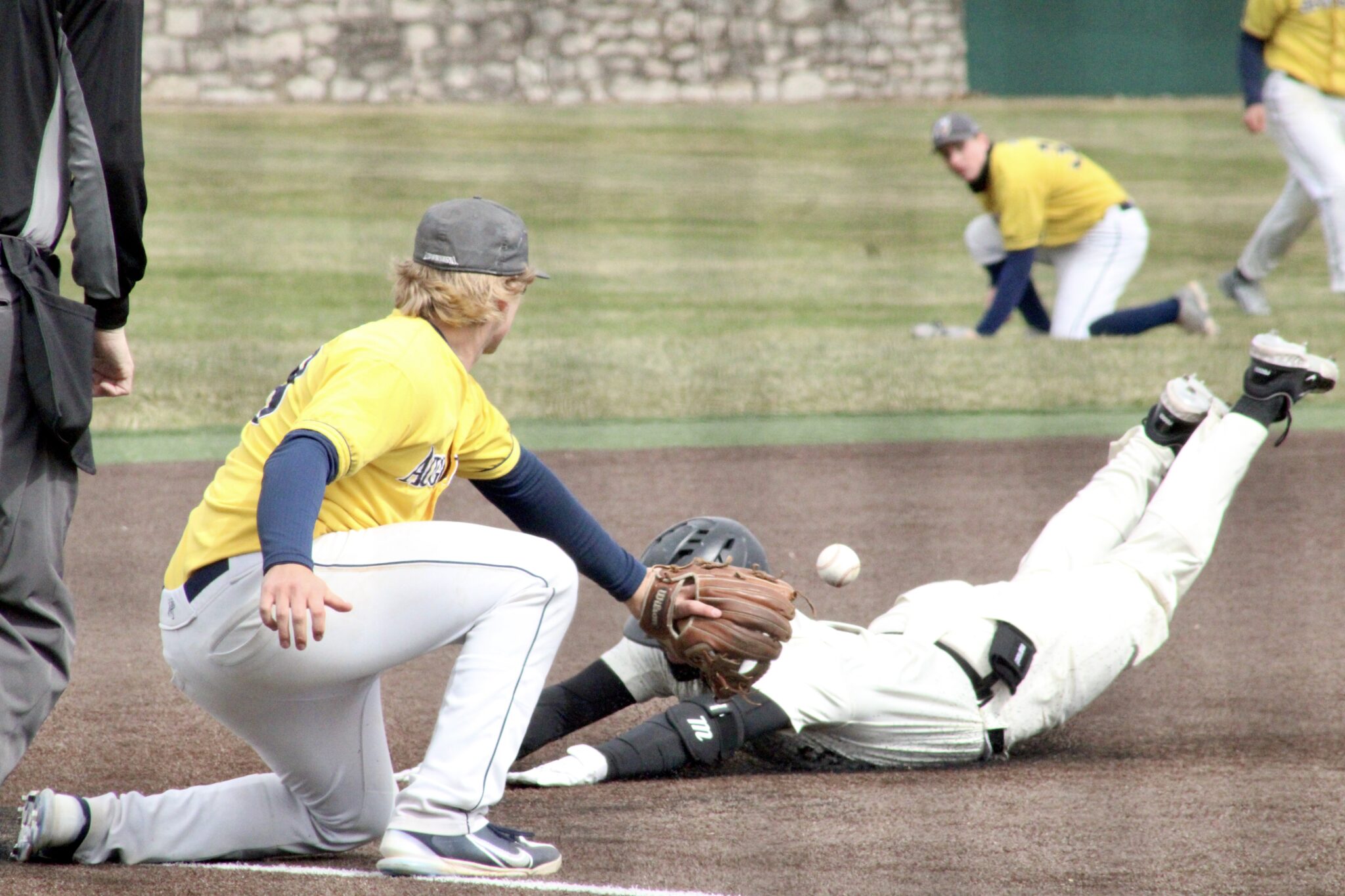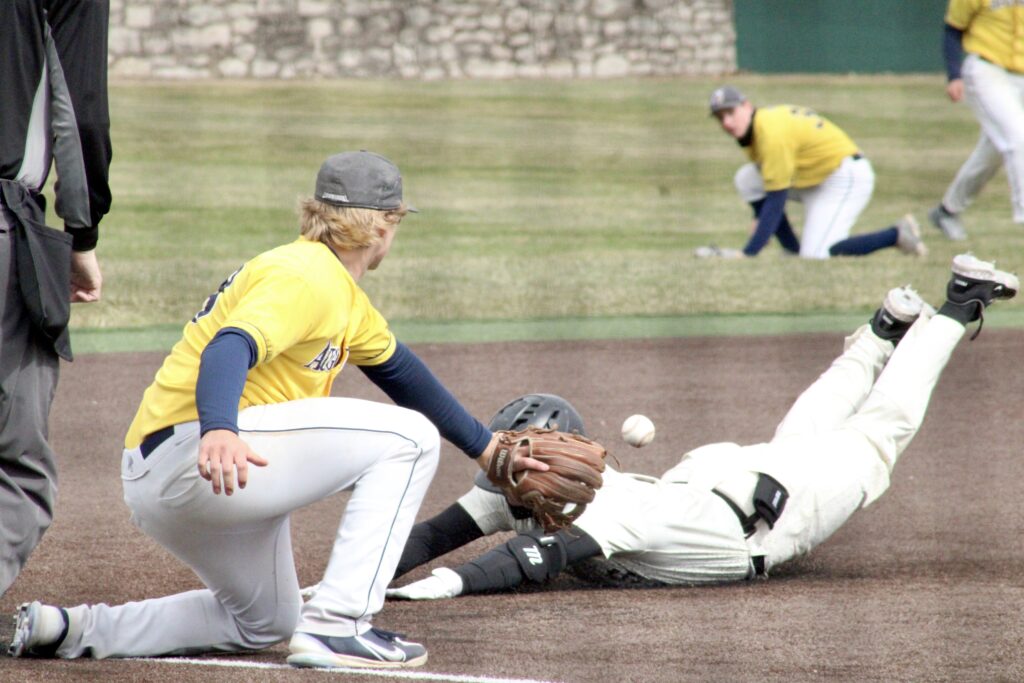 QUINCY — Luke Napleton wasn't stopping for anyone or anything.
In the bottom of the first inning in the first game of Friday's doubleheader, the Quincy University baseball team's junior catcher rifled a ball over the head of Augustana center fielder Trevor Winterstein that reached the warning track.
Although third base coach Chandler Purcell threw up the stop sign, Napleton never slowed down as he rounded second base and slid head first into third base with a triple.
"Chandler his hand up and Luke just kept running," QU coach Matt Schissel said with a chuckle.
With that, the toughest leg when it comes to hitting for the cycle was complete.
In his next at-bat in the third inning, Napleton belted a two-run home run to left field, giving the Hawks the lead on their way to a 7-2 victory over the Vikings and sending the QU sports information crew into the archives to find the last time a QU player hit for the cycle.
No one is exactly sure, but Napleton nearly accomplished it.
He fouled out leading off the fifth, collected a two-run single in the sixth and came to bat leading off the eighth inning in need of a double. He drove a rocket to right field on a full-count fastball, sending it deep over the wall for his second home run and denying himself the cycle.
Still, a 4-for-5 showing with five RBIs is nothing to be disappointed in, especially when you follow it up with a 2-for-4 outing and a solo home run in the nightcap of the doubleheader, which the Hawks also won 7-2.
Napleton now has a team-leading seven home runs and 20 RBIs in 13 games. The triple was the third of his career.
"He just hits," Schissel said. "That's what he does."
'Welcome back. Glad to have you'
QU junior left-hander Griffin Kirn hadn't put together the type of consistent inning-to-inning effort in his first three starts expected of a No. 2 starter, but after walking two of the first three batters he faced in the second game Friday, consistency became Kirn's companion.
He mowed down the Vikings over five innings, striking out six and allowing just one runner to reach second base his final four innings. He induced a double play in the third inning, got five groundouts and worked ahead in the count.
The Quincy Notre Dame graduate threw 81 pitches over five scoreless innings before being pulled.
"Man, that was good to see," Schissel said. "When I shook his hand, I said, 'Welcome back. Glad to have you.' I don't know if he laughed at that or not, but we needed him. We're going to continue to need him."
Kirn allowed four or more earned runs in each of his first three starts, although he has struck out 14 in 13.2 innings
Putting pressure on the defense
When Hawks shortstop Gino D'Alessio led off the first inning of the nightcap with a single, Vikings starter Ryan Jares wanted to limit the chance of D'Alessio stealing second base.
The right-hander threw six pickoff attempts to first base, although none ever came close to catching D'Alessio napping. The QU leadoff hitter never ran either, although he scored on Lance Logsdon one-out single. Brock Boynton, the No. 2 hitter who had been hit by a pitch, went from first to third on Logsdon's single and scored one at-bat later on Nolan Wosman's single.
The Hawks have stolen only five bases in seven attempts this season, but during the doubleheader sweep of the Vikings on Friday, they took an extra base four times and showed a willingness to be aggressive.
"We aren't going to steal a lot of bags, but we put a lot of pressure on teams by running the bases hard, going to first to third and second to home," Schissel said. "Even on plays like that, we give guys freedom. If you think you can go, then go. I'd rather err on the side of aggression."
Sidestepping home plate?
One of the strangest calls anyone in the QU dugout had ever seen had the Hawks coaching staff anxious to review game film to see what exactly happened.
With one out and two runners on base in the bottom of the seventh inning in the second game of the twinbill, Logsdon drove a ball to deep left-center field for a three-run home run. Adam Lewis and Napleton were on base when Logsdon hit what appeared to be a three-run home run.
However, after all three runners had crossed home plate, Napleton was called out for missing the plate. It took a run off the board and had everyone curious what exactly had happened.
Video replays show Napleton passing the plate on the right side without ever stepping on it. Logsdon touched home before Napleton went back and tagged the base. Augustana catcher Nick Banowetz and the home plate umpire watched it happen, and after the Hawks were in the dugout, Banowetz appealed the play and Napleton was ruled out.
Miss Clipping Out Stories to Save for Later?
Click the Purchase Story button below to order a print of this story. We will print it for you on matte photo paper to keep forever.