Martin beats buzzer and Rogers State as QU women's basketball team earns first victory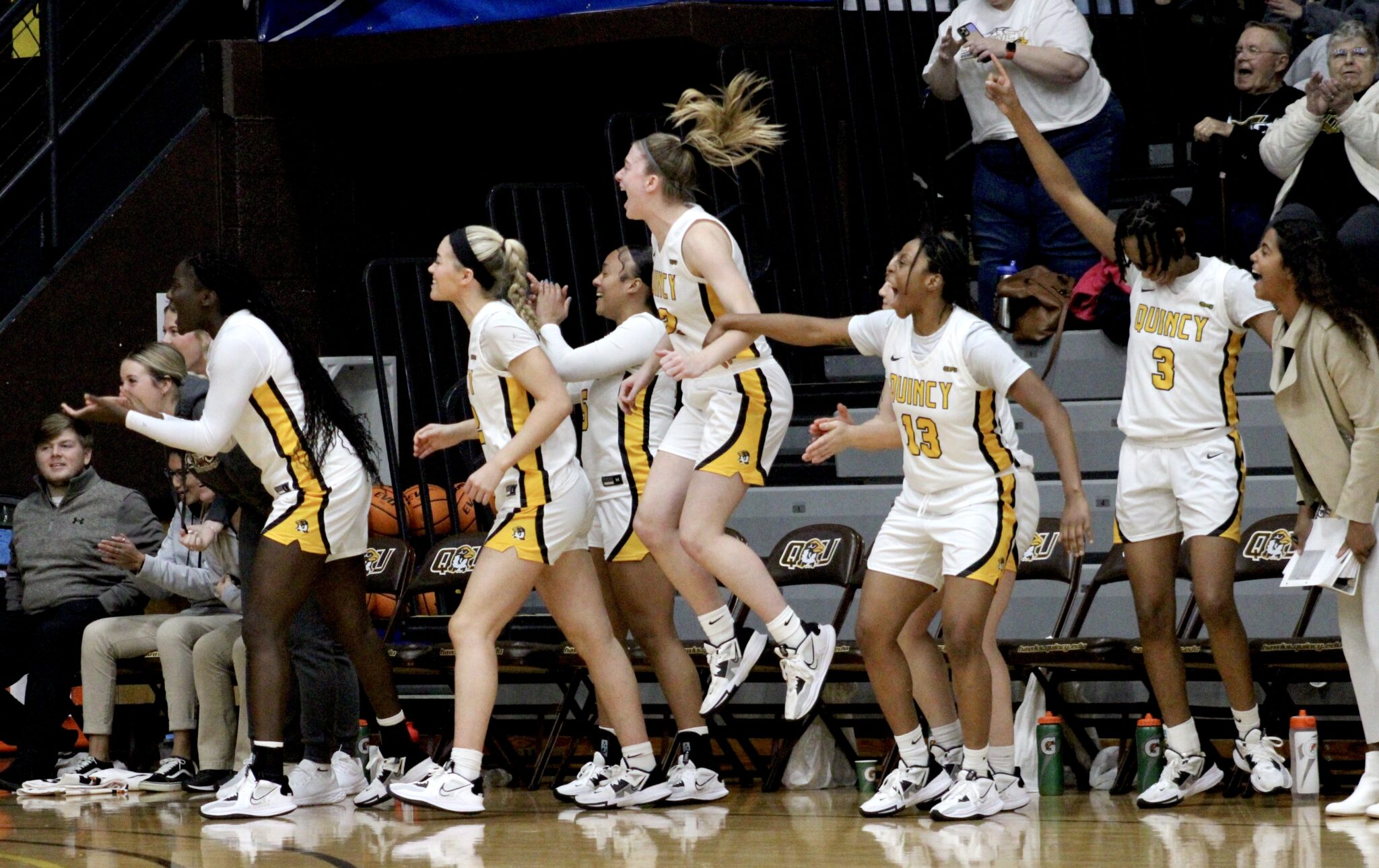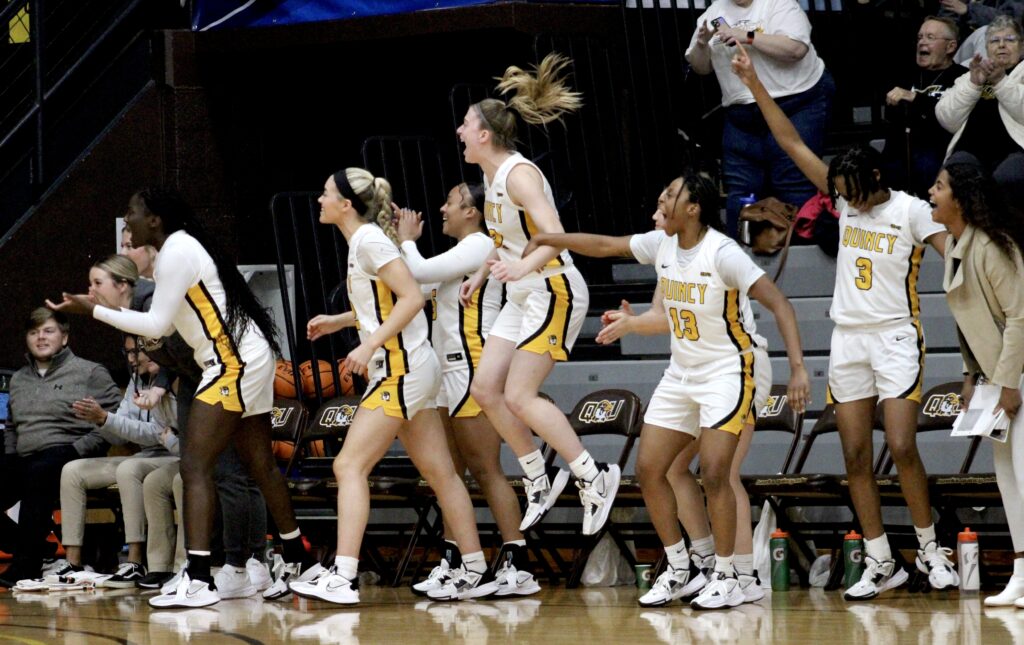 QUINCY — When the final play produces the perfect outcome, it had to be run exactly the way it was designed in the huddle, right?
"Something like that," Quincy University women's basketball coach Kaci Bailey said with a wry smile.
When Rogers State disrupted Quincy planned off a sideline inbounds play with 6.9 seconds remaining in a tie game, Hawks senior guard Beth Matas Martin improvised by rolling toward the right baseline and burying a fadeaway jumper over the arms of the Hillcats' Bailey Kliewer with just five-tenths of a second remaining.
The result was a 58-56 victory in the Hansen-Spear Quincy Classic at Pepsi Arena and the first victory for a QU squad figuring out how to win close games.
"It's exciting," senior forward Sarah Nelson said. "I went to the locker room and was so happy."
The joy echoing from that locker room made it clear everyone was ecstatic.
"It feels really, really good, especially looking at the bench and seeing everybody's reaction," Martin said. "Everyone being so happy feels really, really good."
There was a moment where it wasn't clear if that's how the Hawks would react.
With Quincy leading 56-54 with 30 seconds to play, Martin nearly dribbled the ball out of bounds and tried a behind-the-back pass to save possession. Kliewer intercepted it in the corner and called timeout with 22.6 seconds remaining.
Following a timeout, Rogers State's Jordan Lewis drove from the top of the key down the right side of the lane and banked in a shot high off the backboard to tie the game with 6.9 seconds remaining.
Quincy immediately called timeout to set up the final possession.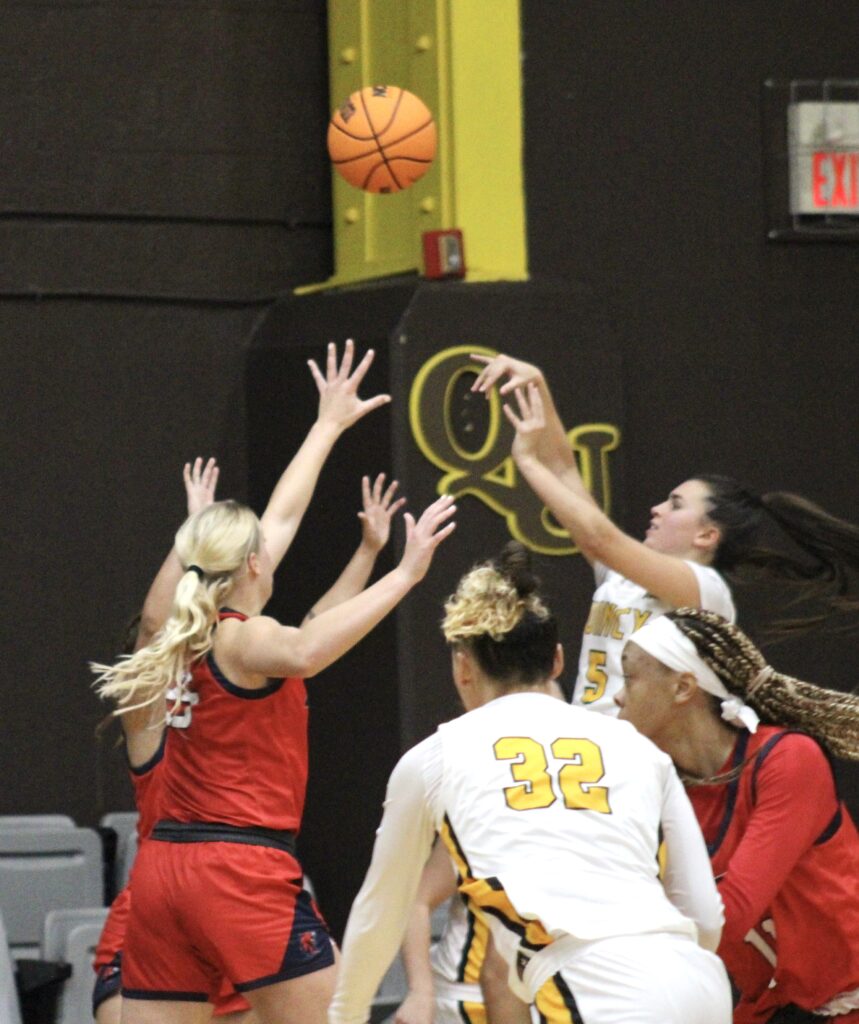 "We said, 'Put your head down and go make a shot or get fouled,'" Bailey said, recounting the conversation with Martin in the huddle. "I told her, 'You get one hesitation. You don't get to go between your legs and create space.' I thought they had really good defense and it was a great switch.
"But it was a big shot."
Martin caught the inbounds pass from Emma Knipe in the frontcourt and drove to the free-throw line, where the Hillcats' Kaya Goldsby switched and allowed Kliewer to hound Martin curling to the baseline.
"Coach said just get the ball and go to the basket," Martin said. "I was trying to go to the basket, but it was really good defense. So I had to stop and try to shoot it somehow, and it went in."
Instincts took over at that moment.
"Pop and shoot," Martin said. "I didn't even think about it."
It enabled the Hawks to cultivate success when they weren't at their best. Quincy led 26-21 at halftime despite shooting 23 percent from the field in the first quarter and 32.1 percent overall in the first half.
"In the first half, yes, we weren't making a lot of shots we should have been," Nelson said. "But it was super encouraging that we were getting every single look we wanted. Every option we could have dreamed for we were getting."
Eventually, that panned out. Nelson finished with a game-high 20 points, making 10 of 18 field goal attempts. Martin finished with 15 points as Quincy shot 45.1 percent in the second half, including hitting the final shot of the game.
"I have confidence in Beth," Nelson said. "I like when he's going toward the basket. I know she'll finish it."
Miss Clipping Out Stories to Save for Later?
Click the Purchase Story button below to order a print of this story. We will print it for you on matte photo paper to keep forever.