Marinara muscle: Full-scale Italian meal fuels Hawks' power surge in Midwest Regional opener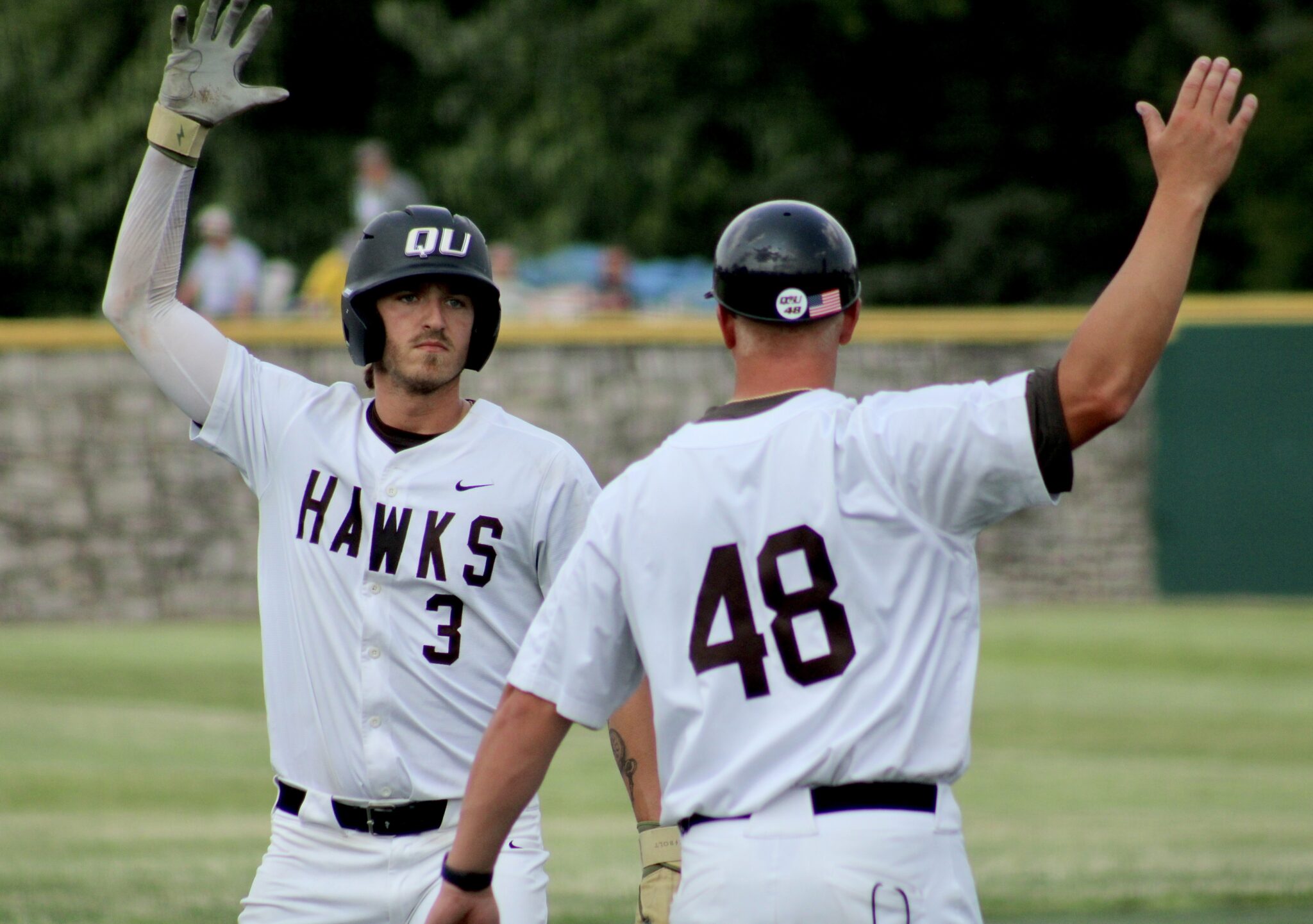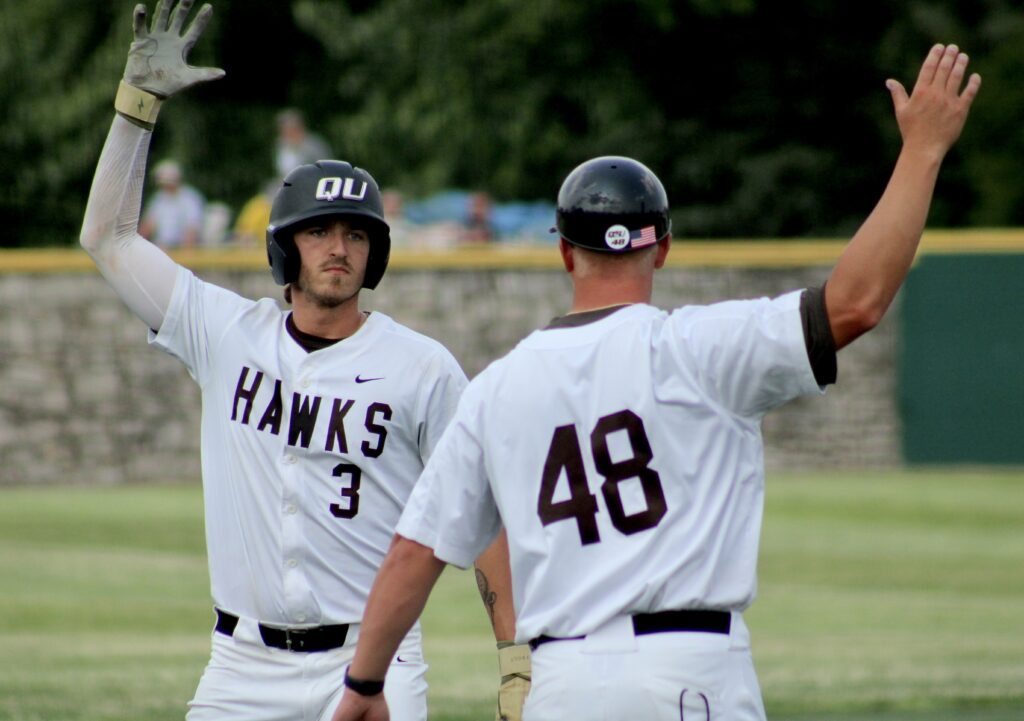 QUINCY — Paul D'Alessio decided he needed to fuel the Quincy University baseball team with some Italian power this week. So Tuesday, he assembled the kind of feast a loving nonna would serve to her family at Sunday dinner.
Pasta, meatballs, sausage, chicken cacciatore, etc.
It was the kind of meal where you wipe the marinara off your chin and push yourself away from the table with a full belly.
"We ate good," said D'Alessio's son, Hawks leadoff hitter Gino D'Alessio. "Fuel for the weekend."
The way the Hawks hit the ball Thursday, Papa D'Alessio better plan on cooking again soon.
Top-seeded Quincy erased a 6-0 second-inning deficit in its opening game of the NCAA Division II Midwest Regional by belting seven home runs — three by D'Alessio — and sending fourth-seeded Wayne State packing after the first day with an 18-8 victory at QU Stadium.
The Warriors lost 13-11 to fifth-seeded Northwood in Thursday's first game and were eliminated.
Quincy (45-9) and Northwood (42-17) now engage in a best-of-three series to determine which team advances to the super-regional. The first game is noon Friday with left-hander Griffin Kirn expected to get the start for the Hawks.


"We've been playing super-regional series since February," QU coach Matt Schissel said. "You look at Tampa, you look at Rollins, you look at all the series we played leading up to this. We've played in a lot of big series, and (Friday) is going to be no different. We have to come out with energy and just play."
And hit, which means having quality approaches at the plate.
"Sure, we hit the ball around the park, but we've been doing it all year," said Hawks designated hitter Austin Simpson, who went 2 for 5 with two home runs and four RBIs. "We stayed focused on what we had to do. That led to good at-bats."
A couple of tide-turning innings helped, too.
Scoreless after the first inning, Wayne State put together a two-out rally in the second that nearly knocked QU right-hander Spencer Walker out of the game. With a runner at third following a double play that made it look like Walker would avoid danger, the Warriors had six straight batters collect hits.
Two doubles and four singles produced six runs before a lineout to left fielder Ben Dahlof ended the inning.
"It was early enough that we had time to work back, but it kind of put into perspective that we're not going to take one swing and put up six runs," said QU second baseman Nolan Wosman, who went 3 for 4 with two home runs and four RBIs. "It's a lot different when an opponent puts up two runs and you come back and get a guy on and one swing changes things.
"When it's six runs, everyone in the dugout is reminding each other it has to be inch by inch, little by little. Swings start to get nice and slow, and guys are driving it all over the park."
Walker hoped that would happen.
"To give up such a big inning and to think six runs isn't going to be close enough to beat us, that's such a big deal for your confidence," Walker said. "As soon as I gave up the six, I went to the dugout and in my head I'm going, 'C'mon, boys, do your thing. Go up there and be you.'"
The Hawks certainly were.
With two outs in the bottom of the inning, Dahlof walked and scored on Brock Boynton's RBI double to right-center field. D'Alessio followed with a two-run home run to right field.
"We got the momentum back immediately," D'Alessio said. "And we just kept building on it."
In the third, after Walker worked a 1-2-3 top of the frame, the Hawks exploded for six runs. Lance Logsdon got it rolling with a leadoff single, Nolan Wosman walked and Simpson ripped a three-run homer to left field to tie the game.
After Dahlof sandwiched a single between two outs, D'Alessio hit a two-run home run to left field. A walk, a single and an error made it a 9-6 lead.
"You can rely on them to come through," Walker said.
The Hawks refused to stop. They scored five runs with two outs in the fifth, getting a two-run single from Logsdon, a two-run home run from Wosman and a solo home run by Simpson that would have been a homer at any baseball field in the United States.
D'Alessio and Wosman both homered in the sixth inning — both going to left field — as the lead reached double digits at that point.
Suddenly, that six-run deficit seemed like it had never happened.
"We have such a talented group of guys that when we have that mindset, when we're each other's biggest fan, when we trust each other's abilities, it's very unlikely that all nine guys in the box are going to have a bad day," D'Alessio said. "When that's the case, big things happen."
Walker lasted 5 ⅔ innings before being pulled. He allowed eight runs and 12 hits, while striking out five and walking three to improve to 9-1 this season.
"He left a couple of balls at the belt in that inning, but then he was back to being normal Spence," Schissel said. "He gave us a chance to win. That's what we needed. He gave us that chance, and then the offense took over."
Nolan Roseman and Carter Endisch combined to strike out three and allow one hit over the final 3 ⅓ innings. It gives the Hawks a full complement of arms to use the remainder of the weekend, which could end with two games Saturday if the series is forced to go three games..
A little Italian seasoning may keep that from happening.
"(Paul D'Alessio) told us he put some Italian power in there," Simpson said. "He wasn't kidding."
He doesn't kid about the old-school dishes he makes.
"Oh, yeah, he can cook," D'Alessio said. "The best."
And he made enough to keep the Hawks fueled the entire weekend.
"I have some leftovers in my fridge," D'Alessio said. "There's definitely Italian power in there."
Miss Clipping Out Stories to Save for Later?
Click the Purchase Story button below to order a print of this story. We will print it for you on matte photo paper to keep forever.